Spiti Valley in 3 days, can a person do it? To be honest, immediate answer to this question is a straight no. A little detailed version however will be that it depends on where you are planning from. If you ask me that can you cover Spiti valley in 3 days from your hometown; I will tell you  that you cannot. If you plan Spiti valley in 3 days from Shimla then the answer will again be a no. However, if you want to plan a trip from Manali to Spiti in 3 days then the answer changes to that yes you can. Though the trip will still be a little hectic and rushed, but you will definitely be able to witness the beauty that is Spiti Valley. In this article, I will provide details on how you can do it.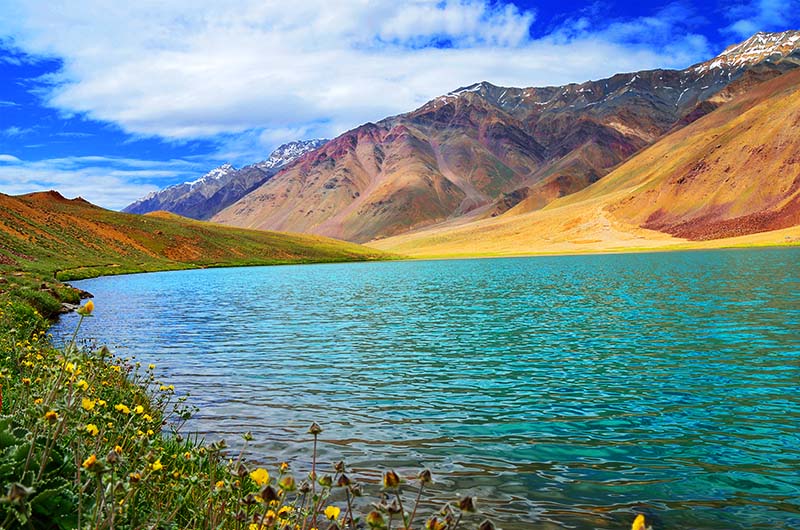 The biggest concern while trying to cover Spiti in such haste would be of acute mountain sickness. Manali is at an altitude of 2,050 meters whereas Kaza in Spiti is at 3,800 meters. Since time in hand for the trip is severely limited, you will have to make it to Kaza from Manali in one day. The gain in altitude in a matter of few hours will be almost double; leaving you highly prone to altitude sickness. I wish there was a way around it but there really is not. You will reach Kaza and will have to deal with AMS if symptoms occur.
In most of the cases, it should last a day at most and by morning of next day you should be OK. In case you are not, please seek medical assistance in Kaza immediately. For more details on what AMS is, what its symptoms are and how you can handle it better, please read How to Deal with Acute Mountain Sickness in Spiti Valley.
Spiti Valley in 3 Days
For these three days of your trip, on Day 1 you will reach Kaza from Manali. On the second day, you will make it to Chandratal; camp there for the night and return to Manali on third day.
Manali to Kaza


Day 1
An early start from Manali is highly recommended. It is beneficial in three ways. First of all; an early start will ensure that you avoided the traffic towards Rohtang Pass. Even though the distance is not great but due to bad road conditions; it may take you an entire day to make it to Kaza from Manali.
Starting early will mean that you will have plenty of time for sightseeing on the way while reaching Kaza before dark. Third benefit is of amazing vistas. Early in the morning, the entire road towards Rohtang Pass is a feast for the eyes; especially as the sun starts to come up.
Journey will be quite simple. From Manali, take the road towards Rohtang Pass and then descend on the other side towards Lahaul valley. You will reach Gramphoo and there you will notice a diversion on your right. It is a small dirt road with a board marking it as the road to Spiti valley. Take the diversion and from here, until Batal, you will be on one of the worst stretches of the road you have ever encountered. There will be numerous water streams to cross, slush, lose stones, big boulders and a rocky ride that you will have to tackle. From Batal you will ascend to Kunzum Pass top and then descend towards Losar. Road conditions will get a little better and it will take you an hour and a half at most to reach Kaza from Losar.
There are several hotels in Kaza and no matter what your budget is, you will easily find a place to stay here. If you are starting to feel symptoms of AMS, it is best advised that you rest at the hotel and do not stress yourself any further.
Kaza to Chandratal


Day 2
Plan for today is to reach the beautiful Chandratal lake and spend the night there at a camp. There is no hotel here and the only accommodation choice at Chandratal are the camps. There are several camp sites here of which I will highly recommend staying at Jamaica's camps. You can give my reference and he will treat you well at a discounted price.
From Kaza, take the same road back towards Manali via Kunzum Pass. Once you are at Kunzum top, about a kilometer towards Batal on the descent; you will notice a narrow dirt road and a board put up marking it as Chandratal road. This is about 14 kilometers long and barely wide enough for one car so please drive slow and carefully. The road will end about 2 kilometers before the lake and from there, you will have to walk the last distance. By law; camping is not allowed on the banks of Chandratal and this is the reason why there is no camp right next to the lake. The nearest camp site will at least be 2 kilometers away. Check in to any of the camp sites per your liking and take some time walking around the lake in the evening.
If you are carrying your own camping gear; you can do self-camping as well but please do not do so in the middle of nowhere or right next to the lake. Speak to any of the camp site owners and they will give you a spot to pitch your tent in return of a nominal charge. For this money, you can also use their washrooms as well which can be of great benefit. Also, there is wildlife in this area which is another reason why you should not self-camp at a totally secluded area.
Chandratal to Manali


Day 3
You will return to Manali today via the same route that you took to reach Kaza. Total journey is of about 6-7 hours so you have ample of time. In the morning, take a walk to the lake once again. Waters in the morning are completely still which makes it a perfect time for photography with reflections of surrounding hills.
From Chandatal, drive back to Kunzum Pass, then continue to Batal and further to Gramphoo. You will once again climb up Rohtang Pass and then descend down to Manali. No permit is needed for Rohtang if you are coming from Lahaul side.
Spiti By Public Transport
The above information was considering that you are traveling either by your own vehicle or have rented one from Manali. In case you are using public transport, you can still visit Spiti valley in 3 days but schedule will be a little tricky. There is a regular bus service from Manali to Kaza which starts early in the morning and reaches Kaza by evening. For the return journey, there is also a daily bus service from Kaza to Manali. This bus too starts early in the morning from Kaza, reaching Manali by evening.
Traveling by Bus, on Day 1 you will reach straight to Kaza. On Day 2, you will board the bus from Manali and get down at Chandratal diversion at Kunzum Pass. Make note of the time the bus reached here because next day, you will have to be on this spot again to catch the very same bus to Manali.
Now you have two choices here. Either you wait for a shared taxi to arrive; chances of which are very less. Second and a better choice it to start walking towards the lake. In peak tourist season, lot of people by their own vehicles visit the lake and you will easily be able to hitchhike. In case you are lucky, a shared taxi too may arrive. If  you are completely out of luck and not even a single vehicle passed you by, you still would have walked to the lake rather than standing at Kunzum top for hours wasting time.  On Day 3, hitchhike or walk back to the Kunzum Pass. Make sure you are at least half an hour early than the time the bus dropped you there the day before. Once the bus arrives, board it to reach Manali by evening.
Spiti by Shared Taxi
You can either chose to take the bus or a shared taxi from Manali. From the bus stand itself, you can easily find a shared cab as well plying on the same route. Thing with shared taxis however is that finding one for Manali or Kaza would be easy; but finding one for Chandratal would be tough. Your best bet in this case would be to board a shared cab until Kunzum pass; and walk or hitchhike from there to the lake.
Spiti Valley Itinerary via Chandratal
A lot of people ask me if this trip can be done the other way around; meaning to cover Chandratal on Day 1, go to Kaza on Day 2 and come back to Manali straight on Day 3. You can definitely travel this way as well but I would not advise so. Chandratal is at an altitude of 4,200 meters, about 400 meters higher than Kaza. Chances of suffering from AMS are even greater here but a more important fact is that at Chandratal, you will be in the middle of nowhere. If your condition gets worse, you will be stuck for the night with nowhere to go to. At least in Kaza, you will be at a slightly lower altitude with medical assistance nearby. On Day 2, your body would have somewhat adjusted so it is better to be at Chandratal on Day 2.
Important thing to remember here is that this schedule can only be followed from June till September while the road from Manali to Kaza remains open. In October, the route is closed after Kunzum Pass is all snowed out and it remains so until Late May or early June next year. During this time, the only way to reach Spiti valley is via Shimla for which 3 days is not really sufficient.
Permits for Spiti Valley
If you are an Indian citizen, the only permit you need to cross over Rohtang Pass. There is no other permit needed for you to visit Spiti. If you are however a foreign national, you will need to obtain an Inner line permit. Please take a look at the article below for procedure on how you can get Inner Line Permit or Spiti.
Clothing for Spiti Valley
Spiti no doubt is a cold desert so you can expect the weather here to be cold throughout the year. However, the temperature dips at nights so while mornings and evenings will be a bit cold; days are pleasantly warm. The trick is to carry clothes in layers. For example a couple of thermals, your regular cottons, light woolens and a thick heavy windproof jacket. This way, if you start to feel cold, you can put layers of clothes that you can also take off comfortably when it starts to feel warm. You won't run in to a situation where you are carrying all heavy woolens; resulting in feeling hot if you put them on and cold if you take off. For more details on what kind of clothes you should be carrying for Spiti valley, please read Clothes for Spiti trip: What to pack.
Rent a Motorcycle in Spiti
If you would like to rent a motorcycle from Manali to make it a bike trip, you can definitely do so. There are several places in Manali where you can rent a bike from. Just take a stroll around and you will come across several rental agencies and mechanics offering motorcycles. Daily rental will be between Rs. 1000 to Rs. 1500 depending on which motorcycle you chose. Please ensure that you do not rent a motorcycle that seems too old or worn out. Take a test ride to ensure the capability of the bike before you rent it. Take it a few kilometers on Rohtang Pass accent and it will give you a fair idea on whether or not the bike will be able to handle the tough roads ahead. Please read How to Rent a Motorcycle in Manali for a few other tips and some recommended rental agencies.
Conclusion
I hope the information above regarding covering Spiti valley in 3 days was helpful. If you have any further questions, please feel free to ask in the comments section below or at our Community Forum and I will be glad to answer.