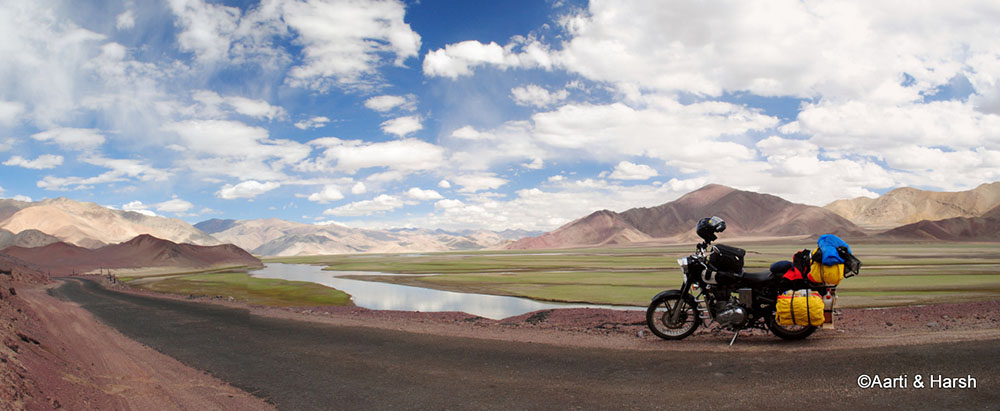 This post is in continuation with a previous one and a part of my Ladakh travelogue. We arrived in Leh from Delhi via Manali and spent the next two days visiting the beautiful Pangong Lake. On the 9th day of the trip, we rode from Leh to Hanle, details of which are covered in this article. To read the previous parts of the travelogue, please click on the links below.
The journey so Far:
The destination for today was the picturesque sleepy town of Hanle.  The day was going to be long really long.  A good distance of 270 km needed to be covered. We expected good roads all the way through, which essentially can make all the difference between a good day and a bad day.
The other aspect to consider was fuel calculation. In our intended plan, the next fuel stop was at Tandi, which was a good 800 km away from Leh. WanderB was giving a good mileage of about 25 kmpl, which meant that to cover the distance we would need at least 32 L of petrol. Add to that another 2 L of mandatory buffer, thereby making it a total requirement of 34 L.
Day 9 – Leh to Hanle
We had a carrying capacity of 28 L – 19.5 in our modified fuel tank and two jerry cans of approximately 4.25 L each. But we were still a good 6 L short of our bare minimum target. Remember, we had left about 30 L of fuel at Debring on our way up, but all said and done, it was risky to assume that it would be there kept safe for us on our return.
Don't get me wrong here, I do trust mountain folk implicitly. But somehow such a crucial decision seemed better not left on faith. Sachin, on his recent trip to the region, had reported the availability of fuel at Hanle. Hence, I had a strong feeling that it would also be available at Nyoma.
After all, such a huge village, which is also a district headquarter, should have fuel available in the grey market. With these issues in mind, we topped up all cans and canisters at the Leh fuel station and left for Upshi at 7:30 am. Yes, 7:30 was late, but we had to ensure that we got a good 8-hour sleep the night before to face the grueling 5 days ahead.
For more details on this, take a look at How to Plan a Trip to Hanle from Leh.
Karu & Upshi
We had by now memorized the ride till Karu, and the usual suspects – Choglamsar, Shey, Thiksey, Stakna – passed by with us still marveling at their beauty. They looked ethereal in the early morning light. But the day was long and we saved our photo breaks for the latter half of the journey.
We broke for a short breakfast at Upshi. A group of marathoners had also stopped at the same dhaba. On this trip, we were apprised of a very peculiar marathon conducted in Ladakh. The "La Ultra" begins somewhere near Khardung village, climbs up the pass, and then goes down all the way till Leh.
It further continues towards Rumtse, climbs up Tanglang La, eventually finishing at More plains! This 222 km long marathon is supposed to be 'finished' by an individual if s/he completes it in its scheduled cut-off time of 60 hours. Some marathoners do not take a sleep break, and some break only for a short while.
The winner of this years' edition completed it in 36 hours flat, which translates into an average speed of 6 kmph. Imagine. At that altitude, and that too without any breaks! We interacted with the marathoners for a bit and were amazed to see their fitness levels. They were headed towards Tanglang La for what was essentially a recce and a practice run. Respect!
A Long Ride
We completed our breakfast in a hurry and stocked ourselves up with chocolates and fruit juices and were up and moving by 9:30 am. The Upshi – Loma stretch was entirely new to us, and that was by itself was kind of refreshing.
The road runs along the Indus all the way till Loma, where one crosses over to the opposite bank and then runs parallel to the Hanle river all the way till Hanle. After Upshi, the extremely wide valley gives way to a narrowish one.
The road was decent, punctuated with some 'kaccha' detours due to the construction of new culverts. The landscape was eerily similar to the Khaltse – Hamboting La stretch which goes to the Aryan villages of Dha and Hanu.
The sun was beating down, scorching at times, and the ride could hardly be termed as pleasant. It was as barren as it could have been. Finally, after looking for 10 minutes or so, we found a tree to sit underneath and recuperate after 90 minutes of riding continuously.
Aarti's shoulder had developed a niggle and she was quite uncomfortable on the rear seat. Out came Combiflam from the medicine kit, and it soon worked wonders.
A Sign of Trouble
With the short pit-stop over, we decided to resume our Leh to Hanle journey. I mounted the bike, put it in neutral, switched the ignition on, and pressed the self-start button. There was no response. My heart sank a bit. I double-checked the panel to see if I had made some mistakes, but I had not. Another attempt at self-start and again there was absolutely no response.
I immediately switched to the kick, and WanderB roared back to life. I kept quiet and did not share this hiccup with Aarti at that time. Obviously, there was something wrong with the bike. The most probable suspect was the battery, as we all know what happens to these types of equipment at such high altitudes.
Also Read: How to Prepare your Bike for Ladakh Trip
The situation was not too dire though, or so I thought. Even with a drained battery, the bike could always be kick-started / jump-started / push-started, if need be. We were not carrying a jump cable but could ask our friends to get it the next day. The worst-case scenario would be a stranded bike, eventually loaded on a pick-up and carried all the way to Leh.
Knowing that the worst scenario was still acceptable, I thumped quietly along the Indus keeping the troubles to myself for now. Unknown to me, Aarti too had noticed the problem and was a bit concerned, but chose to remain silent as well. She obviously hadn't thought the situation through, and her immediate concerns included a hot day and shoulder pain.
Chumathang
The route from Leh to Hanle can hardly be termed as desolate as there are numerous small villages all along, all the way to Loma. Much to our disappointment, we could not identify the '3 Idiots U-turn bridge' when we crossed over it and got to know about it only later.
I wonder why tourists don't have that bridge on their things-to-see-in-Ladakh list (which by the way already includes the narrow extension on Pangong on which Kareena rides her scooter and the school in which Aamir taught).
The valley had started to change colors, and stark brown was giving way to hues of pink. It had also started to widen a bit at a few places. As they say, the ride was getting prettier by the km. We finally managed to reach Chumathang by around 12:30 pm or so.
It was a relatively small town as I had imagined it to be, but it did boast of a few places to spend the night. The dhaba was overcrowded with a largish gang of tourists headed towards Tso Moriri and an even bigger gang of soldiers headed towards Fukche. It was too early to break for lunch, so we limited the stop to a quick smoke and Coke.
We had decided to break at Nyoma for lunch, and we expected to reach there in another 1.5 hours or so, as it was only 50 km away. Little did we know that this stretch would take so much longer to cover.
Now I don't remember correctly, but think this was Kiari village – a pretty setting.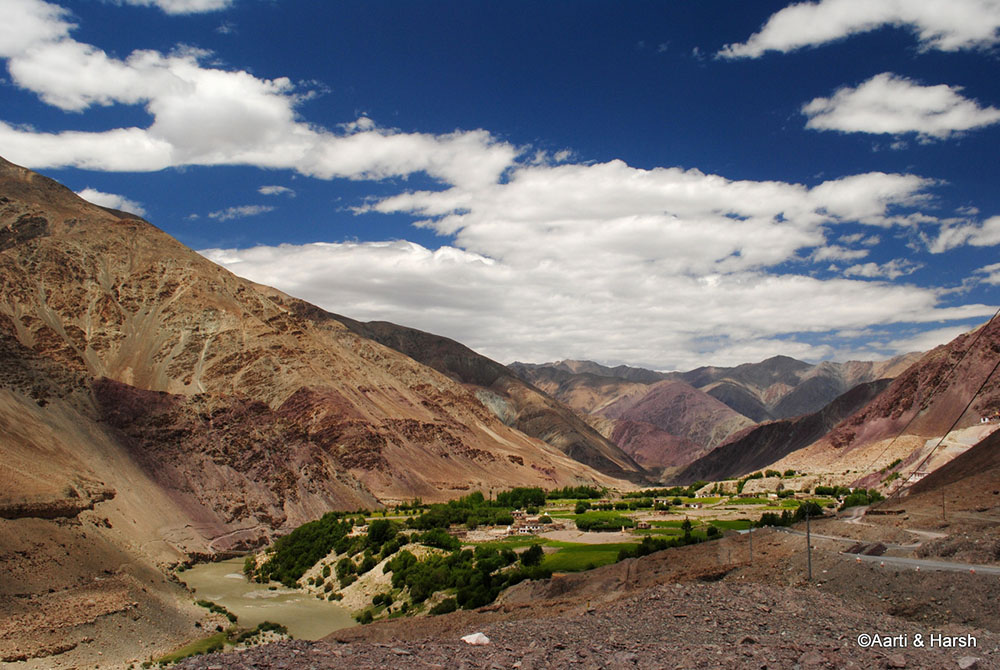 That's Chumathang in the distance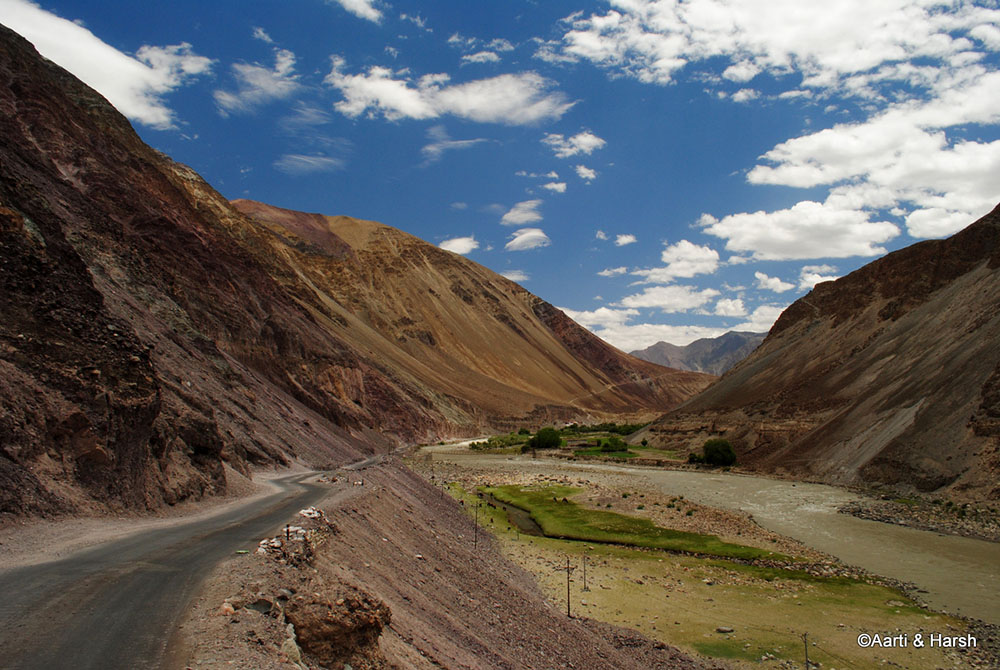 ​Mahe
The run from Chumathang to Mahe was quick and effortless. Clouds were gathering to give us respite from the scorching heat. The road towards Tso Moriri crosses over the Indus just before the check-post at Mahe, and this is the closest that foreign tourists can go to the border.
We showed our Inner Line Permits for Leh to Hanle at this check-post and marched on. We soon came across a fork in the road and were delighted to see that the road going towards the left went to Chushul via Nun Gompa and Kangsang La. I knew that this route also boasts of two lakes, one of which has been formed by a meteor. We were running short on time, so had to skip this detour, but promised ourselves to explore it some other time.
We had hardly moved 4 km from the check-post when, on a bend, the most surprising view ever opened before us. The narrow valley abruptly gave way to a very wide one. A large part of which was occupied by the mighty Indus. The banks of the Indus were lush green. The mountains around were a mix of purple, pink and brown, making the landscape look like a painting.
The view extended up to miles ahead, giving the scenery a larger-than-life feel. We stopped at this bend just to soak in the spectacle before us. The view was surprising as we hadn't expected it, especially because the route since morning had not been very pretty.
Our happiness at the dramatic change in scenery knew no bounds; particularly because this was the first 'new' very beautiful stretch we'd seen on this trip. The journey towards Nyoma, we realized, was going to be very slow, but rather than complain, we were smiling from ear to ear.
The Tornadoes
A km or two later, we noticed a dust storm rising in the distance in the east. It seemed as if a small tornado was forming and moving towards the road. Strangely, another mini-tornado appeared from behind the mountains and started moving towards the road following the first one. And lo and behold, another one formed and started moving, again towards the road.
This was mighty peculiar and made us stop in our tracks on a dead straight road. The realization started to dawn and our heartbeat levels spiked. My hands trembled as I reached for the tank bag to take out the 300 mm lens and fit it on the Nikon D3000.
Aarti was jumping like a Mexican bean on the rear seat. 4 tanks had come out from behind the mountains. They were headed right towards us, with the barrel pointing in our direction! The last part is, of course, a lie but it does add to the drama in the narrative, does it not? They were pointing towards the road.
Also Read: Motorcycle Water Crossing Technique & Tips
The ICVs
We realized that we were too far away to shoot these tanks with our 300mm and thus boldly moved directly towards it. The 4 beautiful pieces of machinery came to a grinding halt right next to the road, whipping up a puff of dust.
A group of about 30 army jawans was squatting in front of an elderly jawan and a person who appeared to be a youngish commanding officer. He must have been 30 years old, younger than me probably. Dressed smartly, he peered at us through his Ray-Ban aviators.
We asked him if we could photograph the tanks, which peeved him off. He told us curtly to move onwards and not to shoot the tanks. When I mentioned that the tanks looked awesome, his irritation gave way to a slight smile. Hiding his pleasure at my comment, he told us that it was not a 'tank' (you bloody tourists), but actually an ICV – also explaining the acronym – Infantry Combat Vehicle.
His tone and his smug smile belied the overall demeanor of an irritated man that he was trying to portray. Not pushing our luck, we thought of not troubling their exercise and rushed towards the next bend up ahead.
The first tank approaching the road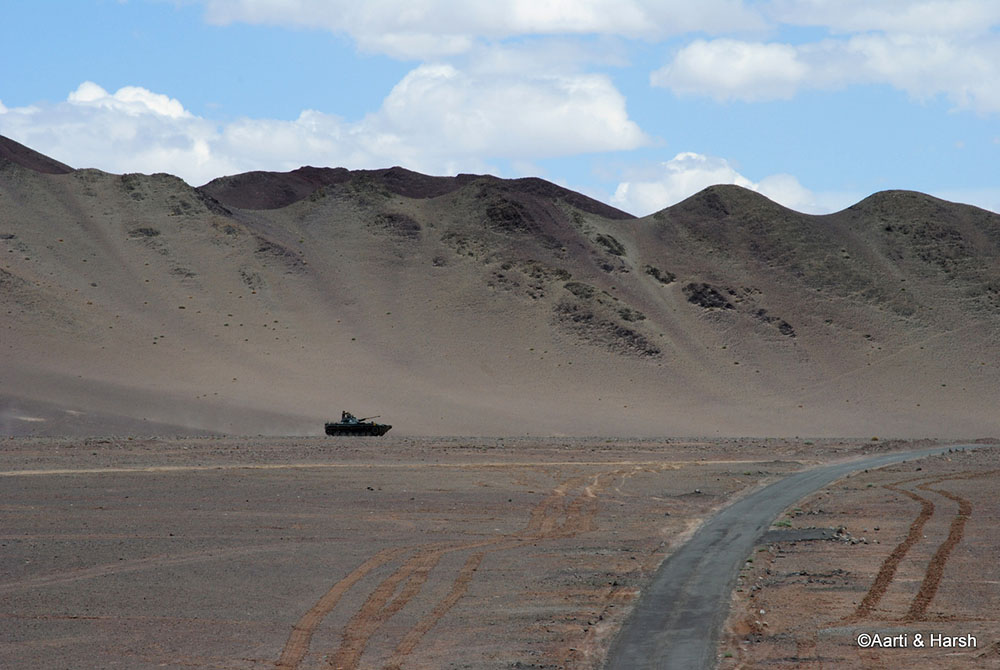 ​Nyoma
If it were possible, the view at the next bend was a tad more beautiful. The river had spread wider, to form a mini archipelago in the middle. The mountains had a tinge of pink, hues of green, and a splash of brown. Whites were sorely missed! Since we were in Changthang, herds of Kiang constantly passed by us. As shy as ever, these herds were generally seen across the river.
Also Read: How to Arrange Inner Line Permits in Ladakh
There came a bridge, just before Nyoma, going towards the mountains afar. We initially thought it was probably going towards an army base. But later realized that it went all the way towards Kyun Tso and Thit Zarbo La. It was again heart-breaking to have missed the detour, and we repeated our pledge of doing the route someday.
Nyoma was now visible in the distance.
The archipelago collection in the middle of the river. There are several such spots on the road from Leh to Hanle.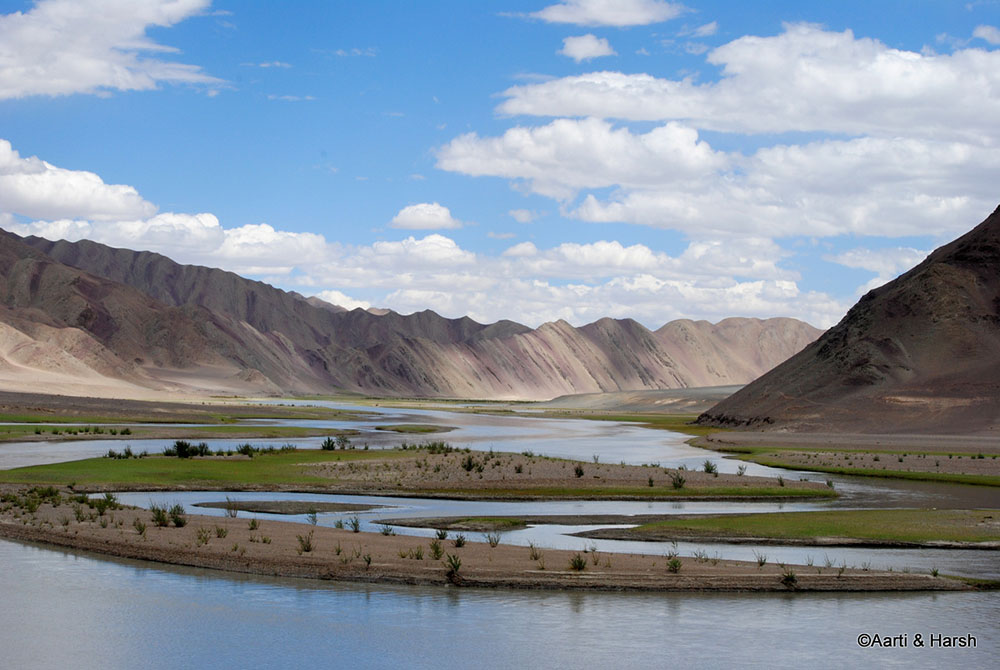 The colors of nature on Leh to Hanle road

More ICVs spotted in the distance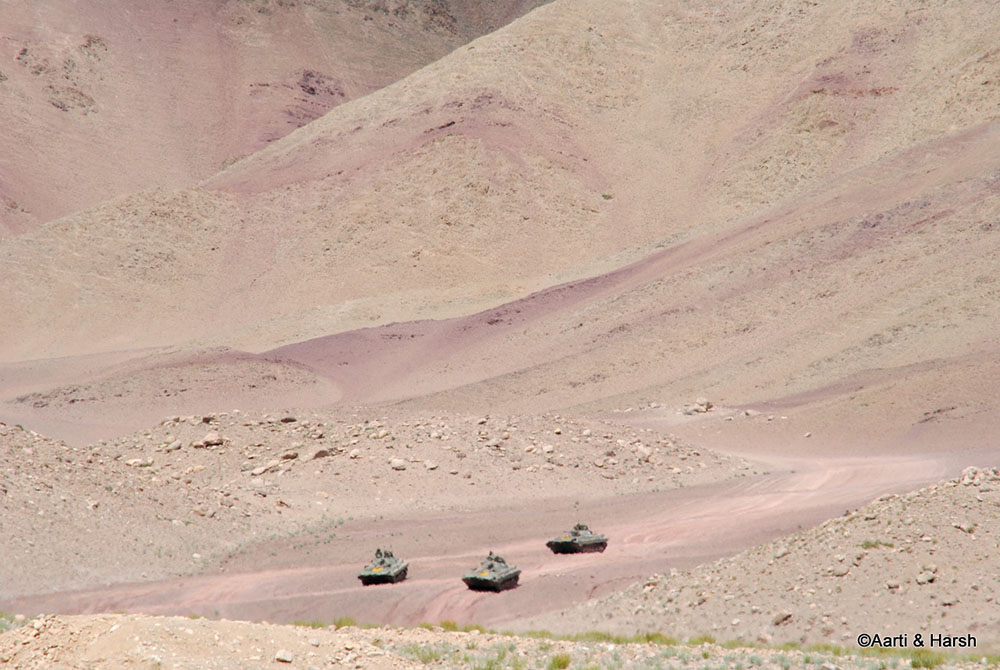 Curvaceous beauty from Leh to Hanle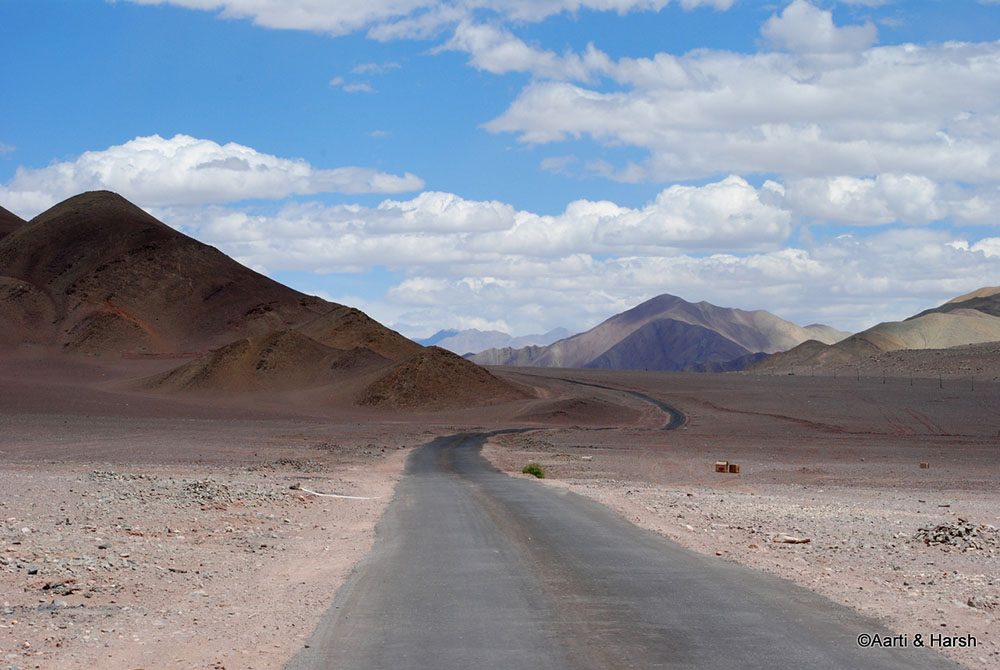 The bridge over river Indus. It goes towards Nidar and eventually Thit Zarbo La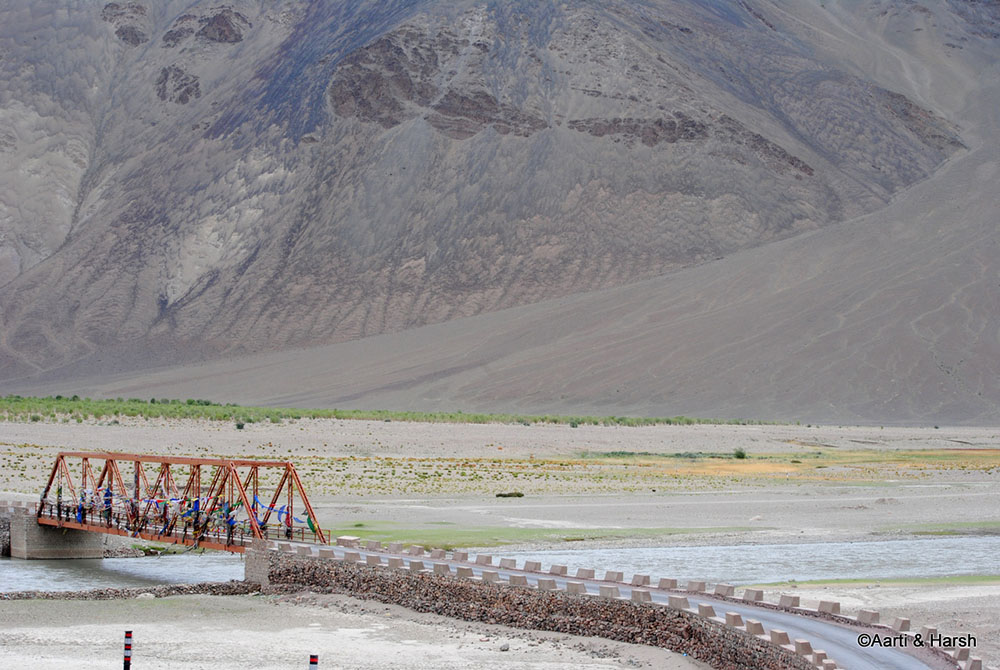 Nyoma to Loma
With limited tourists crossing this part of the world, and army vehicles preferring to stop at messes for meals, there are hardly any dhabas to be found beyond Mahe. It was lunchtime already and the only dhaba on the main highway was closed. We marched inside Nyoma and reached the market, where a few shops were open.
Upon inquiring at the only dhaba there, we came to know that the nice lady had some spare petrol to sell in the grey market. She also told us that she could make Maggi for us for lunch. Not wanting to eat Maggi, we passed her offer and headed back towards the highway to search for the usual fare of Thupka or daal-rice-vegetables.
Sadly, nothing else was open and we were forced to go back and take her up on her offer. She fed us with vegetable Maggi along with the second-best Qawah we have ever had (the best was at Dal Lake on a shikara ride).
We promised to return the next day to buy petrol from her. This was strange, but I was too tired to inquire more on it and left it at that. After a satisfying meal, we were back on the road by 3 pm or so to cover the last 70 km left for the day.
The initial stretch between Nyoma and Loma was a riot of colors, but the latter half was quite dusty and desert-ish. The black tarmac was smooth, and rode through one of the most amazing landscapes that exist on this side of our planet. Kiangs too were a frequent sight as we rode along. The frequent photo stops made our progress slow, but we didn't mind at all as the beauty around us kept us mesmerized.
Loma Check-Post
Just before the Loma check-post, the Indus widened as much as it could and was a sight to behold. The jawans at the post had a customary look at our permits and let us pass. A familiar fork in the road came just past the bridge which marked Dungti on the left and Hanle on the right.
Also Read: How to Plan a Trip to Leh Ladakh – A Complete Travel Guide
Having turned wiser from the last trip, we proceeded towards the intended destination this time, taking the right turn. The scene extends to infinity and this point was undoubtedly one of the most beautiful of our entire trip. Layers of colors with different shades, a delight for a cameraman's eyes. Like a snake, the tarmac bends in the vast landscape
The beautiful road from Leh to Hanle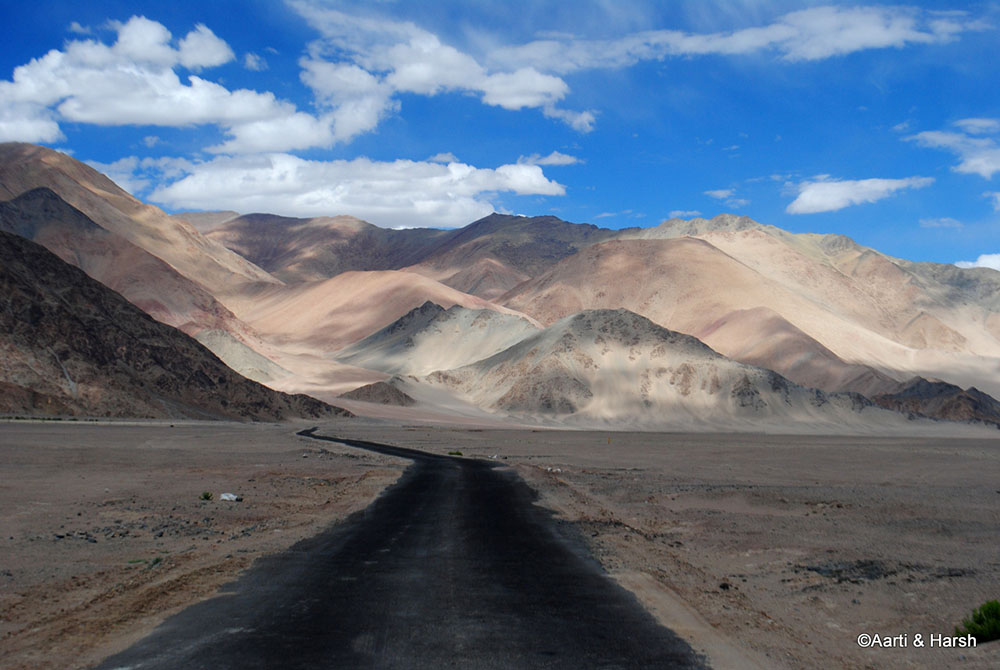 And at times, it stretches out till eternity where the proverbial parallel lines join. The mighty Indus stretches its widest near the Loma post.
​Loma to Hanle
The vast plains before Hanle could be called the 'baap' of all the plains that exist on the Changthang plateau. Neither the revered More nor the Tezagong plains come close. The Rhongo plain has a lot more character than its siblings further west and south respectively.
It boasts of a lush green strip where a lot of Changpas make camp during this season. While a river runs west of the road feeding that green strip, the eastern half of the plain is as barren as a landscape can get. Beyond the eastern flank lies the mighty Indus, and beyond which lies our neighboring nation.
The stark combination of a brownish-pink desert and greenery in patches for about 45 km at an elevation of 4700 m ASL with dead straight roads makes the ride to Hanle one of the most gratifying rides ever. The lush green provides the Changpas the much-needed fodder for their pashmina flock as well as a constant source of freshwater.
Not to mention the convenience of being located so near a road, as most of them own one vehicle or the other to help them trade their goods at Leh. To top it all up, these lesser-visited plains provide them the seclusion they so want from maddening tourists like us, invading their way of life for better or for worse. Kiangs were so many that we were forced to describe their sightings as infestation!
Also Read: How to Plan a Trip to Pangong Tso from Leh
Hanle Fort
At a distance, we saw an imposing structure at the edge of a mountain which we knew to be the imposing Hanle Fort. This marks the beginning of the Hanle wetlands which are rich in both flora and fauna. The fauna includes some visitors from up north (Siberia) such as the black-necked crane.
Hanle is not a single village but a collection of many small villages which dot the wetland. The tarmac ends just beneath the fort where 4 roads converge. The first, the one which we were coming on from the North, comes from Loma. From the west, the second road comes all the way from Chumur.
The third road coming from the east comes from Fukche and crosses the mighty Photi La. The last road from the south comes from a habitation that is so secluded from the rest of the world that it can still be called pristine. And so dry that the scientists decided to build an astronomical observatory there. Hanle.
An oasis in this middle of a cold desert helps quench the thirst of these wild beasts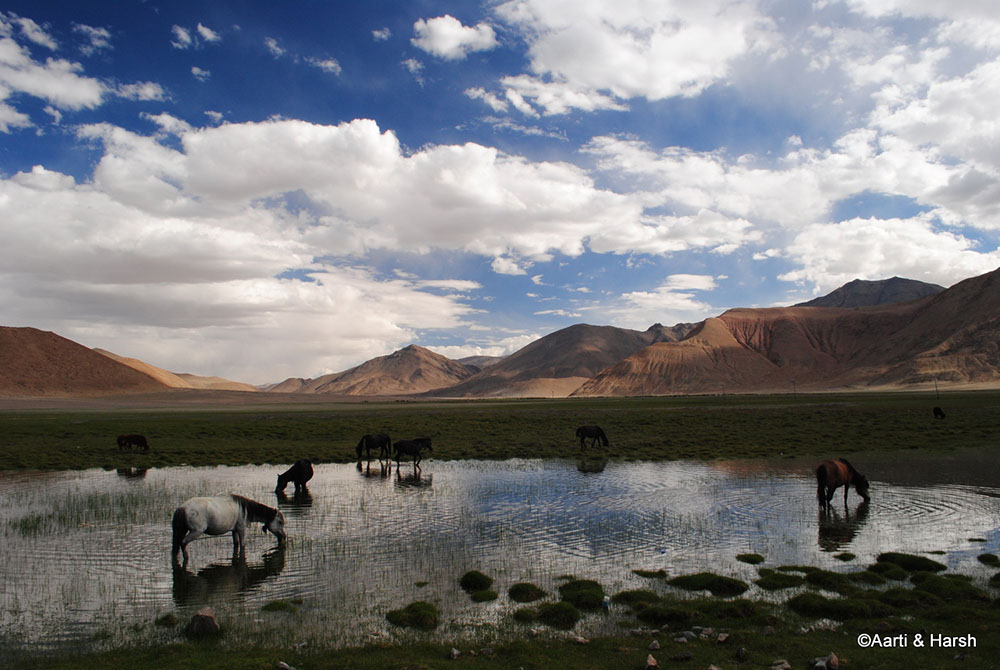 A group of Kiangs loiters around, curiously looking at their intruders. They are a common sight on Leh to Hanle stretch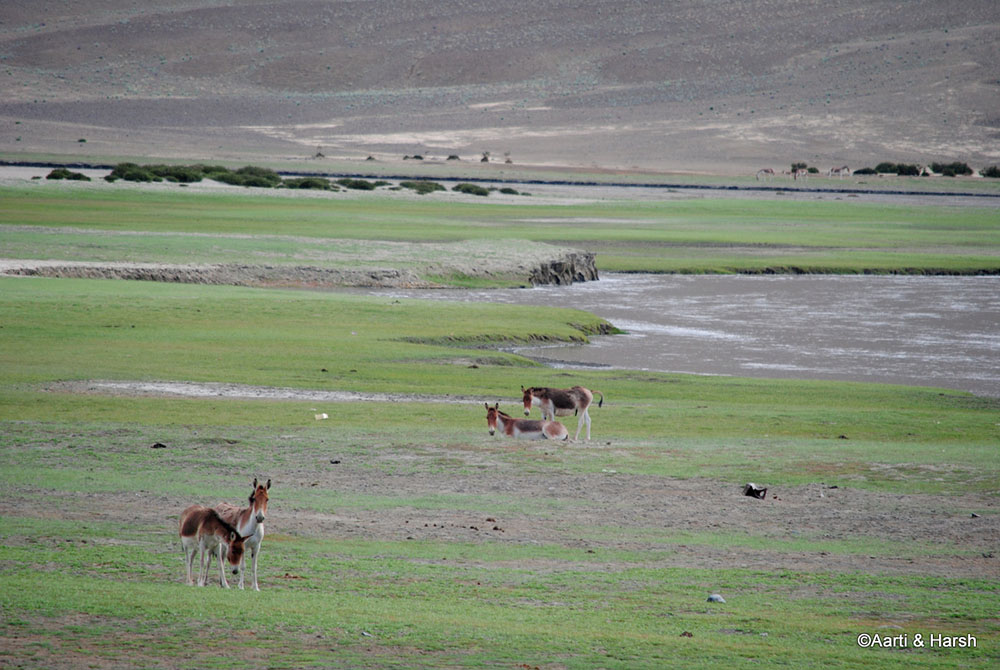 WanderB looks at the remaining miles of Leh to Hanle to crunch for the day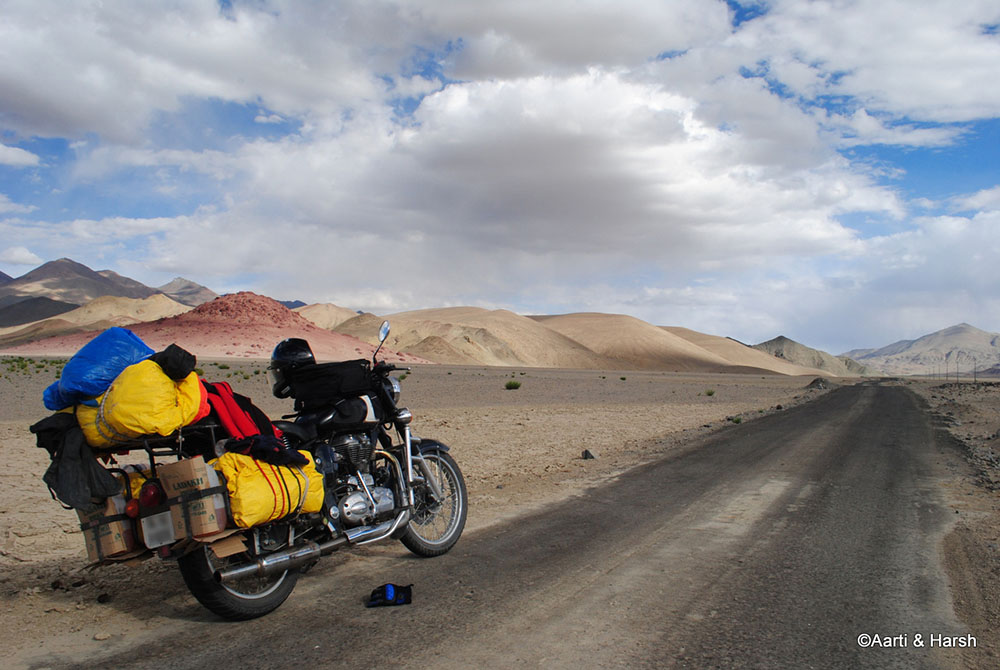 Finally, we reach close to the Hanle fort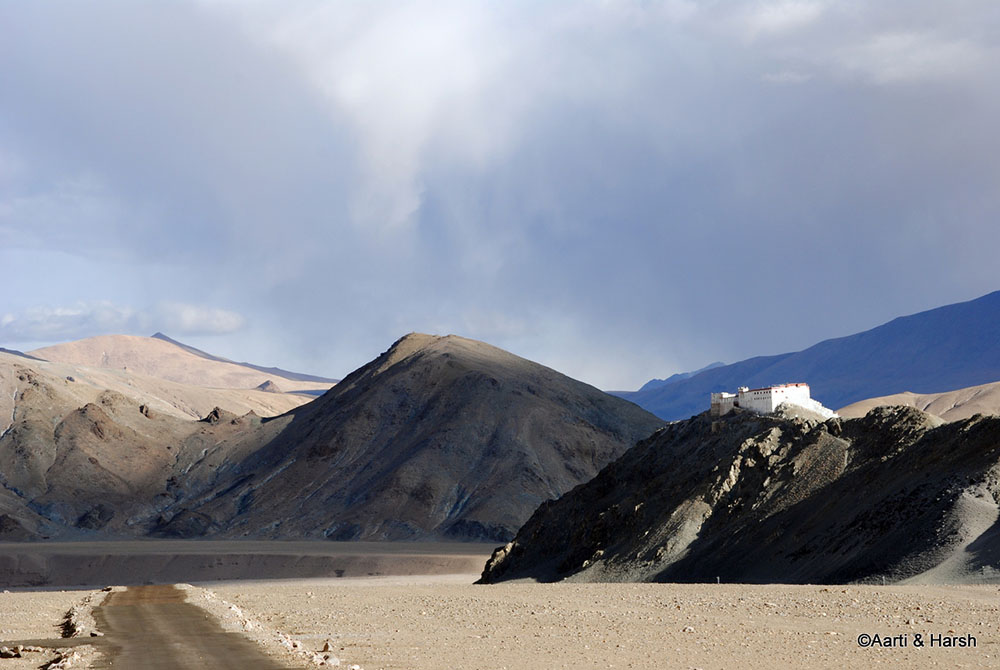 ​Hanle Village
Our long Leh to Hanle journey finally came to an end. We entered the village and headed straight to the lone telephone booth there. Upon asking for a place to stay, the booth and shop owner (lady) guided us to the home-stay she had built in her own house. It was a two-room affair with a common bathroom which was well tiled and boasted of a newly installed western commode as well.
The rooms were pretty spacious, enough to accommodate 2 large beds in each. The bedding was quite dirty though and could have used some cleaning, but we quickly took it as a roof over our heads was more important. One of the rooms was occupied by a group of 6 bikers from Bangalore. Their rented bikes bearing JK 10 yellow/ black registration plates neatly parked outside.
As we exchanged pleasantries, we got to know that half of them had gone to visit the Hanle fort, while the other half rested. They had come from Tso Moriri and had reached Hanle by lunch.
We quickly washed away the dirt from our faces, chucked our riding gear, and headed straight for the observatory. The sun was going down quickly, which meant that Mt. Saraswati, the hill on which the observatory is built, was the place to be.
Also Read: Mobile Phone Services in Leh Ladakh
Hanle Observatory
The complex looks like a structure from a science fiction movie given the backdrop where it is constructed. We caught up with Mr. Sonam, a local of Hanle village, and a caretaker at the establishment. We soon realized that we had actually interacted with Mr. Sonam via the senior staff at the observatory over email, and it was his homestay that we had actually booked ourselves at.
He mentioned that he had made investments to ensure that tourists visiting his village could have a place to spend the night at. This request for investment had also come from the staff of the observatory. They were sick and tired of repeated requests from tourists such as us for permission to stay the night at their guest house.
We tendered our apology to Mr. Sonam for the confusion and explained that it will not be fair on our part to leave the homestay which we'd checked into now. He agreed with our logic and did not say much afterward.
A young engineer, who had done all his schooling at Delhi, was employed at the observatory. A native of Leh, he had found what I would describe a dream job for many. He spends 15 days on-site, while the remaining 15 are spent in the 'relative' comforts of Leh.
He was excited to have visitors all the way from the political heart of India. We exchanged anecdotes from our respective lives. He took us around inside the main telescope room, showed us around, and then bid us a fond adieu.
The observatory at Hanle looks straight out of a sci-fi movie – an abandoned station in the middle of nowhere.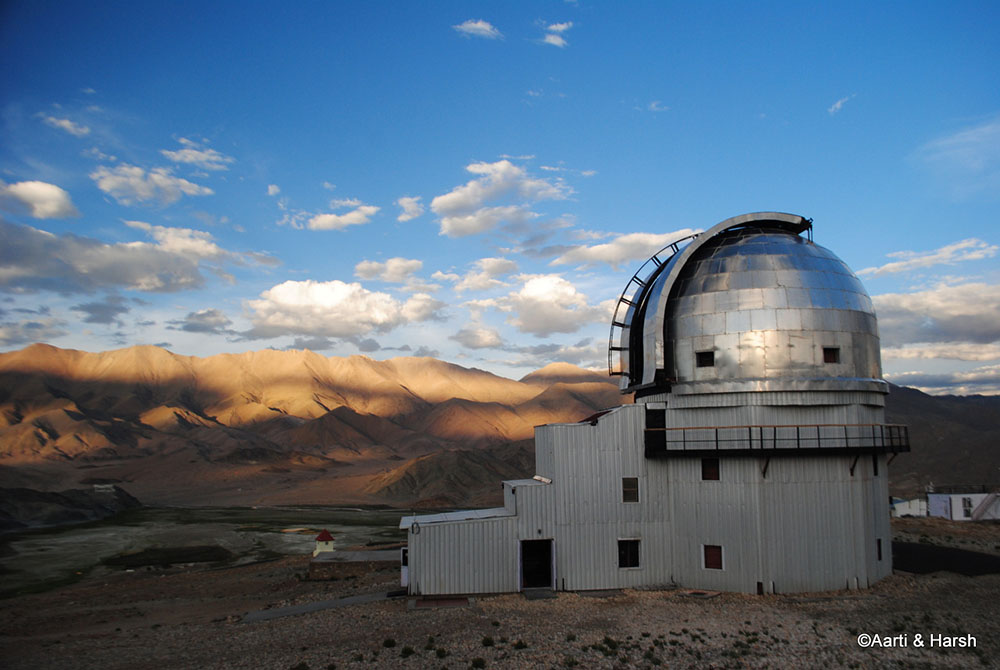 Homestay in Hanle
It was only after dusk that we reached back our abode for the night. The Hanle village follows a very strange practice. Every evening the main gates to the village are tied up with a huge rope! I wonder why since crime is hardly a problem in this region! It was quite dark by the time we pushed back to our humble homestay for the night.
After freshening up, we decided to call our friends before dinner and went to the phone booth outside our homestay. The queue was long. Many laborers travel from the plains to this remote part of the world giving their services to the locals.
We met up with two carpenters from Amritsar. They have been working on restoring the interiors of the Hanle Fort since March and would leave only after two months or so, before the harsh winter sets in. A few locals had also come to make calls to their relatives, near and far.
Also Read: How to Plan a Trip to Nubra Valley
Satellite Phone Service
After a good 45 minute wait, we finally got our chance. The first call went to KD, but sadly he did not pick up. The second to Sagar, and he too did not answer. The third to Gunjan, who was busy on another call. Finally, we got through to YeshuB on his mobile.
After ranting for a few minutes with the choicest expletives, I updated them on the route status. I also strongly recommended them to come 4 km ahead from the Mahe check-post and then take a U-turn towards Tso Moriri.
The boys had decided that they too would be joining Gunjan and Yeshu till the lake and the group could then be reunited. We decided to catch each other at Korzok the next day, as coordinating somewhere in between would have been difficult. I also requested KD to bring along a jumper cable for the bike, if possible, as the self-start was still not working.
What followed was a nice home-cooked meal in a typical Ladakhi kitchen. This was followed by an invite by the Bangalore boys for a couple of drinks and a chat with them on their plans ahead. I recommended them to try and coax the gentlemen at Loma to allow them to go towards Pangong directly via Chushul.
With a prayer on our lips that the bike starts tomorrow without any hassle, we slept calling an end to our journey from Leh to Hanle. Tomorrow, another long day awaited us as we planned to move to the beautiful freshwater lake of Tso Moriri. Please click on the link above to continue reading the next part of the travelogue.
Leh to Hanle – Conclusion
I hope the travelogue, pictures, and information above on traveling from Leh to Hanle were of help. If you have any questions or need any other details, please feel free to ask in the comments section below or at our Community Forum, and I will be glad to answer.