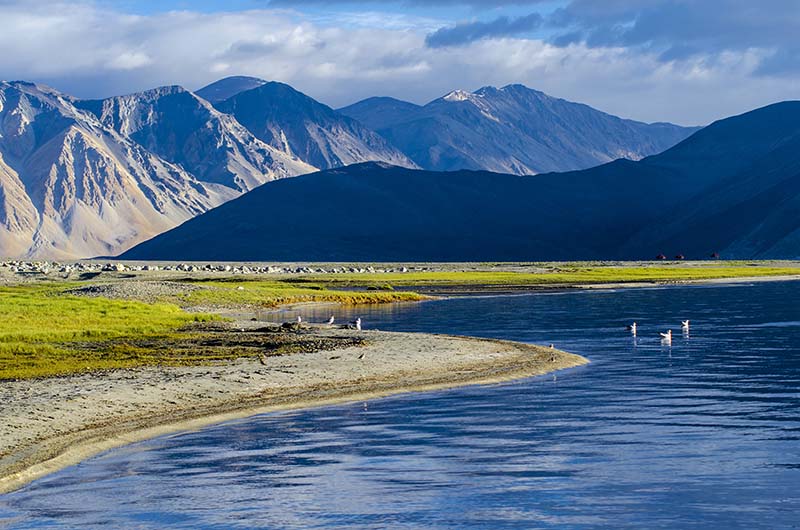 Traveling to Leh in a self-owned vehicle always comes highly recommended however for those who chose not to do so because of any reason, there are several modes of public transport services available to reach Leh. You can also travel to Ladakh by train, bus, shared taxis, or fly directly to Leh City.
In this article, I will provide details on several modes of traveling to Leh Ladakh. Depending on your budget and convenience, you can decide which mode of commute suits you the best. For a complete travel guide on Ladakh, please take a look at How to Plan a Trip to Ladakh –  A Complete Travel Guide.
Ladakh by Flight
While both of the highways to Leh are equally as scenic as the destination itself, Traveling by Air is a great option for those who want to spend more time in Leh and visiting nearby places. It is also the only option to reach Leh if you are planning a trip in Winter.
Following three Airlines operate regular flights to Leh.
Go Air operates daily flights from Delhi to Leh.
Indian Airlines :

4 flights in a week between Delhi and Leh.
2 flights in a week between Jammu and Leh
1 Flight in a week between Srinagar and Leh

Jet Airways has six flights in a week from Delhi to Leh.
If you reach Ladakh by flight though, be prepared to get hit by AMS. The sudden increase in altitude is bound to shock your body and you will definitely experience some symptoms of altitude sickness. For more details on this, please take a look at How to Handle Acute Mountain Sickness in Ladakh.
Ladakh by Bus
There are regular bus services to Leh, both state and privately owned. These services are available only when the highway is open and is also the cheapest way to reach Leh. If you were planning on traveling to Ladakh Train, much of your journey will also depend on the bus service as well.
HPTDC Bus to Leh
HPTDC (Himachal Pradesh Tourist Development Corporation) operates deluxe buses on Manali Leh highway with an overnight stop at Keylong. You can board the Bus from the Manali Bus stand and can even book the ticket at HPTDC Online Portal.
The charge can be anywhere between Rs. Rs.2000 to Rs. 2500. HPTDC ticked will be inclusive of your overnight stay at a hotel in Keylong.
HRTC Bus to Leh
HRTC [Himachal Road Transport Corporation], also has buses running on this route from Manali to Leh as well as Delhi to Leh. You can board the bus from either Delhi ISBT or Manali Bus stand. From Delhi, it is a 3 days journey and 3 days from Manali.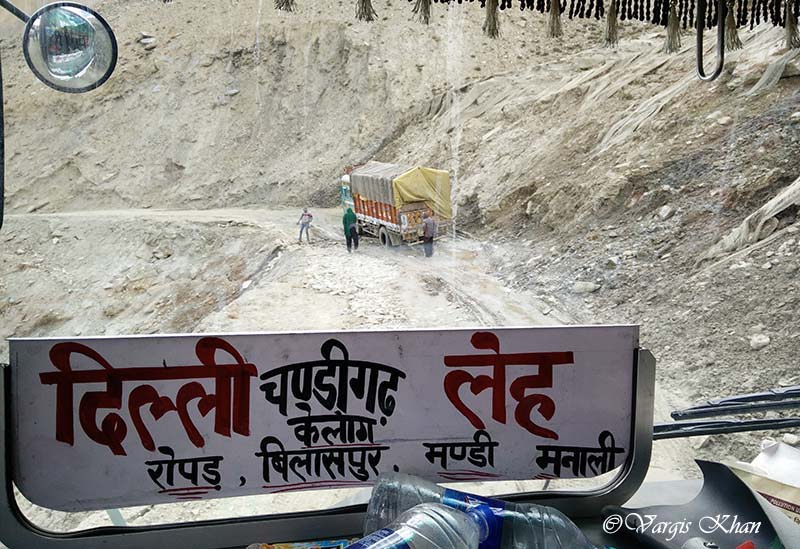 JKSRTC Bus to Leh
JKSRTC [Jammu and Kashmir state road Transport Corporation] operates a regular bus service on Leh Srinagar highway with an overnight stay at either Kargil or Drass. The estimated fair is close to Rs. 1000 / person. Please read Srinagar to Leh Bus Service for more details.
In case you are in a hurry to reach Leh, there is a direct bus that takes around 24 hrs from Manali with no overnight stop. Please read Manali to Leh in 1 Day by Bus.
To get more detailed information about Bus services to Leh and in Ladakh region, please read Bus Service to and in Ladakh.
Also Read: What Clothes to Pack for Ladakh
Ladakh by Taxi / Shared Taxi / Jeep
This is another great and cheap way to travel to Leh is by Taxi and Jeep.
Manali to Leh in one Day by Taxi
These start real early in the morning, between 3 and 4 AM from Manali Taxi stand, and reach Leh by night. There will be short breaks on the way but no overnight stay. Even though this journey roughly takes about 18 – 20 hrs, it will be the longest and most uncomfortable ride of your life.
The road can be bumpy and the driver will be in a hurry to reach Leh by night. This Jeep / Taxi will charge you roughly around Rs. 1500 and is a great way for anyone who wants to make it to Leh ASAP. Nicknamed as Cannon Ball Run, it truly is a day of Joyride. If you are taking this, try to grab a middle or front seat.
Also Read: What to see in Ladakh
Manali to Leh by Shared Taxi
This is usually run by Travel agents. If you a large enough group, then the Taxi is all yours and becomes a private one. If you are a smaller group, 2 or 3 people, the travel agent will club you with other tourists in the same Taxi.
It is a 2-day journey with a night halt at Keylong or Darcha. Fair will depend on how well you can negotiate with the travel agent and how many people are traveling [Per head cost = Total cost / total passengers].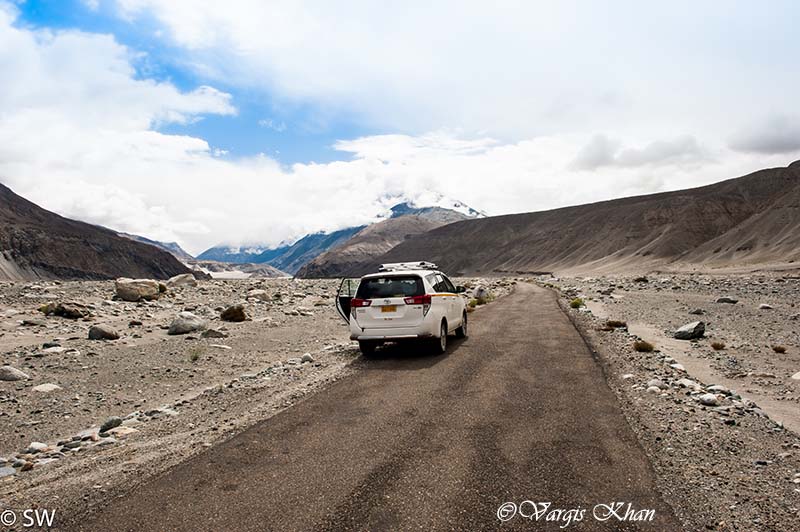 Ladakh by Private Taxi
As the name suggests, this is a Taxi that you hire for yourself and family/friends, has the option of traveling at your own pace, stopping wherever you like. Be advised that this is a very expensive option considering the terrain.
Also Read: Manali Leh Highway Travel Guide
Ladakh in a Truck
OK, I know this is going to sound weird but it truly is an option to reach Leh from Manali and I believe also the cheapest. There is a long line of Trucks on this route almost as soon as it opens and quite often these truck drivers will let you hop in, of course in exchange for money which will depend on how well you can negotiate with them.
Usually, this charge is around Rs. 500. If you are in for a taste of the life of a Trucker, this is the option for you however be ready to sit on a pillow for a few days after you reach Leh.
If you chose to take this option, please pay only after you reach Leh. Paying in advance will get you the risk of the Trucker driving away while you were having tea at a Dhaba. Also, opt for a truck that does not have too many people traveling in it.
Please also be advised that by traveling this way, you are running a serious risk of getting robbed, or maybe even killed. You will be alone on a deserted road, in a truck, with strangers who know that you are a tourist and got money on you.
There are stretches on Manali Leh highway where you won't see a single living soul for miles, thus giving ample opportunities to someone to rob you. If they killed and dumped your body here, it will be weeks before it's found. Or it may not even be found if the animals decided to feast upon it.
Also Read: How to Plan a Solo Trip to Ladakh
Ladakh by Train
Leh does not have a railroad, however, one is currently on the papers which, if the proposal is accepted, will run along the Manali Leh highway.
However for now, if you want to reach Ladakh by Train, you will have to first go to Jammu which is the nearest railway station; at a distance of about 734 km from Leh. From Jammu, you will then have to reach Jammu and then continue to Ladakh from there.
Also Read: Leh to Pangong Lake Travel Guide
Ladakh by Train, Flight or Road – Conclusion
I hope the information above on reaching Ladakh by train, bus or taxi was of help. If you have any questions or need any other details, please feel free to ask in the comments section below; or at our Community Forum; and I will be glad to answer.