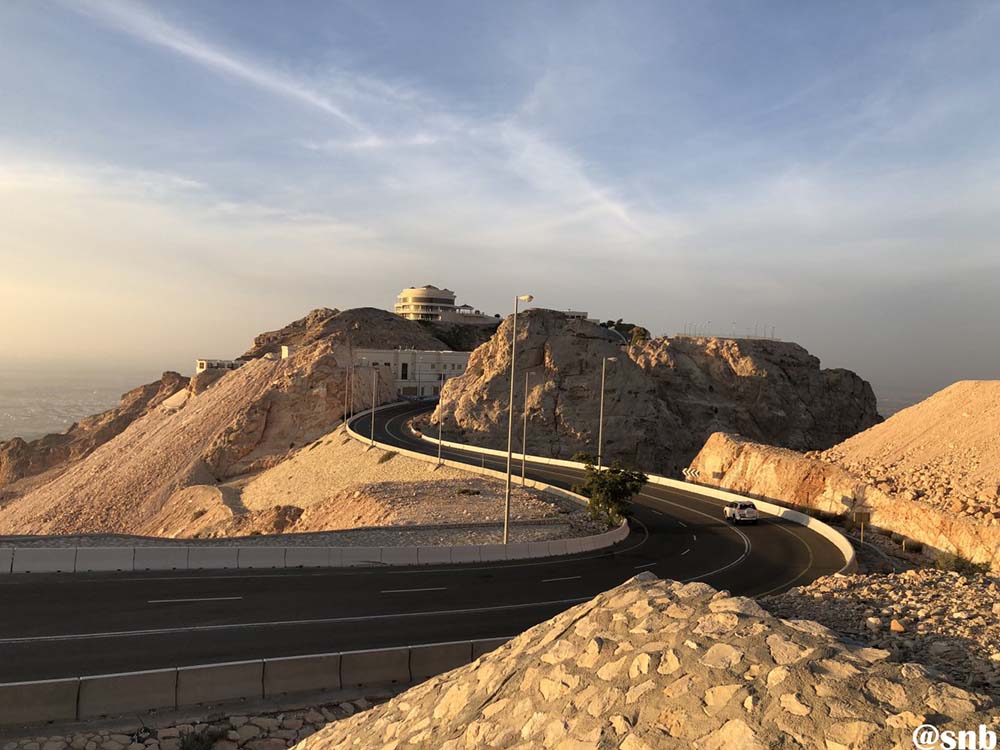 Though Dubai was our base station for this trip, we were less interested to keep us restricted to the man-made marvels at downtown Dubai. We were keener to get a feel of the overall geography, its topography, and climate, its people, and culture. So, we decided to do a couple of day trips from Dubai. Our first destination for those day trips was Al Ain and we decided to travel from Dubai to Al Ain by bus.
Please note that this article is in continuation with a previous one and a part of my Dubai Travelogue. We had already spent a few days in Dubai exploring the city before we went on this road trip to Al Ain. Please click on the link below to read the previous parts of the travelogue.
Journey So Far
About Al Ain
Al Ain is a city in the Eastern Region of the Emirate of Abu Dhabi, on the UAE's border with Oman, adjacent to the town of Al-Buarimi. It is the largest inland city in the Emirates, the fourth-largest overall, and the second-largest in the Emirate of Abu Dhabi.
Al-Ain is known as the "Garden City" due to its greenery, particularly about the city's oases, parks, tree-lined avenues, and decorative roundabouts. The law restricts the construction of buildings more than seven floors to preserve the character of the city.
Various tour companies offer door to door Al Ain day trip packages. But those packages were expensive. So, we opted for public transport.
Dubai to Al Ain Bus
There is no RTA bus service from Dubai to Al Ain. A private operator Al Ghazool operates a minibus service from Al Ghubaiba bus station to Al Ain.
After a heavy breakfast, we reached Al-Ghubaiba bust station around 10.45 am.
Then we purchased the ticket for Al-Ain from the ticket counter at the bus station. The ticket price was 20 AED per person. Since the previous bus was more or less filled up, we stood in the queue for the next bus.
After some time, the next bus came. The seating arrangement is 2X1. But if there are more passengers, the hand rest of the double seat opens sideways and gets converted into a seat. If required, for letting in or letting out the passengers from the back-side rows, the person, sitting on that makeshift seat, gets up and folds the seat sidewise to create the passage.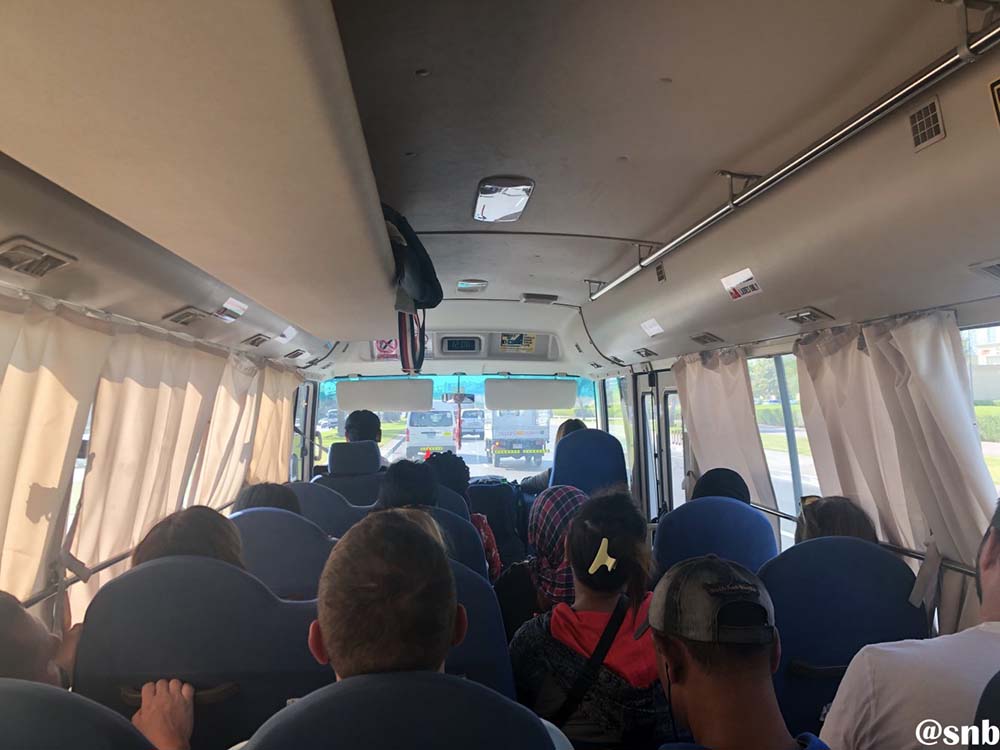 Though the buses are scheduled to leave every half an hour, it seems it starts only after getting fully filled up. Our journey commenced at around 11.30 am.
The bus initially took Sheikh Zayed Road towards Abu Dhabi. Within 15-20 minutes, we were out of Dubai, driving on an asphalt road bisecting the desert.
Also Read: Angkor Wat – The Beautiful City of Temples
Almost after an hour or more, the bus left Sheikh Zayed Road and took a left turn towards Al Ain. We entered Al Ain around 1 – 1.15 pm. The arid desert got replaced by green.
Al Ain
We reached Al Ain bus depot at 1.30 pm. The alighting point is not inside the bus depot but adjacent to it. There is an attached taxi bay there. So, after getting down, we went to the taxi bay. The arrangement was first come first serve. We got into a taxi being driven by a driver of Pakistan origin. There was no language issue.
We had a quick discussion of the places which we should see. He, given the time available, advised us to cover Al Ain Oasis, Al Ain Museum, Jebel Hafeet, and Green Mubazzarah. We immediately started for Al Ain Oasis.
In our Dubai trip, most of the cab drivers we met were from Pakistan. All of them were very gentle and courteous to us. So were we. I really do not know why our mutual behaviors change when we come back to the homeland.
We did meet drivers from countries like Egypt, Ethiopia, and Bangladesh. All of them were gentle and professional.
Also Read: The Smiling faces of Bayon, Cambodia
Al Ain Oasis
We reached Al Ain oasis around 1.50 pm.
Al Ain Oasis is the largest oasis in Al Ain. It is known for its underground irrigation system ("Falaj") which brings water from boreholes to water farms and palm trees. The Falaj irrigation is an ancient system dating back thousands of years and is used widely in Oman, UAE, Iran, and other countries.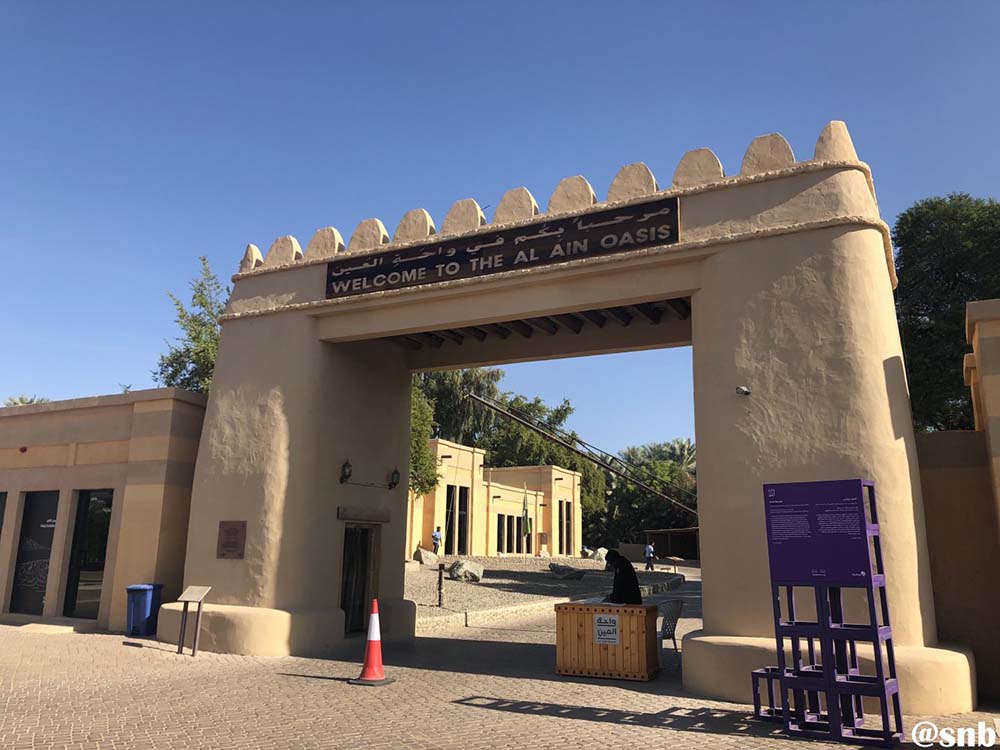 There was a nominal entry fee, I guess. I couldn't recall it properly. Trolley buses were available for roaming inside the oasis, albeit in exchange for some fee. Cycles were available too. But we decided to wander through the alleys of Al Ain oasis. The date palm trees were offering some protection from the Sun. It was a pleasant walk.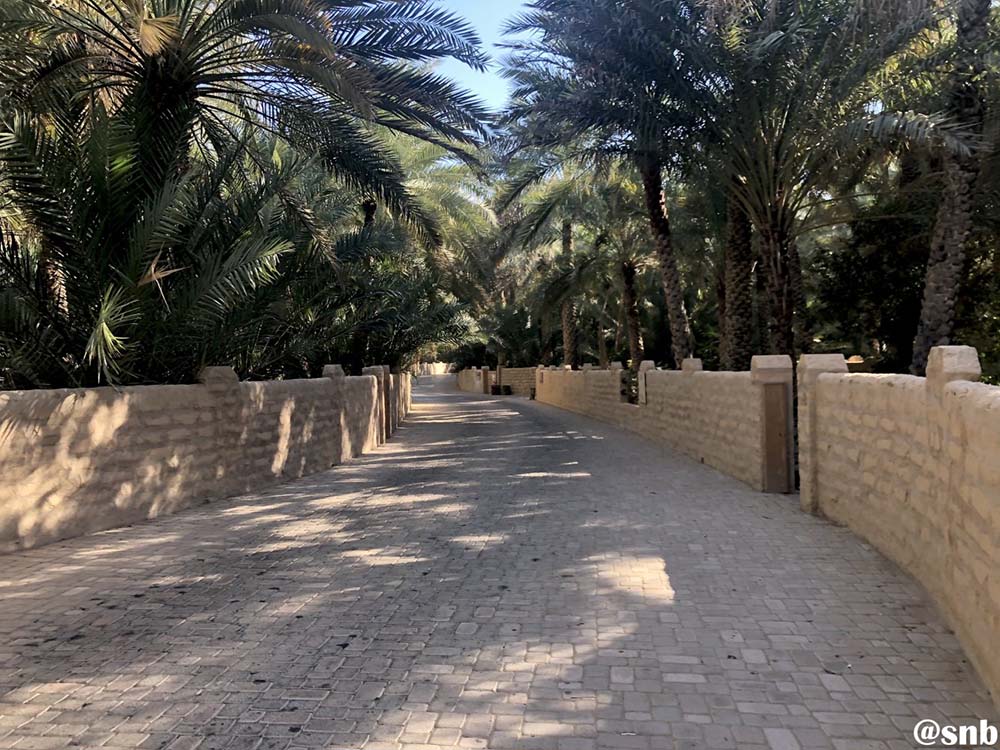 But some stretches of the alleys were not so lucky. Those stretches were devoid of any date palm tree cover. The yellowish paver block and the yellow color painted boundary walls of the date palm groves were glowing gold under the afternoon Sun.
Also Read: San Francisco to Los Angeles – How to Plan a Road Trip
The Irrigation System
Like any other oasis, water and irrigation are the two most important parts of Al Ain oasis. The allocation of available waters among the palm groves is called Falaj system which means "split into parts" in classical Arabic. In Al Ain, Falaj systems were of two types: one tapped water from mother wells sunk down to the water table and the other ran surface water from seasonal streams.
Once the water reached the oasis, it was distributed to various owners of arable land through the Shari'a, the division system, in accordance with a complex water allocation plan. With gravity, water flows to the surface through underground channels from higher ground and reaches every palm grove, where it is deviated by barriers that make it flow to each corner of the land.
Fields have a precise geometry, defined by the flow of water that descends and irrigates the corps. It is distributed along channels through large and important barriers; or through barriers prepared by the farmer as necessary.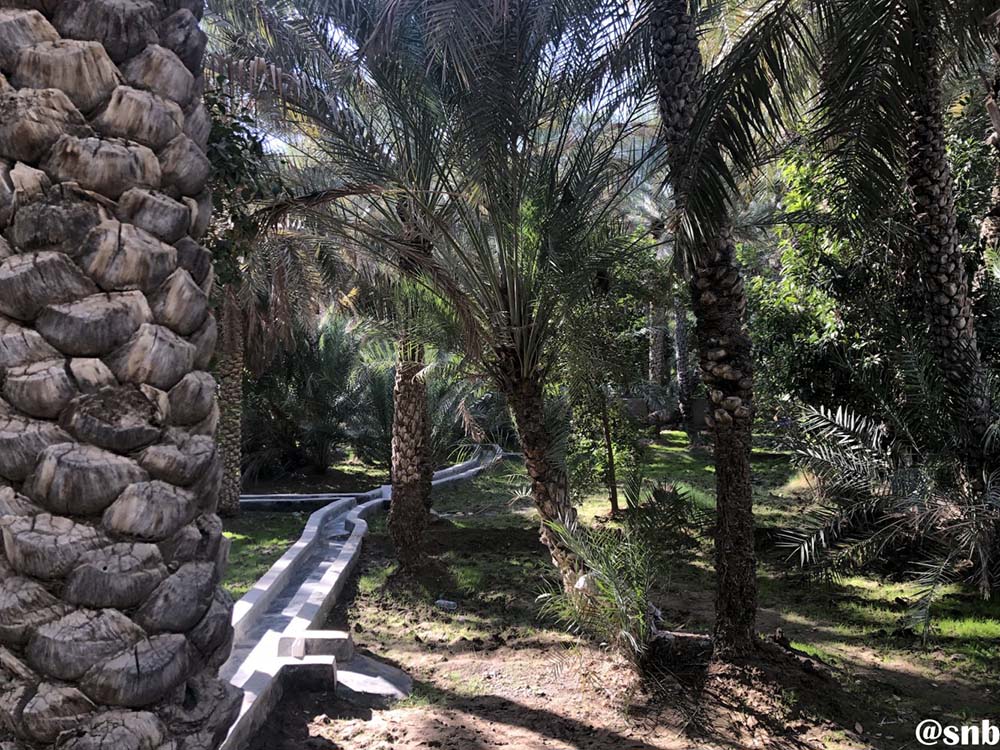 The Oasis Compound
Al Ain dates come in varieties of yellow and red. Qualities depend upon the harvesting season. There are fresh dates while others are harder, or drier and almost dehydrated. As a fundamental staple of nomadic caravans, the dates have extraordinary qualities, because palm trees concentrate minerals such as potassium, Sulphur, phosphorus, iron, sodium, magnesium, and zinc in the fruit.
It is highly nutritious as it contains vitamins A, B, C, E, fatty acids, sugars, and proteins. There are some kinds that are almost free of sugar and therefore, are useful in a diabetic diet.
There are a couple of mosques in the Al Ain Oasis complex. We reached a small cafeteria where we took a coffee and cold drinks and sat for a while to take some rest.
When we finished our visit and came out of Al Ain oasis, it was 2.45 pm.
Sheikh Zayed Palace Museum
Our next destination was the Sheikh Zayed Palace Museum. It is adjacent to Al Ain oasis and we reached there by walking.
The museum is based in the palace of the former UAE President, Sheikh Zayed Bin Sultan Al Nahyan (1918-2004), and his family. It was originally built in 1937 on the western side of the Al Ain Oasis. Sheikh Zayed lived here until 1966. It was made into a museum in 1998.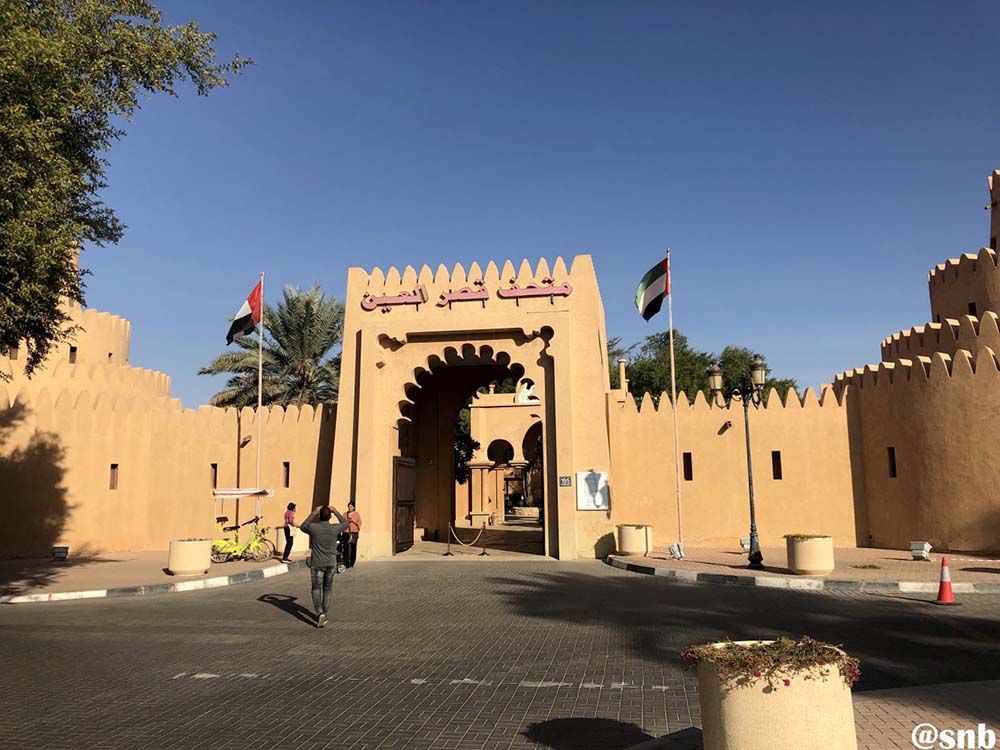 The palace is quite Spartan in structure compared to various royal palaces in India. It consists of all bit one single storied-blocks. The palace compound is square in shape. There is a high boundary wall on all sides of the compound. The main entrance to the compound is from the west.
There is a photo gallery along the inner periphery of the western wall. The palace compound can be divided into two halves though there is no formal division.
At the outer half, there is a passage from the gate which leads to a big room which probably was a meeting room. That room now contains the chronology of royal rulers and their photos.
Also Read: Solo Trek to Everest Base Camp – Blog and Travel Guide
On one side of the passageway, there is a green lawn. On the other side, there is a cemented courtyard.
In the inner portion of the compound, there is a small courtyard with a well. There are multiple rooms on three sides of the courtyard. For some rooms, the descriptions are available about the purpose or usage.
There was no guide. Neither the guide was required. We visited the palace museum at our own pace. It did not take more than 60 minutes.
Jebel Hafeet
Our next destination was Jebel Hafeet.
As per our understanding with our next driver, we called him around 10 minutes before the completion of the Sheikh Zayed Palace Museum tour. By that time, we came out of the museum; he was at the parking lot. So, we immediately started for Jebel Hafeet. It was around 4 pm then.
Jebal Hafeet means "Empty Mountain" in Arabic. It is a mountain range to the north of Al Ain on the border of Al Ain and Oman. It is considered to be an outlier of the Al Hajar Mountains in Eastern Arabia. Due to its proximity to the main Hajar range, the mountain may be considered as being part of the Hajar range.
This is the sole mountain in the Emirate of Abu Dhabi, and one of the highest mountains in the country. It has given its name to a period in UAE history, the Bronze Age (3200 to 2600 BCE), Hafit period, because of the discovery of a cluster of important Bronze Age beehive tombs at its foothills. The distance of Jebel Hafeet from Sheikh Zayed Palace Museum is approximately 25 km.
Also Read: Road Trip to Bhutan – Journey of a Lifetime
Sheikh Zayed Palace Museum to Jebel Hafeet
After starting from the museum, we took a small break at a tea stall for tea. After that, we resumed our journey towards Jebel Hafeet. We were out of Al Ain town within15 minutes.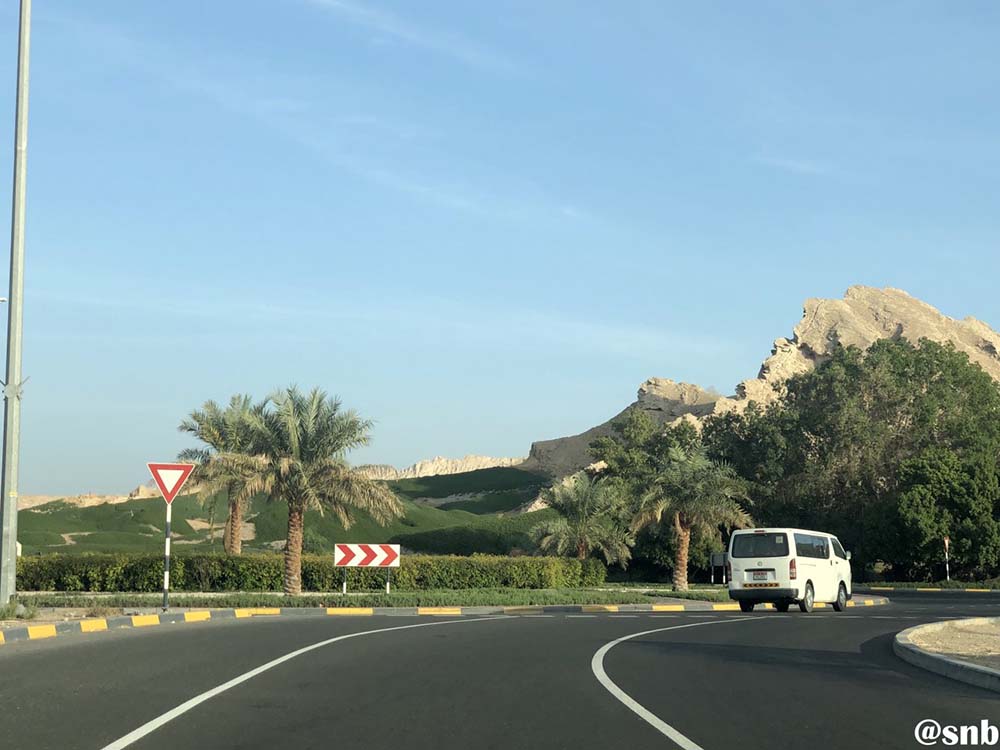 Within another ten minutes, we reached Green Mubazzarah, at the foothill of the Jebel Hafeet Mountain.
We decided to see Green Mubazzarah while returning and therefore continued our drive. Immediately after crossing Green Mubazzarah, the upward hill drive started. The road was well tarred and the surface was super smooth. It was a two-lane road with each lane sufficiently wide. Therefore, driving was not at all difficult though there were a number of twists and turns.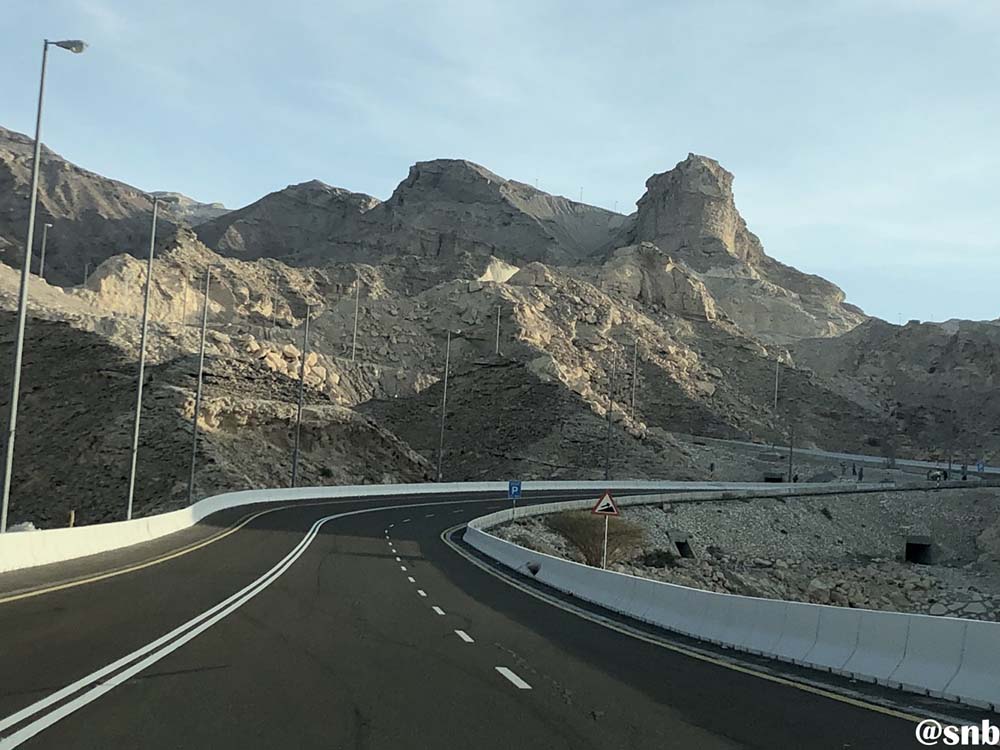 The mountain was completely barren and devoid of any green whatsoever. Somewhere, it was made of solid rock, and somewhere it was made of gravels. The color was mostly brown. It was reminding me of my drive to Spiti done almost four and a half years back.
Along the road, few viewpoints have been constructed in some places. We stopped at a couple of those viewpoints to have a feel of the place and to take some photos off-course.
Also Read: How to plan a trip to Armenia, Georgia and Azerbaijan ?
The View from Jebel Hafeet
We reached the top at around 4.45 pm. It cannot be technically called the top. It was essentially a parking lot just below the top. There was a cafeteria in the parking lot. There were multiple seating arrangements in the open area also.
After our morning breakfast, we did not have anything and therefore was feeling hungry. We were carrying cakes and some other snacks and had those first after reaching the top to manage our hunger.
The parking lot was huge and covered from all the sides by the railing. Though the place was not crowded, we saw many cars parked at the parking lot and many families spending time there. It appears to be one of the favorite family hang out places for the residents of Al Ain.
The only drawback of this place was connectivity. If someone does not come by own vehicle, he/she is required to book a cab/hired vehicle for both to and fro journey.
We kept on walking along the boundary of the parking lot. It was offering a fantastic view of the hill range and valley beyond that. In every direction, it was absolutely barren. There was no green within our eyesight. In the oblique sun-rays of the setting sun, the barren landscape turned golden. It was looking mesmerizingly beautiful.
After spending almost half an hour there, we started our return journey. The sun was almost ready to call it a day by then.
Also Read: San Francisco to Los Angeles – How to Plan a Road Trip
Green Mubazzarah
When we reached Green Mubazzarah, dusk has arrived.
The Green Mubazzarah is at the base of Jebel Hafeet Mountain. There is a hot spring which helped the area to create a green cover through irrigation. It was developed as a park by Sheikh Zayed and opened to the public in 2004. It seems to be a favorite destination for the residents of Al Ain to hang out.
After spending 10-15 minutes there, we went to Green Mubazzarah Lake. It's quite big with a fountain in the middle. Since it was getting dark, we started for Al Ain town after spending 5-10 minutes there.
Also Read: Bai Tu Long Bay Cruise – Traveling through the Paradise
Till that time of the day, we did not have a proper meal since breakfast, and therefore, we were feeling hungry. From Al Ain to Dubai, it was 2 hours bus journey. So we decided to have our dinner at Al Ain. Accordingly, we requested our driver to take us to a family restaurant. He asked whether we want to go to an Indian restaurant or a Pakistani restaurant. We opted for Pakistani. So, he took us to New Quetta Restaurant.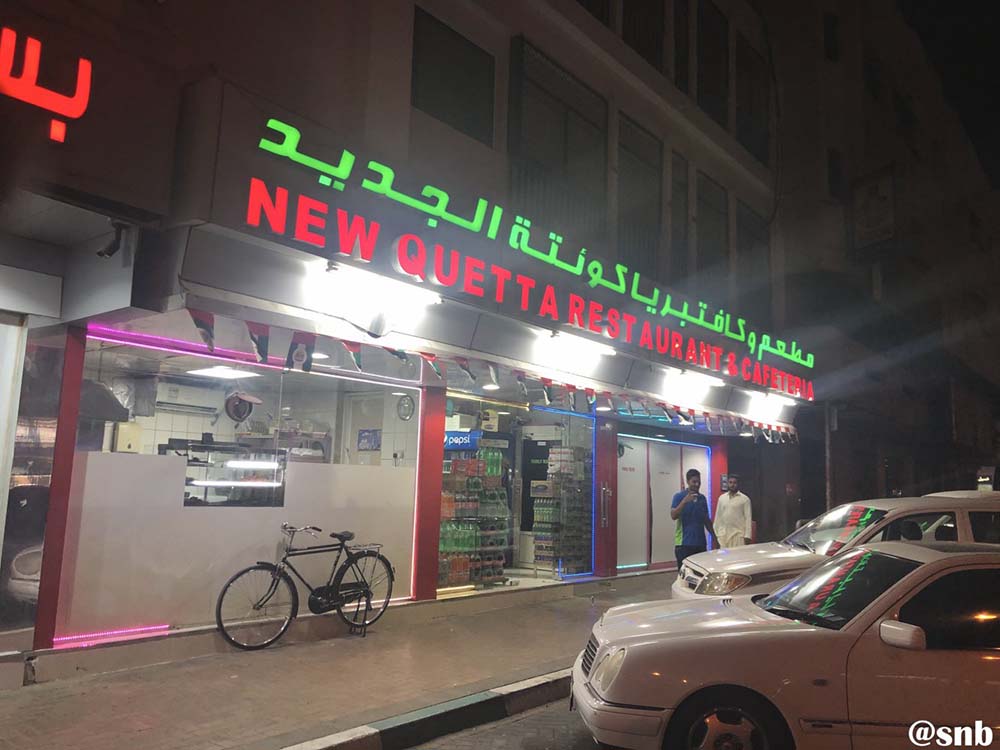 The restaurant is divided into two parts. One part is exclusively for families. That part has two levels. We sat at a lower level. There was no other family there at that point in time. We ordered one plate of mutton kebab, one plate of chicken kebab, one chicken biriyani, and one mutton biriyani. The waiter was a jolly young man from Pakistan occupied Kashmir.
The food was sumptuous especially the mutton kebab. It just melted inside the mouth. It was a very satisfying meal after the day-long travel.
Al Ain to Dubai
In this regard, I would like to mention that during the entire trip, we met a number of Pakistani people. All of them were very courteous to us. There was not an iota animosity.
Many of them were inquisitive about India, especially about Modi. Many of them also opined about the state of affairs in Pakistan and about Imran Khan as prime minister. It really makes me wonder why this mutual friendly feeling to each other evaporates when we come back to our native land.
We released our cab fellow after reaching the restaurant. After dinner, we took another cab and reached the Al Ain bus stand. It was a short drive.
Our bus for Dubai started at 7.45. We reached Dubai around 10 pm and thus our day trip to Al Ain came to the end.
Conclusion
I hope the travelogue and information above on Dubai to Al Ain road trip were of help. Please click on the link above to continue reading the next part of this travelogue. If you have any questions or need any other details, please feel free to ask in the comments section below or at our Community Forum, and I will be glad to answer.