This article is in continuation with a previous one and a part of my Dubai Travelogue. We made a Dubai to Fujairah road trip that I have provided a detailed account of in the post below. To read the previous part of the travelogue, please click on the links below.
Journey So Far
Fujairah is one of the seven emirates that make up the UAE. It is the only emirate with a coastline solely on the Gulf of Oman and none on the Persian Gulf, its capital is Fujairah city.
Dubai to Fujairah Bus
Like, Al Ain day trip, for Fujairah also we planned to go by public transport instead of availing a door to door conducted tour option. RTA bus E700 plies between Dubai and Fujairah. It starts from Union Square bus station in Dubai. It takes around 2.30 hrs to reach Fujairah city. The fare is 25 AED per person.
Union Square Bus Station is on the Deira side of Dubai. So, from the place where we were staying, we took a taxi to the Bus Station. This time the taxi driver was from Bangladesh.
We reached the bus station at 9.55 am and boarded the bus. Seats are classified into two categories – one for ladies and families and another category for men traveling without being accompanied by women. All seats got occupied but no one was standing. The bus started at 10 am.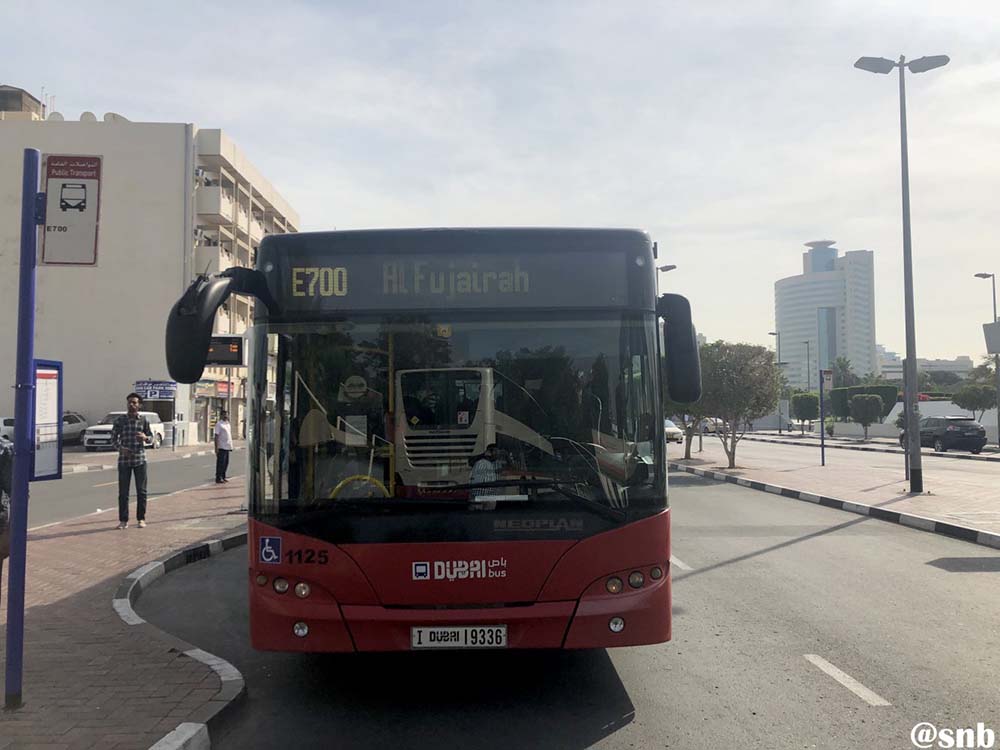 The bus takes a bit longer route compared to cars. It goes to Fujairah via Dubai airport, Al Dhaid, and Masafi. Till the construction of Sharjah to Kalba road, this road was the only route from the interior to the East Coast of the UAE. Sharjah-Kalba route is shorter and used by taxis, private cars, and tourist vehicles.
After around 45 minutes of the drive, we entered the emirate of Sharjah. It was desert all around.
Al Dahid
We reached Al Dahid town around 11 am. It is the capital of the Central Region of the Emirate of Sharjah. An oasis town, it has extensive irrigated date palm plantations with water channeled from the nearby Hajar Mountains at least in part through ancient tunnels dug for that purpose, known as aflaj in Arabic.
A few passengers were scheduled to disembark there. So, the bus stopped there briefly. Eventually, it was the only stoppage between Dubai and Fujairah.
Immediately after starting from Al Dahid, we encountered the Al Hajar mountain range. Al Hajar mountain range, in northeastern Oman and eastern UAE, is the highest mountain range in the eastern Arabian Peninsula.
It begins in the Musandam Peninsula of Oman in the north, and extends about 440 km to Ras AL-Hadd in the east, measuring up to 50 km wide. It separates the coastal planes on the Gulf of Oman from the high desert plate at the interior of UAE. For reaching Fujairah Al-Hajar mountain range is required to be crossed from west to east.
The road no more remained dead straight. It became somewhat serpentine. But it was still quite wide and very well maintained.
Also Read: How to plan a trip to Armenia, Georgia and Azerbaijan
Masafi
The next big locality on the route was Masafi.
It is a small town located at the edge of Hajar Mountain. It sits at the inland entrance of Wadi Ham which runs down to Fujairah city. The border between the emirates of Fujairah and Ras Al Khaimah runs through the Masafi town.
Wadi is the Arabic term traditionally referring to a valley. In some instances, it may refer to a dry riverbed that contains water only when heavy rain occurs. Wadi Ham is the longest wadi in UAE, runs for around 30 km between Masafi towards Fujairah city until it reaches the Wadi Ham Dam. It remains dry for most of the year.
Masafi is a popular brand in the UAE that produces bottled water, juices, and consumer goods. The bottling plant is in Masafi town.
Masafi is also known for its flea market which is on this road. It remains open throughout the week and consists of a number of permanent and semi-permanent stalls selling toys, souvenirs, plants, carpets and rugs, pots, and fruit and vegetables.
Since there was no one to disembark at Masafi and there was no one to board from there, the bus did not stop at Masafi and continued towards Fujairah town.
Fujairah
We reached Fujairah town at 12.30 pm.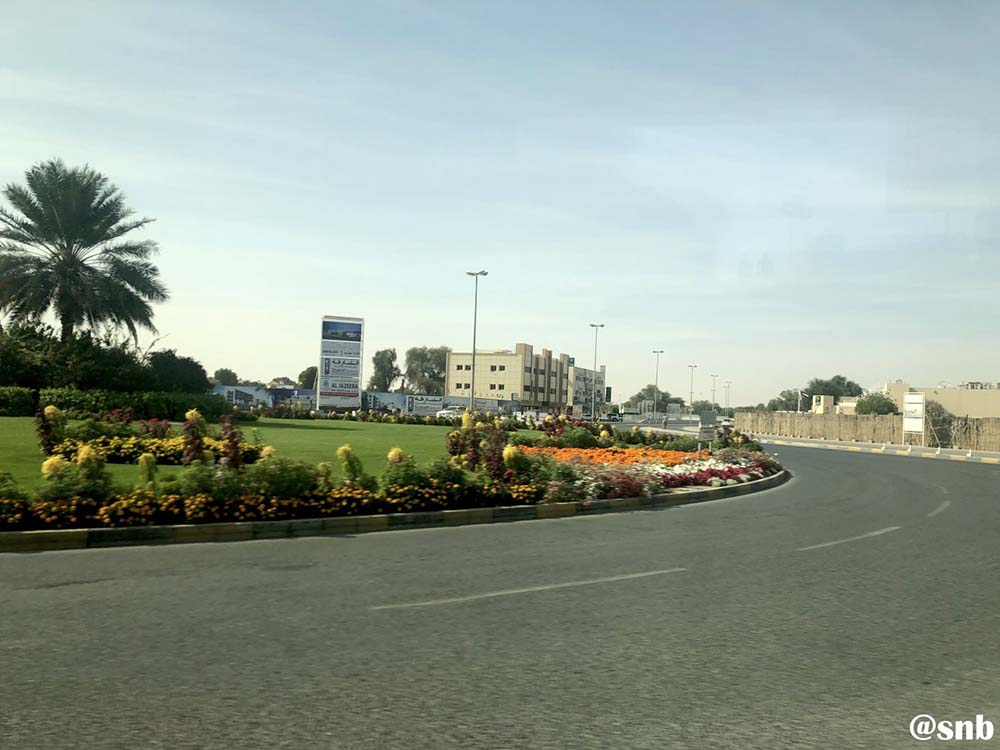 There were few taxis at the bus stand only. They were waiting for the bus to arrive so that they got passengers for onward journey. We hire one of them. The understanding was that it will take us to all the places at Fujairah where we want to go. Then it will drop us again at the bus stop and will charge us as per the meter reading.
The driver was a nice Pakistani gentleman.
Fujairah to Al Bidya Mosque
Our first destination was Al Bidya mosque. It was almost 40 km from Fujairah town towards north on the road connecting Fujairah town and Dibba Al Fujairah town. The road runs parallel to the Gulf of Oman.
Immediately after coming out from Fujairah town, we enter into Khor Fakkan. Khor Fakkan is a part of the Sharjah emirate. Essentially, it bisects Fujairah emirate in two parts.
Khor Fakkan
After some time, we reached the Khor Fakkan town which was small but beautiful. It has a nice beach too where we went while returning from Al Bidya mosque.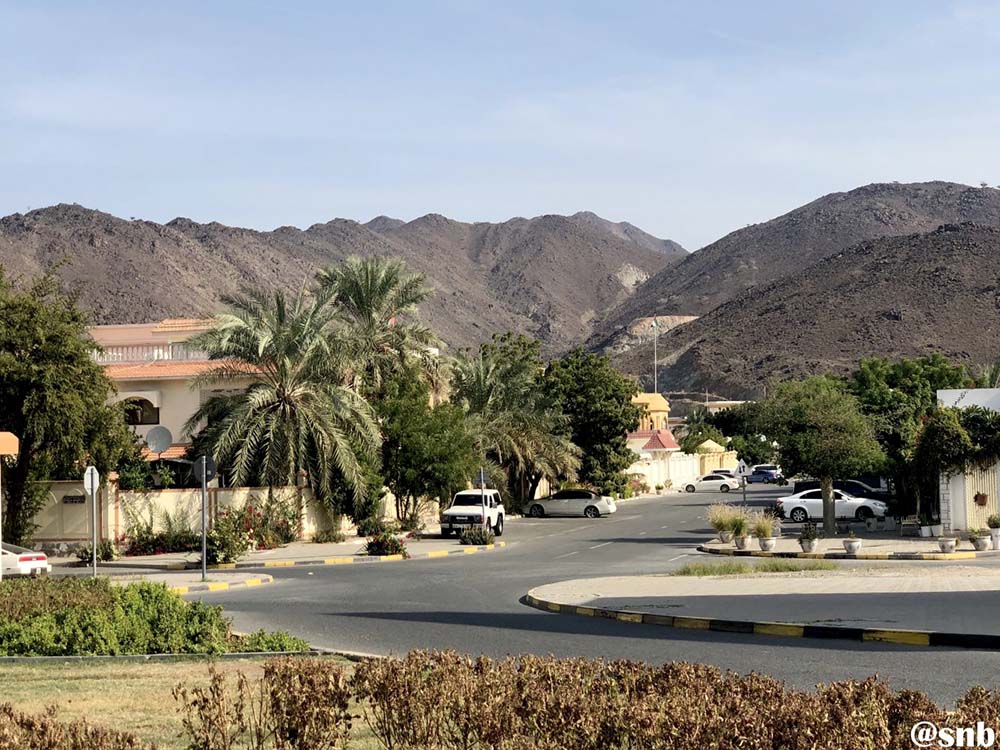 We did not stop at Khor Fakkan town and continued our driving towards Al Bidya mosque. The road was as smooth as it could be.
On the way, we crossed a gigantic mosque. On inquiry, the driver could not tell the name of that specific mosque. As per him, many such mosques have been built in the recent past across the entire UAE with funding from the ruling families.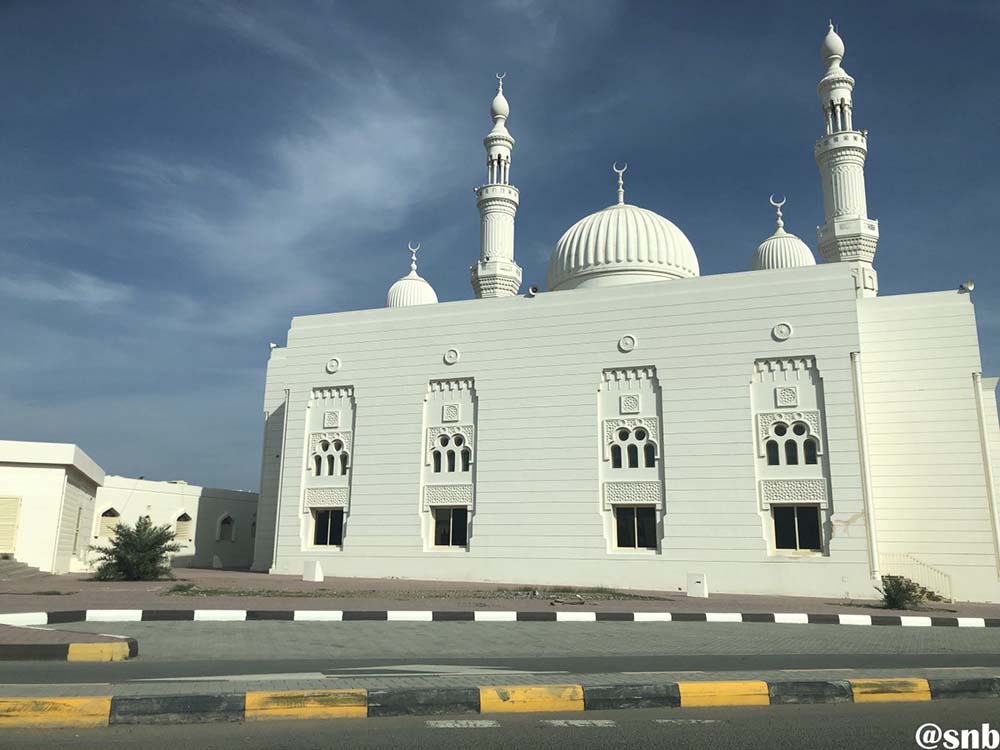 We reached Al Bidya mosque around 1.30 pm.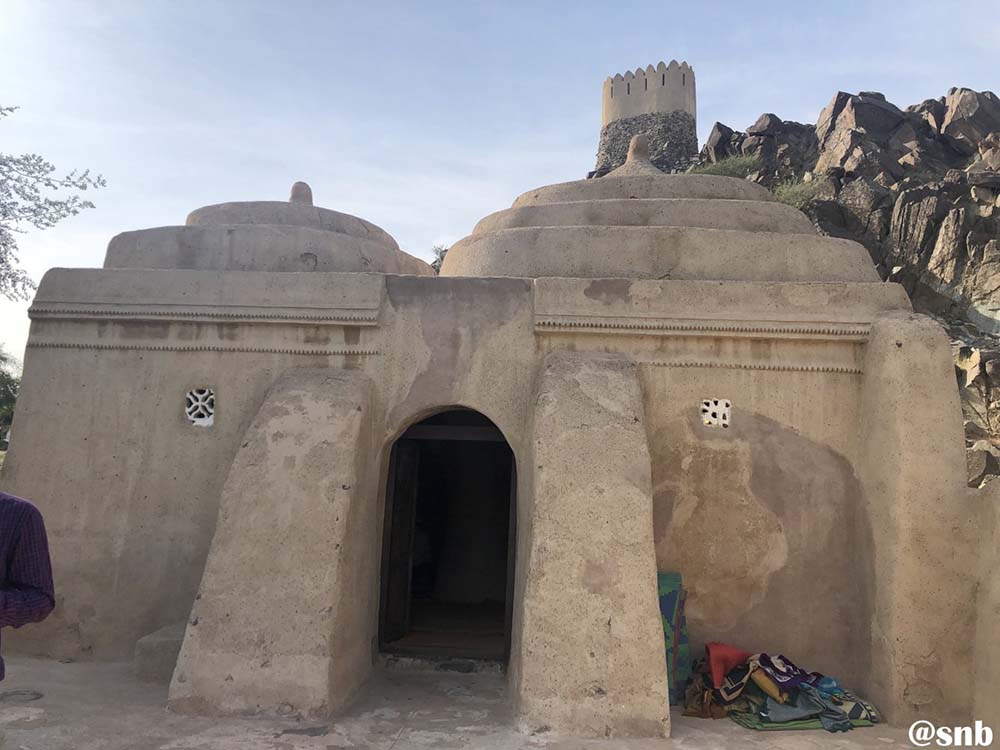 Al Bidya Mosque
Al Bidya Mosque is the oldest extant mosque in the UAE. It is also known as the Ottoman mosque. It is built of stone and mud bricks and has many layers of whitewashed plasters. Architecturally, it is somewhat unique compared to other mosques in Emirates.
Its distinctive structure and especially its roof, consisting of four-pointed domes and supported by an internal pillar is unusual for religious structure in the region. The prayer hall has a small Mihrab and a simple Minbar. According to the radiocarbon analysis, the date of the mosque can be as early as 1446 AD.
At the backside of the mosque, there was a tiny hillock with ruins of some old structures on top of it. So, after visiting the mosque and offering a prayer, we started climbing up that tiny hillock.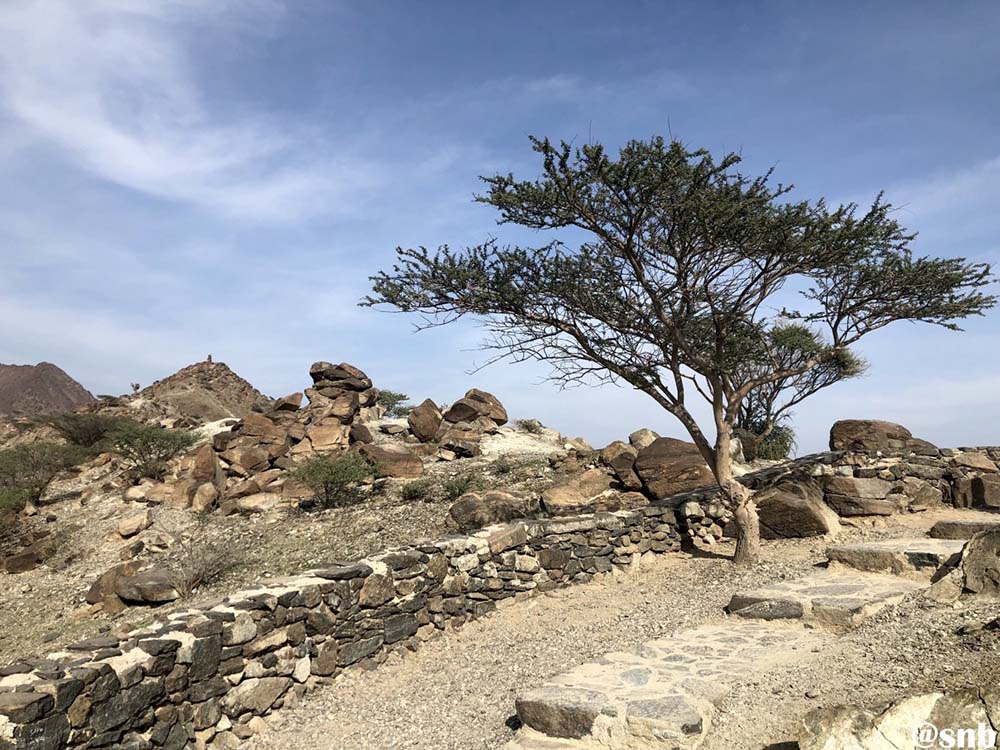 While climbing up, we saw ruins of a few more structures and walls. The structure on the top, as per historical evidence was a tower of a fort built by the Portuguese 200 years ago.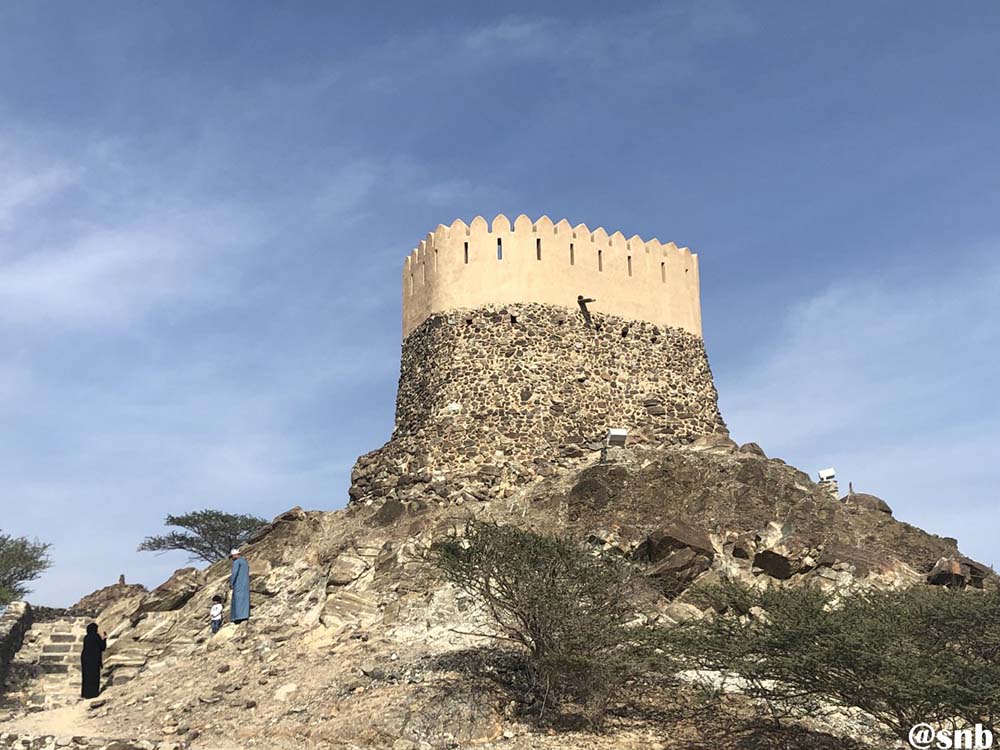 After reaching the top of the hillock, we gave a good look at the surrounding. The landscape of Fujairah was distinctively different from that of Dubai or Sharjah. The plain sand desert gave away to a brown mountain range with patches of green everywhere. Fujairah is essentially a narrow stretch of land Hajar mountain range at west and Gulf of Oman at east with lots of green compared to other parts of Emirates.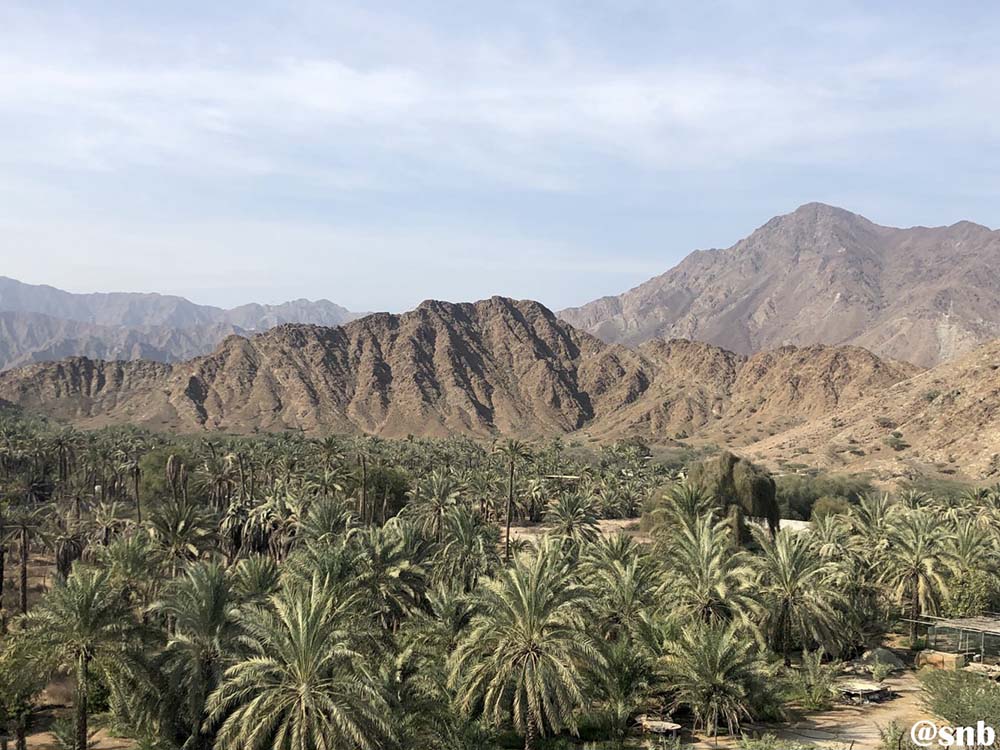 Dibba Al Fujairah
From there, we could see the sea and the road going towards Dibba Al Fujairah.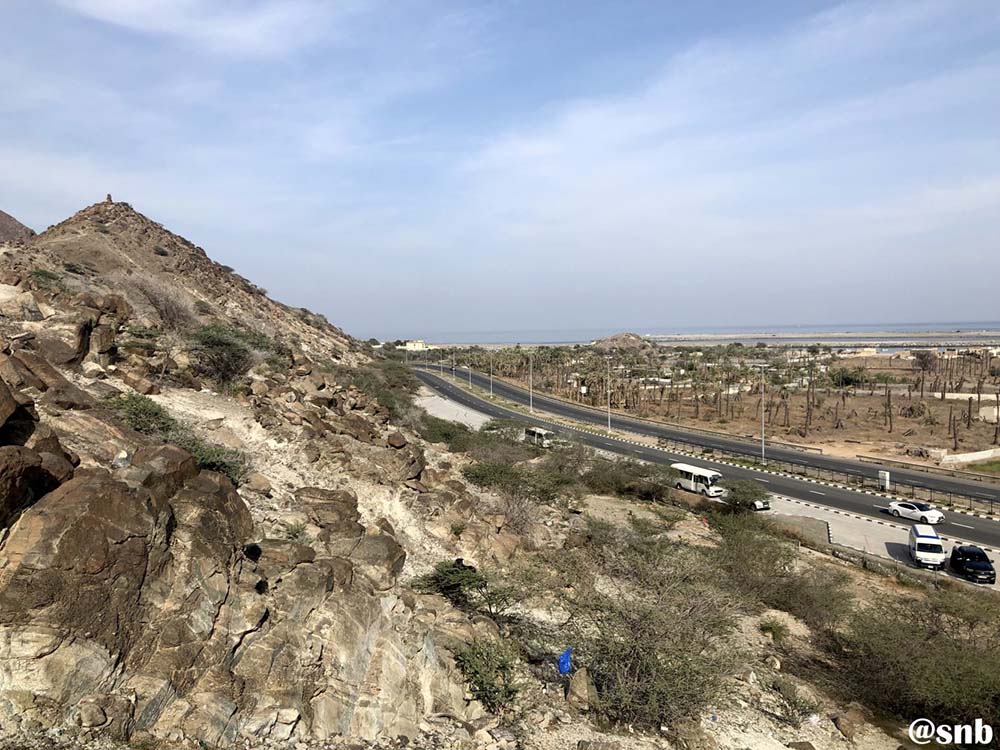 Dibba Al Fujairah is the largest town in the Northern part of the Emirate and the upper part of the Gulf of Oman. Since it lies on a coastal plain, nestled in the mountains, surrounded by sea, green fields, and ancient relics, it is emerging as a hot tourist destination. Many expansive resorts have come up in and around Dibba Al Fujairah. It is also a popular day-trip destination from Dubai for dhow cruise, snorkeling, fishing, etc.
From Dibba Al Fujairah, the Musandam peninsula starts which juts into the Strait of Hormuz, the narrow entry into the Persian Gulf from Gulf Oman. It is a part of Oman but separated from the rest of Oman by UAE.
Since Dibba-Al-Fujairah was not a part of our plan, we started our return journey for Khor Fakkan beach around 1.45 pm. Though in the hindsight I think, it would have been better if we did the circular trip of Fujairah-Khor Fakkan – Al Bidya Mosque – Dibba – Masafi – Fujairah.
After coming down from the hillock, we found that our driver has bought and kept four bottles of chilled water rightly assuming that we would be feeling thirsty. When we offered payment for the same, he refused to take any money. Because, we were his guest – a soul touching gesture.
Also Read: The Smiling faces of Bayon, Cambodia
Khor Fakkan Beach
We reached Khor Fakkan beach around 2 pm and the driver parked the vehicle at the side of the beautiful tree-lined promenade.
The beach is separated from the promenade by a beautiful garden. There were a few restaurants there. There were ample seating places in the tree-covered garden. We sat there for some time to take a rest and to have food being carried with us. We saw many local families chilling out there. It seems they had come for a family picnic.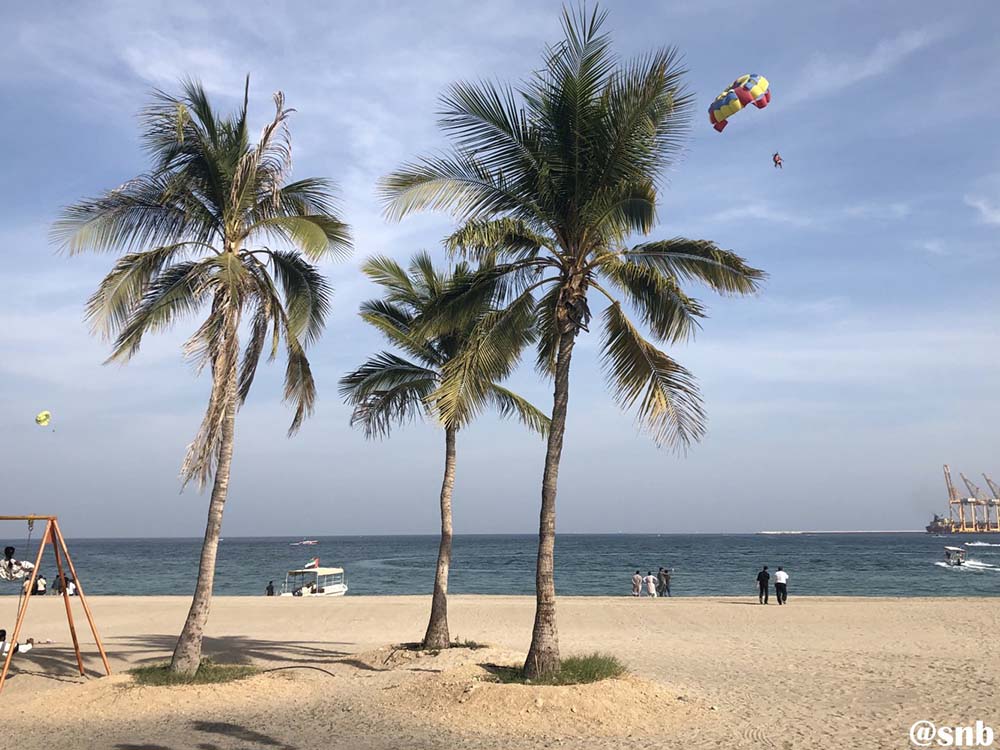 Khor Fakkan beach sets on the picturesque bay of Khor Fakkan, which means "Creek of Two Jaws". It was decently crowded. Kids were playing football, making sandcastles, and also enjoying the waves. Parasailing was going on.
There were boatmen who were trying to get customers for sea rides and dolphin watch. We were not interested in that. We just went for a small walk, got our feet washed by the gentle waves, and soaked the beauty of the surroundings.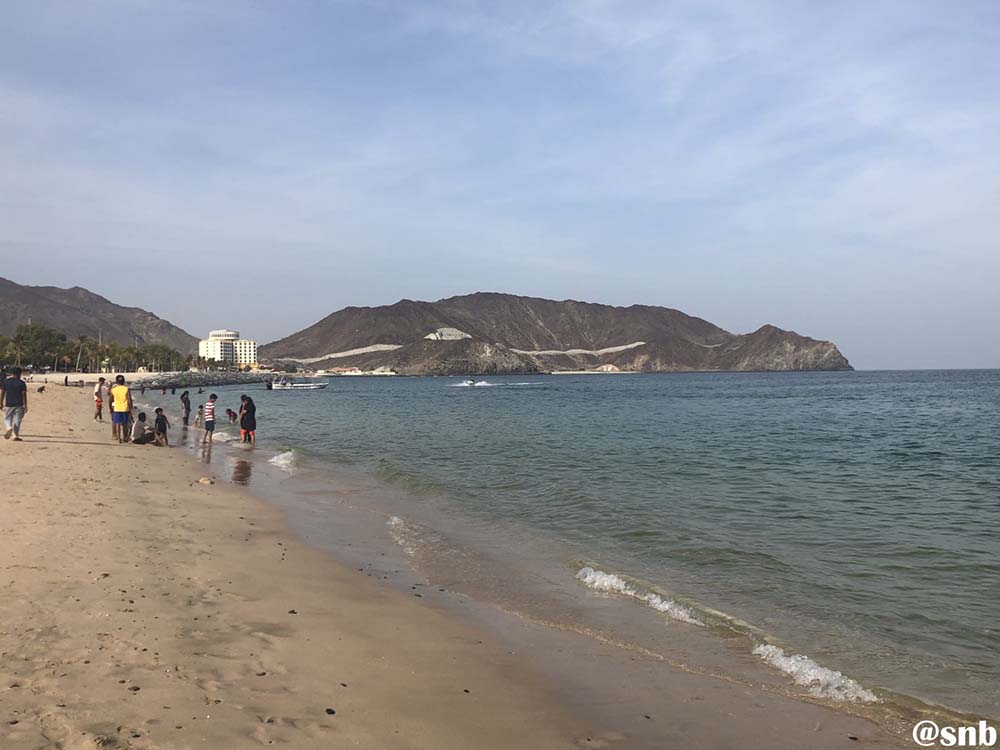 Wadi Ham
Our next destination was Wadi Ham.
Traditionally, Wadi, in Arabic, refers to a valley. But in the context of Fujairah, it means a dry (ephemeral) riverbed that contains water only when heavy rain occurs. Fujairah has multiple wadis around it. Wadi Saham, Wadi Siji, Wadi Mai, Wadi Ham, Wadi Al Tawain, Wadi Al Wuarayah, Wadi Al Helo. Of all of these, Wadi Ham is the longest one and Wadi Al Wuarayah is the most scenic.
Wadi Ham is the longest wadi in UAE. It is 30 km long. It runs from Masafi towards Fujairah city until it reaches Wadi Ham dam. We saw its glimpses while coming to Fujairah by bus. Still, we decided to go there for seeing it closer and to spend some time there. Another objective was to see the Al Bithnah fort en route.
We started from Khor Fakkan at around 2.30 pm. From there, we first came back to Fujairah. We did not stop there and continued our journey towards Al Bithnah fort which was approximately 13 km away from Fujairah.
Also Read: Road Trip to Bhutan – Journey of a Lifetime
The Confusion
After 15-20 minutes' drive, I asked the driver how long it would take to reach Al Bithnah fort. And from his answer, we realized that confusion took place.
Al Bithnah fort is on Fujairah-Masafi road. But we had not taken that road. From Fujairah town, the diver had brought us to the Kalba region, which is a part of Sharjah emirate and shares its border with Oman. We were heading towards Kalba-Sharjah road.
Instead of taking us to Wadi Ham, the driver was taking us to Wadi Al Helo which was around 37 km from Fujairah town and was in Sharjah emirate. The confusion happened either on account of the language issue or the driver's ignorance. It was unintentional.
From there, we could have course-corrected, back peddled, and gone to Al Bithnah fort and Wadi Ham. But we decided to go by the driver's discretion and continued our journey towards Wadi Al Helo. By that time around 40 minutes had passed.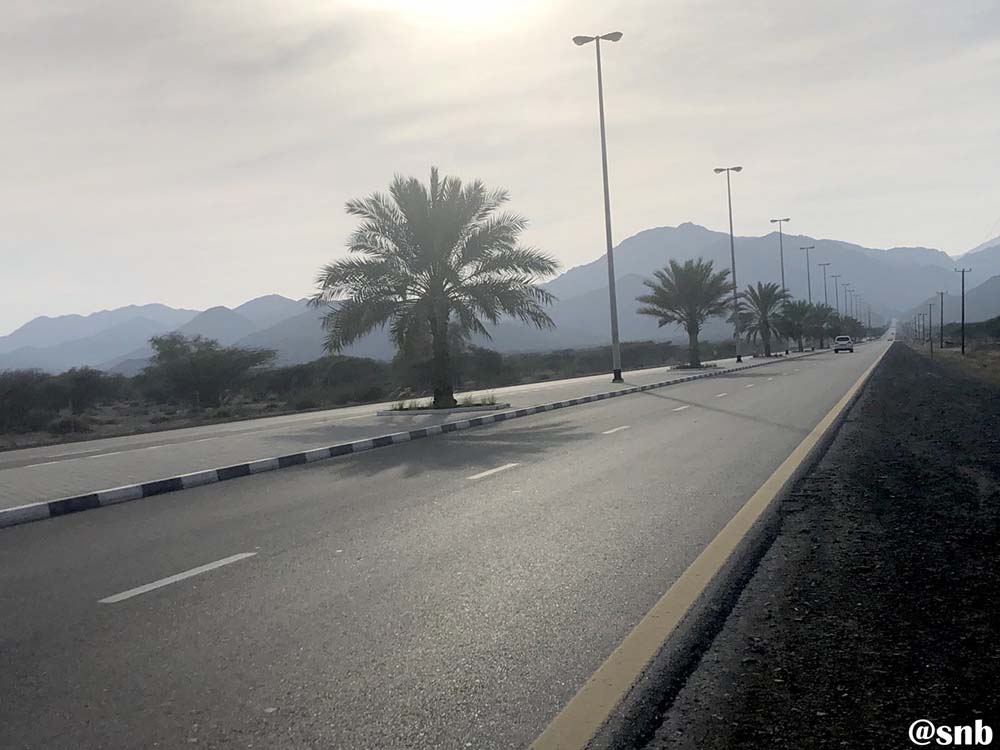 Hajar mountain range started immediately after taking Kalba-Sharjah road. The first access point for Wadi Al Helo came after crossing a small tunnel. It is on the right-hand side of the road when you are going towards Sharjah. A downward gravel road took us to Wadi Al Helo from the main road.
Essentially, it is a dry valley/river bed surrounded by the Hajar mountain range. The surface was uneven and full of gravel. The green shrubs on the valley, with rugged brown as the backdrop, were creating a contrasting coloring effect.
There was a cemented parking lot. Few other cars were there. The place seems to be a popular day-trip destination for the residents of Sharjah and Fujairah.
After spending some time there, we came back to the Kalba-Sharjah road and continued our journey towards Sharjah.
Wadi Al Helo
We reached the famous Wadi Al Helo tunnel around 3.30 pm. The tunnel is 1.2 km long and is the longest tunnel in the UAE.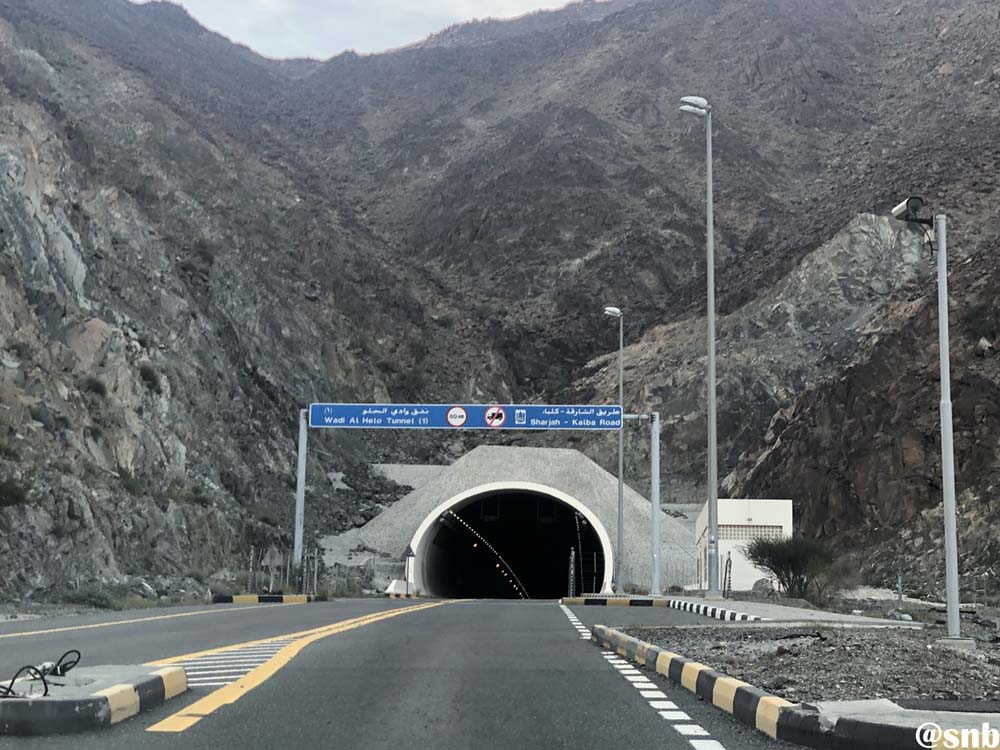 My wife and daughter were keen to return from there. Because we were around 30 km away from Fujairah. We had to go there first and then Dubai from there. While driving, our drive narrated some not so worldly experience of some of the fellow drivers driving on this road at night. That made my wife and daughter keener to take an about-turn. However, I kept on persisting to move ahead a little bit more and for a change, my wish prevailed.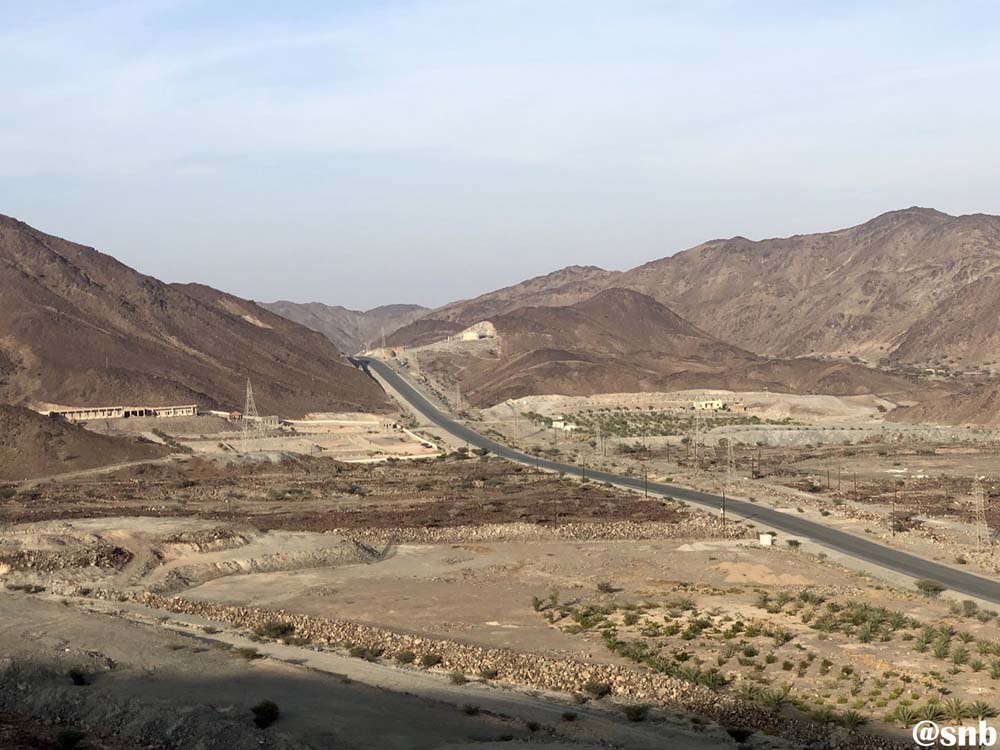 After crossing the tunnel, we took one more stop for some photography. Wadi Al Helo was running parallel to the road.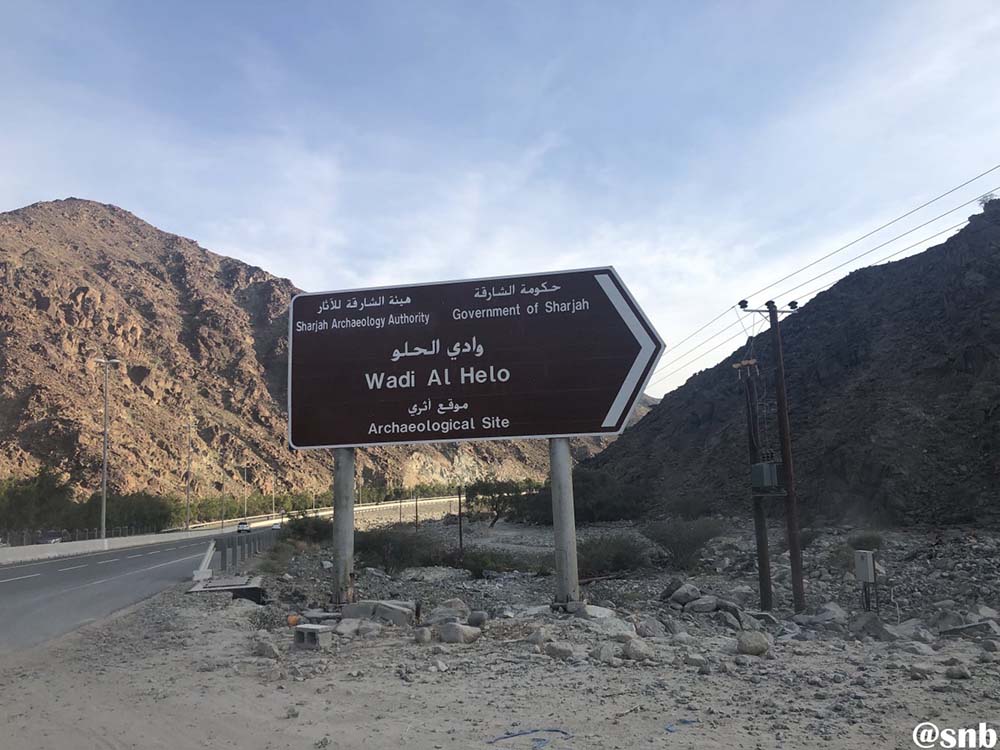 After moving further towards Sharjah, we got another access point for Wadi Al Helo. It seems that this is the main access point for the wadi.
Wadi Al Helo means sweet valley in English. Apparently, free-flowing underground water is available here and that made the Al Mazroui tribe make Wadi Al Helo their home for the last 80 years.
There was a dirt track going inside the wadi and we took that though wife and daughter were not quite happy with that. By that time, the valley was getting engulfed in the shadow of the Hajar mountain range.
After going a few hundred meters, we saw a structure on our left-hand side over a rocky hill. That was a restored 19th-century Islamic fort.
I was quite keen to go there. But this time wife and daughter put their feet down. As per them, enough was enough. We had to start the return journey.
Also Read: Solo Trek to Everest Base Camp – Blog and Travel Guide
Kalba Fort
There was no one around. Barren valley, rugged mountain, and long afternoon shadow were giving an eerie feeling. So this time, I nodded for the return journey and we started for Fujairah around 3.45 pm.
Apparently, the Wadi Al Helo site dates back to the Bronze age in the 3rd millennium BC. We left those ruins unexplored. Those ruins may bring me back here in the future.
While returning, I continued to take photos of the road and surrounding area.
Around 4.05 pm, we reached Kalba fort.
Kalba Fort was first built by the Portuguese in 1624 after they had captured an earlier Islamic fort on this site the year before. Around 1650 the Portuguese were forced out of the region and the Arabs built their own fort on the remains of the Portuguese one. It is that fort that we see today. I was not able to find any other historical information about the fort. The fort consists of a square enclosure on a raised platform, with a round corner tower and a rectangular keep inside.
We did not spend much time there. After taking a few photographs from outside, we restarted our journey towards Fujairah.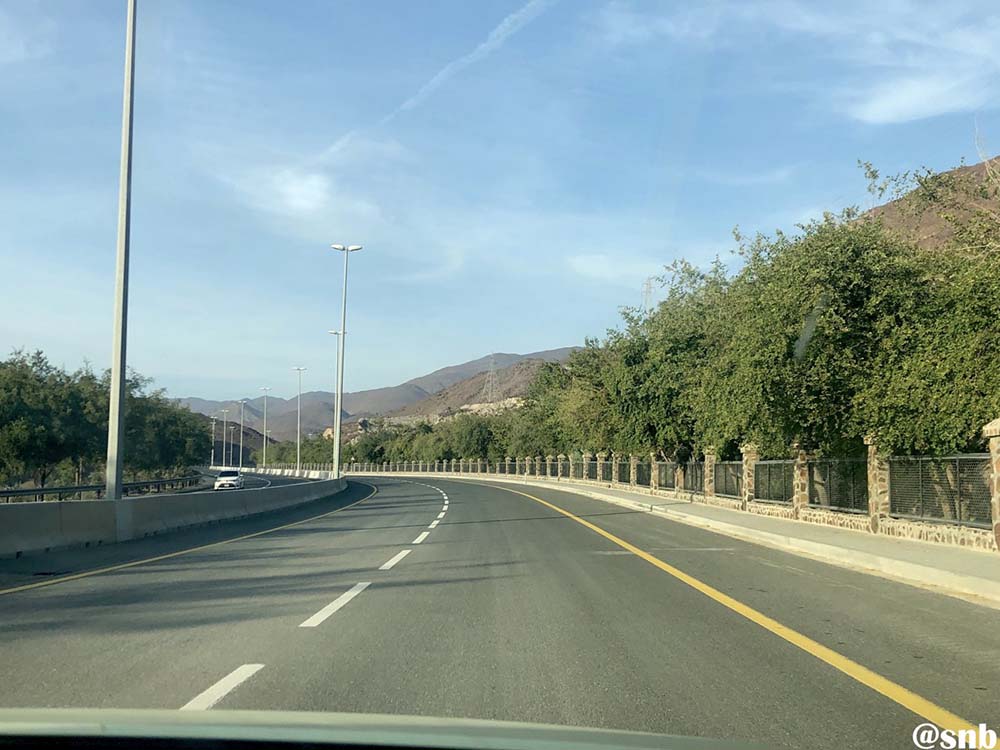 Sheikh Zayed Mosque
We reached the Sheikh Zayed Mosque around 4.30 pm.
This is the second-largest mosque in UAE. It can hold around 28,000 worshippers. The mosque opened in 2015, and Fujairah's ruler Sheikh Hamad Bin Mohammed Al Sharqi led the first Eid prayers. It has 65 domes and six minarets, between 80 and 100 meters (260 and 330 feet) in height. The courtyard of the mosque, with fountains and gardens, can hold 14,000 people.
Since we did not have much time, we did not go inside the mosque. We saw its extravaganza from the courtyard only.
From Sheikh Zayed Mosque we went to our last destination of the day – Fujairah fort. While going there, I took some random photos of Fujairah town – the modern Fujairah.
Also Read: San Francisco to Los Angeles – How to Plan a Road Trip
Fujairah Fort
Dating back to the 16th century, the Fujairah Fort is among the oldest as well as the largest forts in the UAE. It is located about 2 km from central modern Fujairah in the old Fujairah region, on a small rocky hill that reaches 20 meters high. It is around 1 km away from the coast.
The fort complex consisted of a castle, mosque, and several old houses. It is guarded by three round watchtowers and a square watchtower. The watchtowers and main building are connected by the walls, and there is a central hall surrounded by these towers and walls.
The irregular shape of the castle is due to the uneven surface of the rock it sits on. The building is built of local materials, mostly rocks, gravels, mud, hay, and plasters. Radiocarbon dating has identified the date of the construction as around 1500–1550. It was then renovated during 1650–1700.
The British Navy destroyed one of the towers in 1925. The fort was restored by the Fujairah Administration of Antiquity and Heritage during 1997/2000 using the same materials with which it was built.
By the time we completed our visit, the sun was about to set. It was time to start the return journey.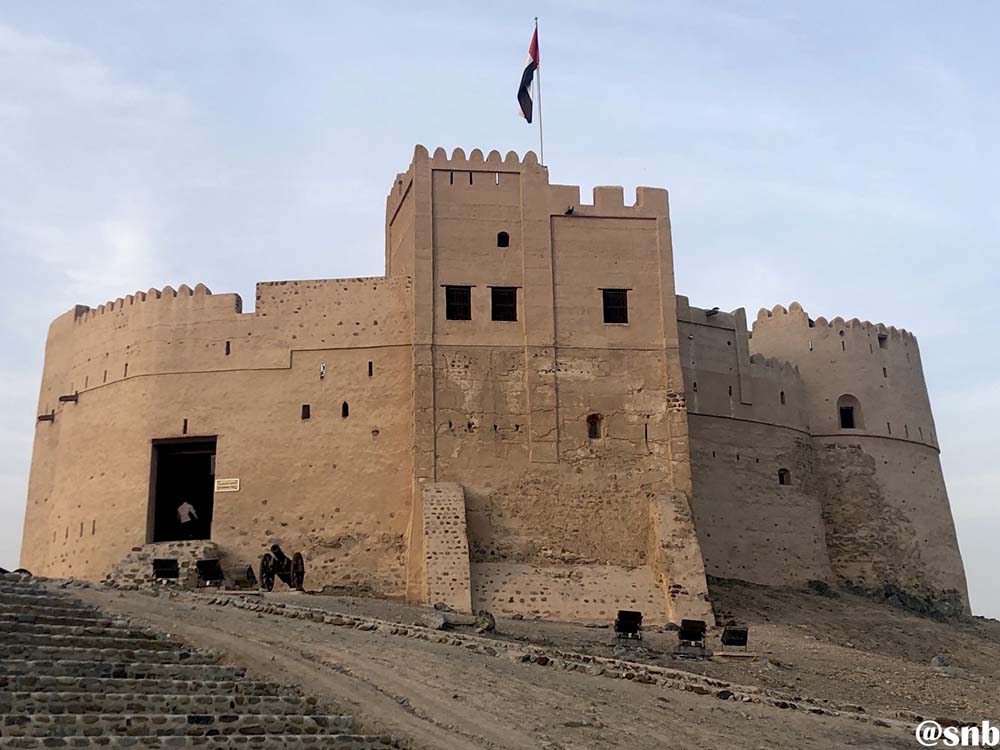 Fujairah To Dubai
As per our advice, our driver dropped us at a Pakistani restaurant. It had two sections. The ground floor was for all and the first floor was for family. So we went to the first floor. But there, we had to sit on the floor. So, we came back to the ground floor. Anyway, there were not many customers in the restaurant during that time of the day so there was no such problem.
After having a sumptuous meal there, we took a private vehicle for coming back to Dubai. The driver charged AED 35 per person. We reached Dubai at quarter to 9 pm.
Dubai to Fujairah Road Trip – Conclusion
So that was our Dubai to Fujairah road trip. Most people come to Dubai primarily to see malls and man-made marvels. But this has much more to offer. Its landscape, its culture, and history are really fascinating. Hopefully, I will come back here again to explore that more deeply.
We spent some time in Dubai and caught our flight back home to India. I hope my Dubai Travelogue and the information were of help. If you have any questions or need any other details, please feel free to ask in the comments section below or at our Community Forum, and I will be glad to answer.