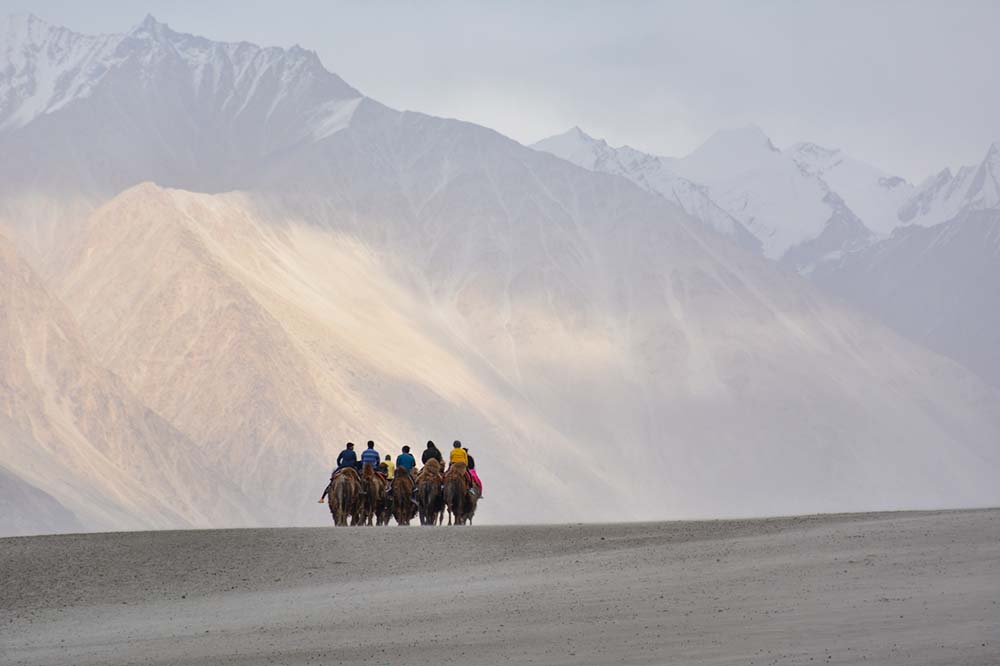 The information I am sharing below is a few practical tips that can go a long way in ensuring that your trip remains a safe and hassle-free one. It does not matter if you were traveling solo or with family and friends, reaching Ladakh by air or by road, the precautions for Ladakh trip that I am sharing below will still apply.
The idea behind this post is definitely not to scare anyone out of their idea of visiting Ladakh (though I may sound like I am trying to do that). Rather, it is just a precautionary note for anyone planning a trip to Leh Ladakh anytime soon.
For any other details on visiting Ladakh like how to reach, where to stay, what to see, and itinerary planning, please read How to Plan a Trip to Leh Ladakh – A Complete Travel Guide.
What inspired this post? It is actually several incidents that happened in Ladakh recently including the death of a friend of mine there last month. He was not new to the region, had been there multiple times before, was known as a Ladakh veteran, and helped lots of people to travel there.
But he still fell victim to the harsh climate and reality of Ladakh. So if you were thinking that Ladakh is just another tourist destination where you can just pack your bags and go, you are completely wrong. A trip to Ladakh requires meticulous planning and serious thought about every aspect of the trip. Read on to find out more.
Precautions for Ladakh Trip
When I first visited Ladakh over a decade ago, it was known as what it truly is – a rugged, challenging, and harsh terrain. It was a place where only the motorcycle enthusiasts and adventure junkies visited.  Tourism back then was only a small part of the livelihood of the people of Ladakh.
Fast forward to the times now and it is an entirely different scenario. Thanks to movies like 3 Idiots, Ladakh is now a place that gets considered for even family vacations and honeymoons. Thousands of people visit here each year and the number increases with each passing year.
Somewhere in this entire tourism mania, the truth of Ladakh was lost. People started to think of it as just another town like Shimla and Manali.
Every now and then, I even get asked by people if they can visit with their newborn infant. Just about everybody in the country now wants to visit Ladakh and if possible, on a motorcycle. I am not saying that you should not do it but before you do, listed below are a few things that you must keep in mind.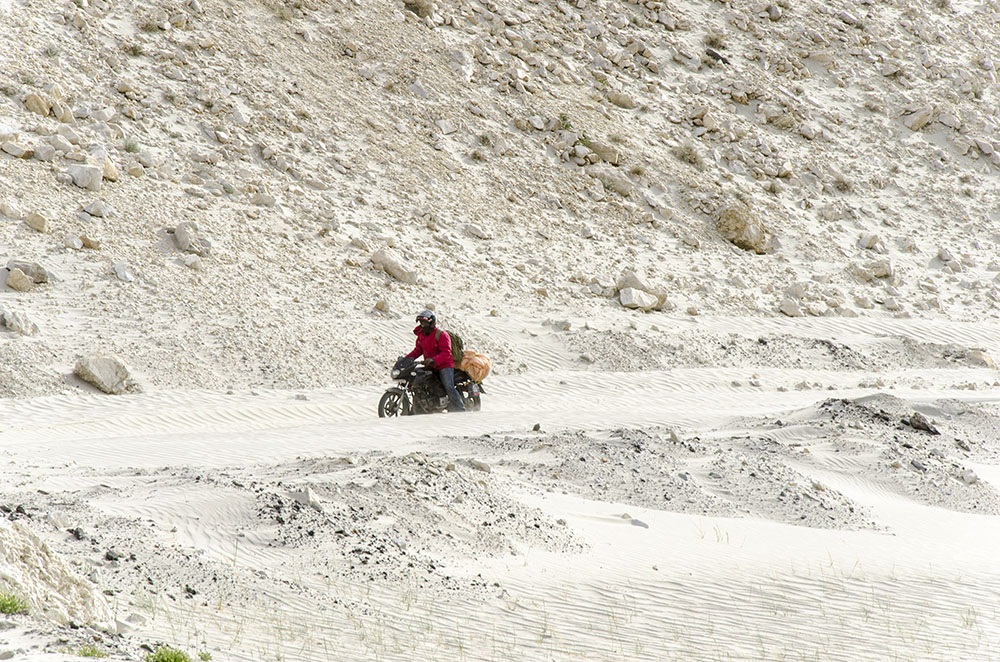 Do not Ignore Acute Mountain Sickness
This should be the first and foremost thing on your mind when visiting Ladakh. You need to consider the heights that you are bringing your body to and need to plan your journey in a way so that your body can acclimatize better.
Altitude sickness is very real in all its seriousness and can even be fatal if it got worse. Several tourists have died in Ladakh because of AMS and that is how my friend as well died. He was in a remote region when he went down with altitude sickness and collapsed before reaching a hospital.
To know more about what AMS is, what its symptoms are, when can it be fatal and what can you do about it, please read How to Deal with Acute Mountain Sickness in Ladakh.
Plan your Itinerary Well
This is more or less related to the point above. Plenty of rest and slow gain in altitude is the best precaution against altitude sickness. Your itinerary should be planned while keeping these two things in mind. Below are a few quick tips.
If possible, approach Ladakh via Srinagar and return via Manali.
If you are going via Manali, then do not rush in a single day to Leh.  Allow 2-3 days at least to traverse on the Manali Leh route.  Avoid a night stay at Sarchu or Pang if you are spending only 2 days on the route.
Once you get to Leh, stay in the town for at least 1 to 2 days.
Do not visit Tso Moriri on the way to Leh from Manali. Keep it for later.
Do not first visit Pangong Tso or Tso Moriri. From Leh, you should first go to Nubra Valley as it is at an even lower altitude than Leh. Keep Pangong and Moriri for later days.
If you arrived in Leh by air, keep at least 2 days of stay in Leh town for acclimatization.
If you only have 3-4 days in hand, then do not stay overnight anywhere. Keep your night stays only in Leh. Visit Nubra and Pangong during the day and return to Leh by evening. Why? Because Leh is the only place where you can get medical help if your situation got worse at night.
Do not proceed anywhere else in Ladakh and stay in Leh until all symptoms of AMS have subsided and you are completely acclimatized.
Think Twice Before Visiting with Family
A trip to Ladakh with family is definitely possible and a lot of people do it each year. But there are a few things that you must follow.
Do not go if your child is under at least 2-3 years of age.
Do not go if the health of anyone in your family is not really up to the mark.
Consult a doctor before bringing your kids or elders to Ladakh.
Do not go if there is any medical history related to Asthma or heart disease with any of the family members.
These were just a few quick tips. For more details, please read How to Plan a Trip to Ladakh with Children if you were traveling with kids. If you had your family elders accompanying you on the journey, please take a look at How to visit Ladakh with Elders.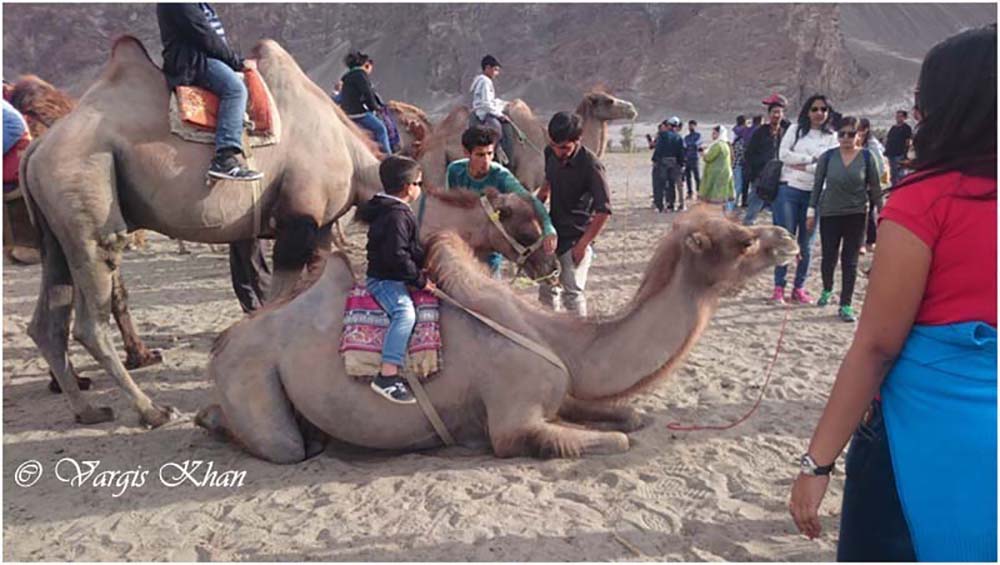 Beware of Shooting Stones
What is a shooting stone? In very simple words, the term is used for a stone that falls from the hill down on the road. There are several stretches in Ladakh where shooting stones pose a real threat.
This year, a similar incident happened in Spiti valley when shooting stones, in fact, killed two riders. Such stretches are always marked by BRO, warning the travelers.
Please be very careful when you pass through a shooting stone area. Do not stop or take breaks at such spots and just drive through. If you are on motorcycles, please make sure that you have your helmets on.
Check the weather first
If you are planning a trip during the monsoon season or in winters, then please find out about the weather conditions before you left home. If the weather conditions were not favorable, then it would be best to cancel or postpone your plans.
You do not want to get stuck either in Ladakh or on the way because that can be risky and dangerous. There have been numerous instances when tourists got stranded in Ladakh and on the highways because of rains and monsoons.
Drive Carefully
There have been deaths in Ladakh in road accidents and in most cases, it has been bikers. Just do a Google search and you will come across several news articles related to such accidents.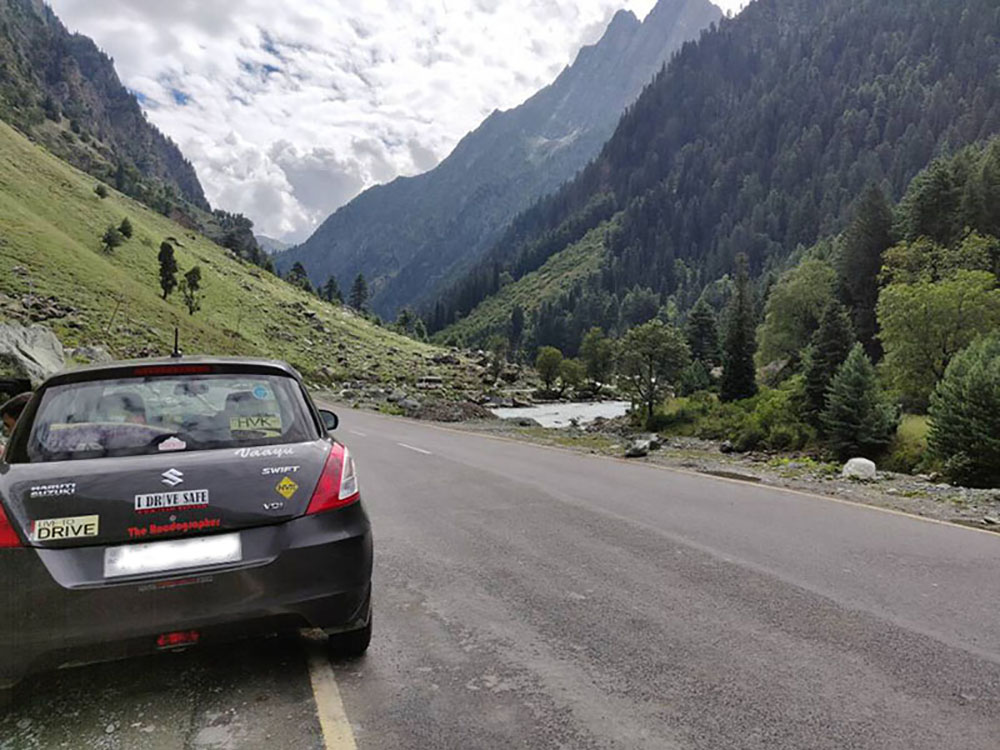 Mind the Snow
This will apply to people visiting during the winter season. Do a Google search about avalanches in Ladakh and you will get news reports of local workers and a tourist car getting buried under an avalanche, resulting in the death of everyone involved.
If you are visiting during the winter season, this is a risk that you will run and the best way to play safe is to listen to the locals and keep an eye on the weather.
Mind the Cold
Irrespective of which month of the year you were visiting, you will have to prepare for the harsh cold weather ahead. Ensure that you are bringing in plenty of warm clothes.
If you are visiting during winters, you will have to pack some heavy woolens and windproof jackets. For more information on this, please read, What Clothes should I be packing for Leh Ladakh Trip?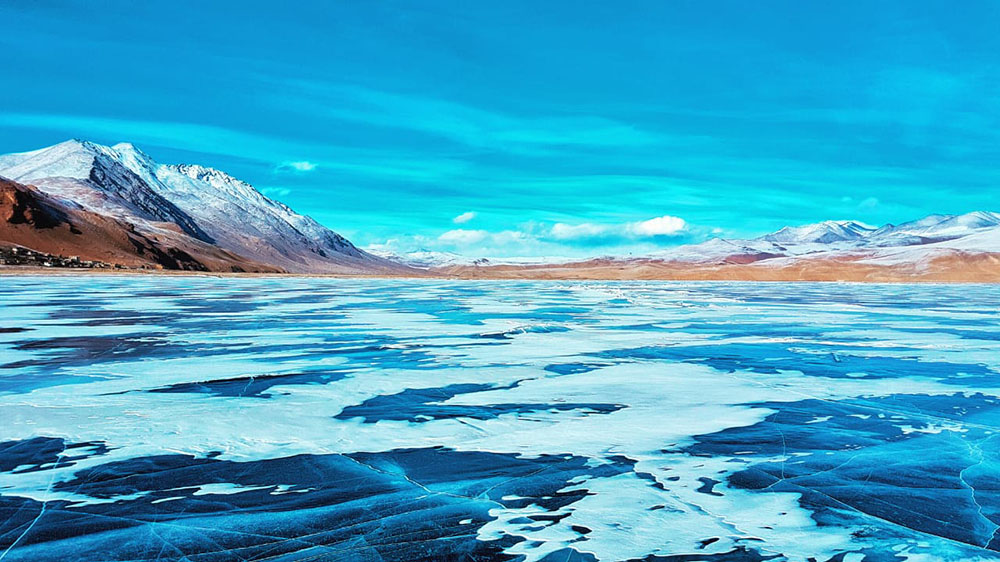 Keep Buffer Days
Do not tie yourself down to strict timelines. Always keep at least 2 days as a buffer over and above your actual itinerary. Ladakh is a land of uncertainties and tourists getting stuck for a few days at any of the local places is not new.
Sometimes heavy rainfall or snow can block the roads across the passes and in that case, you will have no other choice but to sit and wait for the road to be cleared and reopened.
Respiratory or Heart Patients
If you are suffering from ailments like asthma or a heart condition, then Ladakh is really not the place for you without consulting a doctor first. And even then, you will have to keep Leh as your base and not stay overnight anywhere else. Talk to your doctor and if you are advised to not go, then please don't. Visiting Ladakh is not more important than your life.
Not your First Trip? Doesn't matter
Having already visited here does not excuse you from practicing caution. You should still be the same way that you were when you visited Ladakh first. Do not take AMS lightly and get medical help immediately if you feel that your condition is not improving.
Do Not be Overconfident
Let me just post a picture to tell you what I mean. Do not be this guy anywhere in Ladakh please and do not attempt to pull off anything similar.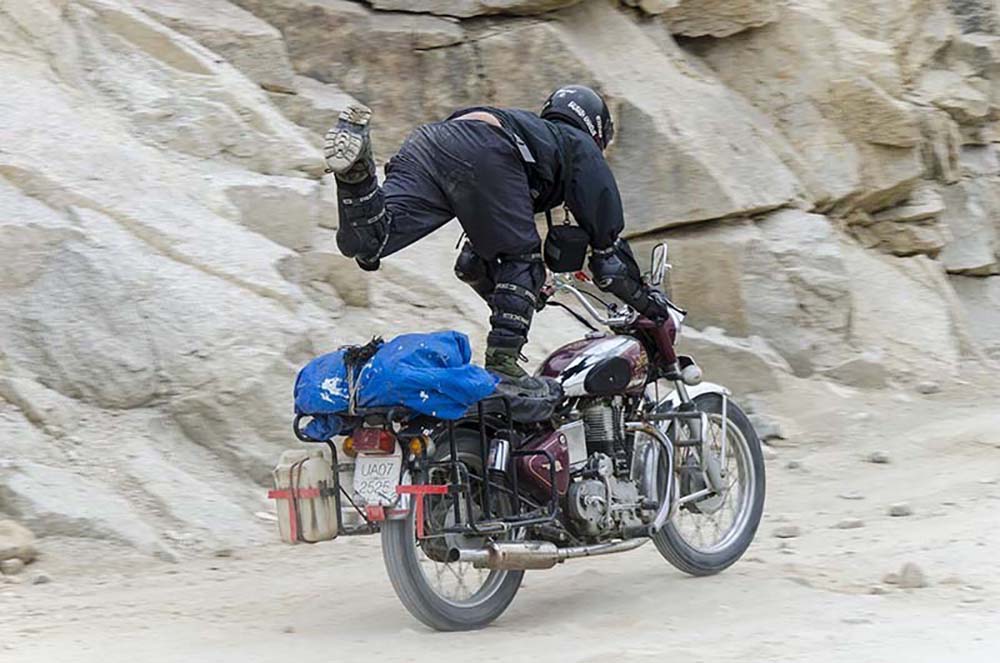 Avoid a Road Trip Late in the Season
If you were planning a road trip in October, then plan only via Srinagar Leh Highway. Manali to Leh route is not safe to be traveling on in the month of October.
If you were thinking of visiting in November or later months, then book a flight. Srinagar Leh Highway may be open in November but becomes very risky and dangerous to drive on.
Carry Medicines
Since the availability of medical assistance in Ladakh is limited to basic (except for Leh town), you must carry some medicines with you. This will include:
Any prescribed medicines you are on. Please carry sufficient of them to last the entire trip. Do not rely on getting them from a drug store in Leh.
Some basic medicines to deal with conditions like body ache, upset stomach, headache, cold, and fever.
In case of a medical emergency, you can also visit the Army's General Hospital or the nearest Army camp.
Physical Fitness
It does not matter if you hit the gym 6 days a week or can run 10 kilometers without breaking a sweat. Do not make the mistake of considering your physical fitness as a criterion for AMS. It does not matter how fit you are.
You must take AMS very seriously and listen to your body.  Do not go topless at high altitude passes to click pictures. Do not take a dip anywhere in any of the lakes. Keep yourself well covered and if you are not feeling well, take a rest and allow your body time to acclimatize.
Beware of Dogs
This may sound like a surprise entry to the list but it is true. Ladakh a couple of years ago was reported under attack by deadly stray dogs and the situation has not yet come under control.
Take a look at this news report and this one to know what I mean. Dogs in Ladakh attack to kill and not just scare you away.
I myself had one such close encounter while traveling to Hanle from Pangong. You can read about it at The Beasts of Changthang Valley – The Deadly Dogs of Ladakh. Keep at a safe distance from them and do not get too close.
Do Not go if You are Unwell
The friend that I mentioned above who died in Ladakh was not feeling too well and yet he went. The result? His situation got worse in Ladakh and he paid for it with his life.
The rule is really very simple. If you are not feeling too well, have a cold and cough, or fever, or any other ailment, please do not risk going to Ladakh. Or at least consult a doctor before you go. With your current condition and medicines, you can never be sure how your body will react at such a height.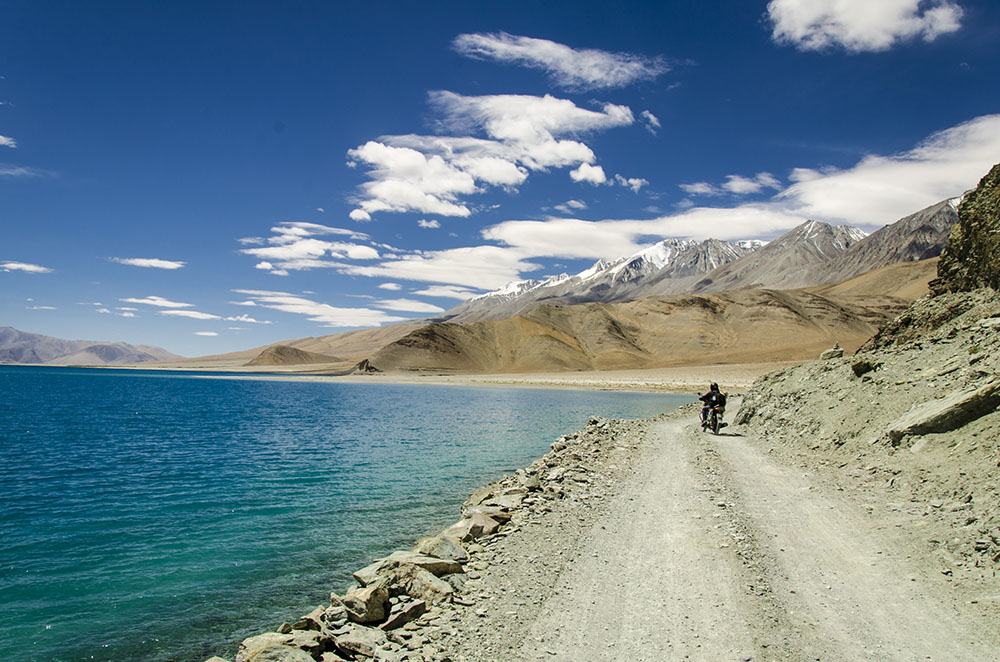 Precautions for Ladakh Trip – Conclusion
These are some of the things that you should keep in mind while planning a trip to Ladakh. For a more detailed version of this information, I will recommend taking a look at How to Plan a Trip to Leh Ladakh – A Complete Travel Guide. If you need have any questions, please feel free to ask in the comments section below, and I will be glad to answer.