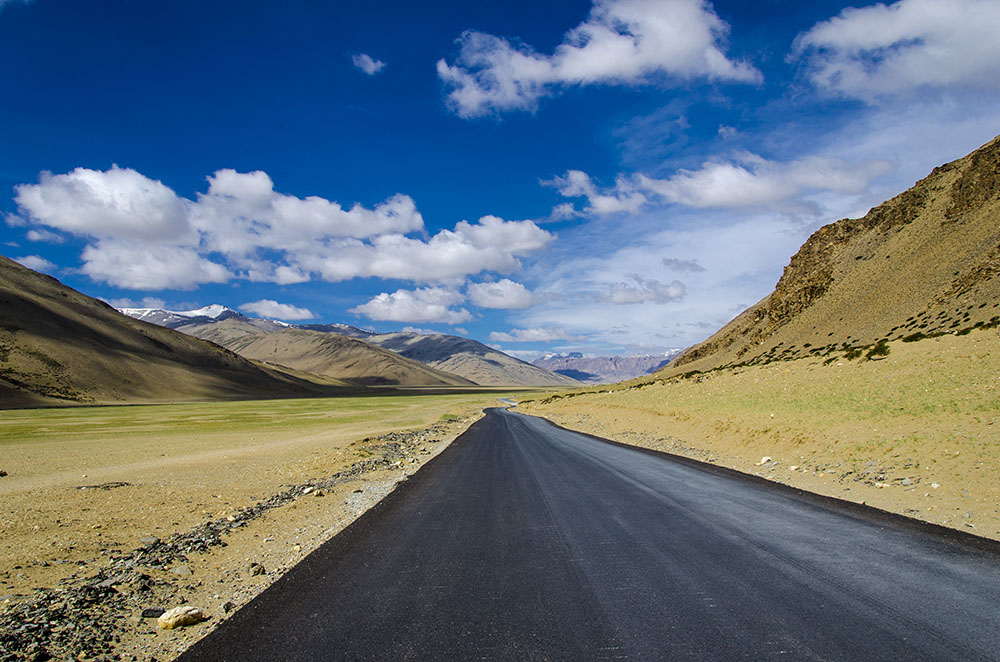 The post below is a log of my Leh Ladakh budget bike trip that we were able to wrap in under 15000. Based on my own experience, I will try to cover as many details as I can that can be of help for anyone planning a bike trip to Ladakh.
There used to be (still is) an adage in North India in Pre – Independence era – "Jisne Lahore Nahin Dekha, Usne Jeevan me Kuch nahi Dekha" (If you haven't seen Lahore then you haven't seen anything in life). I would dare to state, "Jisne Ladakh Nahi dekha Usne Jeevan me kuch nahi dekha" (If you haven't seen Ladakh, you haven't seen anything in life).
Ladakh, the first image/feeling that comes in your peripheral vision when you hear this name is nothing but the paradoxical feeling of an infinite serenity mixed with the doses of excitement and adventure. Ladakh is a region ( Leh is the district) and on record the biggest region and district of the whole of Asia.
Also Read: How to Plan a Trip to Ladakh – A Complete Travel Guide
Strategically Ladakh is a vantage point for Indian forces and government. But instead of theoretical information, I would like to focus on the traveling part of it.
Leh Ladakh Budget Bike Trip
Since the start of my teenage and being raised up as a farmer, my mind's landscape was always engaged in adventures and especially the ones associated with traveling.
If you seriously want to do an adventure this is the best option in the world. I have met hundreds of bikers on the way including enthusiastic bike lovers from foreign countries.
None of them have seen such an exciting, beautiful, tough, and adventurous terrain in the whole world. You would be a changed person after this trip in many ways and particularly you would start respecting truck drivers and driving.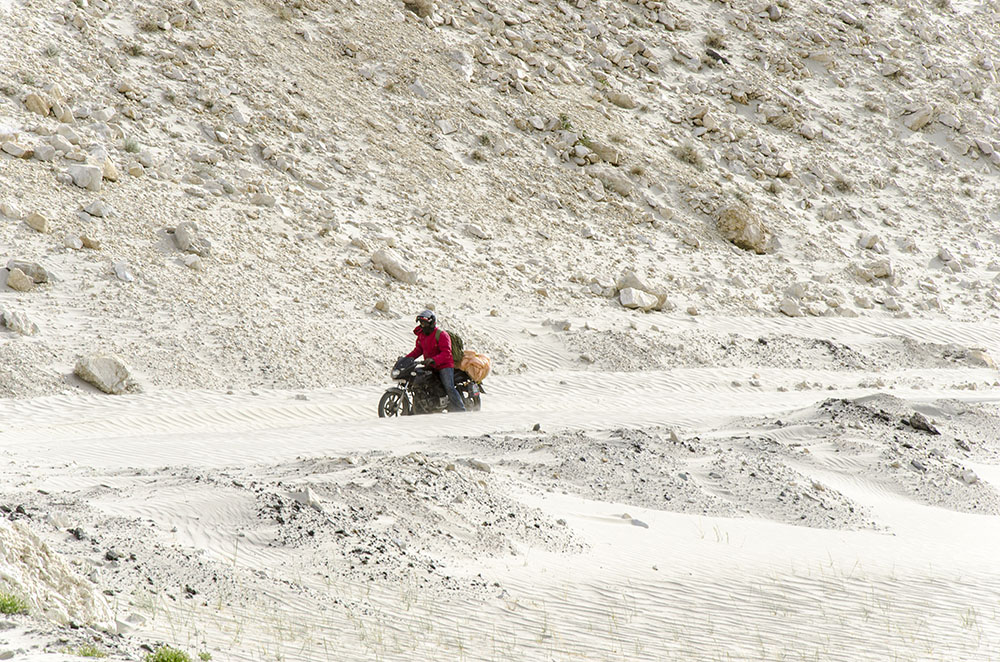 When to Go to Ladakh
You can only go to Ladakh when the roads are declared open and snow is being cleared. So keep an eye on Himachal Pradesh Websites or Leh City Website for up to date Information. Generally, it opens in the last week of May and opened up to the last week of September.
Road Route
Chandigarh – Manali – Leh
Srinagar – Leh
Either way, the whole journey is around 2500 – 3000 km, Chandigarh being the starting and endpoint.
How to go to Ladakh
So guys there could be three ways to explore the Ladakh.
Bike Road Trip
It is advised for the guys who think and believe that they are tough. Mind my words; this road is the granddaddy of the toughest roads in the world. Further, this is for the guys with an ample amount of time.
Four Wheeler Trip
It is more convenient than the previous one. A group of friends and family can go in a four-wheeler. Hiring a driver would be the best option instead of driving yourself. It is good for females as well.
Flight to Leh
It is the best option available for anybody especially those who want to do Leh but can't take the road trip due to time and other constraints. This gives you the advantage that you would be fresh to explore the important spots around the Leh. From Leh city, one can hire a motorbike as well as a four-wheeler to further explore the beauty of the region.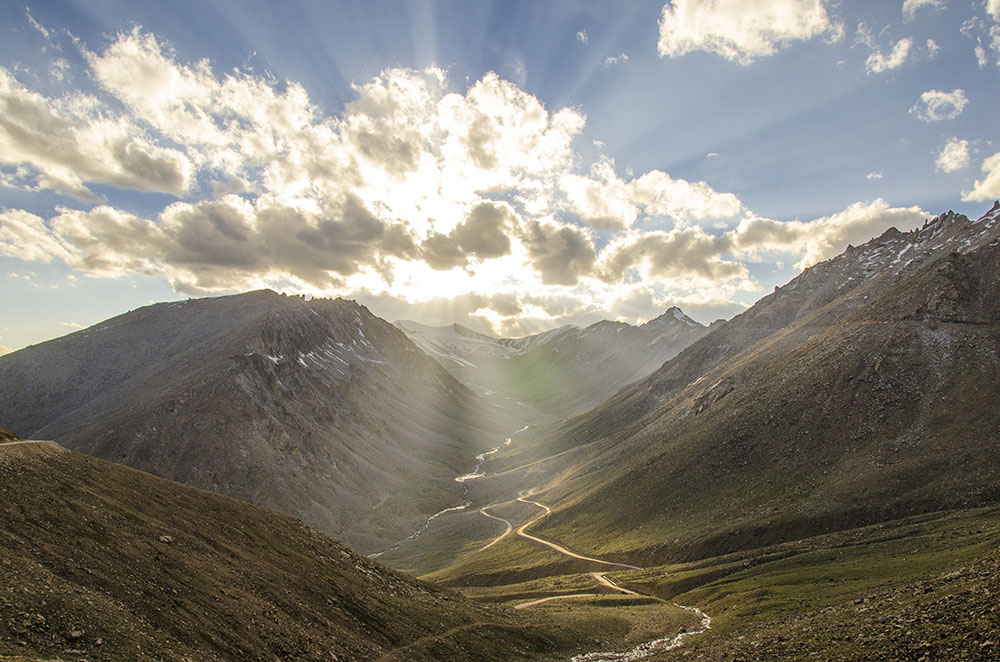 What to Bring
Folks who would want to explore Ladakh by road in an organic way must have the following items.
Camping Gear
According to the size of your group, buy a sleeping tent which can accommodate maximum guys. A Dome-shaped tent is recommended. Don't get looted through online purchases. The best way is to go to Azad Market in Delhi.
It is a wholesale market for sleeping tents, bags, and such stuff. I myself surveyed the whole day and purchased a dome-shaped tent that could accommodate four people. It weighs around a kilo and is easily adjustable.
Forget about the blankets. Go for a warm and compact sleeping bag when you have decided to go the organic way. Again it can be purchased from Azad Market in Delhi.
You would understand the importance of both these items when you would arrive at Pangong Lake. You would want to spend a night and local tent owners would demand more than two thousand rupees for a night.
Cooking Items
A small diesel stove is essential as you would need to make your breakfast, tea, and food. If a bigger group is there, at night you can go cooking on the wood but again you have to carry them which would increase the weight of your luggage.
In terms of Utensils, a multipurpose small pan is the best. You can make noodles, warm the water and make chapattis in that.
Instead of searching for liquid mild, you should carry milk powder.
Other Accessories
A pair of strong waterproof strong shoes with warm socks pair. Your feet many times would kiss water on the way.
Waterproof jackets/Gloves/Windcheaters/Warm inner/Knee and elbow guards are essential for a biker. They must be of very good quality otherwise in no time your hand would stop talking. A special type of bandana comes in the market for bikers which covers your head and face and saves you from tanning. Go for a pair of them.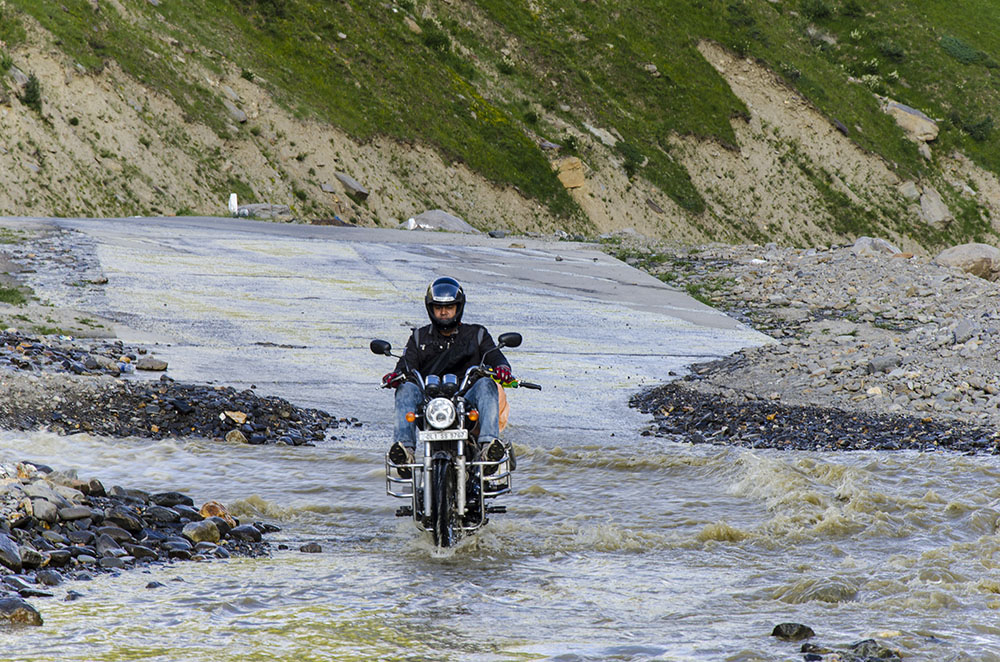 Bike Spares
A pair of extra Clutch Wires, Clutch plates, Extra Break Wire, a small plastic air pump. Along with a full serviced bike with new tires, you must keep the above-mentioned accessories along with you.
An iron luggage carrier on both sides of the bike is a must to carry your luggage. This can be bought and fitted in Karol bagh auto market of Delhi.
Last but not least, one pair of 5-liter plastic cans. It is interesting for your knowledge that at many places the next petrol pump comes after more than 300 KM.
Photography
And yes, a good SLR camera to click the eternal beauty of the earth in this region. I bet this place is the photographer's paradise. You would have not seen such a beauty before in your life.
An SLR with extra pair of batteries, memory card would be your partner and you would thank yourself for it. We did shoot almost 8 hours of footage on a normal video camera. It would be a treasure to show your kids and grandkids.
Medication
Many blokes might feel Acute Mountains Sickness due to thin air in Leh and around. So there might be stomach upset, vomiting and dizziness. Don't forget to carry a strip of Diamox (Acetazolamide) from your local pharmacy shop.
For bikers, you would start feeling this on the way near Sarchu. Don't fight it. Take a tablet, drink a lot of water and go to sleep soon. Give your body time to acclimatize. Upon reaching Leh take a full day's rest for acclimatization.
Inner Line Permit
Anybody from the outside of the Jammu and Kashmir region would need permission from Leh city administration to go beyond Leh. This is a must step for everybody. Write a maximum number of surrounding spots to cover. The Inner Line permit would be checked at various places by the state police and paramilitary forces.
If you are accompanying any foreign national along with you, he/she would get permission only in a pair. A single foreign national is not allowed. So you need to look out for travel agents, many of them would be humming in the same office for their client's permit.
ATM n Cash
Most of the time there is only one ATM(SBI) is in working condition in Leh city. You would have to wait for a long time for your cash. So it is better to carry a bit of extra cash with you than to stand in a queue.
Mobile Network
Up to Himachal your pre or post-paid number can work. But in the state of Jammu and Kashmir, you would need a BSNL sim. Your service would hardly work there.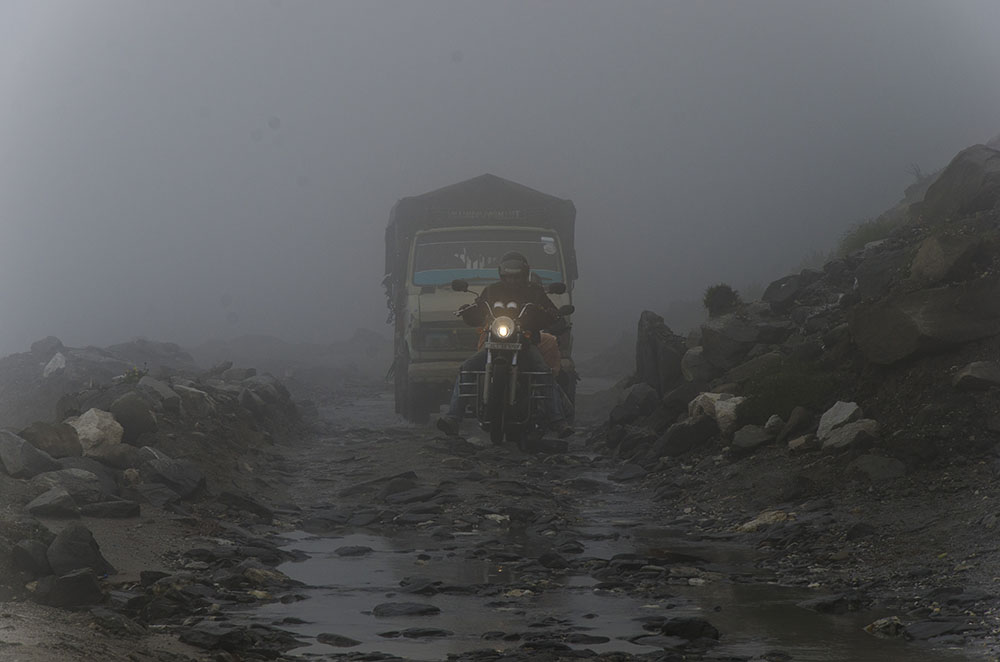 What NOT to do in Ladakh
Drink and Smoke: Aha! Yes boys, no drinking there post Manali. As you would approach Keylong, the level of oxygen would start dipping and your vehicle would tell it. Moreover, Alcohol dehydrates your body, so at lower oxygen levels you would need more water in the system. Less oxygen and tobacco don't go along very well. So curb your desire for the sake of safety.
Rain Drive: Absolutely not. Don't try to do an Akshay Kumar or Salman khan there. When the rain starts pouring, look out for a hiding rock. There are many sheds and villages on the way, take a refugee there.
Disrespect: On the road, there would be many small monuments mentioning various soldiers and road-making guys who died on their duty. Don't put their feet, pee over them. If possible blow a horn when you pass by.
Night Driving:  Not under the pain of death drive in the dark. 6 PM and you are in your tent. In fact, wake up after a night of full sleep and try to start the trip soon after breakfast.
Where to Stay in Ladakh
In Leh city, give your tents and bags a bit of rest as it is not necessary to stay in tents in the city. Most of the Indian middle class choose to get looted in 3 star or 5-star hotels or guest houses.
A sensible traveler in my opinion shall follow what an International guy is doing. There is a particular area near Police Station and Main Bazar where Ladakhi people have opened their homes for tourists. They charge like 150-250 INR a day. Plus you get to acquaint with Ladakhi culture from close as you live in their home.
Most foreigners apply the same way of residing. The next day of your arrival shall be used in getting permits from local administration and minor bike repairing.
Your camera, phone battery must be recharged fully prior to make a further move.  It would also give your body to acclimatize according to the environment. Check out the Ladakhi festival date online before you plan your trip. That would be a great experience to indulge in.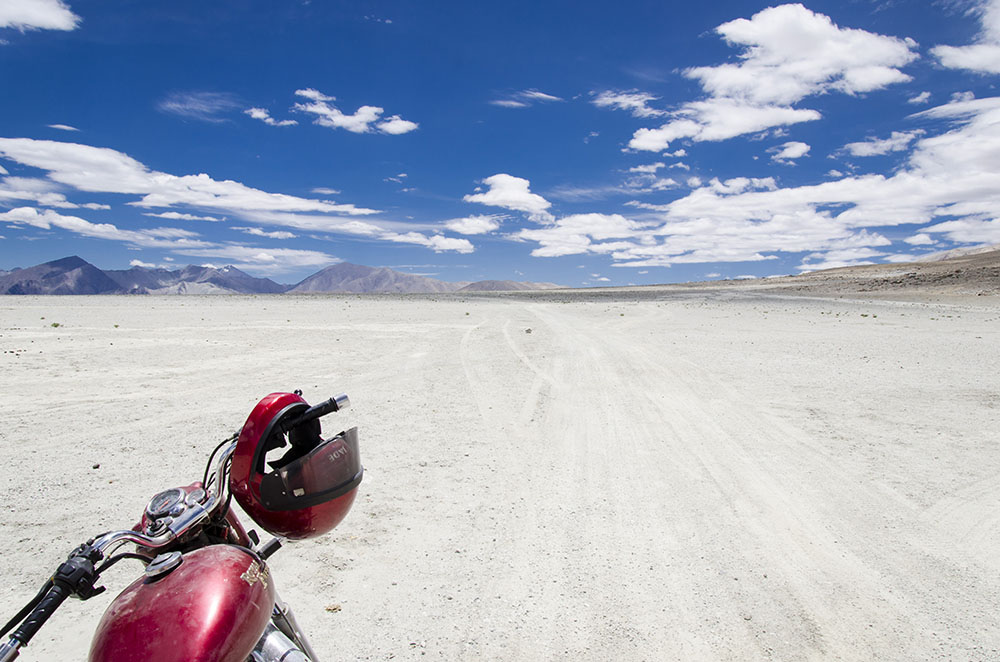 Where to go beyond Leh
Khardung La & Nubra Valley
This is the world's highest motorable road at 18000 feet. It itself would be a sense of achievement when you would click yourself at that milestone. Alone Khardung La can be done in a single day easily.
Post Khardung La is the beautiful Nubra Valley where you must spend at least a night. Two hump camels in India are found here. Start early, explore Khardung La, and by evening reach Nubra valley.
Pangong Lake
Beauty, beauty, and beauty. It falls on a different road than Khardung La Pass. Almost 80 KM from Leh. 145 KM lake, 45 KM of which is in India and the rest is in China. So apparently you would reach near China border.
Spend a night in your tent. You would have not experienced such a night before in your life. You would want to stay there for a week. If not then I can bet whatever you ask.
It is such a beauty, a virgin beauty. The climax of the film ''Three idiots'' was filmed here. A famous song 'Satrangi re'' from the SRK flick ''Dil Se''  was filmed here and to add to your information SRK used to take bath in the lake every day. 2 nights here are equal to a lifetime experience.
Sindhu Darshan
The Famous Sindhu river passes from Leh and a special cultural festival is celebrated every year for tourists. So don't forget to be a part of it.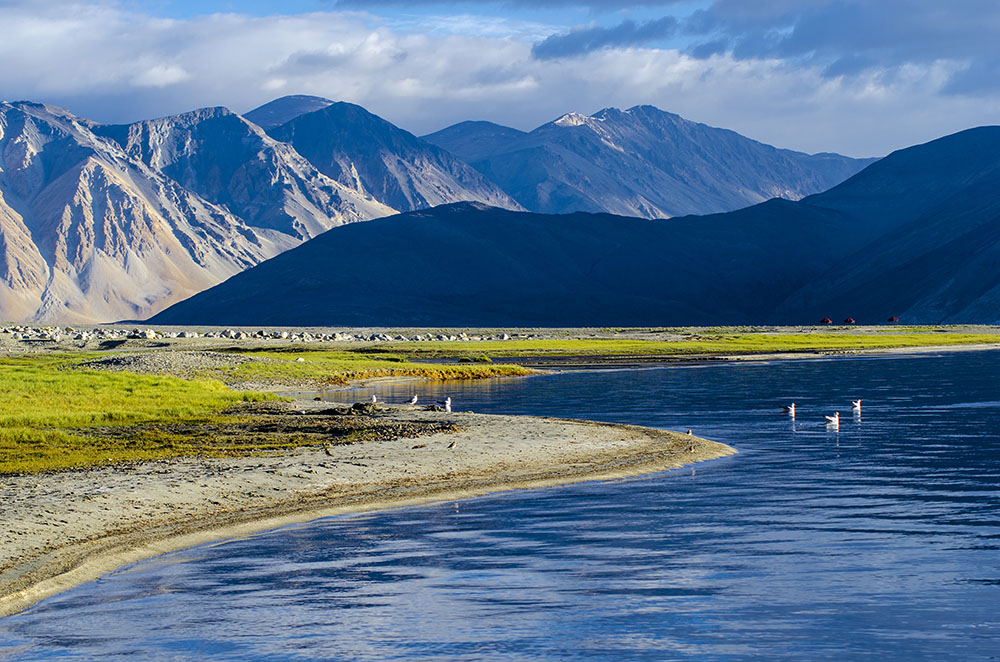 Returning back via Srinagar Leh Road
Okay after exploring Leh and around you would be tired a lot. Most likely you would want to be at home as soon as possible. If yes, it is good for guys traveling by air. They can directly fly back home from Leh. Folks traveling in four-wheelers either can take the same route via Manali or choose to go via Srinagar.
Then you will be on the Leh – Srinagar highway. Soon enough you would witness the magical Magnetic hill on this road. Your vehicles would be pulled naturally. Geographically hills make such an angle that it creates magnetic force.
Plus, don't forget to take blessings from 500 years old Guru Nanak Gurudwara. It is known as Gurudwara Sri Pathar Sahib. Just imagine it is such a tough terrain in the modern age and Guru Nanak came here some 500 years back with no facility.
The next destinations would be Kargil, Tiger Hill, Drass, Amarnath boot Camp at Sonamarg.
Guys on bikes would need to take a halt for the night at Kargil. We camped just outside Kargil city. This highway was the target of Pakistani intruders during the Kargil war. Blokes with four-wheelers even can stay for a night in Kargil. Point it one cannot make it to Srinagar in a single day from Leh.
Kashmir valley is lush green and divinely beautiful. It carries totally different culture from the Ladakh region. Try to communicate with villagers in the Dras area and you would hear the amazing stories of the Kargil war.
When you would reach Srinagar, take a rest for the night and explore the beauty of Dal Lake. You can head from Srinagar to Jammu, Pathankot, and finally Chandigarh.
Trivia
We have shot the documentary film of the entire organic trip. We are planning to release it for the Mountain Documentary Film festival. The tentative title is ''The Kicked''.
The cost of this organic Leh Ladakh budget bike trip was INR 15000/. Half of the amount is the patrol cost. Our accommodation and food cost was very less since we were camping at most of the places and cooking our own food.
Leh Ladakh Budget Bike Trip – Conclusion
I tried to cover as much as I can. Rest if any reader wishes to explore Ladakh this summer, yours sincerely would be glad to guide. I hope the information above on a Leh Ladakh budget bike trip was of help. If you have any other questions, please feel free to ask in the comments section below or at our Community Forum, and I will be happy to answer.