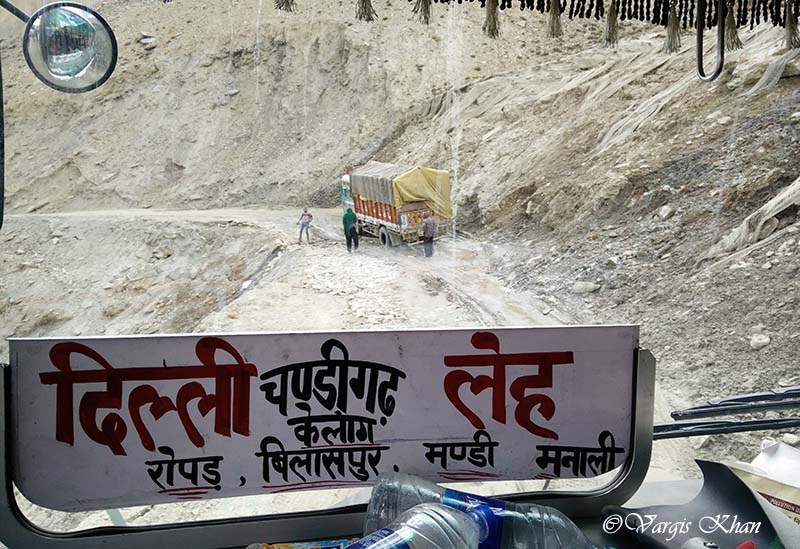 Is a Ladakh trip by bus worth it? This is one of the most common questions I get asked by people wanting to travel to Leh Ladakh by public transport. The apprehension to some extent is justified as well. For long, Ladakh has been known as a biker's paradise. Even today, a trip here is thought to be best by your own vehicle. So, when you think about going to Ladakh by Bus, it will surely make you wonder if it will all be worth the effort.
I have been to Ladakh multiple times and my last trip there was by public transport. I chose to go by Bus not because I had to but because I wanted to. All my previous trips were either by Bike, Car, or flight. This time, just to try something different and new, I decided to board a bus for Ladakh.
Also Read: How to Plan a Trip to Leh Ladakh –  A Complete Travel Guide
By the time the trip ended, I felt like I saw Ladakh with an entirely new perspective. If I am to speak honestly, then a trip by Bus has its own pros and cons. Yes, there were times when I really regretted my decision as well but in the end, it all turned out to be an experience of a lifetime.
Based on my personal experience, mentioned below are a few reasons why you should travel to Ladakh by bus or public transport.
Ladakh Trip By Bus
A few years ago, the availability of public transport in Ladakh was scarce but with the recent boost in tourism, things have improved several folds. Both HPTDC and HRTC have now introduced new buses for Ladakh. You can now easily find a bus for Ladakh from Manali or Srinagar. As a matter of fact, you can find a direct bus for Ladakh from Delhi as well.
Even within Ladakh, the connectivity is now far better than in previous years. You can find daily buses to almost all major tourist attractions. If not a bus, then regular shared cabs are available from the bus stand itself.
What are the benefits? Well, here is a list.
Will cost you much Less
A trip to Ladakh is not a weekend affair. It will take you some time to get there, explore the area, and return. Depending on where you were traveling from, you will be covering thousands of kilometers. With the added days and the distance, comes the additional cost. Your top expenses will be fuel, lodging, and food followed by other miscellaneous ones.
This is also why a lot of people do not either visit Ladakh or postpone to another time when they will be able to better afford it. While there are several ways that you can reduce the cost of food and lodging, the best way to cut down on your fuel expense is to go by a Bus. This will also save you the cost of getting your vehicle ready for Ladakh and repairing any wear and tear after the trip.
Also Read: What Clothes to Pack for Leh Ladakh
Saves you the Hassle of Driving
There could be a lot of reasons why you would not want to drive to Ladakh. The biggest one is that you are not sure whether you will be able to handle the tough roads. Another reason could be that you do not want to drive every day for several hours and tire yourself. Yes, you can also board a flight to Leh to avoid these reasons but traveling to Ladakh by Air these days is not a budget-friendly affair.
What do you do then? Board a Bus. Throw your bags in the luggage compartment, find a comfortable seat, stretch your legs, and enjoy the beautiful scenery looking out the window.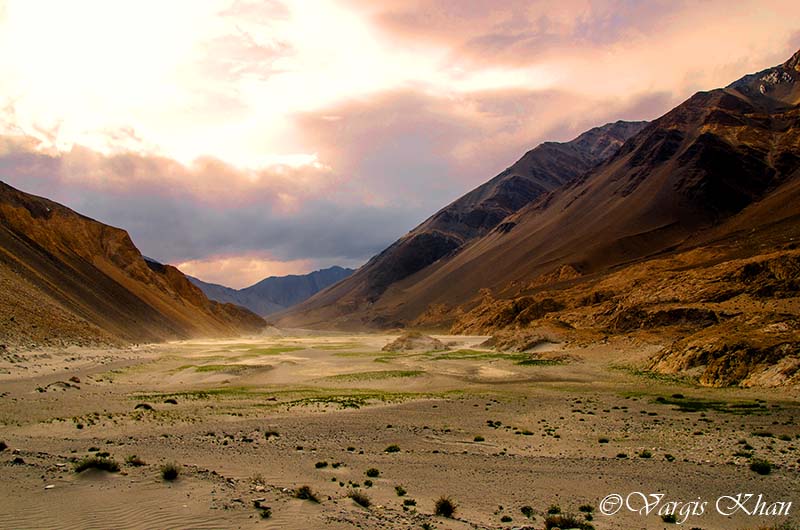 No more rented Bikes and Taxis
Not everyone can bring their own car or bike to Ladakh. Some people do not own one and others live too far away to be driving all the distance. An option that gets considered in this situation is to hire a taxi or a motorcycle.
In both cases, first of all, it will cost you a fortune. Trust me, going to Ladakh by a rented bike or a private taxi will cost you the same as it will be a flight (if you booked in advance). As a matter of fact, going by a private taxi will actually cost you more than a flight.
On top of it, the condition of the rented bikes available from Manali or Srinagar is not always good. There are some people who give you reliable machines but most of them will just give you badly beaten and poorly maintained bikes. They will give you poor fuel efficiency, will start coughing will handling steep climbs and you will always run a risk of a breakdown.
In my opinion, a better way around this is to reach Ladakh by Bus and then rent a bike there (if you want to experience biking in Ladakh). This way, you will reduce both the cost and the possibility of a hassle.
Easy on the Environment
If everyone decided to go by Bus, then the number of cars and motorcycles on the road will be less. This will help reduce the pollution level which is becoming a great concern in Ladakh these days. The ecosystem of Ladakh is very fragile and the increase in tourism has greatly disturbed it. The level of carbon emission is going up, littering has become a problem and with so many vehicles on the road, the wildlife has been disturbed as well.
So yes, traveling by bus can also to some extent be considered as responsible tourism.
Meet New People
What is the best way to learn about the local life of a place? Well, there are several but one of the top ones is to commute by public transport. Share a bus or a shared taxi with the locals, sit next to them, strike up a conversation, listen to their stories, get their views, and learn about their way of life. Find out how they survive in such harsh weather but with always a smile on their faces.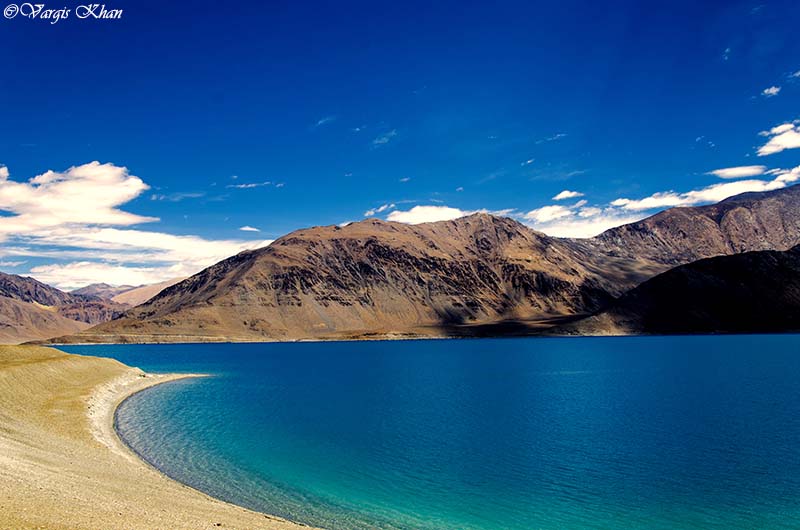 Relax More, Enjoy More
When you are driving a car or a motorcycle, your eyes are on the road. In a place like Ladakh, your eyes must always be on the road. Out here, you cannot afford to look away even for a second. You must always remain alert else the result can be catastrophic.
Does this sound like you were relaxing? No, it does not. 'Enjoying the vistas' too will only happen when you are taking a break.
On the other hand, if you were sitting inside a bus, you are completely relaxed and totally enjoying the scenery outside. Every turn of the road in Ladakh presents a new and stunning view and you will enjoy them all.
Safety
A trip to Ladakh will always have a touch of an adventure to it. To some people, riding into the unknown, driving on empty roads, not a living soul in sight, and the nearest help hundreds of miles away is a thrill they would love to experience. But the same is not the case for everyone. Not everyone wants to run the risk of getting stranded. Fear of getting attacked or robbed in the middle of nowhere is enough for a lot of people to cancel their plans.
Is that really a risk? No, it is not actually because Ladakh is a very safe place to visit. But if you are not willing to take the risk, then traveling by Bus is the safest choice for you. You are inside a bus with several other passengers of both genders and all age groups. There is no risk any more of you getting stranded alone or being taken advantage of.
I know several ladies who went to Ladakh solo and they chose Bus as a preferred mode of travel because it was the safest one. You can read the travelogue of a friend of mine at A Girl's Solo Trip to Ladakh by Public Transport.
Disadvantages of Traveling to Ladakh by Bus
While I am motivating and urging you to go to Ladakh by Bus, let me also warn you a little about the disadvantages. This is not something that you would not already know but I will still mention.
The biggest disadvantage is that for most of the journey, you will be sitting inside an ordinary Bus. There is just one Deluxe bus that HPTDC runs between Manali and Leh. But for the rest of the journey, it will be an ordinary bus you will be boarding. I am not saying it will be super inconvenient but it will not be very comfortable either.
The second drawback is that the bus has only designated stops at a few dhabas en route. You can get something to eat and freshen up but that is mostly all. There are no breaks for sightseeing. It may stop at top of the passes for a little while but that is not guaranteed either. So most of your sightseeing will happen from the window of the bus.
Another entry to the list is that you get tied down by the timing of the Bus. A day trip to any of the places in Ladakh will become difficult. For destinations like Nubra Valley, Pangong or Tso Moriri, you will have to reach there on the first day and return the next
Frequency of Bus Service in Ladakh
In peak tourist season, the buses on all the routes are now available on a regular basis. Below is an overview.
There is a daily direct bus that travels from Delhi to Leh and Leh to Delhi between June to September.
At this same time, HPTDC also offers a Deluxe bus between Manali and Leh, both ways.
For budget travelers, there is a daily HRTC ordinary Bus from Manali to Leh and Leh to Manali. This one remains available from early June to early October.
There is a JKSRTC ordinary Bus that travels between Srinagar and Leh daily, both ways.
The bus service with Ladakh is still not regular though. There are buses available on almost all routes but not daily. Take a look at Bus Service in Leh Ladakh for the frequency, schedule, and fare details of all these buses.
Shared Cabs in Ladakh
The good news is that you do not have to entirely rely upon the buses. An even better alternative is shared taxis. It will cost you slightly more but the frequency of these cabs is way greater than a Bus. Between Manali, Srinagar, and Leh, you will have no problem finding a shared cab at all.
For sightseeing in Ladakh, just reach the Leh Bus stand in the morning; and you will find numerous cabs going towards Nubra Valley, Pangong, Tso Moriri, and other places. For your return journey as well to Leh, you can easily find a shared taxi. For details on how you can manage your entire trip shuffling between a Bus and a shared taxi, please read How I traveled to Ladakh by Public Transport.
Sightseeing on the Way
The only bus that stops for sightseeing on the way is the HPTDC Deluxe Bus. It takes short breaks en route at pre-decided tourist places where the tourists are allowed to get off the bus, walk around and take pictures. All the other ordinary buses including the ones in Ladakh do not stop anywhere for sightseeing.
Online Booking
Since these are all ordinary buses, there is no online booking system available. The only bus that you can book online is the HPTDC Manali to Leh Bus. For more details, please read Manali to Leh Bus Service – A Complete Travel Guide.
Ladakh by Bus – Conclusion
I hope the information I provided about traveling to Ladakh by Bus or other means of public transport was of help. If you have any questions or need any other details, please feel free to ask in the comments section below, or at our Community Forum, and I will be glad to answer.