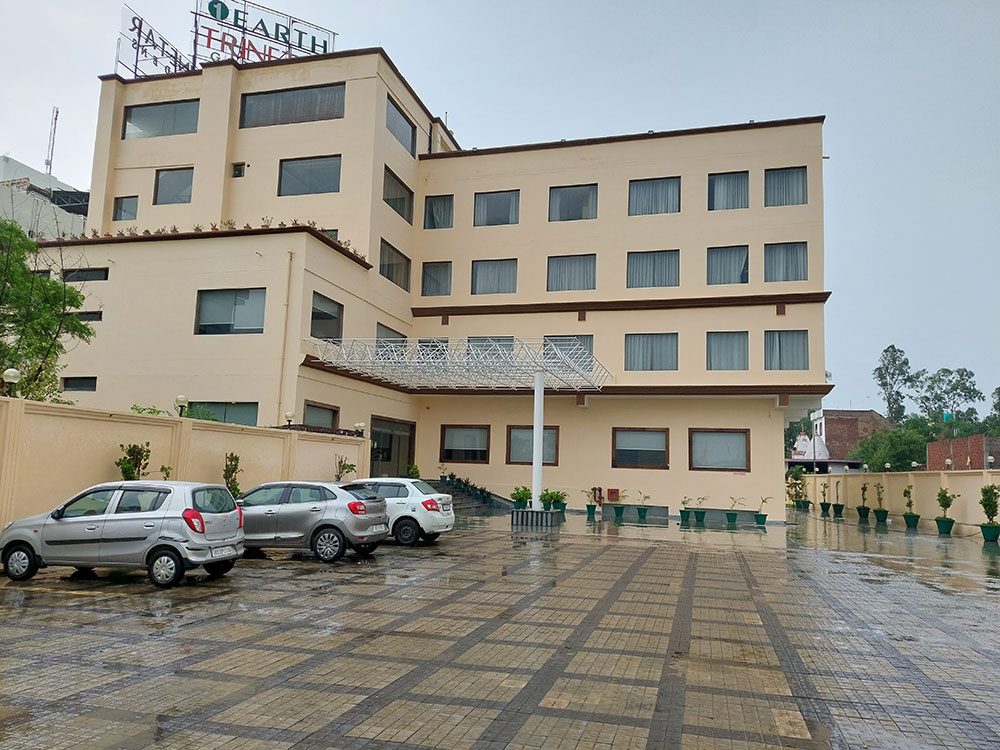 I stayed in Hotel One Earth Trinetar Jammu twice during my recent road trip to Kashmir; one while driving to Srinagar and then again while coming back to Delhi. Below is a brief overview of how my experience with this hotel was.
It was suggested to me by a friend of mine. The biggest reason why I decided to stay here was that it is located right along the highway. Since my stay was only for a night and I was to leave for Srinagar early the next morning, I did not want to go too deep in the city of Jammu.
For other details on visiting Kashmir, you can also take a look at How to Plan a Trip to Kashmir – Complete Travel Guide.
Hotel One Earth Trinetar Jammu
I was a little hesitant to check it out first because it looked a little on the expensive side. Surprisingly, after inquiring, it turned out to be within my budget. The stay was comfortable overall and this will probably be my preferred place to stay in the future as well if I was to travel in that direction.
Rooms
The rooms are fairly large, spacious, and clean with an attached bathroom. The large kingsize bed is more than enough to accommodate two people and is very comfortable to sleep in. A sofa and a table are provided as well and there is plenty of space to keep all your luggage.
Like the room, the bathroom is also quite large. There is a shower in the bathroom with hot and cold running water. The beddings were all very clean with comfortable pillows. I really did not have anything to complain about in this aspect.
The rooms towards the front of the hotel have a good view of the parking lot and the market from their window. The rooms towards the other end do not offer any view at all.
If you open the window, you will just see another building right outside the window. Ask the person to give you the room towards the front, right above the parking lot.
The hotel has three floors and there is also a lift available.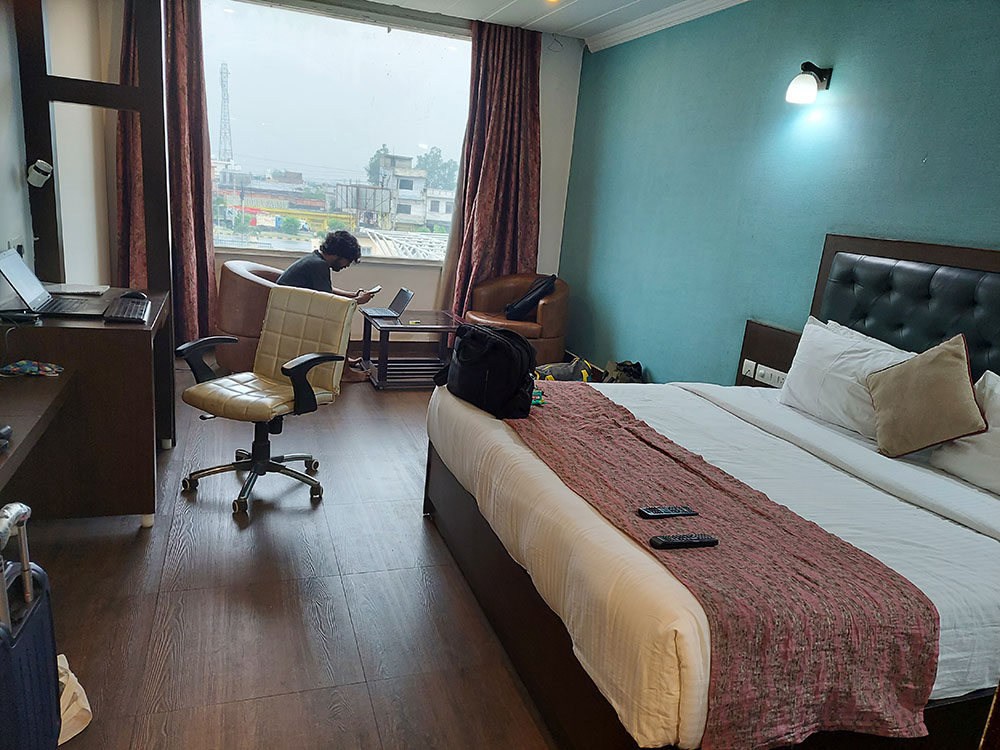 Parking
As you can see in the picture above, it is a fairly large hotel with a lot of parking space right in front. The main gate to the hotel gets closed at night and there is a 24/7 guard available.
Location
Now, this is where it can get a little tricky. With the highway bordered and closed on both ends, you need to get in the narrow service lane to get to the hotel.
If you are coming from Pathankot for example, you will have to go all the way to the end of the road and drive back in the service lane for about 2 kilometers to arrive at Hotel One Earth Trinetar.
The service lane gets a little narrow in some places. There is a market on the left and you will also find buses parked. There are also a couple of other hotels in the same lane and I think this advantage holds true for all of them. It is just a minor discomfort though, nothing too great.
Price
When my friend suggested this hotel and I checked its pictures on the web, it looked a little costly for my budget. I did not want to spend a great sum of money just for a night's stay. But when I checked online prices, it was, in fact, available for Rs. 1800, which was surprisingly less for a hotel of this kind.
When I reached the hotel, I was quoted Rs. 2000 the first time but was able to negotiate it down to Rs. 1800. When I reached here the second time, I was asked for Rs. 2500 but when I quoted the online price of Rs. 2000, they allowed me to book it online rather than paying Rs. 2500.
I am not sure of the reason for lesser prices because in my experience, such hotels these days do not quote anything below 5k. Maybe it was the pandemic and fewer customers that forced the hotel to lower its rates.
Food
Their food rates are a little high. For a cup of tea, they were charging Rs. 75. I did not eat here at all the first time. But during my second stay, I was too tired to go out and decided to order food from the hotel. For a bowl of rice, daal, and 4 Rotis, I was charged close to Rs. 800.
Pahalwan's Food Mall is only about 5 mins of walk from this hotel. My recommendation will be that you eat there. The food in the hotel was also good but I found it to be better and cheaper at Pahalwan's Food Mall.
Hotel One Earth Trinetar Jammu – Conclusion
To conclude, if, within budget, One Earth Trinetar is a great place to stay in Jammu. I am not sure if their rates will go up after the pandemic but for Rs. 2000 – 2500, it is a great deal.
The staff was very courteous my overall experience was a pleasant one. Check it out and I am sure you will not be disappointed.
I hope the information above on Hotel One Earth Trinetar Jammu was of help. If you have any questions, you can contact me on Instagram and I will be happy to answer. You can also consider subscribing to my YouTube channel and asking a question there.