This post is in continuation with a previous one and part of my Cambodia Travelogue. Details and pictures below are of the several temples that we visited at Angkor Wat on our second day in Cambodia. To read the previous part of this travelogue, please click on the link below.
Journey So Far: Temples of Angkor Wat, Cambodia
A picture depicting Ram killing Ravan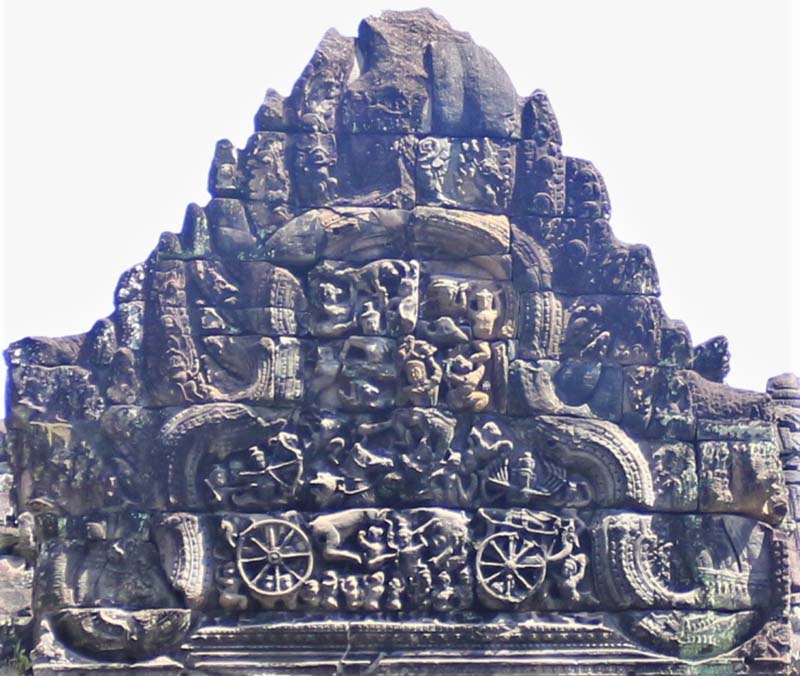 One has to pass through different size numerous doors, ornamented with carvings of Apsara and Rishi's before reaching the sanctum sanatorium, where a giant Shiva Linga is kept. The different sizes of the gates signify the difference stature of Hindu Gods.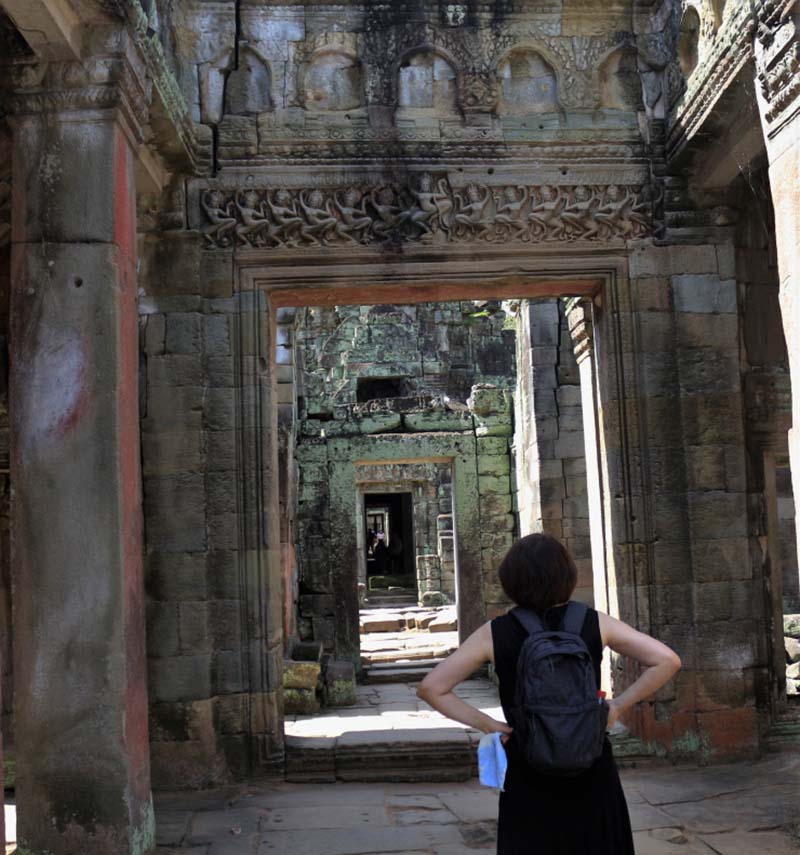 The large Shiva Linga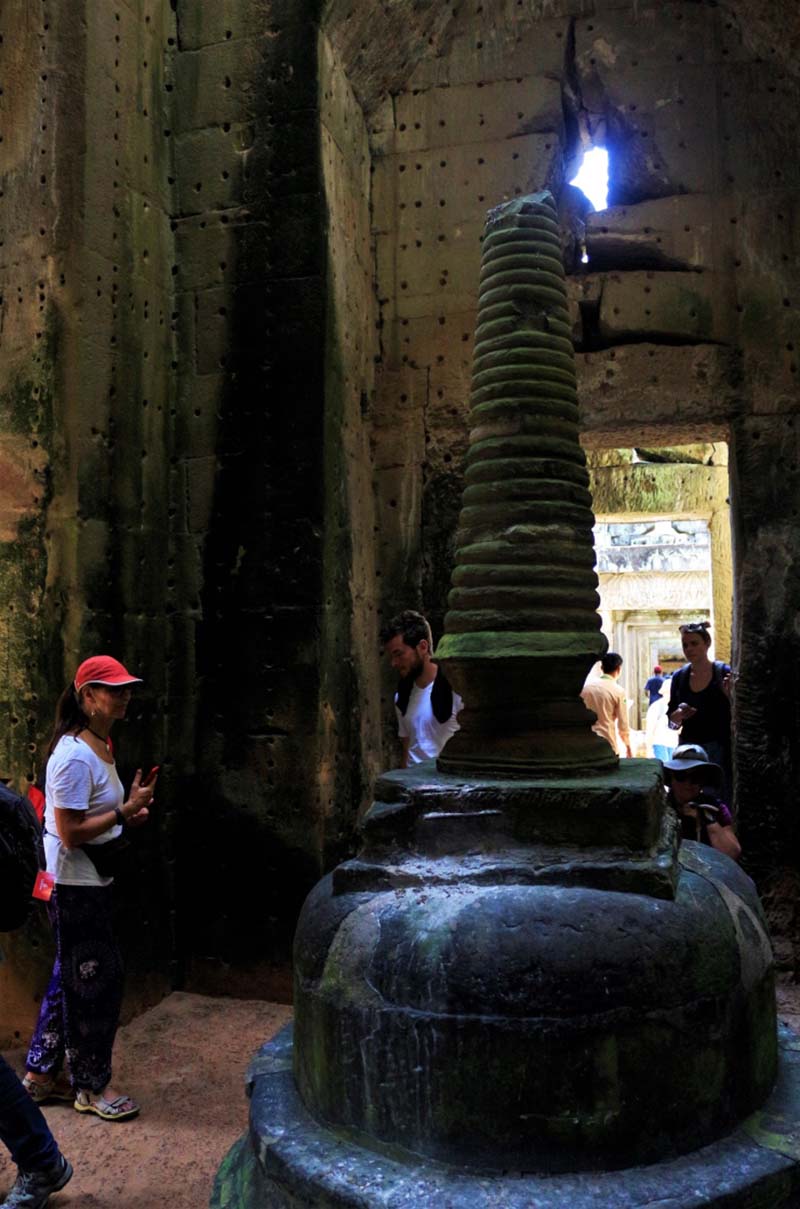 Narayana on top– is it Buddha at bottom; the fusion of religion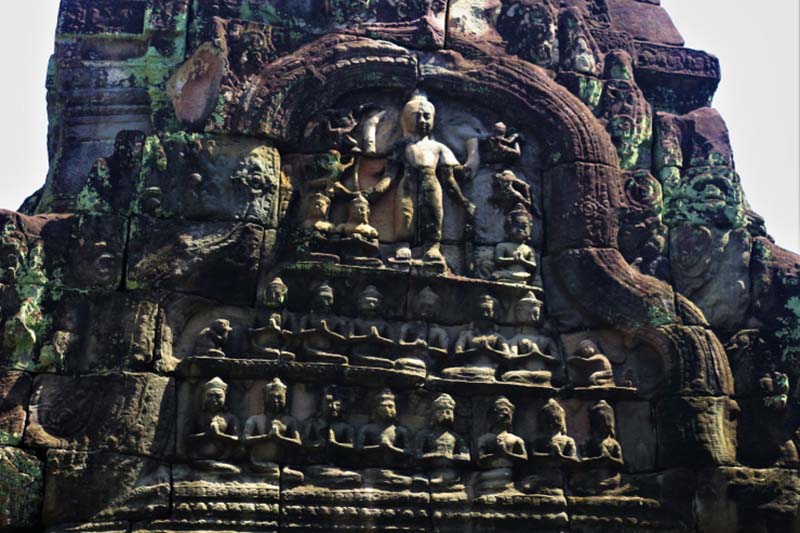 Dancing Apsaras adoring the top of a gate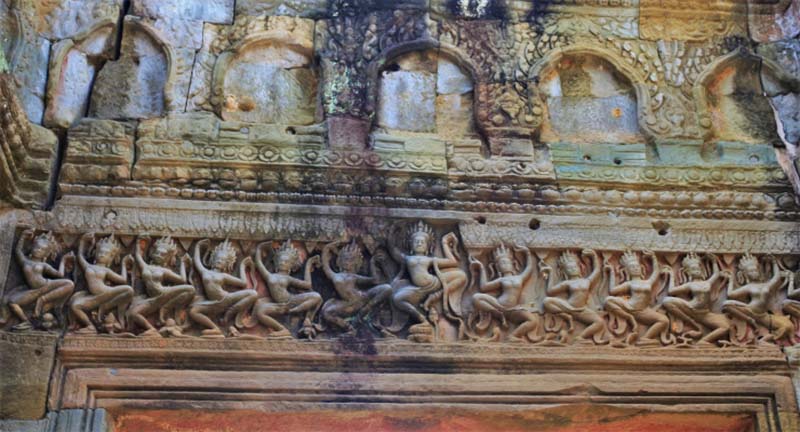 Rishis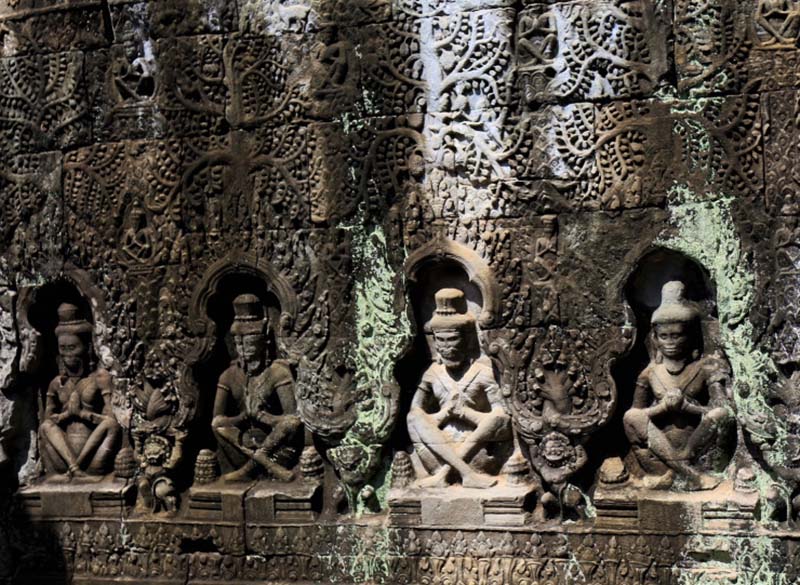 No,this is not necropolis of Greece!A 2 storeyed pillar hall,built in Grecian style at the Western end of the temple !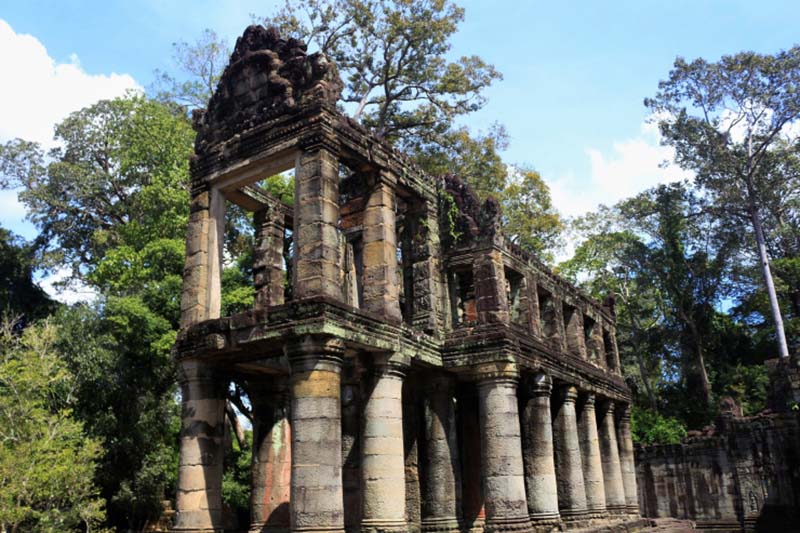 A giant tree on an ornamented wall of the temple-again nature vs man!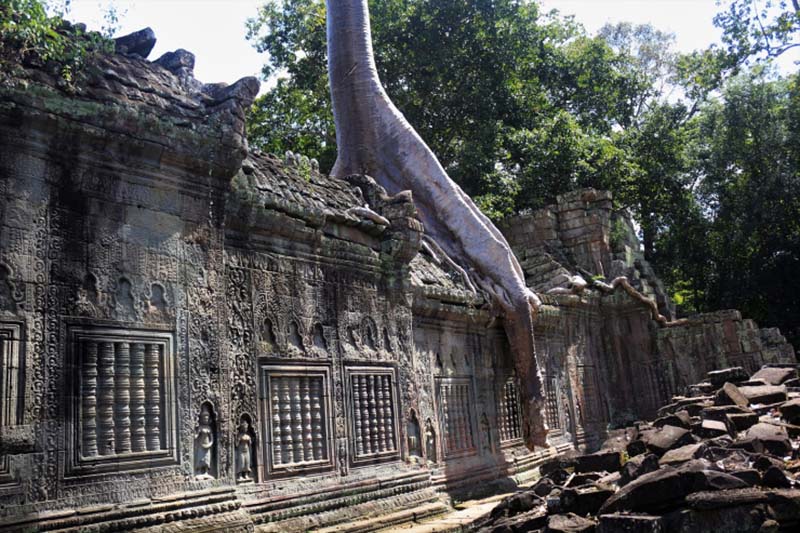 2:00 PM:
Entering the walled city of Angkor Thom through the Northern Gate, we headed towards the food stalls to have a pricey lunch. The bazaars of Angkor Thom is a great melting pot of cultures! There were two young British Teens sipping on the cool coconut water, while their electric moped got charged; an old Australian lady suffering from knee problem keeping her crutches by the side of the chair, asking the beautiful Vietnamese waiter for some non-spicy Singaporean fried rice; a group of impatient Chinese or Koreans hurriedly getting on their big AC buses;, a few rustic Russians with weird tattoos enjoying their draught Beer; a newlywed German wife blushing while her husband is showing her the pics just taken in the DSLR; a young Japanese girl adjusting her hat while looking at the map deciding where to go next; and we two Indians gulping our food like a glutton!
3:00 PM:
Angkor Thom unlike Angkor Wat is a walled city and contains numerous temples and palaces. After the successful siege of Angkor Wat and the defeat of Khmer king Suryavarman II by the Chams (Vietnamese), his successor Jayavarman VII decided to build a city that would be invincible like that of Indra's Mount Meru. Angkor Thom is surrounded by a moat called jayasindhu and then a wall jayagiri and is surrounded by 5 gates (the extra one being victory gate to East)
Instead of walking over the terrace of leper king and the terrace of elephants we whisked past to the Temple of Bayon, Angkor Thom's cherry on the cake.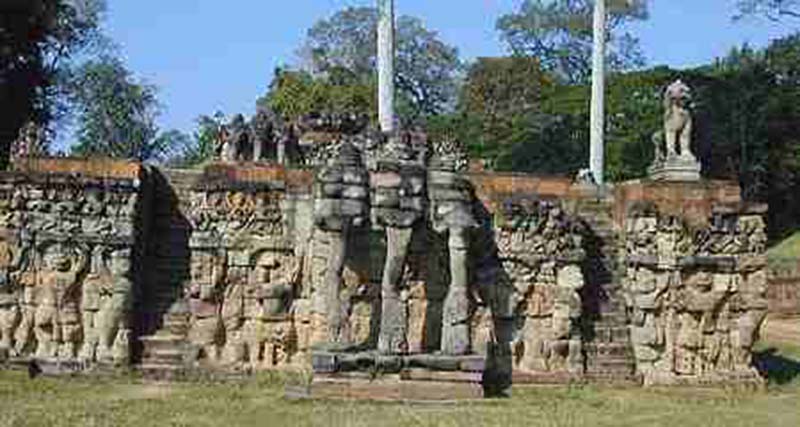 Looking from a distance, the temple of Bayon looks like a giant piece of rubble. But climb up to the third level and you can see the numerous smiling faces of Avalokiteswara (or Jayavarman VII) looking at you. It can be a bit of eerie with so many faces looking at you. Imagine how the ordinary peasant who has come all the way to meet the King will be humbled and intimidated by this grand display of power. Maybe the King wished to convey that like God, the king is omnipotent and always has an eye on you! The exactness of all the faces (216 to be precise with 54 towers) and the different heights and symmetry that they are constructed makes it an archaeological masterpiece.
Temple of Bayon– a heap of Rubble from outside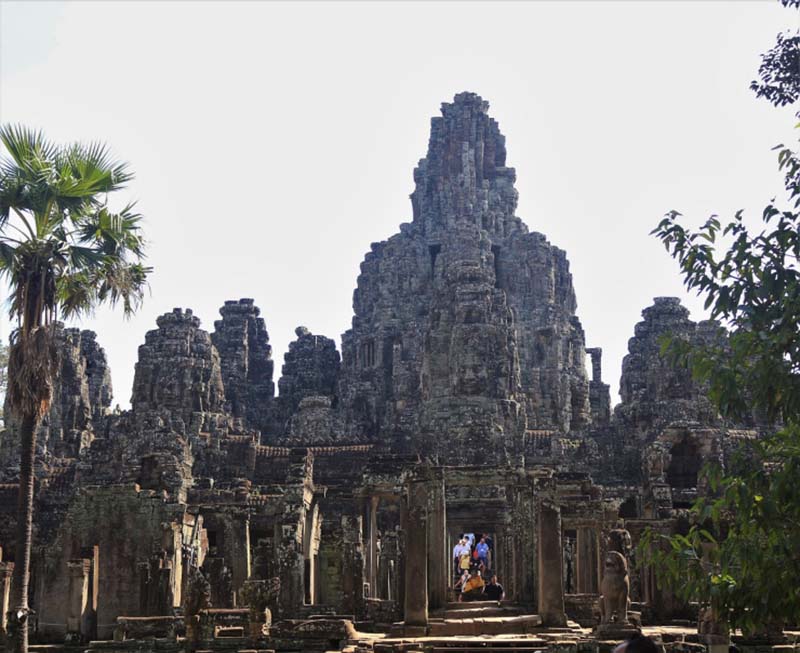 Smiling faces of Bayon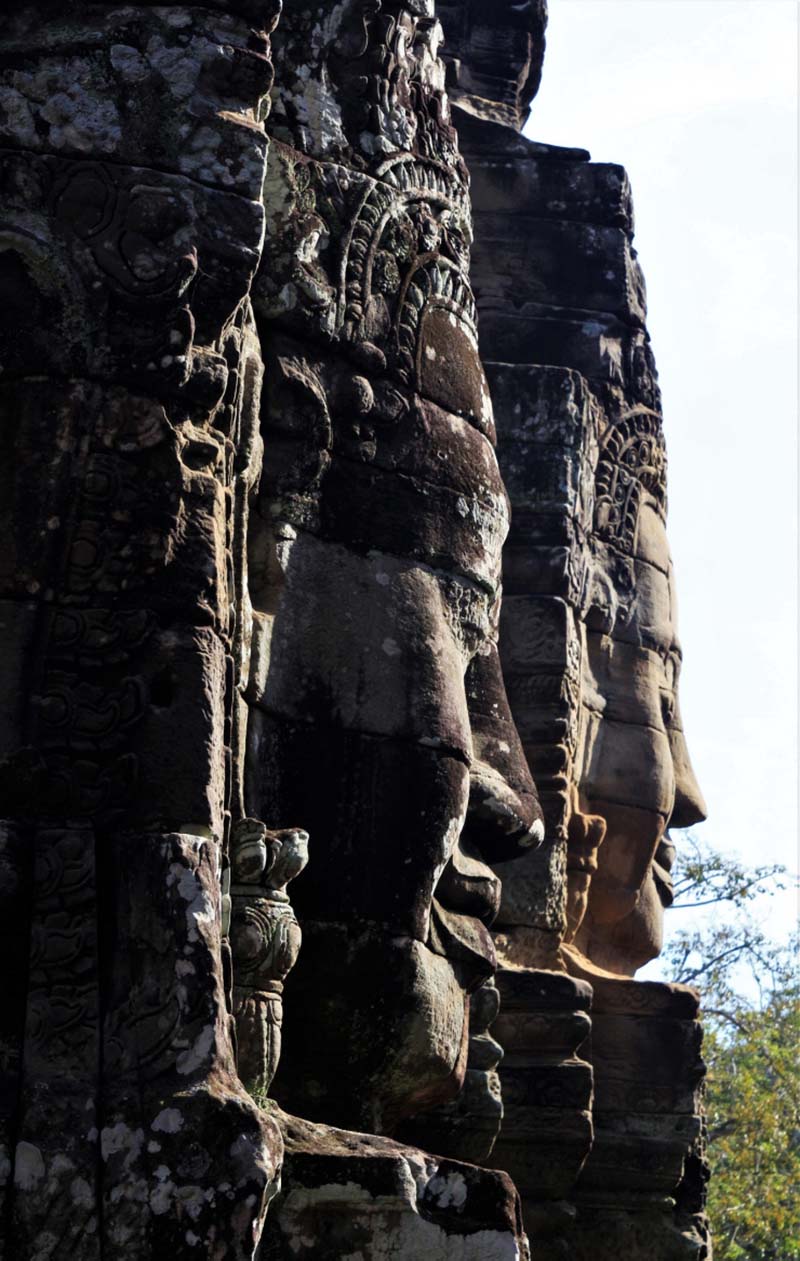 Bayon
Looks like Lincoln!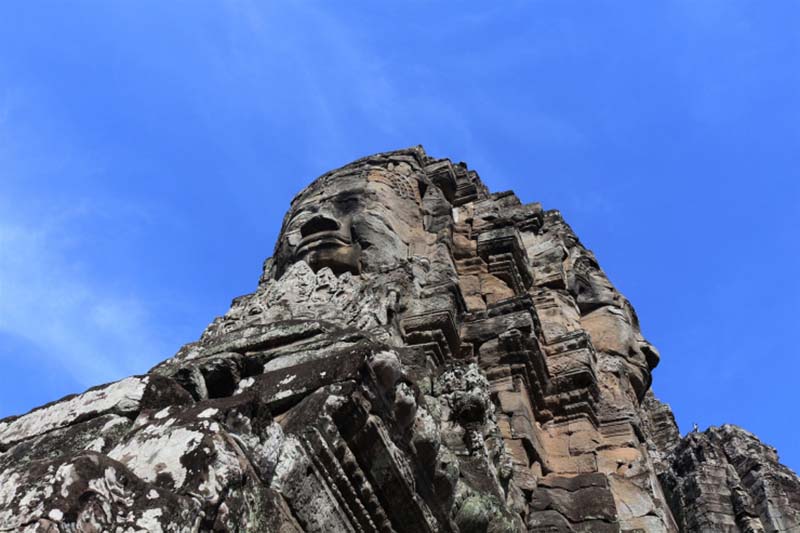 Apsara dancing!

The all pervasive eye
Bas reliefs like Angkor Wat are also found on the outer walls of Bayon, but most are partially destroyed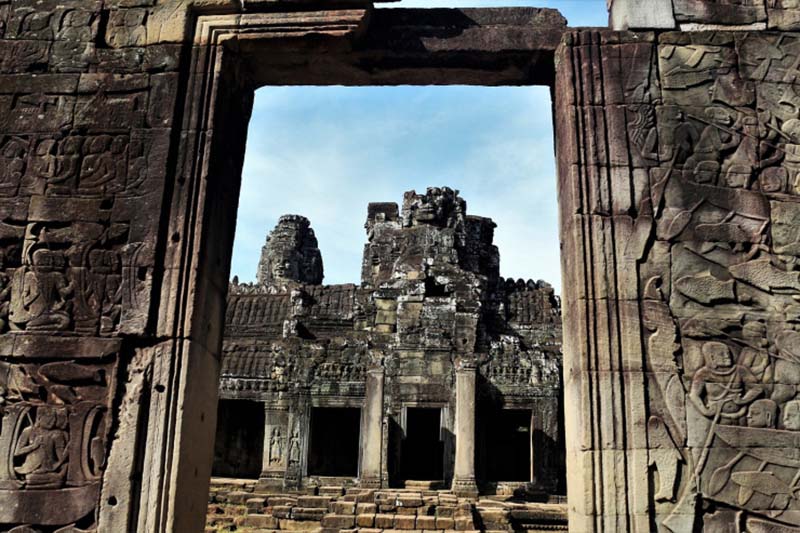 Bayon-Avalokistwera
The smiling faces of Bayon
4:30 PM: We were templed out by this time, and after some argument decided to skip the Bauphuon. However, I took some hasty pics from the outside.
Bauphuon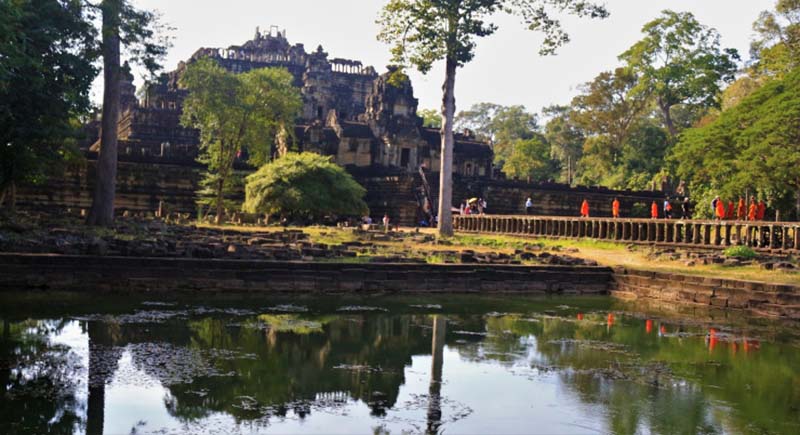 4:45 PM
We exited the Angkor Thom through the southern gate, which is adored by the face of none other than Avalokiteswara (you guessed that right!). Both the flanks of the bridge over the moat are nagas balustrade with right one pulled by the Devas (smiling faces) and the left by Asuras ( you will identify when you see one!!!)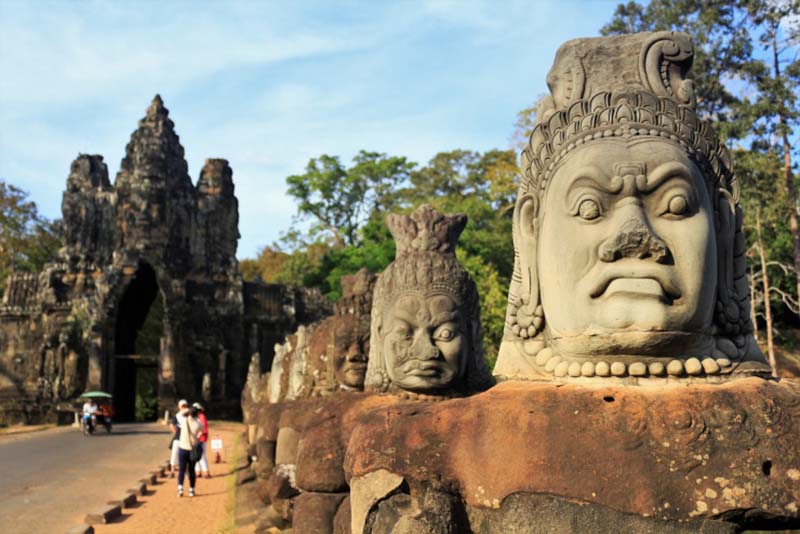 The Southern gate of Angkor Thom
Asuras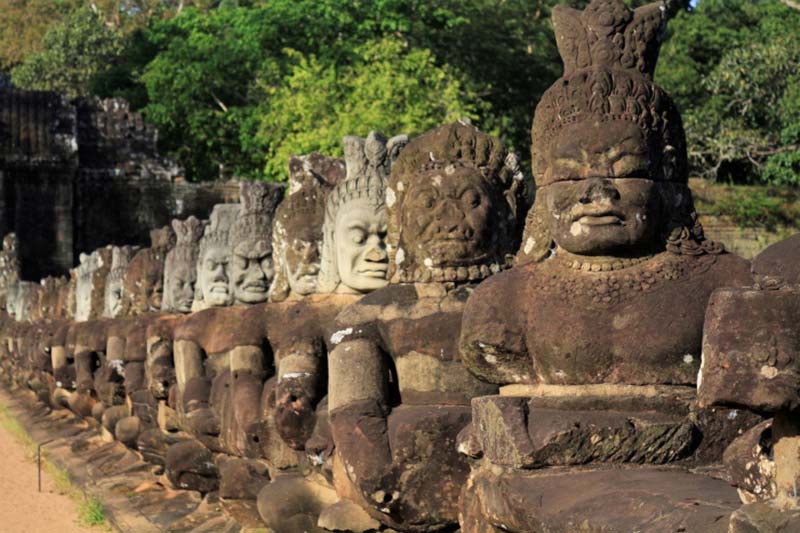 While passing the South gate ,we saw a glimpse of the pyramidal temple Baksei Cham krong.
Baksei Cham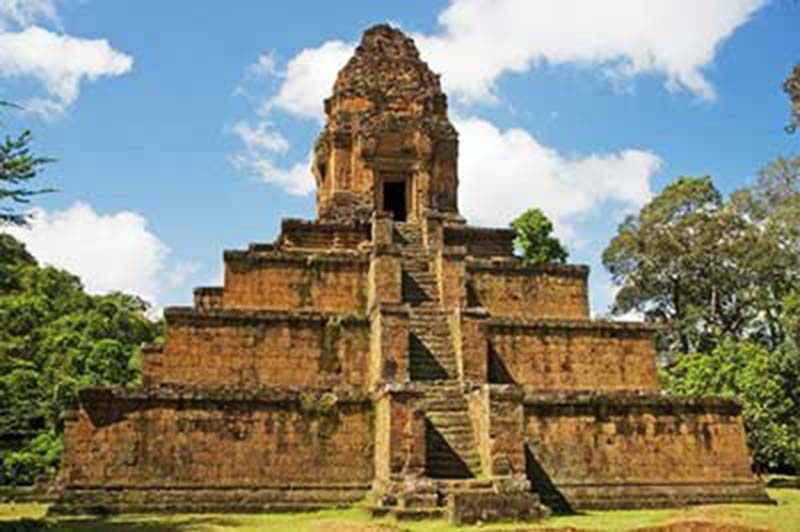 5:00 PM
Our Tuktuk driver asked us whether we would like to climb up the mountain to the temple of Phonm Bhaekang to see the sunset, but our tired legs revolted . Alternatively you can also go by an elephant ride, but the elephants looked sick and our dollars were running out.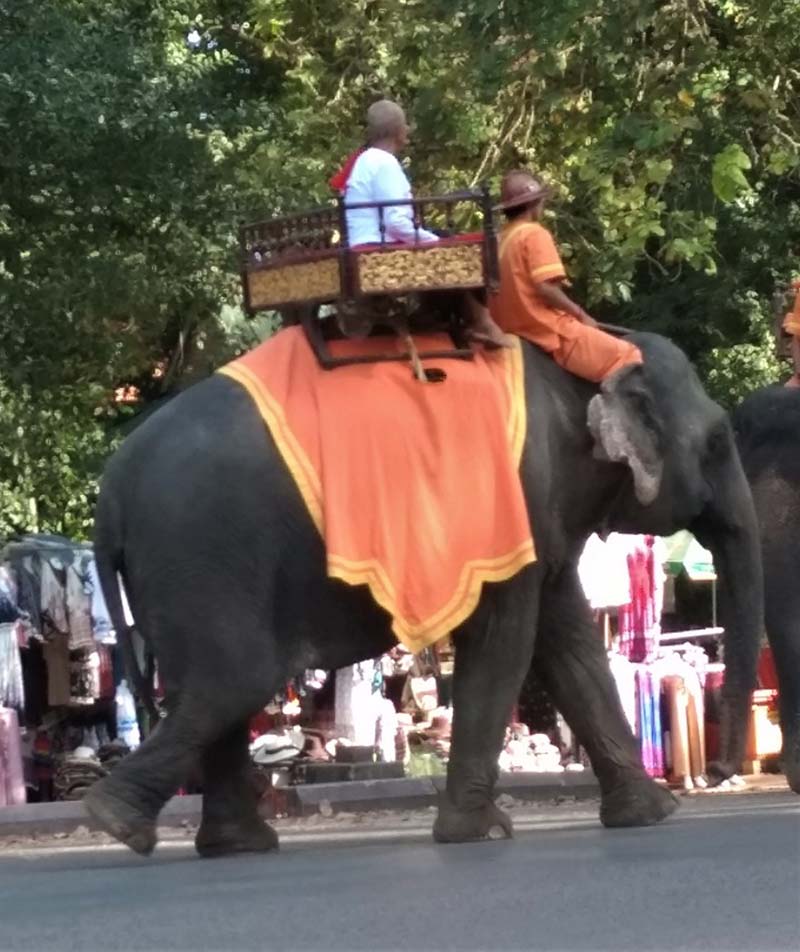 5:30 PM: Foot massage ($15) and a hearty meal($10)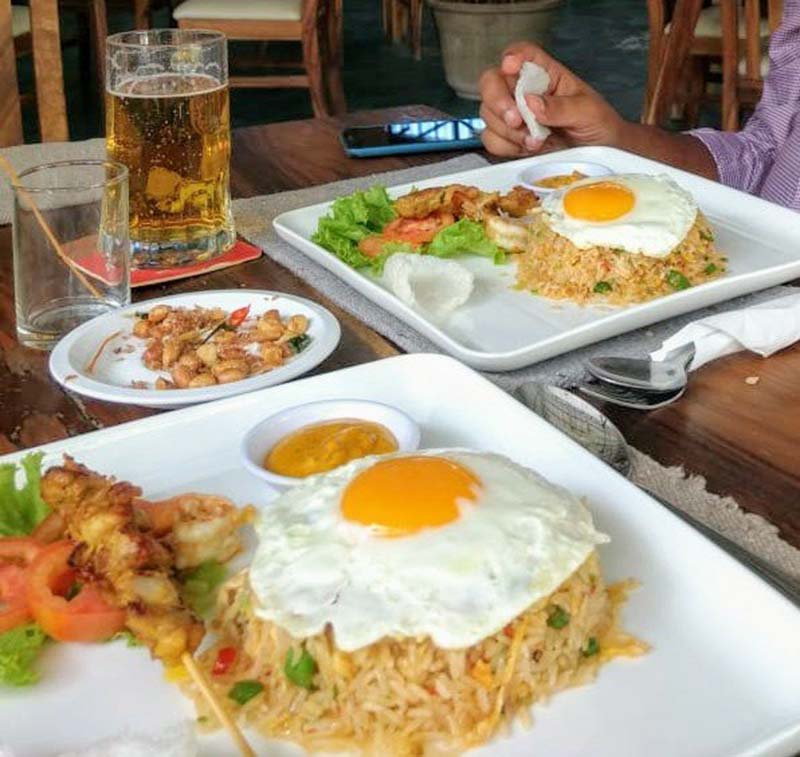 6:30 PM: zZzZZZzzz
Parting tip: Always keep the tickets with you, you may be checked any time and fines are very steep.
Quick Facts
Best time to visit Angkor Wat- September to February
Fly in – via Bangkok/Ho Chi Minh/ Hanoi/Laos capital
Fly out – via Bangkok/Kualampur
Currency- USD/ Real (only for smaller changes)
Stay- from $5 to $50, accommodations for all tastes and budgets
Eat- Spoilt for choices
See- Angkor temples, Tonle Sap, Prek Toal bird sanctuary.
Do- Temples, Bird watching, Zip lining, Boat rdidng in Tonle Sap, Hot air balloon,
Shopping- plenty of thigs, but bargain hard
Safety- Safe, but do use common sense
Play- lots of pubs, and foot/fish massages
Additional Info-Travelfish,  Lonely Planet
Angkor Wat Temples – Conclusion
And that would conclude the travelogue of my tip to Angkor Wat temples. I hope the detailed above were of help and you liked the pictures. If you have any questions; or need any other help planning your trip to Angkor Wat, please feel free to ask in the comments section below; or at our Community Forum; and I will be glad to answer.