Over the last few years, Ladakh has become a dream destination for almost everyone who has even slightest of interest in traveling. Thousands of people travel here each year and the number increases even more the next. The fact however still cannot be denied that a Ladakh trip involves time and money. It is not a place where you can just pack your bags and go; and hope that it will not cost you much.  This trip needs proper planning; both in terms of your itinerary and finances. If you were planning to visit Ladakh and wondering how to reduce the cost involved; then in this article I will share a few quick tips on how to keep your expenses to minimum. In a previous article, I have explained in details about how to make a Ladakh budget trip by public transport; link below.
How to Plan a Budget trip to Ladakh using Public Transport Services
Apart from the tips mentioned on this page, I will also recommend that you take a look at the article above.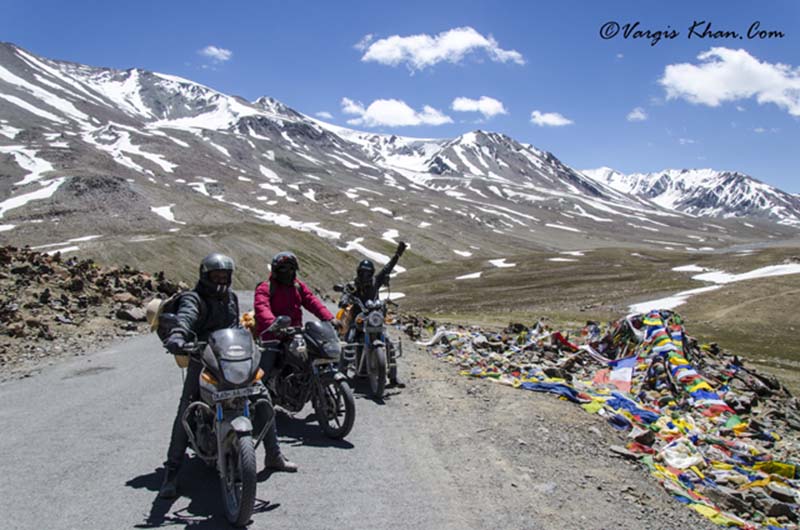 Hotel Cost in Ladakh
A lot of people tend to think that this will become the biggest expense of a Ladakh trip which is not really true. Accommodation cost in Ladakh does not really comes out to be that great if you were a little careful with your choices. Including the city of Leh, at most of the places in Ladakh you will be able to find a guest house for as low as Rs. 500 – Rs. 700 per day. Even at places like Pangong, where the charges of regular camp sites may be a bit steep, you can still find the option to stay as a paying guest at Spangmik; charges of which will be very low.
Chadar tents are another cheap accommodation which is available at most of the remote regions in Ladakh; even alongside the roads at a lot of places. Here you can get a bed to crash on for the night for as low as Rs. 300 to Rs. 400 per person.  Before you decide on a hotel, filter through all your options and settle for the one that is costing you the least.
Food Cost in Ladakh
This is more of a personal choice but except for the city of Leh, there are really no expensive eating joints elsewhere in Ladakh. Local Dhabas are available at most of the places and will work well for budget meals. At an average, if you choose wisely, you can easily manage your meals per day with a couple of hundred bucks per person.
Book Your Flight in Advance
If you were planning an air trip to Ladakh, ensure that you are giving at least 2-3 months of advance booking; both for Leh and Srinagar. In tourist season, price of the tickets can go well beyond Rs. 10,000 but if you booked a few months in advance, you can get a deal for much less. At the time of writing this article, I can see a flight for Leh for as low as Rs. 2700 three months from now.
Also read: How to Plan a trip to Ladakh with Children
Do not Book Your Stay in Advance
Except for your flights, do not book anything else in advance which will include your accommodation and mode of commute. Pre-booking hotels will just mean that you ended up paying more. Rather, reach your destination, find a hotel per your liking and negotiate a deal. In tourist season and majority of the cases, hotels will lower down their prices from what they originally quoted you. If a certain hotel does not, you have plenty of other options to choose from.
Time of Travel
This will play a very important role in defining your final budget for the trip. As I mentioned previously, Ladakh has seen a great boost in tourism in recent years and a lot of people are in it to get their share of the cake. People visiting here include both Indian and foreign nationals; both in ample amounts. Most of the tourism however happens in the months of June, July and August. This is when your chances of getting a budget deal are at the least. Hotels, taxis and motorcycle rentals will not lower their prices because they too have plenty of customers to choose.
Same way, traveling in off-season (months from October till April) means that most of the hotels would have already shut down and your options are severely limited. Prices of even basic accommodates in Ladakh at this time will be sky high.
So for a budget tip, you are best planning your trip either in the month of May or September when the tourist season has either just begun or is ending; in both cases there will not be many tourists around and your chances of bargaining will be high.
Avoid Traveling Solo
Solo trip is always going to cost you high because there is really no one to share the cost with. Every expense will come out of your pocket alone. Fuel expense (if you went by motorcycle) and hotel rent are two major expenses and it is always great if you have anyone to share this cost with. You may have to talk your way in but at most of the hotels in Ladakh, they will allow 3 people in one room which will greatly reduce your overall accommodation cost. Try traveling in a group of at least 2-3 people if a Ladakh budget trip is on your mind.
Online Travel Partners
If you could not find anyone to accompany you from family or friends, you can always look for travel partners online. Click on the Travel Partners link at top of the menu and post a thread with your details in it. Ensure that you include your dates of travel, mode of commute, itinerary etc so that if anyone else is traveling alone at that time; they can join forces with you and share the cost.
Opt for Chadar Tents
This is by far the cheapest accommodation choice throughout Ladakh. It is a dormitory type tent where you get a bed to sleep on for as low as Rs. 300 – Rs.400. This choice is available at most of the places in Ladakh; including Manali Leh highway, Nubra Valley, Pangong Tso and Tso Moriri. Since you would anyways just need a bed for the night and will be on your way the next morning, opt for Chadar tents wherever you can find one.
Avoid Travel Agents
Goes without saying, every travel agent will charge their own commission of about 10-15% if you were planning your trip with their assistance. For every detail of your trip, including your stay, motorcycle rental, taxi booking etc; do it own your own and you can save this additional 10-15% that you will pay as commission.
Also read: A Complete List of Tourist Attractions in Ladakh
Local Shared Taxis
After the local bus service, this is the most cost effective mode of travel available in Ladakh. These run on a daily basis to all the major tourist places including Nubra Valley, Pangong Tso and Tso Moriri. Fare is almost the same as a bus will cost you and you can easily find these taxis from Leh Bus stand. Do note though that most of the taxis start early in the morning so reach there well in time.
Hitchhike
If you are on a severely limited budget than hitchhiking is another great option to move from one place to another. A lot of people travel to Ladakh in tourist season and helping each other becomes a trend during this time. If you were walking on the road and put a thumb up asking for a ride; it is extremely rare that the person passing by will not stop. I have myself given lift to several people during my trips to Ladakh and almost everyone who is able to does it.
Ladakh Budget Trip
I hope the information above was of help. If you have any further questions, please feel free to ask in the comments section below; or at our Community Forum; and I will be glad to answer. If you have been to Ladakh and have another tip to share with others; please do kindly mention it in comments and I will add to the main article.