I think it has happened to all of us. Every once in a while we come across movies that we really like; movies that leave a mark on us; movies that we once either ignored or did not hear of but when we finally saw them, we were left in awe. This is how I felt when I really saw a gem of a movie called The Lunchbox.
Recently, a few days ago, one of Bollywood's greatest actors, Irfan Khan, passed away. I would not say that I was one of his hardcore fans but I always liked him as an actor and as a human being. He was a very simple man and remained away from any sort of controversy his entire life. Like him, his movies too were fairly simple but extremely likable.
In times like now, when 90% of what Bollywood produces is total trash, his movies were really a breath of fresh air. No matter what kind of movie he did, you could sit and watch the entire thing without getting bored for a minute. As an actor, no one could ever question his capabilities. so yes, what I am trying to say is that it was indeed very tragic the way he left so soon. I may not have been his greatest fan but I am definitely going to miss watching his movies.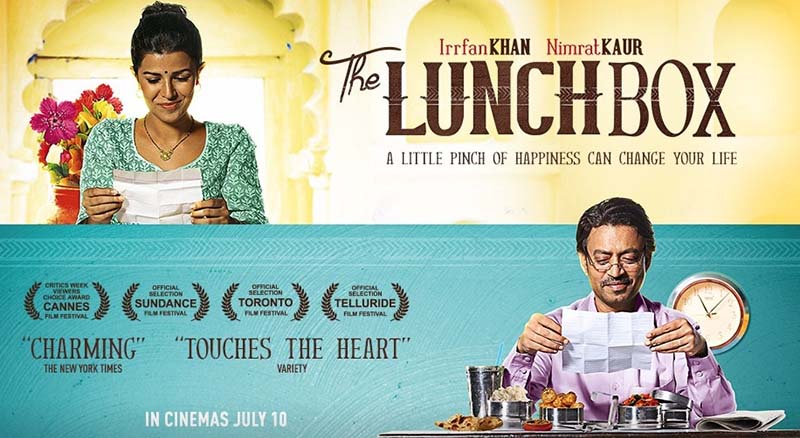 The Lunchbox
The first time I noticed the movie The Lunchbox was a few months ago when it showed up in my Netflix suggestions. It was released in the year 2013 but for some reason, I never knew of it. Even after noticing it on Netflix, I ignored and moved on to watching something else.
Thanks to the lockdown, all of our weekends are now getting spent sitting at home, watching movies. I myself have been watching a lot of movies and TV shows. After Irfan died, I searched for the movies that he did and I haven't had a chance to watch. And once again, I came across the name The Lunchbox.
At first glance, it does not sound like much. It is a very simple movie starring Irrfan Khan, Nimrat Kaur and Nawazuddin Siddiqui in lead roles.  The story is set in Mumbai and revolves around Saajan Fernandes, a lonely widower close to retirement, and Ila, an unhappy housewife. A mistaken lunchbox delivery by the Mumbai Dabbawalas (lunchbox service) leads to a relationship between both of them as they start exchanging notes through the daily lunchbox.
The story starts when Ila cooks something special for her husband that she thought he will really like. The Dabbawalas however mistakenly deliver the lunchbox to Saajan who really likes the food. From here on starts a series of notes that they both exchange. Ila starts to send him lunch every day and writes a note with it. Saajan eats the lunch and writes a note back and so the story develops.
Critically Acclaimed
I wasn't sure if I actually wanted to watch the movie. There were no songs in it, no Bollywood masala (that we all are accustomed to); and to be honest, the plot too sounded a bit boring. I mean, how much of a story can there be by just writing notes back and forth in a tiffin box? But when I Googled the movie, I was surprised to know that it was Irrfan Khan's highest-grossing Hindi film; up until it was surpassed by Hindi Medium in 2017. What's more? The Lunchbox was also nominated for the Best Film Not in the English Language category of the British Academy Film Awards in 2015.
Review
After reading this, I decided to watch the movie and boy, was I pleasantly surprised. It was nothing like I imagined it to be. It was not slow, not boring; and keeps the viewers engaged without any masala at all. It is a very sweet love story that will touch your heart without any heavy dialogues or melodrama. The greatest love stories are the ones that make you root for the protagonists to come together, despite their destinies and The Lunchbox is a shining example of it. This film illustrates how love can grow in the unlikeliest of people and transform them.
It is one of those films that are so great that it's almost impossible to put into words why they are that good. You just have to experience it. The greatest strength of the movie besides its lead actor is the writing. The film is packed from start to finish with dialogues that so fit the tone and situation. You can literally feel the lead character's bitterness and despair. The role of Ila, a housewife who goes through the same route every day and is living with a cheating husband, will have you rooting for her.
Even though the film relies heavily on emotions, all of it has been expressed in a very subtle manner.  The script is at times witty, poignant at others, whilst at the same time making beautiful use of silence. It is also sometimes genuinely funny without any forced laughter. The casting is inspirational. The performance of all three lead actors is absolutely amazing. Not just Irfan but Nimrat Kaur and Nawazuddin Siddiqui as well excel in their respective roles.
Final Verdict
My final word on The Lunchbox is that it is a movie that you must watch. It doesn't have spectacular music or dancing but is still a perfect love story. The ending is pretty good too. The flavor of The Lunchbox lingers on your taste buds long after the ending credits roll. Without any melodrama or usual Bollywood Masala, it is a movie that entirely delivers on a touching story, terrific acting, strong direction, and crisp writing. Give it a try, you will not be disappointed.