I just finished binge-watching the latest show by Amazon Prime, The Family Man, and I must admit that I am very impressed by this series. The last time I liked an Indian series so much was when I watched the first season of Sacred Games I think. The show is set in Mumbai, at a fictitious intelligence agency TASC; where our family man Srikant Tiwari, played by Manoj Bajpayee works. He is one of the best officers that the agency has; who also is facing all the problems that a common man does. There is a home loan waiting to be configured; and the boat of his marriage is in rough seas. He is also a dad struggling with a teenage daughter and an over-smart son.
But amidst all this, The family man is a show that will keep you on the edge of your seat; glued to the screen; and watching episode after episode to see what happens next. The story (without posting a spoiler) is about stopping a militant attack that targets to engage the countries of India and Pakistan in war. It opens with a bunch of terrorists getting captured at sea by Indian Coast Guard; and from there on, is a roller coaster ride.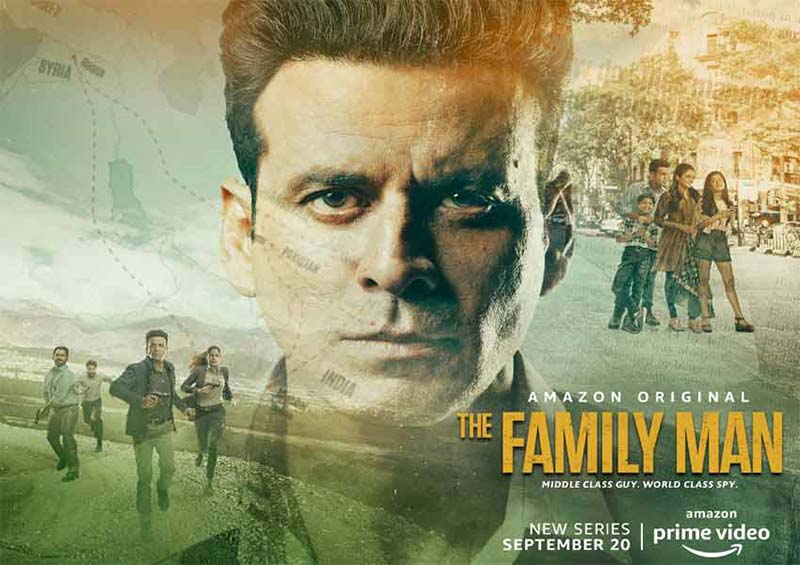 The Family Man
The entire story-line of the show is built on the basis of the recent happenings; like Godhra riots, ISIS attacks, Gaurakshaks, beef controversy, mob lynchings, Musharraf taking over Pakistan in a military coup, Kashmir issue, and plight of an average Kashmiri. Even the tagline of the show reads 'Inspired From Daily News Stories'. Running for a total length of 10 episodes of 45 to 60 minutes each, the show is a   cat-and-mouse chase between Indian intelligence agencies and militants. The story moves between the cities of Delhi and Mumbai, India, Pakistan, Syria, and Afghanistan. The parts of the show that involve Pakistan and Afghanistan were shot in Ladakh and in Leh City; and anyone who has been there will be able to immediately identify it.
The Family man covers almost all the contemporary issues related to terrorism and Kashmir; and political relationship between India and Pakistan. It also shows how an average commoner gives into terrorism; how a government job is synonymous with being a loser; the everyday problems a common man faces at home; the pressure of the jobs and trying to ends meet. The performances of everyone in the show is superb, especially by Manoj Bajpayee and Sharib Hashmi. Watching Monoj Bajpayee for nearly 10 straight hours in all his acting glory is a bliss. Priyamani, playing his wife, matches up very well. Hats off to everyone involved in making this show.
Final Verdict
It is entertaining, has the right amount of funny, is smartly directed, holds your attention and definitely and has its moments. Acting, direction, cinematography and the climax was all very well done. Even the child actors played their parts very well. The husband-wife drama and the story around the wife's life seems a bit unnecessary and exaggerated; but not to a point where you may get bored. The intertwined story-lines; excellent background track; rare locales; beautiful camera work; and nice screenplay makes The Family Man a must-watch show. If you liked Prime's Mirzapur, then I am sure you will live The Family Man as well.