I think this is the first time that I am starting a review in this manner; but in the case of Special Ops by Hotstar, I will say that I recently had the pleasure of watching this amazing series that definitely is among the best that I have ever seen. If I am to describe it in one word, I think it would be 'superb'. Right from the start to the end, the show keeps you on the edge of your seat and won't let you get bored even for a minute. And when it ends, it will redeem itself and will not disappoint you. I think there aren't many Indian shows that this can be said about.
For a brief overview, Special Ops is an Indian espionage thriller series currently available for online streaming on Hotstar. The show premiered on 17 March 2020 and has received mostly positive reviews. It tells the story of a RAW (Research and Analysis Wing) agent Himmat Singh who spends a long time tracking a terrorist mastermind. He draws similar patterns in terrorist attacks and is convinced a single person is behind all the attacks. What follows is an 8 episode long cat and mouse game that keeps its viewers engrossed. The story is inspired by several terrorist attacks in India and espionage missions undertaken by India intelligence in the last two decades.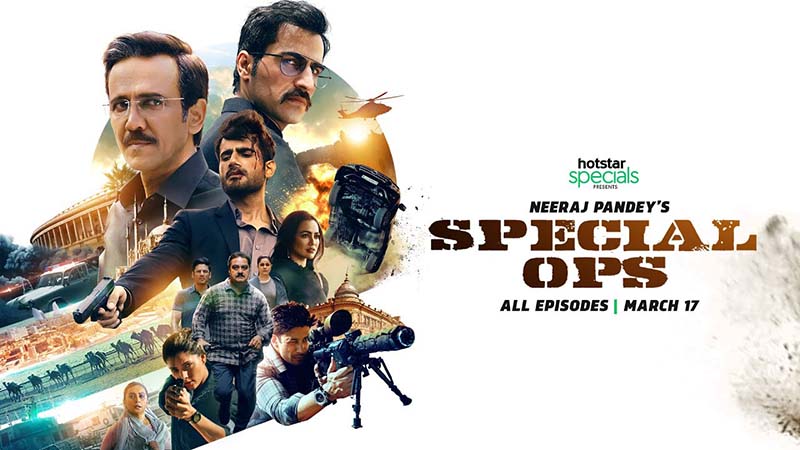 Special Ops Review
Everything about the show is great and it is highly recommended for people who love suspense thrillers. The storyline and screenplay are brilliant, supported by outstanding performances by all the actors. Kay Kay Menon and Vinay Pathak really steal the show. The cinematography was excellent and the background music was mind blowing.
I watched the first episode and then spent the entire night sitting in front of the TV until the series ended. It is a mini-series which means that it actually reaches its conclusion by episode 8 and does not let things linger for another season. It was suspenseful, well-acted, briskly paced, and very sophisticated as far as real-world events are concerned.
Everything feels realistic. There are no mad car chases or unbelievable action scenes. What you get is a team of intelligence officers putting their heads together to catch a criminal mastermind while staying a step ahead of his nefarious plans and foiling them. There are very few series in India that are so tight and nail-biting as this one.
The show is definitely not perfect and certainly has its own flaws. While it will keep you on your toes, there are a few insignificant scenes that I felt hampers the momentum. The family aspect just feels unnecessary. The issues between father and daughter, the love story of the daughter, a dramatic wife are something that I feel should have been avoided. Or if they included it then it should have been more elaborate and developed.
Conclusion
I read somewhere that Special Ops was Hotstar's reply to The Family by Prime Video. When they try to force in the whole Himmat Singh's family aspect, it actually does feel like that. Both the shows are equally good though and I will not really compare one with another.
There are some flaws in the story as well but nothing that will stand out, just a few things here and there. I am not much of a reviewer or critic nor will I act like one. So I will summarize this post by saying that you do not need to think twice. Give the show a try and you will be definitely impressed.