After Ladakh, if there is any other place that can be termed as a biker's paradise than it is Spiti valley; or to be precise, the Spiti circuit. Thousands of travel enthusiasts and adventure junkies traverse on this route each year; some for the first time while others return to relive the fun all over again. One of the most common doubts however that I hear about is whether it is wise to rent a motorcycle for Spiti circuit; or bring your own. Reasons behind this apprehension can be several which I will further discuss in the article; but if you too were wondering the same, then read on and hopefully the information below can be of help in making a final decision.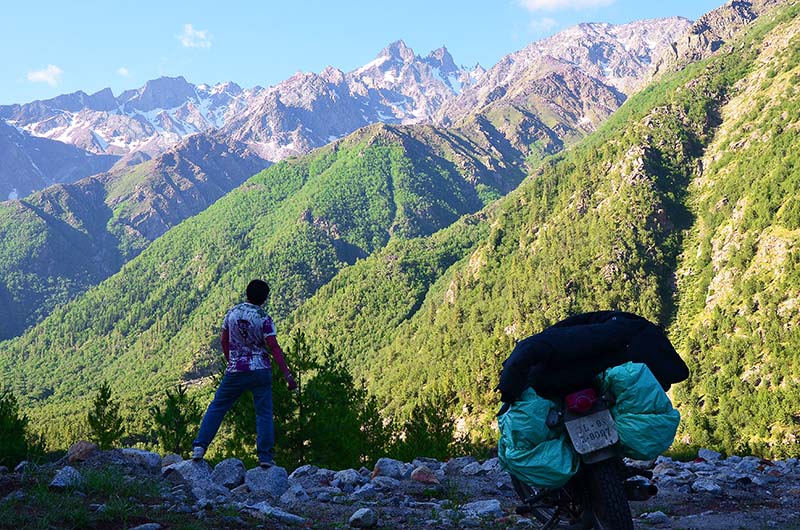 To be honest, there is really no straight answer to this as both, self-owned and rented motorcycles have their own pros and cons. With that being said however, the truth holds that bringing your own vehicle is always better than taking one on rent. Primary reason behind this is that you will be riding on some of the worst roads you have ever encountered and knowing the vehicle will be of great benefit. When it is your motorcycle, then you are familiar with its pulse. You know its strengths, where it will perform and where it won't which will not be the case if you were riding a rented bike.
Second reason is of certainty. With your own motorcycle, you know that there is nothing wrong with it because right before the trip, you got it serviced entirely and went through each and every part. With a rented motorcycle however, you will just have to go with the word of the rental agency; and I think we all agree that they will never give a true picture. You can never be sure that there is absolutely nothing wrong with the bike. Then there is also the time that you will take to familiarize yourself with the rented machine which will be at least a couple of days. Riding on a rough terrain with a machine that you are not yet comfortable with can sometimes become an unpleasant experience.
Another thing to consider here would be the condition of the motorcycles available on rent. I am not saying that they are all in terrible condition though. If you were able to locate a good rental agency than your luck may shine and you may get a motorcycle in perfect condition. Fact however cannot be denied that no matter how good a rented motorcycle is, it will never be able to compete with your own personal one. These motorcycles get used by multiple people and always on the rough roads of Spiti which can raise a serious question on its reliability. They will be all washed and properly cleaned when handed over to you but that is just the outer part. There is no telling of the condition of the engine until you start riding.
Also read: How to Handle Acute Mountain Sickness in Spiti
Last but not the least of course is the cost factor. Depending on which your motorcycle you rent, you will have to pay a daily rental of Rs. 1000 to Rs. 1500 per day. The total amount you will pay as rental is just an additional expense that could have been avoided if you brought your own bike. Another problem is of returning the bike. If you bought a bike from Shimla, you will have to circle back to Shimla only to return it. If you left the bike at Manali, it will cost you another Rs. 10,000 approximately apart from the rent. So yes, bringing your own bike will definitely be better than renting one because in the end, it is your own.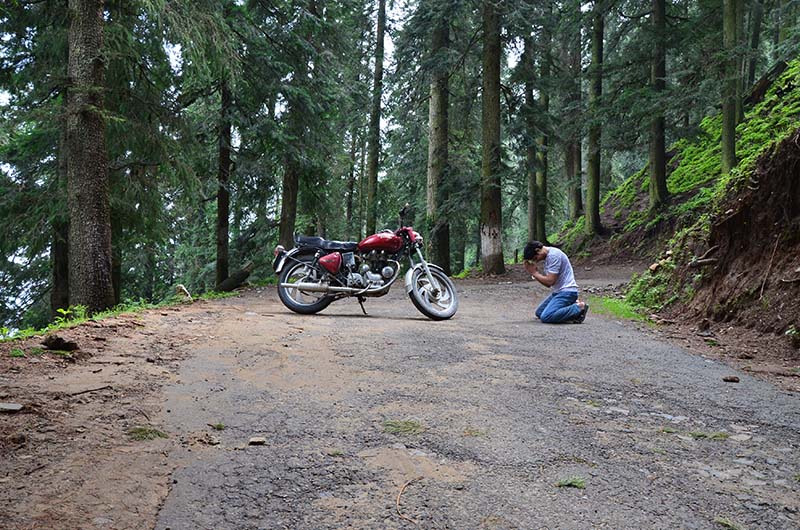 With the above being said, renting a motorcycle is not really all that terrible either. It definitely has its own advantages as well. And if you chose the bike right, overall experience can really be a pleasant one; saving you a lot of hassle.
Why and When should you rent a Motorcycle for Spiti Trip
There can really be a few situations when renting a bike will be much easier a task than bringing your own vehicle. Let me run down a few reasons.
No Motorcycle
I think this one goes without saying but still thought to add it here. If you do not own a motorcycle, do not even want to own one; but want to ride to Spiti then what do you do? Do you buy a new motorcycle just for the trip? No, you rent one.
Distance and time to reach Spiti
This is the biggest reason when you should seriously consider renting bike for Spiti trip. For people living in northern part of India, it is a bit easier to kick start your motorcycle and start riding to Spiti. For people living in other parts of the country, a bike ride from home means riding for several days in plains before you finally get to Spiti valley. This may get boring; will be time consuming and add further cost to the trip. To avoid this hassle, you can reach either Shimla or Manali by other modes of transport; and rent a bike there for the trip.
Transporting the Motorcycle
If you were living far off, then a choice can be to transport your personal motorcycle by either train or a personal movers and packers. This will again mean the hassle of making all those arrangements both while going to Spiti and returning home. This also to some extent runs the risk of a possible damage to the machine which can be avoided if you rented one.
Also read: Clothes for Spiti Trip – What to Pack?
Under-powered or Old Motorcycle
Do you own a 100CC motorcycle which already has 40-50,00 kilometers on the odometer? Do you have a bike that you have been using for last 12-13 years? Are you not really confident that your machine can last the trip? If the answer to either of this question is yes then you are better off leaving your bike at home and renting one.
Short on Time
Do you want to ride to Spiti but only have 4-5 days in hand? If this is the case then you do not really have time to ride your own bike to Spiti. Your only option is to reach closer to Shimla or Manali by either train or Air and rent a bike there for the trip. .
How to rent a Motorcycle for Spiti Trip
Depending on your itinerary, you can rent a motorcycle from Manali or Shimla. As a ground rule, do not book the motorcycle in advance anywhere. Just reach your destination first, ask around a bit; take a look at a few motorcycle; take a test ride and only rent it on the spot after you are sure of the bike. No matter where you rent it from, ride the motorcycle around in the town before taking it to the hills.
Check the condition of the chain set and ensure it is not worn out. If the motorcycle is electric start, try bringing it to life a couple of times; and ensure that it doesn't cough or give trouble when you press the start switch. If it is kick start, ensure that there is no starting problem; and the motorcycle is a single or at most two kicks start. Check the condition of the tires if they are worn out. Sit down on the motorcycle to check that the seats are comfortable enough. Do a thorough inspection of the motorcycle for any oil leakage, either from engine or front shock absorbers. Check that the headlamp is bright enough and get it replaced if it is not. Also check the tail light and that both the indicators are in working condition.
Rented Motorcycle Vs Self Owned
Without any doubt, a self owned motorcycle will always win hands down; because it will always be better maintained and performing than a rental one. If you do not mind riding in plains for a few days; or the additional hassle or cost of transporting your bike; then by all means, you must bring your own bike to Spiti. But if there is any of the above mentioned reasons involved, then you must chose to rent a bike.
I hope this information was helpful. If you have any further questions, please feel free to ask in the comments section below; or at our Community Forum; and I will be glad to answer.