It is a real-life based Gangster story. I think this one line is sufficient to give you an idea of what you are in for before you start to watch this web series. If you have seen the first installment then you definitely know how it is going to start and end. But it is actually developing its characters and telling the story where this show fails. Don't get me wrong, you will not be terribly bored but won't be impressed either. Here is a brief Rangbaaz Phirse Review summarizing what I liked and did not like about this show.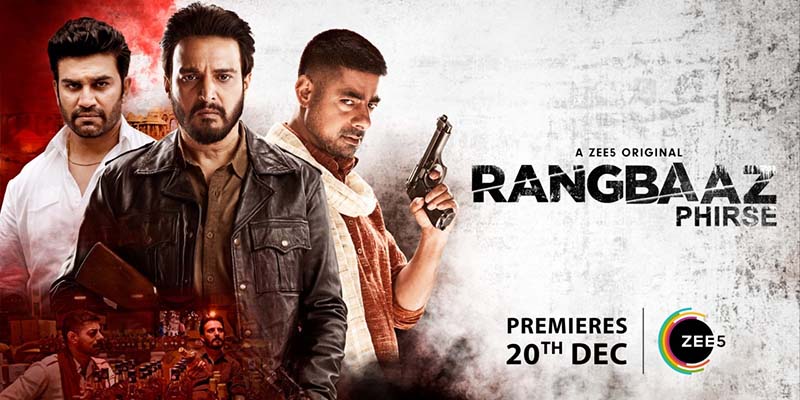 I am not a huge fan of telling the entire story in a review because then it just kinds of becomes a spoiler. In a nutshell, though, it tells the story of a real-life gangster Anandpal Singh aka Amarpal Singh (played by Jimmy Shergill). The storyline is the same that has been done to death by Bollywood already. We have a small-town guy who is brilliant and has big dreams. He is an honest man who tries to live his life and realize his dreams in an honest way. But his life is then torn apart by powerful people in a series of unfortunate events. He sets out to have revenge and grows big and powerful himself in the process. After some killings, kidnappings, gang wars, and politics, the gangster, in the end, dies the way he lived, by a Bullet. The End.
Rangbaaz Phirse Review
Yep, that is it. This was the summary of Rangbaaz Season 1 and this is the summary of Rangbaaz 2 as well. The good part about the first part, however, was the story building and acting of Saqib Saleem. In the second part, they were able to get a better star cast but unfortunately, were not able to raise the bar. Jimmy Shergill, Zeeshan Ayyub, and Sushant Singh could not save it from being an average show at best.
The worst part was the dialogue delivery and their accents. Sushant Singh was the only one that was able to do a convincing job. Jimmy Shergill just sounds so fake confused between whether he wants to sound like a Hariyanvi Jaat or a Rajasthani. The ironic part was that he is not even a Jaat in the show but sounds like one.
The Story
The story is nothing but confusing. For the first 3 or 4 episodes, you wouldn't even know what makes our hero so popular or so dangerous. And what is it exactly that he went to jail for.
Throughout the show, you just sit and watch, waiting for something exciting to happen or for you to root for the characters but it just doesn't happen. Bullets keep flying, people keep dying, blood flows, alliances shift but you never fully know why. The series is very eager to tell you what happened but never focuses on how and why.
In one episode, we have our hero getting beaten up by Liquor barons and politicians. In the next episode, he kills 2 people and boom, he is all-powerful himself and has a large empire of illegal alcohol which we never know how he built so quickly. The character of Zeeshan Ayyub just feels unnecessary. Jimmy Shergill looks like he is just playing the role without putting his heart into it. The absence of any surprise element in the show really starts to take its toll after a few episodes. If you stopped one, you will not feel like resuming to watch it again.
Conclusion
In the end, all that you get is a show that is trying to win its audiences because of the goodwill created by the first season, some foul language, some violence, the usual gangster story that India loves and some Jaat accent, nothing else. Watch it over a weekend if you have nothing else to do but you won't miss anything great if you skip it. I wish Zee5 would really come up with something good like they did with Bhram which was a good captivating thriller. Rangbaaz Phirse is just disappointing and an average at best show.