I know, claiming it to be the best Indian series by prime says a lot, and many people may not agree with it. So far, this award has been claimed by either Mirzapur or The Family Man. But trust me when I say this, even if you do not call it the best, you will definitely put Paatal Lok among the best Hindi shows ever. That is how terrific and absolutely amazing the series is.
There were two things that I was worried about. By episode 5 or 6, the story started to seem like wandering aimlessly and I thought that maybe the writers overstretched things a little. It would seem more scattered than kitted together.
This led to my second worry which was that it was all going to fall apart into a ridiculous ending. The buildup seemed a little too vast and I wasn't sure how it was all going to come together in the end. But by episode 9, I was pleasantly surprised. Things did come together and the show did get a satisfactory ending.
So yes, Paatal Lok is a show that you must watch. In times like this, when 90% of what Bollywood is producing is total trash, shows like this one provide a much-needed breath of fresh air.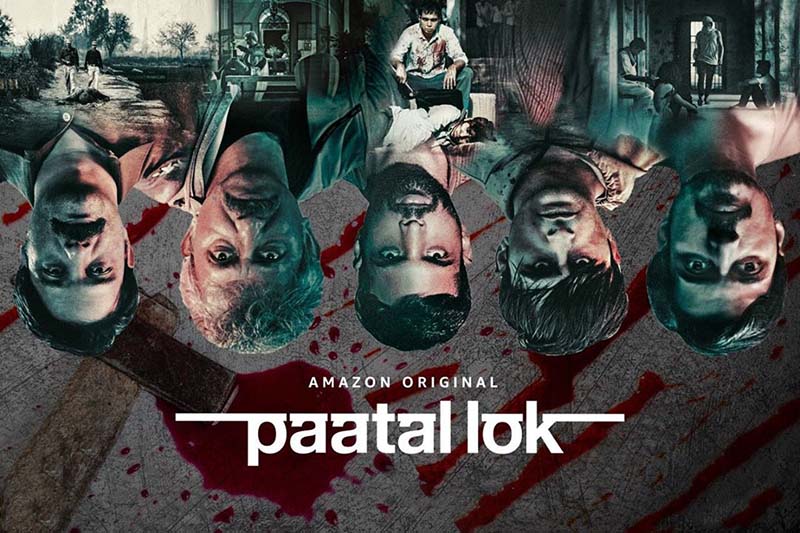 Paatal Lok
For a brief overview, Paatal Lok is a web series available for online streaming on Amazon Prime Video. It was released on 15 May 2020 and was produced by Anushka Sharma's banner, Clean Slate Films. It starred Jaideep Ahlawat, Neeraj Kabi, Gul Panag, and Abhishek Banerjee in lead roles.
The show is a total of 9 episodes of about 40-50 minutes each. We follow the story of Hathi Ram Chaudhary, a down and out cop who lands a big case of an assassination attempt gone wrong. The case, too big and important for his designation, is awarded to him thinking that he won't be able to make anything out of it. Hathi Ram, however, starts to dig deep, to everyone's surprise, and discovers startling truths and insights. What seemed like an open and shut case in the beginning soon turns into a much larger conspiracy.
Review
What is good about the show? I think pretty much everything. It is raw, exciting & beautiful. It is an overall great package; from a great story to exceptional execution. It is a show that maintains its originality and does not try to be anything else.
I was hooked to it from the very first episode and binge-watched the entire thing in one night. The characters were put together very well and the pacing was absolutely perfect. What you get is a crisp script put together by great direction and superb cinematography. The background score was hauntingly brilliant and it stays with you even after the series is over.
Most of the actors in the show are theatre artists and they all nailed their roles perfectly. No one has taken Jaideep Ahlawat seriously so far but he shines bright in this series. You will have to acknowledge that the guy has some serious acting skills. And not just him, all other actors were excellent, even the ones that did not get a lot of screen time.
The series is said to be inspired by the traditional concepts of Svarga, Dharti, and Paatal (heaven, earth, and the netherworld) and the four estates. But there isn't much of Hindu Mythology involved. There are a couple of references given in between but the show never goes into mythology too much. It keeps the story strictly around how the current situation in the real world is. It is a haunting narrative that digs deeply into the ugly trappings of a depraved system that dictates and determines lives.
I think the mythological reference was just to give the show a catchy name, Paatal Lok. Even if they called it something else though, it wouldn't have changed the story even an inch.
What I did not Like
The only thing that I did not like was the unnecessary nudity. That kind of really leaves a bad taste in your mouth, given the circumstances. The excessive use of cuss words also felt a little forced. There is also a lot of blood and gore involved that will upset anyone with a weak stomach. This is definitely not a show that you want to watch with your family. This is something you watch with friends or alone.
Asur
Due to the reference with Hindu Mythology, a lot of people were relating it with Asur, a series available on Voot, starring Arshad Warsi. But Paatal Lok is nothing like Asur. Asur is a series that was tragically bad from start to end and relied heavily on Hindu Mythology. Paatal Lok, however, is a million times better deal that only relates to the mythology due to its name and nothing else.
Paatal Lok – Final Verdict
My final word on Patal Lok is that you should stop reading any more reviews and go watch it immediately. It is a perfect mix of a great story, superb actors, beautiful background music, and outstanding direction. This is the kind of series that sets a benchmark.
I read somewhere that the show was shot in 110 Indian cities which really shows the kind of hard work that has gone into it. Every character, scene & dialogue is more than remarkable. It is one of the best shows that are available for online streaming right now, the one that you surely do not want to miss.