I was just looking at some videos on YouTube when I first noticed an ad for Asur. Two things caught my attention; the name of the series and Arshad Warsi's face. I looked up the web for more information on it and was surprised to see its high rating on IMDB. Though I knew better than to trust IMDB ratings for Indian shows and movies, I still decided to trust this one and give the show a try. What a mistake it turned out to be.
For a brief overview, Asur is an Indian crime thriller web series available for online streaming on video on demand platform Voot. The series stars Arshad Warsi and revolves around a few serial killings and CBI's investigations into the matter. Set in the backdrop of the city of Varanasi, it is a blend of murder mystery and Hindu Mythology.
Now all this looked very promising. On top of it, I am a huge fan of murder mysteries. So I thought to watch the show but it was only available on a platform that I had never heard of before. Voot was a name that I came across only when I was researching about Asur.
But the premise of the show sounded really promising and Voot was offering a 14-day trial membership. And that is how I ended up watching this disaster of a series. Before Asur, in terms of the quality of the content, I always rated Zee 5 at the lowest. After watching Asur, I have now given that position to Voot.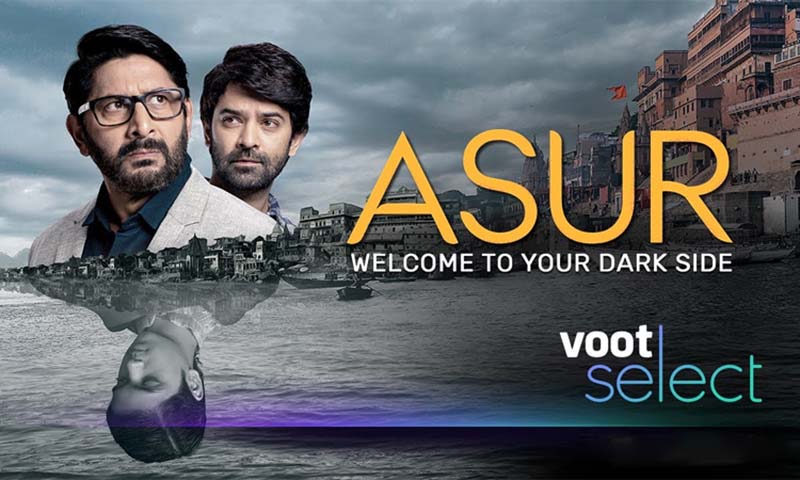 Asur Web Series
There were only four things that they got right in Asur. The first one was the name, which is really very catchy. The second is the background score which really deserves an applaud. Third was the touch of Hindu Mythology that is sure to intrigue a person. Last but not least is the child actor, Vishesh Bansal who really deserves a standing ovation for his portrayal of Shubh Joshi.
Other than this, the show is a failure at every level. The idea of the story was quite an interesting one but they could not execute it properly. I guessed the identity of the killer in the second episode itself; that is how obvious they made it. Even an actor like Arshad Warshi could not save this ship from sinking. There were flaws one after another.
The most irritating part about the show, however, was the lead actor, Bipin Sobti. Someone needs to tell that idiot to go and get some acting lessons. He has the same expression for all 8 episodes. It just never changes. No matter what he is doing or saying, he has that same stone-cold expression on his face. Even the kid in the movie acted a million times better than him. 'Annoying' is the word that describes him the best. I do wish that they could have found a better actor than him.
Other actors are just above average as well. There was very little for Arshad Warsi to do with such a poor screenplay. His lack of expression and urgency as a detective is visible throughout the series. At times, you will clearly notice how he is overacting just to put some essence in the role. Anupriya Goenka was probably the only other convincing actor but her screen time is severely limited.
Flaws, Flaws and Flaws
The cinematography to some extent is OK. Loopholes in the story just never stop though. For example, not even once we see our forensic experts use masks to perform an autopsy. A killer is sending messages and coordinates of murders to someone sitting in America and they cannot figure out that it was personal?
Arshad Warsi gets jailed for the murder of his wife but the killer continues to kill outside. Still, Arshad Warsi still stays in jail for no rhyme or reason
He just writes some names on the wall and suddenly realizes the murders were personal. He calls Barun Sobti and miraculously knows that he is walking into a trap?
The whole computer set up in CBI's office looks like a video gamer's desk. CBI is hunting a serial killer who is killing famous people all over the country and they cannot get in a database for no unexplained reason? CBI has to hack into national databases?
A CBI agent is killed but no one questions the person he was with? Nikhil's wife being a software engineer can randomly hack into the government's server that CBI cannot on their own?
I can go and on but you get the idea. Foolish is the word that best describes the story. There is unnecessary use of the F word here there just because we want to make our detectives an American touch. The plot is highly confusing and it made a complete mockery of CBI.
Conclusion
In the end, I will advise you to not waste time at this series. Skip it and save yourselves a headache. It is a wannabe attempt, taking references from several American detective shows and movies. But what you eventually get is poor performances, pathetic direction, disorganized and predictable plot and about thousand of technical and logical mistakes throughout the show.