When I started to watch Mirzapur this weekend, I wasn't really sure if I wanted to. Reason being that most of the reviews about it on the net were a bit negative. It was said to be a series that doesn't aim high, and yet fails to hit the target. But then I decided to watch a couple of episodes anyways. For the first 2 or 3, I kind of agreed with the reviews and was a bit bored even. But then 4 episodes later, the stories starts to pick its pace, gets more even interesting; and before I even realized, I ended up watching the all 9 episodes one after another in a single night.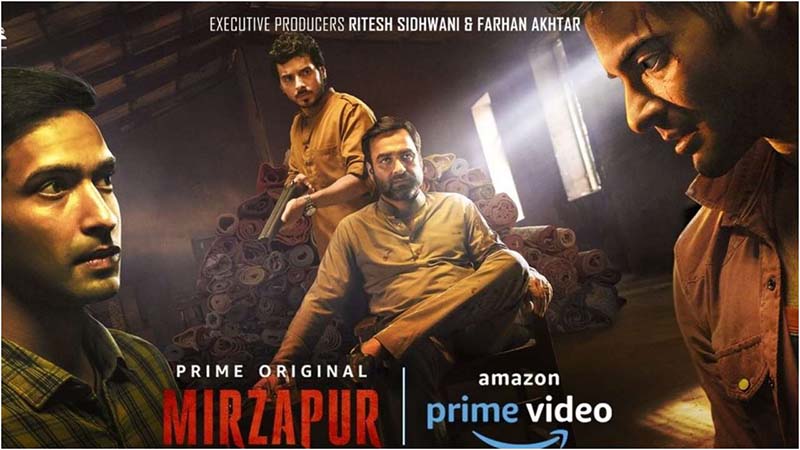 There is nothing new about Mirzapur really. It is the same old story that has been done to death by Bollywood and Indian TV. There is a small city that is controlled by a gangster. Then there is our poor hero who was innocent once upon a time and then joins the mafia because of some "majboori". Slowly he starts to climb up the ladder of success and tries to become the one and only "sabka baap". He starts to become a threat to the society and the underworld and eventually gets killed.
Mirzapur Review
That is pretty much the base that the entire story of Mirzapur is built upon. It has its own flaws I agree but what really sets the series apart are the performances of all lead characters. You will love Ali Fazal. He really manages to pull off the crazy dumb macho who thinks and talks from the barrel of the gun. Pankaj Tripathi is brilliant in his role as the calm, composed yet menacing gangster.  Vikrant Massey was by far my favorite though. His acting till the last scene was absolutely brilliant.
I read somewhere about Mirzapur trying desperately to be the next Sacred Games. I think that comparison is a bit unfair. Both of the shows are well made in their own way. They have their similarities though by depending on too much "Gali Galoch" but both are equally interesting.
There are flaws in the series of course. There is a lot of cursing involved which I felt was not even needed at some points. They really over killed the profanity part. The only thing left was to show some naked women; rest all was there. The Police is absolutely non existent. There is no law anywhere. People get shot at and killed and no one even questions. Even senior police officers are tied and dragged out of their homes like it was some kind of a joke. The series also relies on a lot of gore which can be very upsetting for someone with a very weak stomach. People's head getting blown off, throats getting slit, blood everywhere is shown a bit too much in detail.
Conclusion
Despite all this, I will still recommend that you give Mirzapur a try for its character performances and its story built up. Stay with it for a few episodes and you will actually start liking it. The show is a bit slow to begin with but then the story gets more involving and keeps you on the edge of your seat. I will highly recommended giving it a try.