While there has been a definite increase in tourism in Ladakh; fact still remains that it is still a highly remote region. Some of the even very basic amenities like phone services, gas station, mechanics, public transport, medical facilities still continue to remain missing. When you think about traveling alone through an area like that; it goes without saying that your planning should be very meticulous to ensure a hassle free and safe journey. Out here even a single miscalculation is enough to ruin the entire trip for you. Things like acute mountain sickness, limited accommodation choices, miles of barren wasteland with not even a single soul in sight, treacherous weather, challenging roads can turn things from joyous to troublesome; if you were not prepared. In this article, I will share a few tips for Ladakh solo trip which can help you travel in a safe and prepared manner.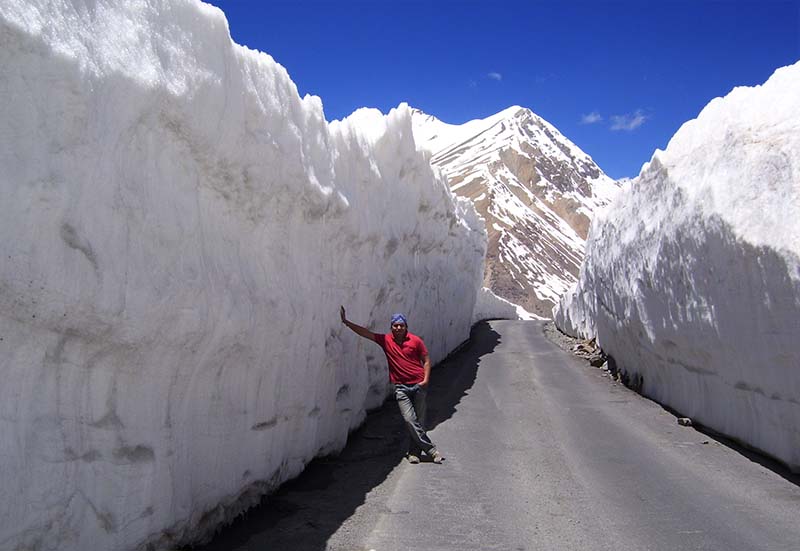 If you were a bit hesitant about traveling solo; then let me start this article by saying that you are not the only person to do so. Each year, thousands of people travel alone to Ladakh; and a lot of them are lady travelers. So yes, Ladakh solo trip is not something impossible. It can definitely be done provided that you have a well laid out plan; you know where you are headed; how to get there and come back, what your choices of accommodation there are.
For the sake of this article, I am going to assume that you are either planning on riding solo or travel by public transport. My assumption is based on the fact that in all my years of helping people plan their Ladakh trip; I have never come across a single person who drove alone all the way. If you are however an exception to this assumption and are planning to bring your car alone; then please do comment with any questions you may have and I will be able to clarify those for you.
Travel in Tourist Season
This is beneficial if traveling by your own vehicle and must if traveling by public transport. During peak tourist season; valleys of Ladakh come alive and availability of facilities gets much better. In case your vehicle breaks down; you will still be able to find help either in form of a mechanic or some other traveler. Chances of being stranded on the road are least during this time.
If traveling by public transport, then you have three choices. Either a bus, local shared taxi, tourist shared taxi or private taxi.  Private taxis are way too expensive for a solo trip and most cost effective way of traveling is by Bus or local shared taxi; both of which you will only find in tourist season.
Next in line is accommodation choice. In off-season, almost all the hotels and guest houses are shut down so you are going to have huge problem finding a place to stay. Even if you found one, it will cost you way more than their regular price.  If you were stuck at a place and couldn't find a bus or shared taxi, in tourist season you will still have the choice of hitchhiking. Routes like Chushul or Agham-Shyok road do not have any public transport service on them but you will definitely be able to find someone heading that way and board a ride with them.
Travel Light
You must travel light if traveling alone and carry things only that you need. Dragging too many bags around is just unnecessarily trouble which becomes a pain if boarding a bus or taxi. People will not even stop to give you a lift if they noticed all your extra luggage. Carry only one bag if possible; that way you will at least have the choice of tagging alone with a motorcyclist; whom you will find here in ample amounts in tourist season.
Do not go too Remote
This applies to both traveling by your own vehicle and public transport. You must stick to the roads often travelled and avoid remote areas. Chushul route, Marsimik La, Chumur, Kaksang La, Wari La route are prime example of this. These are areas where only a handful of people go; roads are extremely bad and not even locals travel that often. If you were stuck on the road here; only god known when will someone pass you by next. You will be all by yourself on the roads here for miles and miles and if something happened to you, nobody would even know. Public transport is anyways not available here at all so better to not include these places in your plan.
Carry your Identity Cards
Always ensure that you are carrying a valid government issued Identify card like Aadhar Card, Pan Card, Voter's ID etc.
Emergency Number and Address
Write down your complete home address and complete details including phone numbers of the person who can be contacted in case of an emergency; and carry that piece of paper in your pocket. Ensure that you are mentioning both a mobile and landline number. Do not just save this information in mobile but write it on an actual piece of paper.
Be Careful while renting motorcycle
There are two aspects to it. First is that if you were planning to rent a bike from Manali or Srinagar; or any other city outside of Ladakh; then you can only use it to reach Leh. This motorcycle will not be allowed to visit places like Nubra Valley, Pangong or Moriri. For this purpose you must rent another local registered motorcycle from Leh only. You Manali or Srinagar rented motorcycle will have to be left at the hotel. Please do not take any chances in this aspect. Locals here put up barricades on popular tourists routes for checking purpose and there have been instances when non-local rented vehicles were attacked and vandalized.
Second aspect is of renting a bike in Leh. Do not book a motorcycle over the phone. Reach Leh, test a few motorcycles and then finalize on one. You do not want to be travelling around on a bike that wasn't up to the task, broke down and left you stranded somewhere along the route.
Get a Postpaid Connection
Most important thing about mobile services in Ladakh that you should know is that only postpaid connections work here. Your prepaid phone will be only as good as a paperweight. Since you are traveling solo, it will be very important that you have a phone that can at least work in Leh; if not other areas. As a matter of fact, prepaid connections do not work anywhere in J&K so you may actually go off the network for several days altogether if you were using a prepaid connection. Either get a new postpaid connection or convert your existing one.
Get a BSNL / MTNL connection if possible
This is not absolutely necessary and I do not really recommend this to people but since you will be traveling alone; try to get a BSNL / MTNL postpaid connection if possible at all. The thing is that all other phones work only at limited sections but BSNL phone has the widest connectivity. It will work in Nubra, at Pangong, Moriri and may even work even at the high altitude passes on the way. All other networks will only work in Manali, Leh and Srinagar.
Keep your family informed
This is probably the most important of all. You must keep your folks informed of your whereabouts. Before you leave home, give them a copy of your itinerary clearly mentioning where do you intend to be on which date. If you booked hotels in advance, then give them the name and numbers of those hotels as well. This way, god forbid if something goes wrong and they are unable to get in touch with you; they would at least know what your travel plan was and where you could have been last. Apart from this, keep calling or texting them regularly whenever you are on Network.
Respect the Restriction
Ladakh is a sensitive area and there is a large army presence here due to its close proximity to Indo-China Border. Do not wandering around Army or Police areas. In short, do not portray yourself as a suspicious character taking interest in things that you are not ought to.
Be Careful With the Camera
Ladakh is a place that invites you to click as many pictures as you can. Right from the challenging roads to majestic hills to enchanting valleys to the people here, it is all a photographic opportunity. While you can shoot all that your heart desire, you must be careful with what you are pointing your camera at.
Carry Some Essential Medicines
When you are traveling solo you got no one with you to rely upon; or to look after you if you fall sick. Before you leave home, ensure that you are carrying some necessary medicines like fever, headache, nausea, body ache, upset stomach. While you may get these medicines easily in Leh City; it may become a challenge to get them in remote areas.
Stay Away from the Dogs
This specifically applies in remote regions. Dogs here are not accustomed to seeing strange faces and may not react the same way like the city dogs if you try to pat them. As a practice, try to stay away from the dogs (this tip is out of my own personal experience and as told by the locals later on)
 Ladakh Solo Trip
I hope the information above was of help. If you have any further questions, please feel free to ask in the comments section below; or at our Community Forum; and I will be glad to answer.