When you talk about a trip to Ladakh, immediate thought that follows is of an adventurous road trip. An adventure that begins the moment you leave home and lasts until you return. The two roads leading to Ladakh; Manali Leh highway and Srinagar Leh highway; are a prime attraction of this journey and without experiencing these routes; this trip is often considered as incomplete. But does it mean that visiting Ladakh by flight is any less fun? Do you miss all the thrill if you did not reach there by road? The answer to this question is that even catching an airplane to Ladakh is equally adventurous; and as a matter of fact it has its own pros. So if you were planning on reach Ladakh by flight but were hesitant; read on for some benefits of planning this trip by air.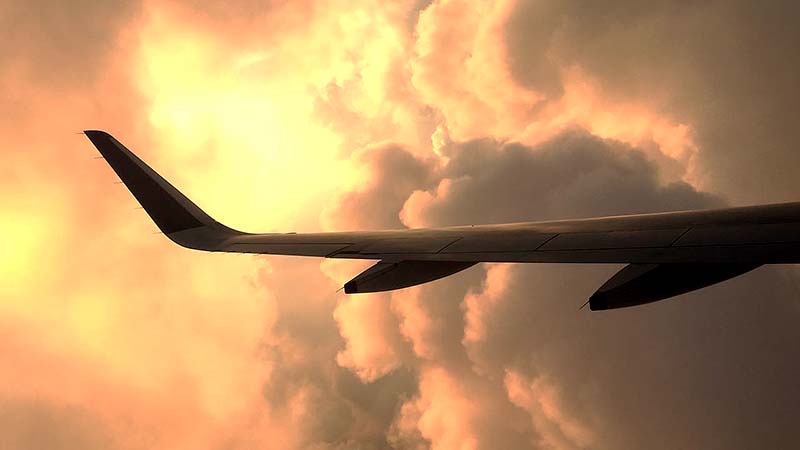 Until a few years ago, when tourism in Ladakh was still not that much; only a handful of people would think of reaching Ladakh by flight. Back then, Manali to Leh highway wore the crown of being the prime attraction. It wouldn't completely be wrong to say that people even went to Ladakh just to experience this 400 odd kilometers long stretch; rather than traveling on it to actually experience Ladakh. Much however has changed now. Thousands of people now reach Ladakh by flight and by each passing year; this number increases. Below is a list of few advantages that you will have while planning this trip by air. You can also actually think of it as reasons or situations when you should plan your trip to Ladakh by flight.
Saves Time
Minimum time needed for a road trip to Ladakh is 9 days. An ideal time for the trip however is actually 14 days. So what do you do when you have just about a week to spare? In this situation you must plan to reach Leh by air. Traveling via Manali will take at least 2 days and 3 days if you planned via Srinagar. You can save on this time by booking a flight straight to Leh. It is the fastest way to get to Ladakh and saves all the hassle of the road.
More Ladakh Time
It is highly improbable but maybe the Manali Leh or Srinagar Leh highway doesn't interest you. Or like in my case, maybe you have travelled on these roads a few times already and now want to dedicate more time to explore more remote places in Ladakh. Maybe now when you are in Ladakh, you want to spend a couple of days talking to the locals in villages like Hemis Shukpachan or Turtuk. This is when reaching Ladakh by flight is the ideal thing to do. Saves these 5 to 6 days and spend more time in Ladakh.
Aerial View of Ladakh
This probably will be the biggest reason to reach Ladakh by flight. Where else can you get a better view of beautiful mountain ranges of Ladakh from if not an airplane?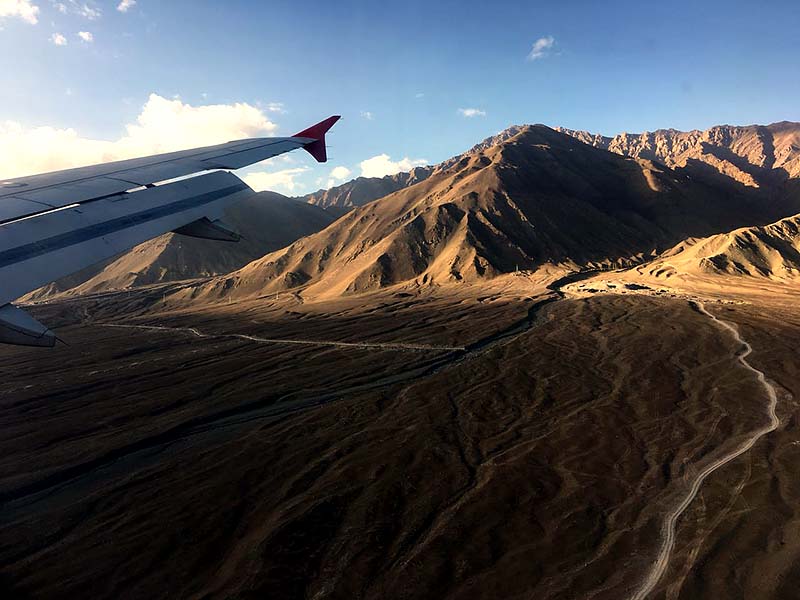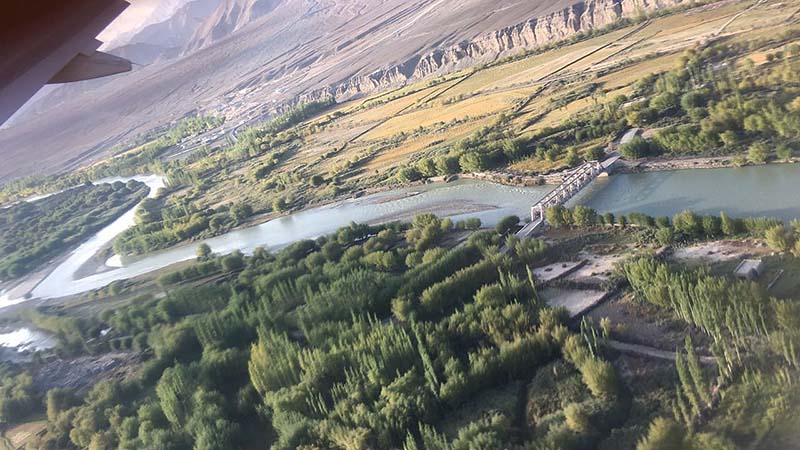 Not good on the Wheel
So everyone told you about how dangerous roads in Ladakh can be? Did it excite you but at the same time made you less confident of your own driving or riding skills? Being on the wheel while on a trip to Ladakh when you are not confident enough can be a dangerous thing. You would be wise to not risk it; after all safety comes first than fun and adventure. If you do not want to, you do not really need to take the chance and can get to Ladakh by flight. Once you are there and feeling a little adventurous, you can rent a bike there and take it out for a spin.
Do not own a Vehicle
This will come next in the list of benefits and reasons of reaching Ladakh by flight. Not all of us own a vehicle and traveling all the way sitting in an HRTC bus for several days is not great fun as well. You can catch a flight to Leh and rent a bike there for a few days; or just travel locally in shared taxi or a local bus.
Old or Not good enough Vehicle
Maybe you do own a motorcycle or a car but it is a bit old and now not good enough to handle Ladakh roads. Planning the trip by air will again be the best thing to do here.
Hassle with Rentals
Maybe you do not have a vehicle or a vehicle strong enough and have been thinking about renting one. Thing however is that non-locals taxis and rented motorcycles are banned in Ladakh. You can only use these to reach Leh but for local sightseeing, you will have to rent a local taxi or bike from Leh itself. The vehicle you used to reach there would have to be left parked at the hotel while you still pay for its rental and keep a room booked at the hotel when you are not even there. This also means that you cannot be on your way home from anywhere in Ladakh but Leh because you will have to get back there anyway to collect your rented vehicle. All this can be avoided by reaching Ladakh by flight and just hire a taxi or motorcycle there only.
Traveling with Family
So you want to take your family out on a trip to Ladakh but they do not want to spend so many days on the road? Bad roads are bound to take a toll on your elders and children as well. This will be a great reason to not plan the trip by road and rather catch a flight to Ladakh. Not everyone in our families prefer to sit in a car all day long and would rather prefer a clean trip where they get to look their best; specially ladies.
Winter Trip
Both the roads leading to Ladakh are closed in peak winters and during this time, Ladakh can only be accessed by air. Even before closing, in the months of October and November; driving on these roads can become a bit risky with a high chance of getting stranded. If you are planning your travel after Mid October until April, it would be best to buy an air ticket and reach Ladakh by flight.
Conclusion – Ladakh by Flight

Probably the only downside of Ladakh by air would be that you do not get to travel on Manali Leh and Srinagar Leh highway. But if you are short on time, this part of the journey is best left out for another time when you can spare a few more days. Another downside can be that flight tickets may cost you a bit but they won't if you booked a few days in advance. As a matter of fact, what you will spend on flight will actually be about the same as what you will spend in 3-4 days on the road while going to Ladakh.
I hope the information above was helpful. If you have any further questions, please feel free to ask in the comments section below; or at our Community Forum and I will be glad to answer.