The only thing Korean that I watched and really liked was this movie called 'The Host'. There was another movie that I remember watching called 'The Wailing' a long time ago but it was a little too slow for my taste and I did not quite finish it. So my experience with Korean cinema was limited to just one movie until I recently watched Kingdom web series on Netflix. A friend recommended it to me strongly and I decided to watch a couple of episodes to see how it was. To my surprise, it turned out to be a great show that I binge-watched entirely over a weekend.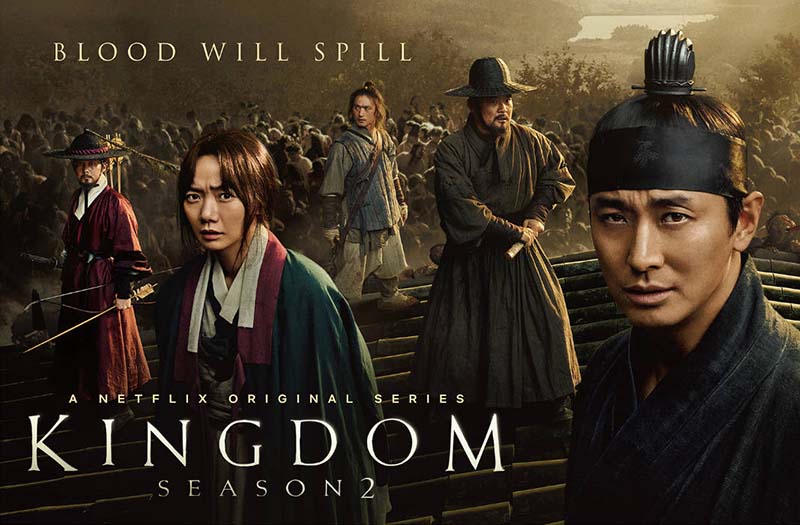 Kingdom Web Series
For a brief overview, Kingdom is a South Korean political period horror thriller web series that was first released on Netflix in 2019. It was Netflix's first original Korean series and was adapted from a comic series 'The Kingdom of the Gods'. Upon its release, it mostly received positive reviews and was renewed for a second season which was released in March 2020. A 3rd season of the show has also been declared.
Kingdom is officially a zombie story and has been compared to other shows like The Walking Dead. The story follows a prince trying to win the crown after his father's death and his stepmother trying to keep it to herself. As the struggle for power continues, a strange disease starts to spread throughout the kingdom turning people into zombies.
Review
Is it any good? I will say that yes it definitely is. It is one of the best horror shows ever made but at the same time, it will also be unfair to compare it with any other. The zombie genre has already been done to death by Hollywood but when you watch Kingdom, it really feels different. You will not be bored for even a single second and the show will keep you engrossed. Good acting, believable costumes, lovely cinematic, and the monsters blend into a wonderful time that makes this series worth watching.
And it is not just zombies that this show is about. It is also about politics, war, relationships, and humor. It shows how the rich exploit the poor into misery and starvation. How the struggle for power brings out the worst in the best of the people. If there is one show that I will compare it with then it is The Games of Thrones. Watching all the political struggle between different groups while the zombie threat increases did make it feel like the Korean version of GOT.
The acting was impeccable and all the actors did a perfect job. The action was great with no exaggeration and just the right amount of blood and gore. CGI was pretty great as well. I read somewhere that each episode of this show cost almost 2 million dollars and it really shows in the production. Cinematography is amazing, the direction is great, the locations were beautiful and the costumes were believable and relevant.
Final Verdict
This show has a great story with compelling characters. It is full of suspenseful and funny scenes, with entertaining dialogue and surprising events. In terms of visual aesthetics as well, the series looks stunning. It is a beautiful little South Korean masterpiece that you must watch and cannot afford to miss.