This post is in continuation with a previous one and a part of my Amritsar and Gangotri travelogue. In the last post, I talked about traveling from Amritsar to Delhi and provided some important tips to keep in mind while visiting The Golden Temple. In this article, I will share my experience of visiting Jallianwala Bagh and Wagah Border and provide some necessary details. To read the previous part of this travelogue, please click on the link below.
Journey so Far: Delhi to Amritsar & A Trip to the Golden Temple
I, unfortunately, do not have any pictures from both these places. My phone got stolen during this trip and all the pictures before our arrival at Gangotri were in it. So the post below is without any pictures but I hope that the details I am sharing will be sufficient to paint a picture.
Trip to Jallianwala Bagh and Wagah Border
For a brief overview, Jallianwala Bagh is a public garden located in the city of Amritsar. It houses a memorial to commemorate the massacre by British forces on 13 April 1919, on the occasion Baisakhi. The memorial was established by the Indian Government in 1951 and is now managed by Jallianwala Bagh National Memorial Trust. The park is built on a 6.5-acre land and in close vicinity of Golden Temple complex. The official British number after the massacre was of 379 fatalities and about 1100 wounded but the unofficial estimate was of 1,526 casualties.
The place is named such after Himmat Singh Jallhevala, the owner of this piece of land during the rule of the Sikh Empire. He originally was from the village of Jallah and the family was commonly referred to as Jallhevale. That is how it got its name of Jallianwala Bagh.
Source: Wikipedia – Image by By Bernard Gagnon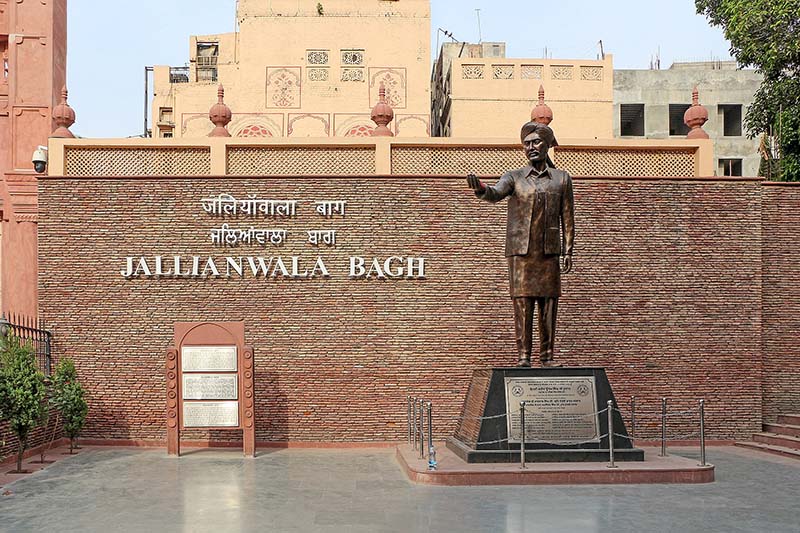 Jallianwala Bagh
Jallianwala Bagh is located quite close to the Golden Temple. When you enter through the walking area towards the golden temple, you would see a big board mentioning Jallianwala Bagh towards your left. There are also various shops here showing traditional attires of Punjab and other food items which generally available in Punjab only.  The Jallianwala Bagh authority maintains it as Park which it actually is in reality. There are no charges to visit the park; as opposed to all the other monuments in the country where you have to pay a small fee to enter.
The walls of Jallianwala Bagh have spots marked where the bullets were shot during the massacre. The management has drawn square-like shapes over these spots to give you an idea about what happened here all those years ago. The spot where the bullets were fired from too is marked by a stone monument.
There is also a well in which several people jumped to save their lives. It is covered from all sides with Iron roads and a net but you can see inside it by just bending over a little. A monument is also constructed in the middle of the Bagh in memory of those people who sacrificed their lives. On your way back, there are two rooms depicting various wall pictures about how this massacre had happened at that time, much like a museum. Books are also available at the desk for a small price.
Wagah – Attari Border
Wagah Attari Border, or simply referred to as the Wagah Border is most famous for its border ceremony which serves as one of the greatest tourist attractions in Amritsar. The place is named after the villages of Wagah on Pakistan side and Attari on the Indian side. The border is also a goods transit terminal and a railway station between Pakistan and India. Wagah Village is located closest, about 600 meters from the border and Attari at about 3 kilometers. Amritsar is approximately 32 kilometers and Lahore at a distance of about 24 kilometers.
At the time of partition, migrants from both sides of the border entered the other side through this crossing. The ceremony here was initiated in the year 1986 as an agreement of peace. It happens in the evening, two hours before sunset each day, near the gates. I am not sure why but the marching ceremony is actually known as the "Silly Walk ceremony". Funny enough, India erected a 360 ft (110 meters) flagpole at the border in August 2017 which is still the largest in India. Immediately after, Pakistan erected a 400 ft (122 meters) flagpole just to keep their flag higher.
Jallianwala Bagh to Wagah border
As you walk out of the Jallianwala Bagh, you will find several boys and middle-aged men shouting the name Wagah Border loudly. These are the taxi drivers and auto-rickshaw drivers asking to take you there.
There is a different rate depending on the mode of travel you chose (a/c, none ac). From Jallianwala Bagh, it is about 30 to 35 kilometers and 1 hour-long journey (same from the Golden Temple as well).
We hired an auto-rickshaw for Rs.100/- per person to & fro. The agreement was that we will pay him half the amount right now and the remaining half while on our way back which is usually a common agreement here. However, our auto-rickshaw driver took the whole amount from us in the name of filling up the petrol. I think it was a trick to get the money out of people. It was a harmless one in our case but I would advise other people against paying the entire money upfront as the driver may then leave you at the Wagah Border and drive away; since he has taken the entire money anyway.
Amritsar City
Approximately, 10 visitors sat in the Auto Tempo. It passed through Amritsar to the national highway towards Wagah Border. It may just be my personal opinion but I found Amritsar to be a highly congested area with unclean and dirty roads, corners, walking sides, etc. But then I think that is the case with the majority of Indian metropolitan cities anyway. Even ISBT Amritsar is designed as per their convenient mark.
Another thing I would like to add is that during my stay in Amritsar, I did not find even single Helmet on bike/scooter riders. I am not talking about Sikhs with Turbans but the ones with no Turban at all. They were just riding around freely with no helmet at all. It was a blatant violation of traffic rules and regulation and quite a dangerous one as well. Even girls who could have put on a helmet easily were missing one entirely.
As the Auto Tempo turned on the national highway towards Wagah Border, the cleanness on the roads started to appear. On the way, at one place, a few people were serving 'Rooh Afza Sharbat' to the visitors of Wagah Border. They were actually stopping all kinds of vehicles, bus, car, auto, etc and handing over a glass of Sharbat.
Entry at the Wagah Border
It took us one hour to reach the border.  The non-permitted Tempo and buses are stopped at 1 kilometer away from the Wagah border security checkpoint. From here, you will have to walk the last kilometer or hire a manually operated normal rickshaw. However, permitted vehicles are allowed to be parked in the parking slot just near to Wagah boader security checking place. The peddler rickshaws are allowed to drop passengers right to the security check post as which I think is a good thing to support the earning of these poor people.
At the checkpoint, security checking is conducted separately for men and women. Mobile phones, water, eatables, wallets, goggles only are permitted but you cannot bring mobile chargers, keys, bags, etc beyond this point. This rule is implemented strictly without any exceptions so please leave your belongings at the hotel or in your vehicle.
About 100 meters ahead of the checkpoint, you would notice a fort-like building, duly constructed on both sides. In the middle of it, there is an entry passage for Army officials. Visitors may go and sit either of the left or right side depending on their preference. The entire cemented seating arrangement is in the form of a stadium and I think there must have been at least 10 rows of it. Water and eatables are permitted and you will also find several hawkers selling water bottles and snacks.
Wagah Border Ceremony
After we were all seated, an army official made an announcement welcoming us all. I think he was BSF and not the Indian Army but was well over 6 ft in height. After that, patriotic songs started to play on a big screen on both sides and everyone started to clap. A little later, a lady army arrived and started to welcome women from the crowd to step on the middle path between the two sides, the road actually. I think this was not really fair and they should have invited men and women both. The girls were then asked to hold the Tricolor and run on the path as part of the ceremony.
One thing I noticed here was that the seating arrangement on the Pakistan side was very different. We had arranged the entire thing like a stadium, cemented steps in rows. But the Pakistanis has only a few seats on both sides. There were also no activities on their side that day. They were, in fact, listening to and watching what was happening on the Indian side.
The entire ceremony lasted from 4.30 PM to 5.30 PM. It was really hot that day and a lot of travelers started to leave way before the concluding ceremony due to the heat.
Jallianwala Bagh and Wagah Border – Conclusion
After it all ended, we walked back from the stadium to the parking stand and boarded the same auto-rickshaw at around 6 PM. It took another 1 hour for the return journey and dropped us at the Golden Temple by 7 PM. The railway station is just 2 kilometers away from the Golden Temple and Bus station is just 1 kilometer away. Thereafter, our next journey started by Bus @ 10 pm to Delhi. We were all very tired due to the busy day and slept shortly after the Bus left Amritsar for Delhi.
In the end, I would like to add a note of caution for anyone visiting the golden temple, trip to Jallianwala Bagh and Wagah Border. It is rampant to steal mobile and snatch purses and jewellery by the looters near the golden temple and in the city.  My mobile phone was also stolen by some miscreants. I reported this matter to the committee of Golden temple and also filed a report with the Police Post, Galiyara in Amritsar.  There are no photos available for this day of the trip only because of the theft I encountered.
I hope the travelogue and information above was of help. If you have any questions, or need any other details, please feel free to ask in the comments section below; or at our Community Forum; and I will be glad to answer.