I am sharing my recent experience of pilgrimage to Amritsar, Haridwar, and Gangotri. For this trip, I took a leave from work for a week and did all the arrangements on my own before going over there. I did not take any package from any travel agency. The purpose was to enjoy the Pilgrimage and keep the cost incurred as low as possible. I first traveled from Delhi to Amritsar to visit the Golden Temple and then moved on to Haridwar and Gangotri.
Places Covered
Amritsar, Jallianwala bagh, Wagah border, Delhi, Haridwar, Gangotri
Below is a brief overview of the details I will be covering in this itinerary and also the itinerary I followed.
Delhi to Amritsar by Bus – Day 1 (June 2nd – 2019)
Jallianwala bagh & Wagah Border – Day 2 (June 3rd – 2019)
Wagah Border
When my Mobile was stolen
Delhi to Haridwar – Day 3 (June 4th – 2019)
Haridwar to Gangotri to Haridwar
Caution:  Keep In Mind
Yatra
Haridwar to Gangotri (stay there) – Day 4 (June 5th – 2019)
Gangotri (stay for a day) – Day 5 (June 6th – 2019)
Gangotri to Haridwar (back) – Day 6 (June 7th – 2019)
Unfortunately, my mobile phone got stolen during the first part of the journey so I do not really have any pictures from Amritsar. But hopefully, the details below can be of use and help paint a pretty enough picture.
Image Credit: By Amritpal Singh Mann (Wiki)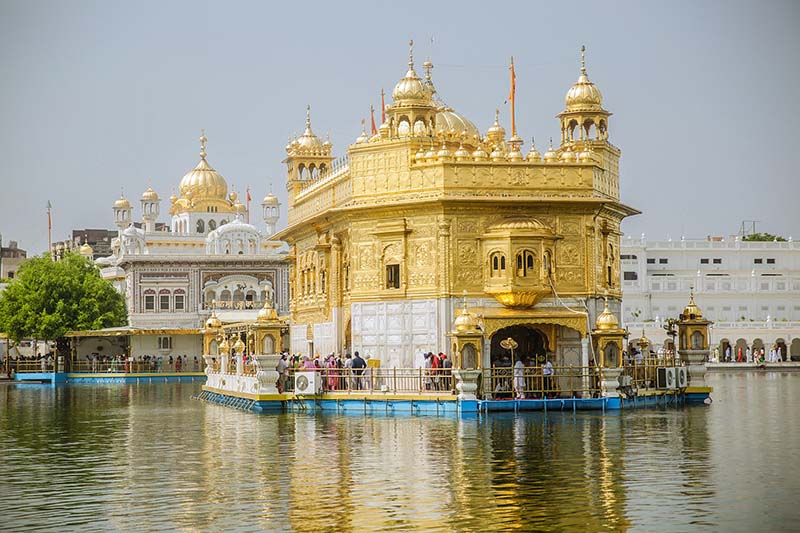 Delhi to Amritsar by Bus
Being fond of bus traveling, I booked ordinary bus tickets from Delhi to Amritsar. It was a day's journey and the time was of the month of June 2019. So yes, it was a bit hot as well. The bus started at 8:40 am from ISBT Kashmiri Gate and in short a while, was cruising on national highway towards Karnal; after crossing Delhi Border. Thereafter, there was a series of Toll tax booths to pay taxes for traveling on the so-called good roads (in reality those roads were ordinary). The bus passed through Kurukshetra, Karnal, Ambala, Jalandhar and reached the Amritsar Bus station at 6 pm.
The Golden Temple of Amritsar
I took a rickshaw to the Golden Temple for Rs. 20 per person from the Bus stand.
There is a big statue at the doorstep towards Golden temple which I believe is of Maharaja Ranjit Singh. You will also find a lot of small vendors selling clothes, googles, etc to the visitors to put the same over their eyes or over the head.
After a little walking, you will see a big white fort-kind of structure and a white marble courtyard in front of it. From the front side of it, it will actually look like a white marble fort.  After entering the Golden Temple (GT), you will have to go down the stairs and will then see the big sacred pool. In the middle of it, there is a Gurdwara plated with gold. And this is why my friends, they call it the Golden Temple (GT).  The actual name of the Gurudwara, as I was to learn later, is Harmandir Sahib, also known as Darbar Sahib.
Let us have a look at its attractions with my eyes, Interesting.
Water Booth (Free)
The facility of drinking water is freely available at the courtyard entry point and inside as well at four other places. Cold Water is freely available for the visitors in such hot days which definitely is a big relief.
Cloakroom (Free)
It is a wonderful facility provided by the Gurudwara administration. You may leave your bags and belongings at the cloakroom without any charges. It becomes very easy for the visitors to move around and pay respect without having to haul their bags around everywhere.
Mobile phones, purse, and bags are however allowed to bring inside the Gurudwara if you wish to do so.
Shoe Rooms (Free)
There are various counters in the precincts of the Gurudwara to leave your shoes in good care and get them back later on once you decide to leave.
Head Turf
You should bring along a handkerchief or a piece of cloth to cover your head before entering the gurudwara. For women, dupatta or chunni can be put on the head while entering the temple. Hats or Caps, however, are not allowed.
Entry
At the entrance, there is flowing water arrangement for you to to clean your feet before entering the Golden Temple & the area of Langar distribution.
Bath
For men, they can take bath by just taking a dip in the pool in an underwear and handkerchief/head-cover cloth. You cannot wear anything else while taking a dip, not even a vest. There are 'sevadars' in the premises wearing blue dress along and will point you out if you do not follow the rules.
For women, there is a separate arrangement towards the back of the Gurudwara.
Water in the Pool
Bathing in the pool of the Golden Temple is permitted and water is clean enough. There are safety measures in the form of chains connected to shore and iron safety brackets duly installed in the pond to avoid a mishap. To my surprise, there were fishes as well in the pool of several colors. Let me tell you that they are not easily scared and will enjoy swimming close to the visitors. A couple of fishes I noted were white and red in color and were 12 to 14 inches long.
Langar (Prasad)
There is an arrangement of Langar at the Golden Temple, as it usually happens at all Gurudwaras. The Langar hall is towards the back of the Gurudwara. There are two entries, one for food and another for tea.
The food arrangement is well designed. As you enter the Langar area, there will be 'Sevaks' providing plates, bowls, spoons to the visitors. The Langar area itself is divided into several different floors. Sitting arrangement is made on the floor on a long mat. Visitors will sit down to eat and 'sevaks' will continue to serve food items like rice, dal, parantha, and water. I was amazed at how all the 'sevaks' were serving the visitors continuously and without getting tired.
Once done eating, the visitors will get up and hand over the plates over to the sevaks at the ground floor for washing.  The whole process is handled in quite an efficient and time-saving manner.
There is an arrangement of tea as well. Anyone can get tea from the counter at any time (free of charge of course). Sometimes, they served pakodas and samosas as well with the tea. The tea arrangement was not really as good as the langar, to be honest. It was tough for elder people; struggling and finally failing to get even a single cup of tea.
Rented Rooms (not free)
Booking facilities are available to book your rooms for stay at a cost of Rs.1100/- per room. Apart from this, the temple premises is freely available to sleep if you have some bedsheets, pillow, etc. There are fans installed at several places and the whole sleeping arrangement is quite good.
Toilets
Two separate toilets (some in Indian style) are built near Cloakroom & Shoe area for both men and women. They were clean enough.
CCTV Cameras
There are camera installed on the premises but I have heard that some people do end up getting their stuff stolen so please be a little careful.
Morning Visit
I made an attempt to go to the main temple but there was a huge crowd that made it nearly impossible. I just kept getting pushed around and finally gave up. Getting mushed into the crowd with the smell of sweat all around and getting manhandled was not really the best thing at my age. So we dropped the idea and just rested inside the premises of the Golden Temple, under the fan; and napped for a while before visiting the Jallianwala Bagh.
Journey Ahead: A Visit to Jallianwala Bagh and Wagah Border
Conclusion
I hope the travelogue; and the details on traveling from Delhi to Amritsar and then visiting Golden Temple were of help. Please click on the link above to continue reading the next part of this travelogue providing information on visiting Jallianwala Bagh and the Wagah Border. If you have any questions; or need any other details; please feel free to ask in the comments section below; or at our Community Forum; and I will be glad to answer