Continuing from the previous article where I reviewed a bad hotel that I came across in Manali; here is a short review on another one that I walked into that evening. This one was called Hotel River Inn and is pretty much the same deal as River View. It is also located on Naggar road and is quite close to Mall road which probably is the only plus point with this hotel. I too walked in and decide to check a room here only because of this factor; because I was looking for a place to stay close to Mall road.
I saw a few rooms here and decided not to stay so this will not really be a long review; but I will mention why I did not stay at this hotel and why you should too look for a different one.
We were on our way back from a trip to Spiti valley, so were actually climbing down from Rohtang Pass. Initial plan was to just halt at Manali for the night and depart for Delhi the next morning; but my friend decided to stay in Manali for a day. Reason was to extend the trip by another day while relaxing here; and also to shop around a little and hence the need to find a hotel close to Mall road. As we approached Manali from Rohtang,
I started to check out a few hotels at Naggar road near the bridge. I first walked in to River View, rejected that and then went into River Inn which was the next hotel on the same road.
From the outer side, the building of the hotel looked like a decent enough hotel. Let me post a picture of what I mean.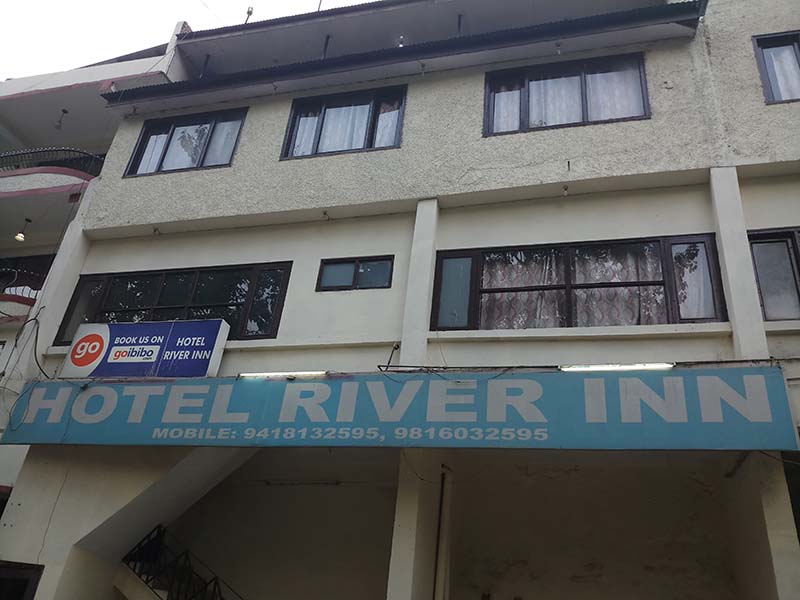 Now the first challenge I had with this hotel was to find their main gate. There was just no visible entry to the hotel by the first look. Then the mystery unraveled itself in form of a small stair case towards the right which I climbed up to find a small desk making up for their reception. There was no one at the desk so I should out a Hello. After a while a guy replied from somewhere inside and came out running.
When I asked him about the rooms, he said yes and bought me to what looked like a store room with a bed in it. This particular room was on the back side of the hotel, had no window, no view and  was quite small. On top of it, he asked me Rs. 2500 for it.
Now there was no way that I was going to spend the night in that shabby room so I asked for a better one. This time he brought me to a room that was facing the river and towards the front of the hotel. Like the previous room, this one too was quite small but at least had a window and small balcony to it. The price for this one was Rs. 3,500. Now while the room was slightly better, there was no way it was worth Rs. 3,500. In all my traveling, I have stayed at rooms better than this one and paid as less as Rs. 700 to Rs. 800. I asked him to lower the price down and final amount he agreed to after negotiating was Rs. 2,700.
I was still not very convinced about staying in this hotel so decided to check with my friend who was waiting for me in the car. To be honest, I was somewhere hoping that he would say no and we will go find a different hotel. After a while we both walked in again at the reception and yet again, there was no one present. I should Hello again and this time, a middle aged man came out. As it turned out, he was the owner of the hotel.
The moment he opened his mouth and started talking to us, we also realized that he was very drunk at 3 PM on a Saturday. He also showed us the same room and but this time, the asking price went up to Rs. 4,000. When I told him my conversation with the previous guy, his reply was "Nahi nahi sir, 4000 se ek paisa bhi kam nahi hoga"
So that was it. There was my reason to walk out of this sorry excuse of a hotel. In short, Hotel River Inn Manali is a shabby looking hotel; and the rooms here are not worth any more than Rs. 500 a day. The owner was drunk in middle of the day so I can't even imagine how pathetic their services must be. They will however ask your for at least Rs. 3000 and won't even be courteous about it. They have no parking facility as well so in case you arrived at Manali by your own car, you will have to find a parking on your own and then drag your luggage all the way to the hotel. In short, please find a different hotel to stay in Manali and stay away from this one.
I hope the information above was of help. If you have any further questions, please feel free to ask in the comments section below; or at our Community Forum; and I will be glad to answer. Also, if you have been to Manali and have good or bad feedback to share on any other hotels, please do mention that in comments below in order to help others.