This will not be a very detailed review to be honest because I did not really stay at this hotel so don't have much to write. It is more of a brief summary of my observations at Hotel River View, Manali; where I stepped in for a few minutes to check out a few rooms. I was returning from a trip to Spiti valley and reached that evening at Manali from Chandratal. Our purpose of the room was only to find a place to crash for the night and be on our way home the next morning. However even for that purpose, I could not find a suitable room at this hotel. From the outer look, the building gives the impression of a decent enough hotel and even their prices are quite high for that matter. The inside of the hotel however is a complete disappointment.
Let me first post a picture of the building.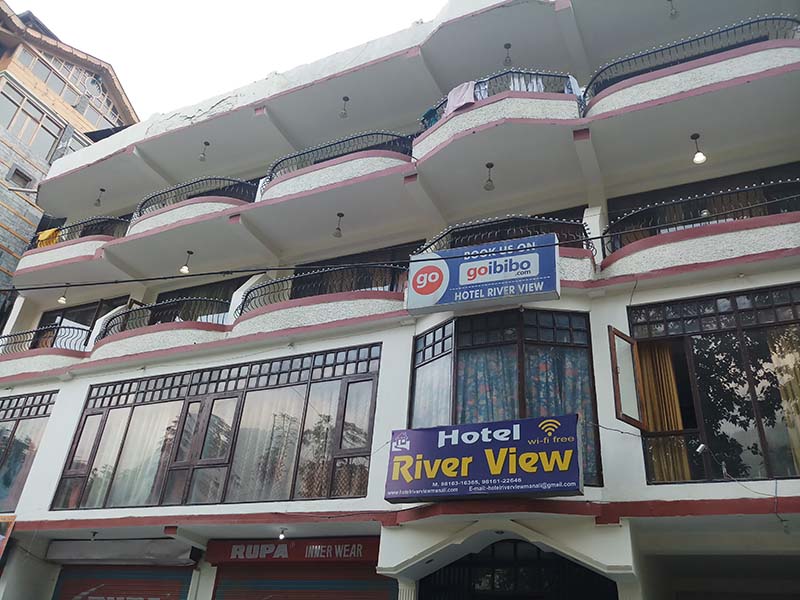 As you can see, one look while you driving by and you will definitely think of it as a nice hotel. That was exactly my impression as well. The place is quite close to mall road; and is located right there on the main Naggar road as you drive down from Rohtang. That is how I came across this place. We were climbing down from Rohtang Pass and my friend wanted to stay somewhere close to Mall road. I also wanted to stay at a hotel where I could drive straight to; rather than leaving my car somewhere far away and then walking to the hotel; which is the case with most of the hotels at Mall road. This hotel was located near the bridge after mall road and was on our way. I stopped my car here and stepped in.
Hotel River View
The reception was a bit nice and gave an impression of a grand hotel. I asked the guy sitting at the reception if there was a room available. He in turn did his best to portray a fake image of a completely occupied hotel. After a bit of ifs and buts and looking through the register, he was "able to" find me a room.
We climbed a few stairs and he bought me to their top floor and opened a door. The first thing that greeted me was a strong smell; like the one you get from wet wood. The room was quite big, I must accept that but that was the only plus point. There was an old Samsung TV on the table; yes not the wall mounted LCDs  but the actual huge bulky TV from 15 years ago. The entire furniture including the bed in the room looked old and the carpet too was coming off at a few places. The bathroom definitely was in need of some cleaning up.
"Someone just checked out so the cleaning is yet to be done" The guy told me when he caught me noticing the dirty washroom.
"What is this smell?" I asked about the smell in the room
"There is some dampness in the walls" He said, "Don't worry, I will give you a room freshener"
That was it. There was no way I was going to stay at this hotel but still thought to ask the price for the heck of it. He asked me for an outrageous Rs. 3000 per day. So much for a room with wet damp smell, old broken furniture, torn off carpet, huge bulky TV and a dirty washroom.
Final Verdict
Final verdict, definitely stay away from this hotel. As we were walking towards the room they wanted to show me, I checked out a few others where the door was open. All of their rooms looked the same, in bad condition and desperate need of some maintenance work.
Manali is a major tourist destination and hotels here are in plenty. Just walk around a little and you will definitely find a better place. There was a guy I made friends with while traveling on Spiti circuit. He was following the same itinerary like us and arrived in Manali the same day. When I talked to him later, he told me that he stayed at Hotel River View and regretted every minute of it. He too was given a way too small room for Rs. 2000 that kept stinking all night.
I hope the information above was of help. If you have stayed at Manali and know of a good or bad hotel; do share the name and feedback in the comments section below to help others. If you have any other question; please feel free to ask in the comment section below; or at our Community Forum and I will be glad to answer.