This was going to be my first induction and I had no idea which one to buy. I am a bachelor and so far in my life, I have only relied upon a gas stove and microwave. My main reason behind buying the induction was to get something that takes less space and will save me the hassle of getting cylinders every couple of months. Then just out of curiosity, on a Sunday when I had nothing to do, I thought to go check out an Induction. An hour later, I returned home with a Havells Insta Cook ST-X.
I have been using this induction for a few months now and below is a brief review of how my experience has been so far.
As per the company overview, It is "A smart and sleek kitchen appliance, Insta Cook ST-X Induction Cooktop by Havells helps you enjoy faster, efficient cooking. This cooktop is an essential addition to your kitchen for cooking tasty dishes in less time. The different cooking modes, auto pan detection, power-off, and switch-off features make it easy to cook and save time. The child-lock feature makes it safe to use. The light-weight appliance makes it easy to place the appliance anywhere you want depending on your convenience."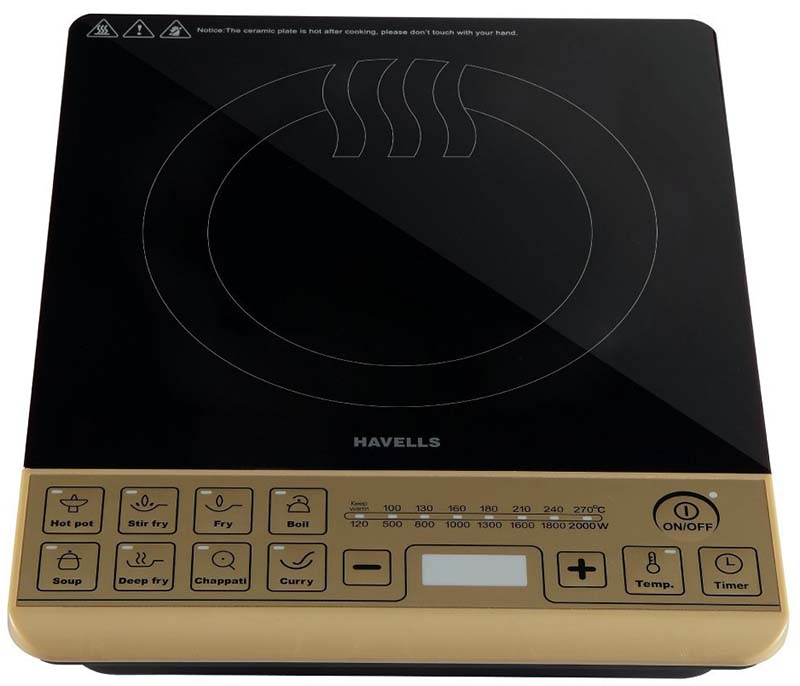 Havells Insta Cook ST-X Review
Is the product really this good? I will say that for the most part, it is. It is a really compact Induction that takes very little space on my kitchen slab. It is also very light in weight so easier to move around. I can lift it just one hand and hold it while I clean under it.
It comes with fixed and variable cooking in the form of 8 different modes of cooking functions to adjust the temperature accordingly. The timer can be set up to 3 hours for greater convenience. There is also the option of variable temperature control and timer setting. The induction switches off automatically if there is no pan on it or at high temperature. It also has a child lock on its control panel for extra safety.
Overall, I am really happy with this induction. My sister gave me another induction by Prestige (which I have reviewed in another article) but it is Havells that I like to use. It is also a good looking product and looks really stylish.
What I did not Like
The electric cord is the first thing that the company needs to look at. I am not saying that it is terribly short but they should extend it a little more for ease of use. My biggest complaint, however, is with the control panel. I spilled some boiled milk over it a few times and whenever that happened, the buttons will stop working.
I think the milk entered inside somewhere and then I will have to let the Induction sit for a day or two, allowing it to dry. This happened a few times and now one of the buttons has stopped working completely. Except for that one button, everything is working fine and I am also a little more careful while cooking.
Final Word
Overall, I will say that I am happy with the purchase. Even though it is now one button less, I still prefer using Havells rather than my other induction. Primarily I think it is because the temperature control on it is really easy and it is very compact. Should you buy it? I will say that yes, you can go for it. Just be a little careful not to spill boiling liquids on it too often as I did. You can also order the product online from Amazon India and even there, it is listed as a recommended product.