I recently bought an LG 43 inch smart TV and below is a short review of how my experience has been so far. My previous TV that LG replaced was a 32 inch Panasonic. Other than this, I also have a 43 inch Sony Bravia in my parents' room. I can't really compare this to Panasonic because that was an old LCD TV with no features. But if I compare this to Sony, I must say that LG is in fact a better deal at a much lesser price.
Below is a complete and detailed review.
LG 43 Inch Smart TV
It is a 4K Smart TV that comes with a bundle of features like built-in Netflix, Amazon Prime, Hotstar, YouTube, Alexa, and much more. The screen size is quite decent with an amazing 4K picture quality and great sound. Considering its price compared to other similar models, it is a TV that I will surely recommend buying.
I bought the TV from a showroom and the installation happened on the same day, in fact within 3 hours which was another pleasant surprise. It was available online for a slightly lesser price that what I paid but I checked but that was something that I checked later.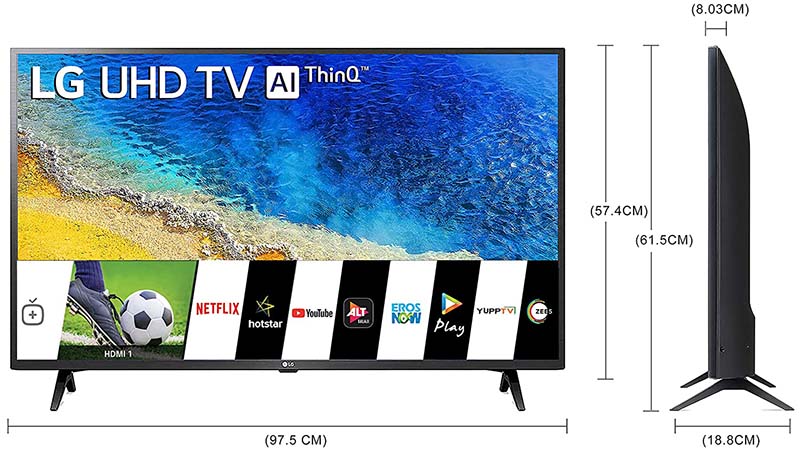 Design
The Design of the TV is quite a simple one. It is reasonably slim and not too bulky. It does take up a lot of space on the wall but then it is supposed to do that considering that it is a 43 inch TV. The good part however is that the borer around the TV screen is not too large, just about an inch. So most of it is just the viewing screen only.
The speaker grills are at the bottom of the TV. It comes with two angle-designed stands supporting the TV from both ends in case you want to place it on a table rather than mounting on the wall.
All the connectivity ports are assembled in a small portion towards the back of the TV which is easily accessible.
The TV is light and compact enough for one person to set it up and move it from room to room.
Remote
The remote is not too large in size either. They call it the magic remote and that has dedicated Netflix and Amazon Prime button for easy access. All the other buttons are neatly organized and easy to press. The remote works much like a mouse. You just point the remote in the direction of the TV, move the cursor by your hand movement and click wherever you want to. There is a wheel at the bottom of the remote to move the cursor up and down, much like a computer and a mouse.
Even with all these features, the remote and its functions are not hard to understand.
Features
The TV supports WIFI direct and will connect easily to your home network. The installation guy will run you through the entire process of connecting it to the net.
The TV works on a webOS operating system and comes with Active HDR capability. The resolution is 3840 x 2160. There are a bundle of apps pre-installed and if you needed more, you can browse through the LG Store, also inbuilt on the TV. The TV is quite simple and easy to use and will just take a day of getting used to the features.
It also has the option to perform screen mirroring and streaming content from your phone or a tablet to the TV. It has three HDMI ports to connect to a set-top box, gaming console, or a laptop.
Performance
I have a Netflix subscription and watched some 4K shows on it. My laptop also remains connected to the TV only. I am a photography enthusiast so all my photos get edited on this TV only. So far, I have been very satisfied with the overall performance and picture quality. It has all the right display features for an inexpensive 4K set.
The only part where I was a little disappointed was the audio system. I am not saying that it is terrible but it is not that good either. There were two versions of this TV, one without a woofer and the one with an inbuilt woofer which was also slightly expensive. I bought the woofer one but to be honest, regretted spending the extra money later on. There is a slight improvement over the audio quality but not that great.
Another thing missing is the ability to attach a wired headset to the TV. You connect a Bluetooth headphone easily but there is no socket to connect a wired headset.
Specifications
Below is a rundown of all the features.
Display Size: 43 inch
Screen Type: LED
Color: Black
HD Technology: Ultra-HD
Resolution: 3840×2160
Smart TV: Yes
Touchscreen: No
HDMI Ports: 3
USB Ports: 2
Built-In Wi-Fi: Yes
Digital Audio Output: Yes
Number of Speakers: 2 – Surround Sound
Speaker Output RMS: 20W
Smart Remote: Yes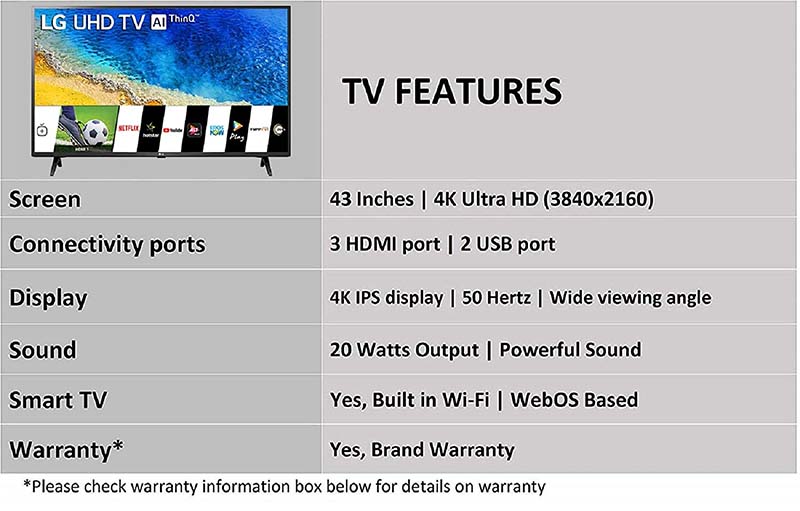 Final Verdict
If you are looking for a 4K TV at an affordable price with decent features and performance, then LG 43 inch smart TV is a good option. It's a good fit for smaller rooms and offers almost everything you'd want in a smart TV.