In this article, I will provide a detailed log of my Delhi to Lucknow Bike Ride. This ride in many ways was really a search for myself, a way to bring me back up again after being knocked down. It helped me to once again believe in myself.
If you had the only opportunity to achieve whatever you wanted from life & you let it slip, this is something not easily acceptable! You keep promoting your inner self about your capabilities to withstand the most malignant competition you'd ever have. Even then you end up lost & thinking if it had been a better attempt by you to capture what belongs to you for the taking.
But now there's no shot, no opportunity, no favor for a chance to stand high for claiming what you say should have been yours. Success doesn't belong to anyone unless worked hard for!
K

nocked Down but 
This is something I learned from my experience at the Delhi Event of the Castrol Power1 Passion Hunt. For an average guy like me who had willingly lost himself in dedicating his life for nourishing his instinct for something materialistic called Biking, this was a whale of an opportunity!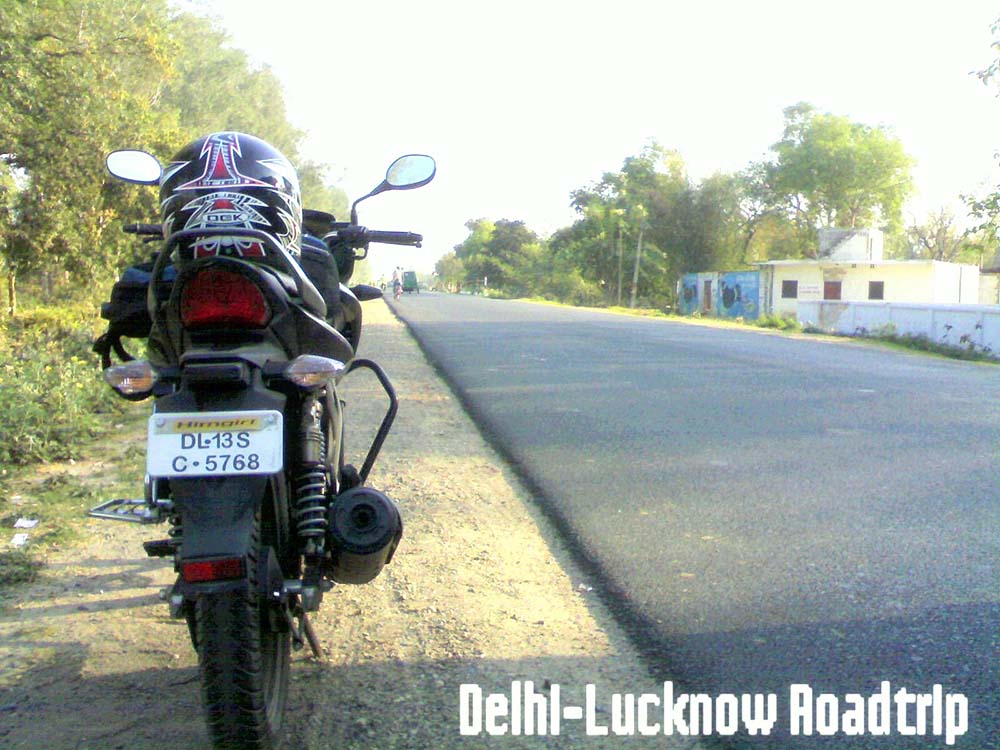 As they say, "Try and Fail, but don't Fail to Try." I'm officially in favor of this context; after all that I went through on that bright day of March. I guess I took it for granted that my keen interest in Biking would pave way for me at the competition. But folks, seriously, it doesn't work this way! I learned why.
After losing at a previous Castrol Power1 Passion Hunt Delhi Event in March, I was shattered. For this not only destroyed my confidence but also gave me a reason to question my own capabilities. It's tough to manipulate what went wrong on that perfect day. Though, it didn't turn to be perfect in all senses for me.
The time I was witnessing the winners being rewarded & applauded on the stage, I was talking to myself.
"I should have been there. Why am I not there? I could do it!" I said to myself.
Gosh, I being an emotional person could really imitate the way I'd normally do. Honestly speaking, I was hurt.
Also Read: Delhi to Agra Bike Trip – A Short 2 Days Ride to Agra
Got up Again
Nevertheless, I decided to give it another shot in Lucknow where another City Event was to be held on 14th March. Parents disagreed to let me go alone, but this was my last chance to showcase & discover the true biking substance inside me.
I can fairly say that I wanted the world to know what I was made of. And that's why I packed myself up for the ride and went around to push the soring 1000+ km down with my best pal, my HUNK.
The HUNK itself!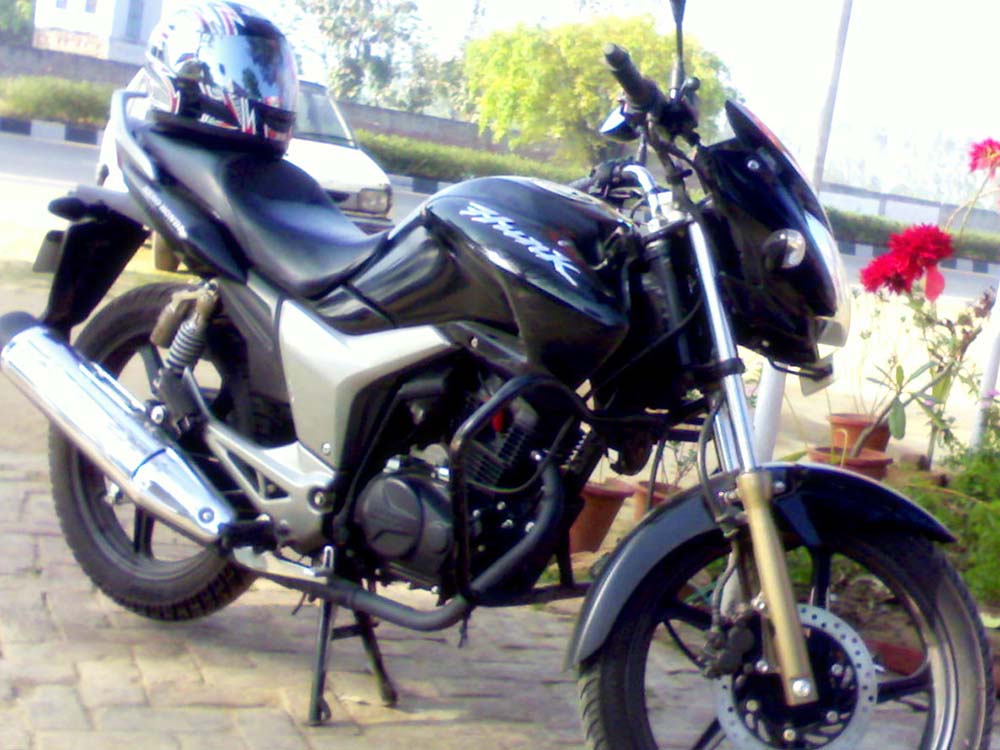 About Lucknow
Lucknow is the capital city of Uttar Pradesh, the most populous state of India. Lucknow is also the administrative headquarters of Lucknow District and Lucknow Division. Located in what was historically known as the Awadh region, Lucknow has always been a multicultural city.
Courtly manners, beautiful gardens, poetry, music, and fine cuisine patronized by the Persian-loving Shia Nawabs of the city are well known amongst Indians and students of South Asian culture and history.
Lucknow is popularly known as The City of Nawabs. It is also known as the Golden City of the East, Shiraz-e-Hind, and The Constantinople of India.
Also Read: Deoria Tal Chandrashila Trek – Travel Guide, Blog & Itinerary
My Delhi to Lucknow Bike Ride
A day before I had to ride, I got my bike serviced on 12th March. And bought a new OGK full-face helmet the same day. I decided to kick start at 5 in the morning but due to my ever-lasting laziness, I could only manage to leave home at 05:45 am.
Setting the trip meter to 0000, I was expecting a mileage of around 50kmpl or more from my machine as during the last road trip to Agra in January, my bike snored fuel @ 50 kmpl.
Rather, I was expecting a lot out of this road trip! I was a bit aware of road conditions on NH-24 coz every day I had to travel a piece of the highway to my college near Hapur City. But I never knew that the roads were a real mess after one crosses Moradabad and reaches Bareilly & Shahjahanpur.
The route looked like: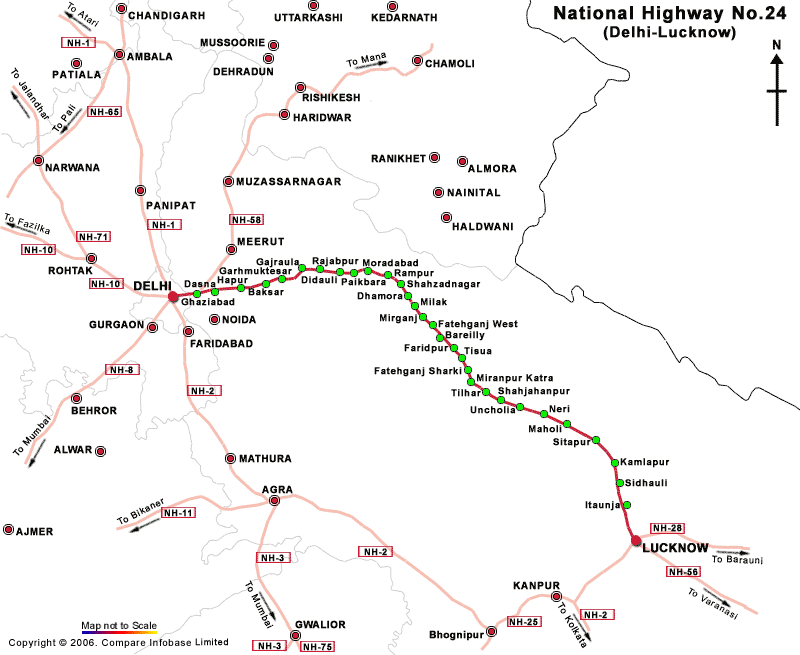 Delhi – 60 – Hapur – 100 – Moradabad – 91 – Bareilly – 160 – Sitapur – 90 – Lucknow
(Distances as per my bike's odometer)
On the Way
At 07:35 am, I stopped at Sambhavli to make a phone call to dad and that jotted down 76kms on my trip meter. I left Sambhavli at 07:45 am and drove along the under-construction sites on NH-24 to reach a dhaba at 08:15 am in Gajraula, 109.5kms from home.
I was starving so I jumped up onto the menu and ordered an Omelet with a coffee. Having gulped the stuff, I clicked a few shots of my ride and the place (like the one above) & soon went off leaving a small tip, for I needed wishes, regardless of the manner they came.
At the dhaba in Gajraula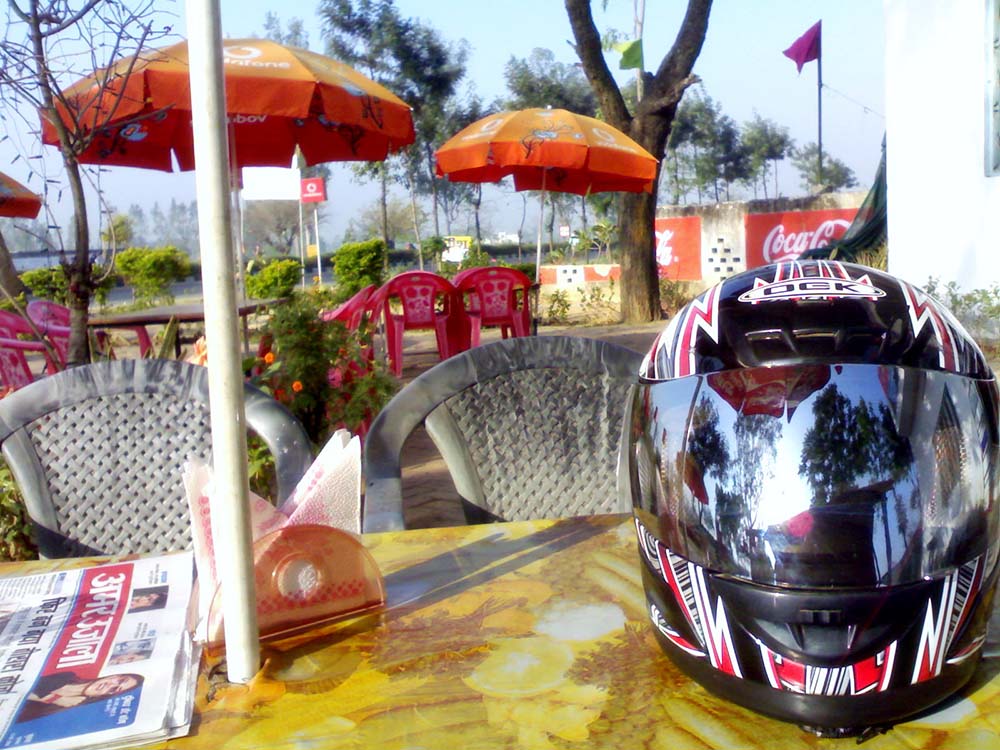 I crossed Moradabad through the smooth roads & reached Bareilly at 12:00 pm having ridden 251 km already.
Bareilly is a crowded city man; full of rickshaw drivers & street hawkers. So definitely not a stoppage for me for I hate crowd. I again stopped at 01:15 pm (307kms) somewhere near Bareilly district to freshen up and give rest to my companion.
It was a Hanuman temple on the other side of the road, so I decided to hop in. I clicked some pictures of my bike with the temple in the background. I even called up my cousin here in Delhi and confirmed my well-being. It was around 200 more km to go, so I decided to start again. Riding through the messed out, potholed roads of Sitapur, I landed in Lucknow at 05:15 pm. My ride went up to 501kms.
Lucknow
Now I was in the Passion Hunt City itself, so I drove directly off to the venue of the hunt in Hazratganj, for I couldn't simply wait until I saw the place. It was a college ground on the Rana Pratap Marg where the next megacity hunt was going to be held the next day. I felt low standing in front of the entrance gate of the venue, as it was a mixed feeling of confidence and fear. After all, coming 500 km down the line for a competition wasn't worth it, at least as far as my family is concerned.
But this was what I chose for myself. So I cheered myself up & called up my friend in Delhi to give me the contact details of his uncle in Lucknow. Having got the details, I landed up at the place at 06:45 pm, parked my bike inside the house, and stretched myself as soon as I hit the bed there. I was dead tired, so no more theories now. I had dinner and fell asleep at 09:30 pm with the alarm clock set to ring at 7 in the morning.
Also Read: Stok Kangri Expedition – Experience of a Lifetime
The Challenge
Alright, it was 14th March, the day itself. I was pretty confident regarding the hunt. I packed myself up for the competition and reached the venue at Hazratganj before the time at 09:45 am. My excitement at that moment was sky high. I found only 1 person standing near the parking with his bike which was by the side of the registration counter. There were no other participants there yet.
I parked there n went to fill the registration form and check out the rules and all. I met the rider from Lucknow itself, named Sam, who was studying as well as working in Lucknow only.
It was nice meeting a passionate biker in the first place after entering the strange city!! I registered myself and got inside with my machine with the hope that maybe this time I might get what I missed in Delhi.
Hunt was on!!! 1st round was the figure of 8 rounds. I managed to create 8 figures of 8 in 90 seconds (which was the allotted time). It was the same as much as I did in Delhi!! Then I was forwarded to round 2 which was a slow race and the rider had to finish in the maximum time the distance of 50 feet in a prescribed area!! I finished the slow race in 47 seconds which was pretty less than the highest which was 1min22sec.
The Win
But I still didn't lose hope for I knew I was gonna kick this one in the quiz round. And so what happened, I answered 10 out of 10 correct. I was delighted to hear my name in the top 11 bikers in Lucknow Event. Now it was the stage round in which every biker out of the final 11 had to speak for 2 minutes on the stage about his passion for bikes and the reason for which he was the most passionate one in India!!
People spoke a lot, so did I. I spoke my heart out in front of the judges. I'm glad I got a chance to speak what I really felt for biking and how strongly I was connected to it!! I'm glad that everyone was impressed by my speech and applauded me gracefully.
Now came the time when the final 4 bikers had to be declared!! I had my fingers crossed and guess what, I made it to the final 4. I jumped again coz coming so far and getting selected in the final 4 was much of an achievement..!!
Now it was the slow slalom round in which each biker had to complete a slalom race in the maximum time. I completed it in 67 seconds but there's always someone better than we are and so what happened. The winner guy did it in 2 minutes or so. He won and I ended up as a runner up.
The Prize
It was a feeling of having achieved what I wanted & at the same time, I felt disappointed for not winning the competition. However, I was willing to forgive myself for not being perfect. I felt glad that I did what I wished!! As a reward, I got a Castrol Power1 official jacket n two cans of Castrol Power1 Engine Oil. The jacket is super-sexy, I must tell u!!
With the judges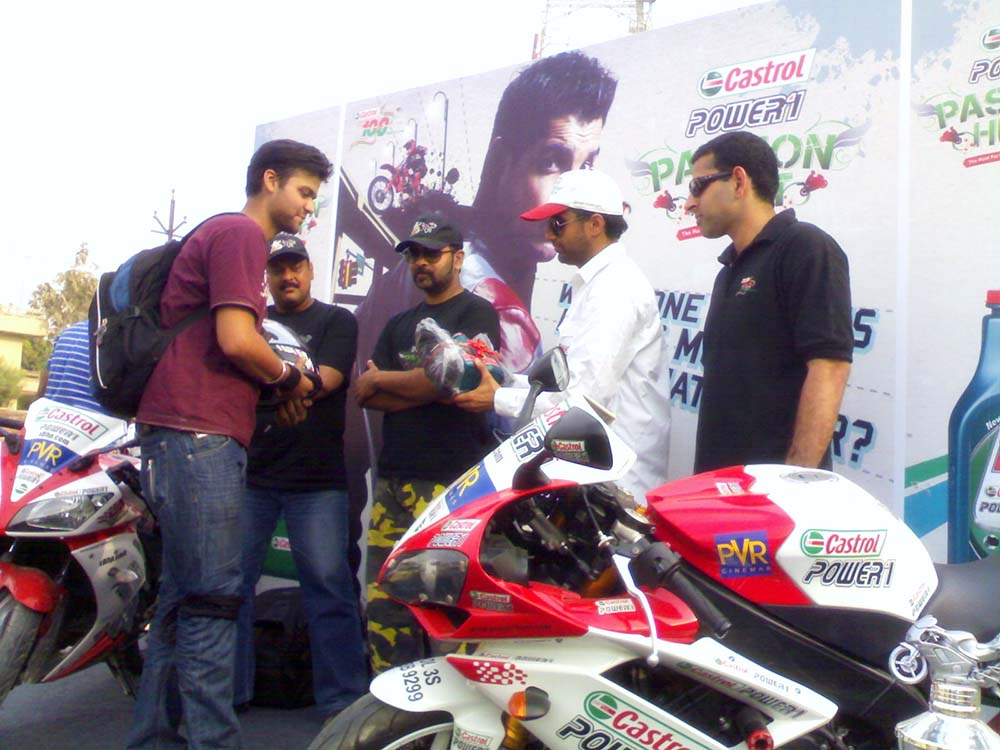 Again!!!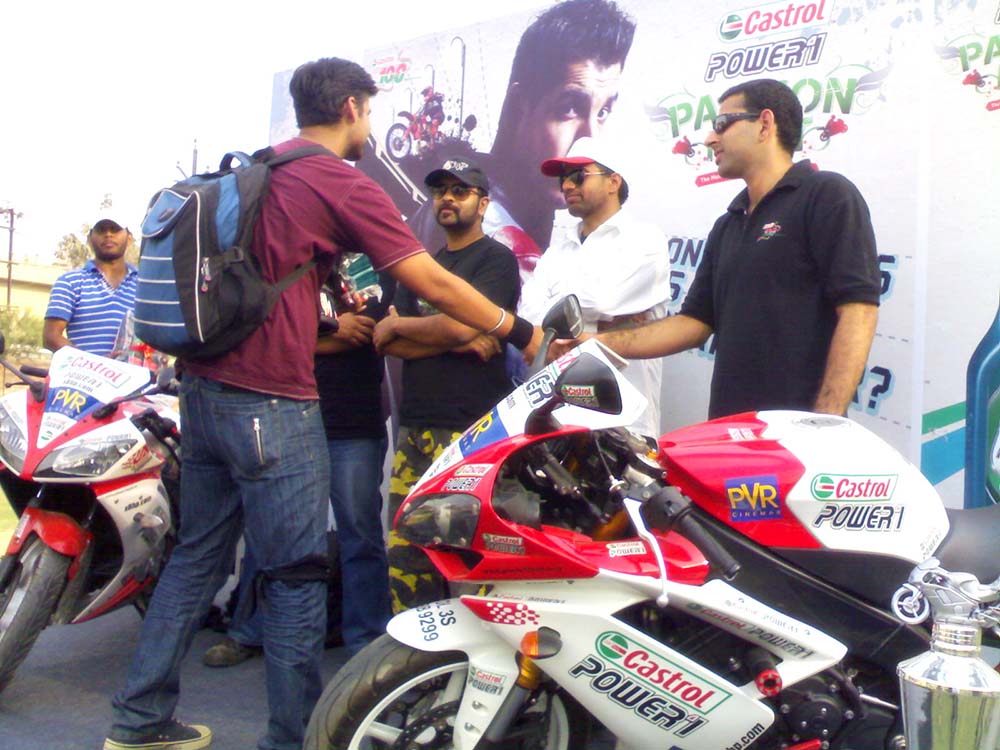 With Sundeep Gajjar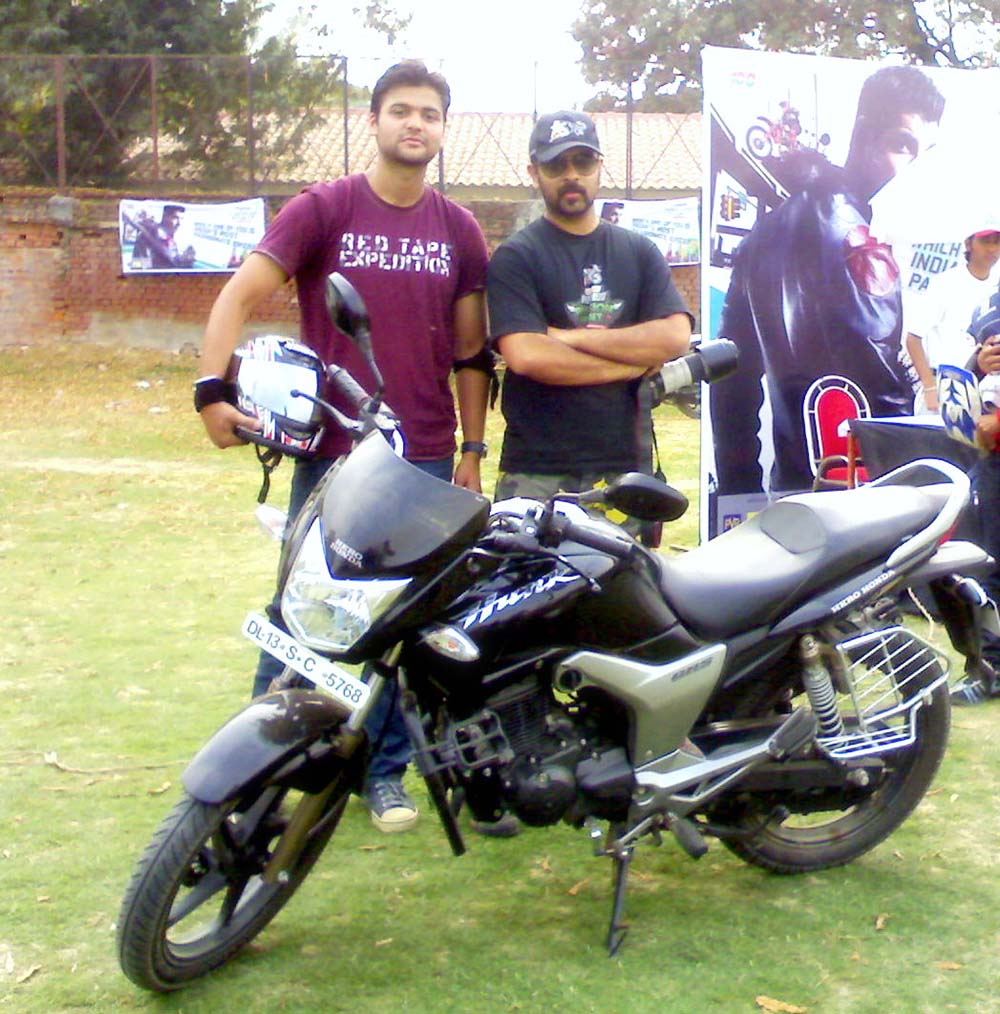 This one above is a picture with the Founder of the XBHP Biking Community. He's a man of substance & true biker indeed!
It was 7 in the evening. So I headed straight to my room and took a rest, informed my parents in Delhi about what happened that day, and fell asleep at 9.
Lucknow to Delhi
Early morning on 15th March, I started fresh from Lucknow at 05:30 am and my city was roughly 498 km away. The moment I looked at the km-stone of 498kms, I felt tired and at the same time, I was excited to go home and share my experience with my parents and relatives. So I kick-started myself and of course my bike and drove off for a not-so-giant road trip back home 500 km which I completed in 12hrs down the road!!
What goes next are some photographs that I clicked on my way back:
Reaching back home is an eternally delightful feeling. Looking at the faces of your loved ones gives you a sigh of relief for sure. When I reached home, I was dead tired coz I drove slowly but continuously for 12 hrs the whole day & felt like hitting the bed as soon as possible. But the moment I met my parents and friends at home, an aura of ease n delight pinged inside me & I was fine. Truly, it was amazing coming back home after this special road trip.
Some Points to Mention
Total distance covered – 1082 km
Fuel burnt – 22.54 liters
Total cash spent – 1100 for fuel & around 200 bucks extra
Total Time Taken – 11.5 hrs forth n 12 hrs back
I couldn't roam around the City of Nawabs myself but it's necessary to let my readers know more about the city. Some tourist attractions of Lucknow are listed below:
Qaiser Bagh Palace
Sikandar Bagh
Chattar Manzil
Bara Imambara
Chota Imambara
Aurangzeb's Mosque
The Residency
La Martiniere College
State Museum
The city offers a wide range of accommodation options and is easily accessible from the major cities of India by air, rail or road transport.
Well known Hotels in Lucknow
Hotel Clarks Avadh, U.P. Hotels Limited, 8, Mahatama Gandhi Marg, Lucknow-226001
The Taj Residency, Gomti Nagar, Lucknow-226001
Gemini Continental, 10, Rani Laxmi Bai Marg, Lucknow-226001
Sagar International, 14-A, Jpling Road, Opp. Butler Palace Lucknow-226001
Hotel Deep Palace, 12/47, Cantt Road, Lucknow-226001
La Place Park Inn, 6, Shahnajaf Road, Lucknow-226001
Arif Castle, 4, Rana Pratap Marg, Lucknow-226001
I lost my bike keys during the course of the hunt, but luckily I had spare keys with me which I took as per the checklist I prepared a day before going for the road trip.
Conclusion
I didn't win the title in Lucknow though, however, I still feel like a winner coz I won in the eyes of my parents & I discovered a real biker inside me who could follow his passion as far as it could take him.