If I told you I felt nervous, unsure, feeble, and muddled, I'd be understating my state of existence. If anything at all, I was vigorously numb. After all, it was the Stok Kangri expedition. After having shared countless breaths with the treacherous side of the mountain, I believe penning down the emotions is beyond human competence.
For anyone in their right state of mind, pushing their bodies at stretch for hours in sub-zero temperatures above the distant clouds is undeniably brutal. I'm going to try though.
Me and the Mountains
Mountains make me emotional. I'm usually teary-eyed when I express my love for the deserted pack of boulders making up the gigantic canvas, touching the blue heavens. Of all the delight on the planet, I find peace & bliss in the lap of the mighty rocks.
It's an idyllic relationship. It's the silence that draws me; yet tremendously expressive in its own ways. I've heard the best songs in the lap of the mountains where the thin air echoes passionately as the enchanting vocalist and the terrain dress up to the party amidst the friendly jewels in the night sky. I plan to never stop being a guest to this mighty extravaganza.
With the constant sweltering of irrelevant pressure at our daily jobs, we tend to lose out on the necessary warmth our minds & souls deserve. The enduring life swells across our lateral vision while we ensure we do our chores; repeatedly. The routines take up the space that once was vacant for us to fill with joy & contentment that give meaning to our existence.
But instead of chasing our dreams, we are being chased by our fears of losing out in the competitive world, full of lasting expectations & ruthless judgments. What happened to "I want to become…" and countless "When I grow up, I will…"! Those incomplete resolutions, the broken dreams stay close to our conscious but seldom make it to our attention. And we end up being who we are, broken & driven.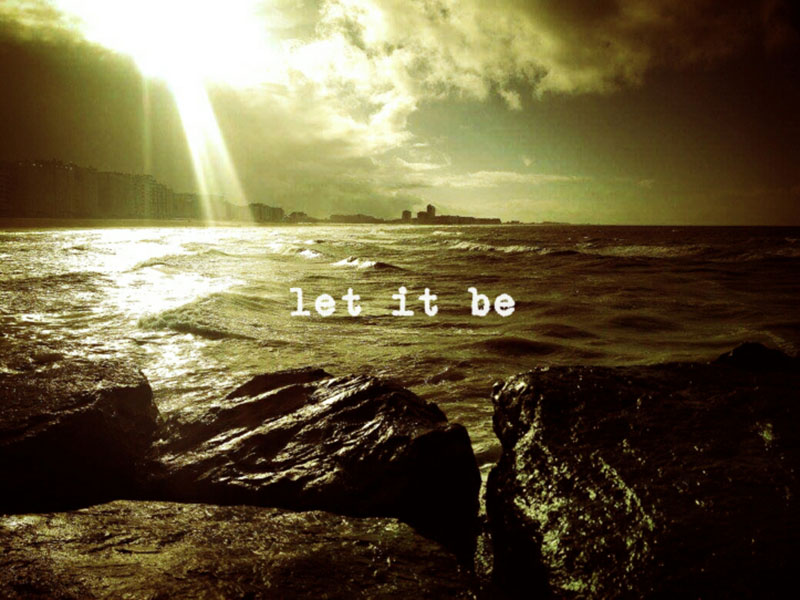 Stok Kangri Expedition
Hence, I promised myself years ago that I won't give in. I would stand up for myself & back my dreams. I realized we only have one life, & doing it right was my only option. No more excuses, no tantrums, no cold calls, no stupid emails & definitely no more procrastination, I decided to give it everything I got.
And that's when I decided to scale down the highest trekkable mountain on my land. Set apart from the numerous chimes of cityscape & indifferent thoughts of concrete mortality, this is my story of reaching out to the unimaginable space and finding peace with my real self.
It's more than a travel tale. It's my account of leveling scores with the pain I hold; the passion I endure. This story travels through the deep conscience of starting a fight with oneself, chasing down the fears & earning respect in one's own eyes.
This is where I celebrated my dreams in the most inhabitable moments. Here's how I found peace among deceitful peaks, uncongenial terrains, shattered will-power & immense love. Tag along on the journey to the summit of the highest mountain in the Ladakh region on Mt. Stok Kangri Expedition.
Preparation and Planning
You don't prepare for something this big in a small way. You study. And you study more & then you rethink your determination. And if your conviction is firm enough, you get to live the adventure. There are two perspectives to this enormous task; reasons why you want to do it & reasons why you wouldn't do this! Let me start with the former one.
I'm a product design professional with a fancy title & fancier paycheck. Work-life balance is durable but that's what keeps me going. Moments tick vigorously while I make it through the tangible schedules of the day.
Having done a fair share of motorcycle road trips across the country, I boast a few national level accolades to my name viz. Wrangler True Wanderer, Castrol Passion Hunt, and a few more. A keen nature lover, I'm a passionate shutterbug & a fanatic for writing.
The only thing I'm not is an example of the fittest alpha-male. I could be strong on the emotions & have a vivid thoughtfulness, somewhere with the time, I stopped respecting my body. From being a state-level basketball player back in the day, I don't even go for walks now. Such is the ordeal of work-a-day life. So why did I go against all odds to head for Ladakh, stare down the mighty summit & struggle up the steep barren path?
To see what I'm really made of.
"20,000 feet above sea level? That's high!", I said to myself when I heard about the country's highest trekkable mountain peak years ago. But that was a humble start. I knew there was a calling; howsoever futuristic. I'd read numerous blogs & watched videos about the challenges one faces on this gigantic trek in the colossal Himalayan terrain.
Stok Kangri
Being accustomed to the mountain air, I had been on numerous treks before this; Deoria Tal-Tungnath-Chandrashila, Triund to name a few. But I hadn't stood face-to-face to a summit this massive, a rock this dreadful & the air this frail. I hadn't walked on glacial ice before, let alone spending hours on it on the way to Stok Kangri summit; that too in the middle of the night driven to render me breathless But I have had the courage to go beyond my limits of physical & mental paradigm. That courage & belief drove me.
Now Mt. Stok Kangri stands proud as the highest peak in the Stok Range of the Himalayas in the Ladakh region of the Indian subcontinent. The peak is located in Hemis National Park, 12 km south-west of the Stok village, and around 15 km south-west of the city of Leh, the capital of Ladakh. Meant only for experienced trekkers, the 20,153 feet high summit is higher than the highest mountain in Europe & Africa.
The geography of the rock is pretty interesting. On one side lies the steep 60-degree climb to the shoulder & then a 200 meters enormously dangerous walk along the ridge to reach the summit. On the other side, there's a thousand feet vertical drop you don't want to peep into. Though one can reach the summit without any prior technical experience, this humongous trail shouldn't be walked upon by beginners. Get your game running & then head for the foray.
This was my chance at high-altitude trekking. And hopefully, into the technical mountaineering incursion.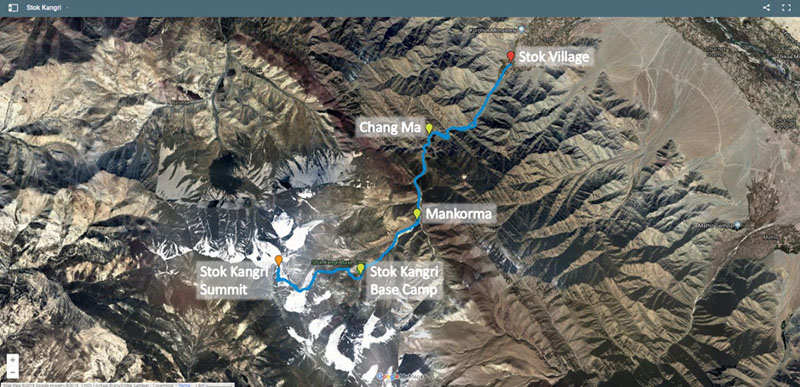 Gearing Up
The itinerary for the trek is segregated keeping in mind the participants spend enough time acclimatizing to the conditions, which is crucial before they arrive at the base camp. The altitude variations that one experiences on this trek make it mandatory for the trekkers to be in their best shape & spend ample time acclimatizing. Here's an altitude chart signifying the height variations throughout the trek: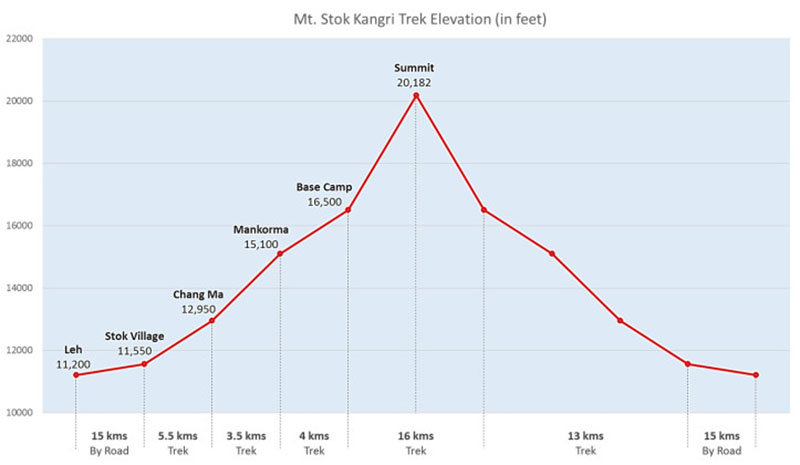 I trained rigorously for 2-3 months, combining tireless cardio routines with minimal weight training. The goal was to strengthen the core along with robustness for a strong cardio ordeal. I did just that. With each day passing, I grew a sturdier cognizance of the task at hand and prepared my body & mind for the strenuous journey up the mountain where every rock I stepped onto was determined to push me from achieving glory. On the day I was to fly to Leh, I felt strong & determined to take down the snow-capped massif.
Packing
Packing for such a remote & barren destination, you've got to stick to things you'd absolutely need. I packed my essentials well into the 60-liter rucksacks & kept my camera bag handy. I was carrying a Nikon D5300 DSLR Camera with 18-55 mm Kit Lens and a useful 70 – 300 mm to capture the curious details of the landscapes. Not to mention, my OnePlus2 camera did a great job of clicking its way through the quickest moments on the journey.
I intended to capture each moment & document in a video log, and that's why I carried a GoPro Hero+ v01.50 camera to capture the exhilarating moments of a lifetime. And most importantly, I carried a printed note for my parents back home, greeting them from the summit. Due to this endeavor, reaching the summit was of immense importance for me; to make my folks proud.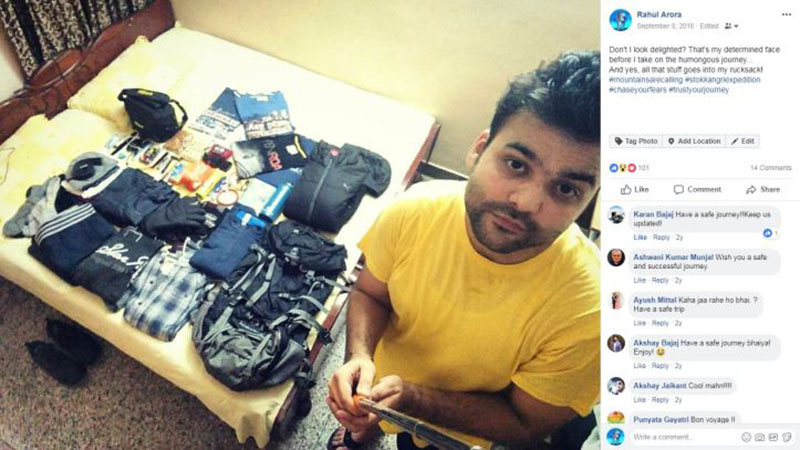 I shopped appropriately for snow gloves, fleeces, warm socks, head-mount torch, and other essentials from the Decathlon store in Gurgaon. And all this, somehow fit into my humble yet inflexible rucksack. Full marks to Wildcraft for coming up with such full-bodied packs.
Having packed my bags, I was ready to fly to the land of enchantment. Not just to scale the malignant heights, but to fulfill my destiny. It wasn't a quest for solitude, I had sunk that boat down the ocean a while back. It was about discovering my breaking points & the kind of strength that would lift me back up, once I'd break down. I knew I was meant to be more than I was; it was time I found out what limits I could reach. It was time, we celebrated dreams, up above the mountain.
Looking for adventures down the trail.
Stok Kangri Expedition – Conclusion
Please click on the link below to continue reading the travelogue further. If you have any questions about how you can plan your Stok Kangri Expedition, please feel free to ask in the comments section below and I will be glad to answer.