I read about Criminal Justice a few weeks ago when it was launched on Hotstar. To be honest, I did not watch it back then because my Hotstar membership had expired and I was in no mood to renew it just for watching criminal justice. Another reason behind doing so was that most of the reviews I read about the series were negative. Everyone was slamming it as unoriginal and boring. But then the last season of Games of Thrones was released and it was streaming on Hotstar as well. In order to watch GOT, I renewed my membership with Hotstar and after I was done with GOT, I ended up clicking on Hotstar on a Saturday evening. I watched the first episode and to my surprise, before Sunday morning, I was done with the entire series after binge watching it the entire night.
Is the series an original idea? Definitely not. If it flawed? Yes. Will it make you laugh at its silliness a few times? Yes again. But at the same time, Criminal Justice will keep you hooked to the screen and will keep you entertained. No. I am putting it in the category of "So bad that it is good" shows or movies. The show has its own flaws but still manages to pull it off by the end of it.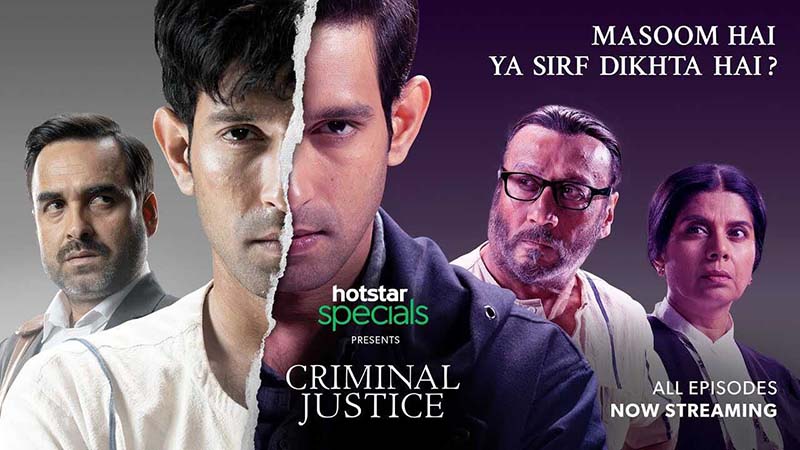 Criminal Justice

Criminal Justice is an Indian series based on a British television series of the same name. It was produced by Hotstar and is now available on its new label 'Hotstar Specials'. It was released on 5 April for a total of 10 conclusive episodes.
The series tells the story of a cab driver, Aditya who on one night picks up a pretty girl as a passenger. After a series of incidents, he ends up having a one night stand with her under the influence of drugs. When he wakes up in the middle of the night, he finds the girl dead with stab wounds in her back and the knife in his own hand. He has no recollection of what happened or how did the girl end up dead. Scared, he tries to run away but is arrested and accused of murder. The remaining plot is how he goes through the criminal justice system and proves his innocence.
If I am to name the good things about the series, it will probably be just two. First one is a promising story and second is the acting of its lead cast including Vikrant Massey, Pankaj Tripathi, and Jackie Shroff. They pretty much carry the entire story on their shoulders and without their acting, I think the show would just end up being boring. The biggest problem with the series is its run-time.
Review
I think it could have easily been would off in 4 to 5 episodes and if it did, would have been much more interesting. The jail scenes and characters are pretty much cheesy. I think they tried to take the ideas from 'Prison Break' series but failed at it miserably. You will actually laugh at how the entire series of events in the jail was showed. There are a lot of continuity errors as well. In the end, the murderer is revealed but there is no explanation of how it happened. The show actually concludes leaving a few loose ends and questions unanswered.
Despite all its flaws and cheesiness, Criminal Justice actually still pulls off to be an entertaining show. It never actually gets to that level of being boring that you will think about turning it off. Episode after episode, the story gets told and you will listen to it patiently ignoring all its mistakes. The show will get slow after the first couple of episodes and the jail scenes will just feel unnecessary and stretched. But despite all this, I would still recommend that you stick with it. The final twist in the story is not much of a twist and won't surprise you much but is a twist nonetheless. The show is gripping and well acted. The screenplay is a little slow but still, I liked it.