I am not really a hardcore critic of movies or TV Show so will keep this review a very simple one. The fact is that no matter what you say about Hotstar's latest offering City of Dreams; it still manages to keep you involved for all 10 episodes. Majority of the reviews that the show has received are negative; slamming it as disinteresting, not worthy, unnecessarily sexy and riddled with cliches. I am not saying that the reviews are wrong. I am myself calling it as flawed but despite all that, you will end up watching all 10 episodes and with interest. This very fact tells you that you can call this show whatever you want, but one thing that it is not is boring.
City of Dreams tells you the family of a political and powerful family. The father, played by Atul Kulkarni, is a prominent godfather-like political figure in Maharashtra. He survives an assassination attempt but slips into a Coma. Assuming that he will probably never wake up, there starts a succession struggle in his two children. The son is a complete man-child moron, into drugs and prostitutes. The daughter is a lesbian and a power-hungry woman who will go to any lengths to get what she wants. So yes, as you can see, the story is indeed a cliched on.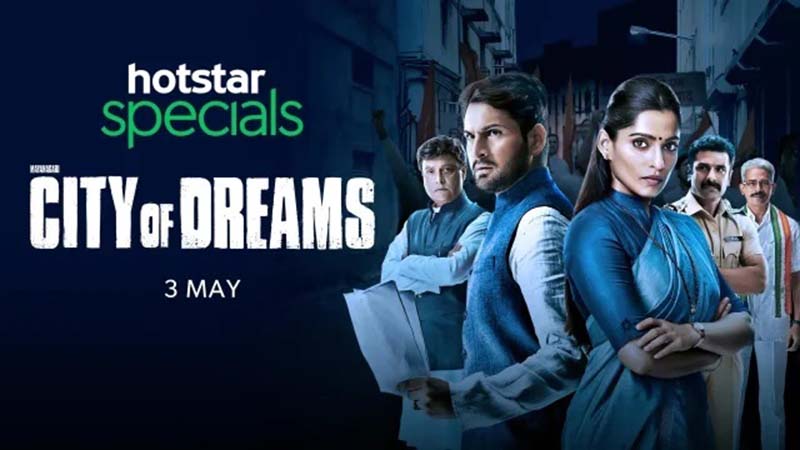 Last year, Netflix came up with Saif and Nawaz starrer Netflix that was praised by everyone. Amazon's Prime Video than came up with Mirzapur which received a mixed opinion but mostly positive. It was called Prime Video's response to Netflix's Sacred Games. So when Hotstar released City of Dreams, it was automatically compared to both Sacred Games and Mirzapur.
City of Dreams
But unfortunately, there is really nothing that saves City of Dreams. My biggest complaint with this show was that an actor like Atul Kulkarni remains on the bed in a coma for the majority of the show speaking not even a single word. Rest all the other actors are average at best. Priya Bapat who plays the role of the daughter was praised for her performance but if you asked me, I think she probably was the worst one. Every actor fails to create that urgency in the audience and you do not feel the thrill that a show like this is supposed to create. Instead, you just sit and watch, episode after episode, wondering about what happens next.
Yes, there is a lot of swearing in the show and much of it is unnecessary. I think Sacred Games has set in motion a wheel of using such kind of language in shows and movies and there is no stopping it now. Women of City Of Dreams actually swear more than the men. The writing is really bad and dialogue delivery is pathetic. This show will actually at certain times look like a poor copy of Amitabh Starrer Sarkar. There is supposed to be a twist in the story about who attached the minister. But you would see that twist coming from miles because even that is copied from the movie Sarkar.
Final Verdict
Final Verdict? It is really a typical Indian storyline with a lot of masala added in it. I just wish they had hired better actors and worked on the storyline a little more. Yet, it is good enough for one time watch. No matter how bad the actors get, the pacing of the story is just about right and it will keep you wanting to finish all 10 episodes. Give it a try over a weekend and see if it works for you. Hotstar released it calling it as Hotstar specials but there is really nothing special about this show.