I just finished watching this movie called Choked Paisa Bolta Hai on Netflix. Actually, I should rather say that I tried watching it. I opened Netflix to continue watching a series that I was watching earlier but then I noticed the trailer of this movie instead. I read what it was all about and since the premise sounded interesting, I decided to give it a try. By the time it ended, I was seriously regretting my decision.
To summarize in brief, this movie starts really well but then also loses it quite quickly. First, it gets slow, then dull, and then eventually too boring to continue watching. Even the ending was quite ridiculous. If you were thinking of watching this one, my recommendation will be that you don't.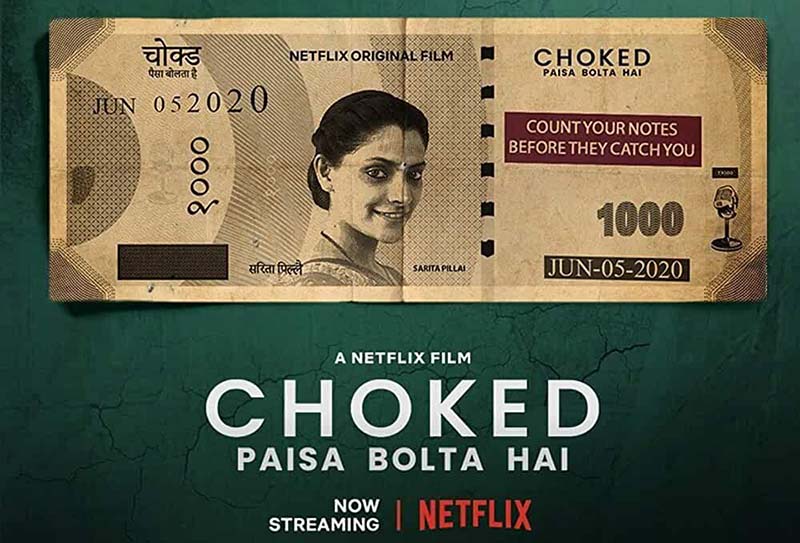 Choked – Paisa Bolta Hai
For a brief overview, Choked: Paisa Bolta Hai is a Hindi language drama film directed and produced by Anurag Kashyap for Netflix. The film stars Saiyami Kher and Roshan Mathew and was made available for online streaming on Netflix in June 2020.
The movie is set against the backdrop of the 2016 Indian banknote demonetization and tells the story of a bank cashier who discovers a stash of cash hidden in her kitchen sink. This is what really made me watch the movie. I thought it was going to be a crime thriller. But instead, it turned out to be more of a family drama, story of a husband and wife trying to make the ends meet.
Review
What was good about the movie? I think nothing. I do not really mind watching a family drama as well but they could not even make that properly. The idea of the story was great but the narrative was too weak. It follows the story of a bank employee who was really at her lowest in life with a monotonous government job and an unemployed husband. Then suddenly, one day, money starts to flow into her house from the drain. Sounds interesting? It does but the sad part is that the creativity stops at this idea only.
This movie is 2 hours long and drags slowly for the most part of it. I think it could have easily been wrapped up in 70-75 minutes. But with 120 minutes of runtime, most of your time gets spent waiting for something to happen which never does.
In terms of acting, everyone is at their worst. Saiyami Kher goes through the movie with a single wooden expression on her face, like a robot. Roshan Mathew as an unemployed husband is as unconvincing as ever. The rest of the supporting cast was equally bad.
The music was nothing worth mentioning. It adds absolutely no value to the movie at all. The worst part however is the plain boring writing and pathetic direction. The movie has a dismal storyline and runs without any twist and turns. Whatever twists are shown doesn't make any sense. There were a lot of unexplained scenes and the characters just seemed annoying.
Conclusion
My final word on this is that Choked doesn't quite live up to its premise. It is a disjointed, slow, and confusing mess that makes the viewer as tired as the protagonist. Sadly, all of Netflix's recent Indian offerings have been terrible including Betaal, Ghost Stories, Mrs. Serial Killer, Drive, She, Hasmukh, and now this. You must skip this movie and watch something else.