I just finished binge-watching the latest Indian web-series by Netflix, Bard of Blood. When I was done, I went online just to see what other people thought of the series and was surprised to read all the negative reviews about it. It was being called really bad, full of cliches, a failure and highly unsatisfying. After reading all this, I asked myself if it was really that bad and the answer I got was no, it wasn't.
I agree that the Bard of Blood is not going to win any awards. It is not going to leave you with a dropped jaw by the end. There are times when it would feel a little amateurish. But one thing that this series will not do is to bore you. You will watch it episode after episode without thinking about giving up. It is a light but fast-paced espionage thriller that sticks to the main plot, has no boring side stories going on and does not drag unnecessarily.
The story is based on an Indian fictional spy thriller espionage novel of the same name by Bilal Siddiqi. He actually wrote the novel at the age of 20 during his college days in Mumbai. It is produced by Shah Rukh Khan's Red Chillies Entertainment and stars Emraan Hashmi in the lead role supported by Vineet Singh, Sobhita Dhulipala and Jaideep Ahlawat. Running for a total of 7 episodes of 45 minutes each, the show tells the story of Kabir Anand, a former Research and Analysis Wing (RAW) agent who gets pulled back into a conspiracy after Sadiq Sheikh, his ex-boss is murdered. Meanwhile, 4 Indian agents are captured by Taliban in Balochistan and it is on Kabir to successfully carry out a rescue mission.
Bard of Blood
I will not write any more than this about the story because that will then become a spoiler. I am not movie critic either so I won't get into any unnecessary technicalities or write a long review that will take you 15 minutes to read. Keeping it short, what I can tell you is that you should give Bard of Blood a try. It will not disappoint you but at the same time, do not compare it with any other show. Just a couple of weeks ago, Amazon released its spy thriller The Family Man and people are comparing both the shows. However, the only similarity between these shows is that they are both spy thrillers and have the story surrounded around Balochistan. Other than this, there is absolutely no other similarity and they are both equally good.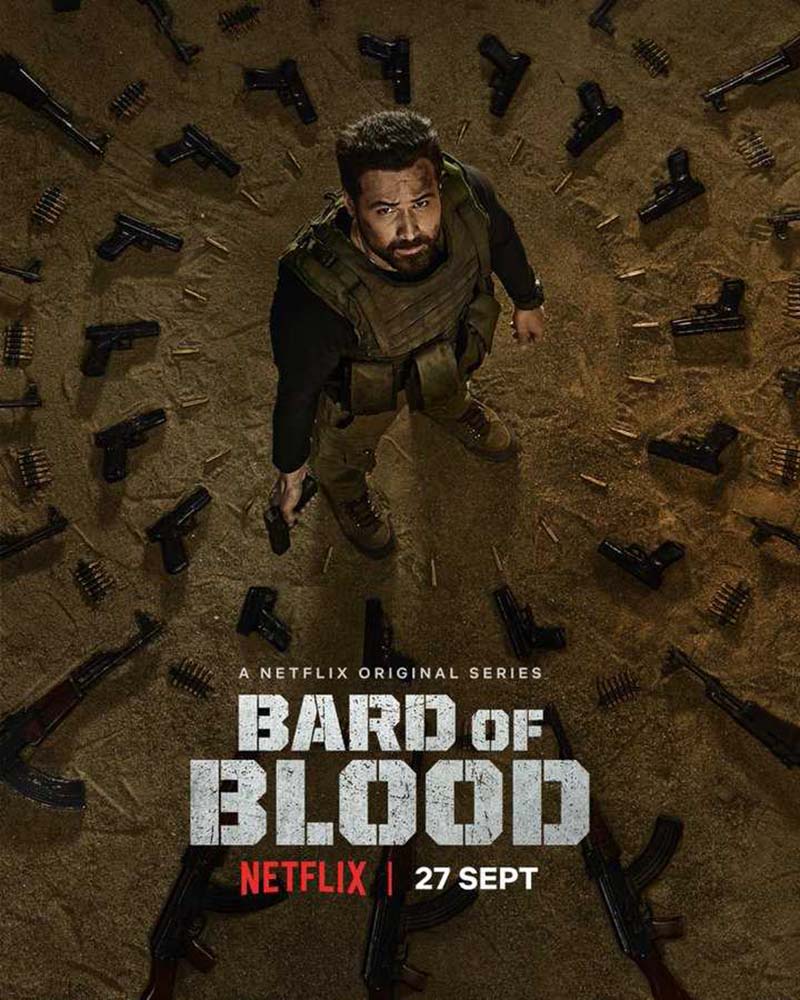 The show is an engaging one and the action sequences are very well shot. The performances of the entire cast, not just Emraan Hashmi, are superb. The majority of the show is shown as shot in Balochistan but it is actually Ladakh and the city of Leh (which is actually another similarity that the show shares with The Family Man). Locations chosen are great and they did a great job to make the localities and the areas look like a Taliban stronghold. The hand to hand combat sequences are nice. The background score too was good and helps to create the required tense environment.
The Good Part
The best part I like about Bard of Blood is that it remains to the point. Even the past story of Kabir Anand is kept very brief. There are no unnecessary side stories merged with the main plot. The romance scenes were not unnecessarily stuffed in or dragged. The style of storytelling is superbly done and the character development is done in bits and pieces; instead of all at once. Another great part is that Cuss words and swearing are almost next to none. It was a pleasant surprise after watching all the other shows where the excess of profanity leaves a sour taste in the mouth.
There is absolutely no nudity in the show and except for one episode; there are no sex scenes either. Even that one sex scene was very brief and without any nudity. Surprisingly, it was an Emraan Hashmi starrer show and there was not even a single kissing scene in all 7 episodes. There are tons of action sequences. People get shot at and die but there is no gore in any of the scenes at all. Considering all this, I will say that the makers of the show had the guts to not blindly follow what everyone else is trying to sell these days.
Final Verdict
There are of course several small faults as well in the show; and I really wish they had given some attention to those. The shots of Leh town and Ladakh will only be recognized by people who have been there numerous times; so that can be ignored. But they don't use TATA & Mahindra cars in Balochistan. They don't use Royal Enfield Himalayans there. How can a viewer digest that? Even the trucks they used look straight from India.
In the end, I will say that the Bard of Blood is not as bad as everyone is saying. It is a great show with good casting, great actions sequences, brilliant locations and camera, gripping scenes and good writing. Give it a try and you will not regret it.