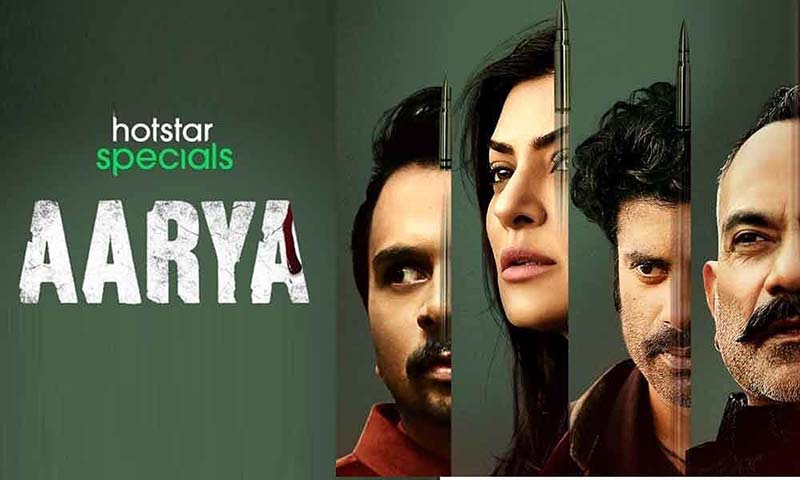 I wasn't really sure what to expect when I started watching Aarya on Hotstar. Reading the synopsis, it looked like another one on the same storyline that has already been done to death by Bollywood; the story of a simple housewife whose family suffers a tragedy, and then she rises up to the occasion; becoming all-powerful and surprising everyone. But then I read the reviews about it on the web and they were all mostly positive; so I decided to give it a try.
Yes, the story was quite similar to what I expected. But the surprising part was that the show still turned out to be an entertaining one. It is true that it won't be winning any awards and has several loopholes but it still is an engaging thriller that you will not regret watching. From start to finish, it manages to keep its viewers engrossed and ends on a satisfactory note.
Aarya
For a brief overview, Aarya is an Indian crime drama web television series produced by Hotstar. The show was made available for online streaming in June 2020. It stars Sushmita Sen in the titular role and consists of 9 episodes of about 1-hour runtime each.
The show is inspired by a Dutch show 'Penoza' and tells the story of a crime family involved in drug distribution. Chandrachur Singh is leading the production and distribution of the drugs but wants to get out. Before he could do so, he is shot dead by an unknown assailant and his wife Aarya, played by Sushmita Sen, is forced to take his place as the head of the crime family.
What follows is a 9 hours long story of how Aarya takes complete control of the business and also avenges her husband's death.
Review
This show will remind you of another Hotstar series called City of Dreams. The stories were way different but the basic idea was pretty much the same. The biggest difference however was that while the City of Dreams was average at best, Aarya is much better in almost every way.
Sushmita Sen shines brightly throughout the show. I was never really a big fan of hers but she was really impressive this time. Not just her, but the rest of the supporting cast too did a great job. I was surprised to see Chandrachur Singh after such a long time, not sure where they dug him up from. His role is limited to just 1 episode but you will like him.
The story is well told in a gripping and well-maintained manner. It gets a little dragged in some portions but that is acceptable. There were some unnecessary parts that could have been cut out and the run time could have been reduced to about 45 minutes per episode. But even those parts aren't something that will bore you.
The show is also meant to be a whodunit murder story but it will not take you more than 4-5 episodes to figure out who was behind it all. There are shades of suspense and thrill in the show but it largely is designed as a drama. When the identity of the killer is eventually disclosed in the show, it is never like a big reveal. So it is really more of a crime drama than a murder mystery.
The best part about the show was the script. Dialogues were good, not heavy, and very well delivered. The characters and settings are more believable and ones that you might be able to relate to.
Conclusion
Is Aarya perfect? No, it is not. Does it have loopholes? It does indeed and will leave you rolling your eyes several times. But all that is really minor stuff. Overall, it is a greatly entertaining show that will not disappoint you. If you like crime thrillers or murder mysteries, I will highly recommend giving Aarya a try.