Why you should not buy a Royal Enfield?  Google this and you will have an endless list of articles written on the topic. Ask this around and you will have no difficulty finding people who hate Enfield motorcycles; and would love to go on and on about how a Bullet is a complete waste of time and money. Are those reasons correct? Probably yes but not in the way they get told. In this article, let me list down a few reasons to not buy Royal Enfield but from a more practical point of view. I know this is a bold claim that I am making here; but read on and you will understand how and why a Bullet can prove to be completely disastrous for you. I will talk about buying both a used and new RE.
Image Credit: Royal Enfield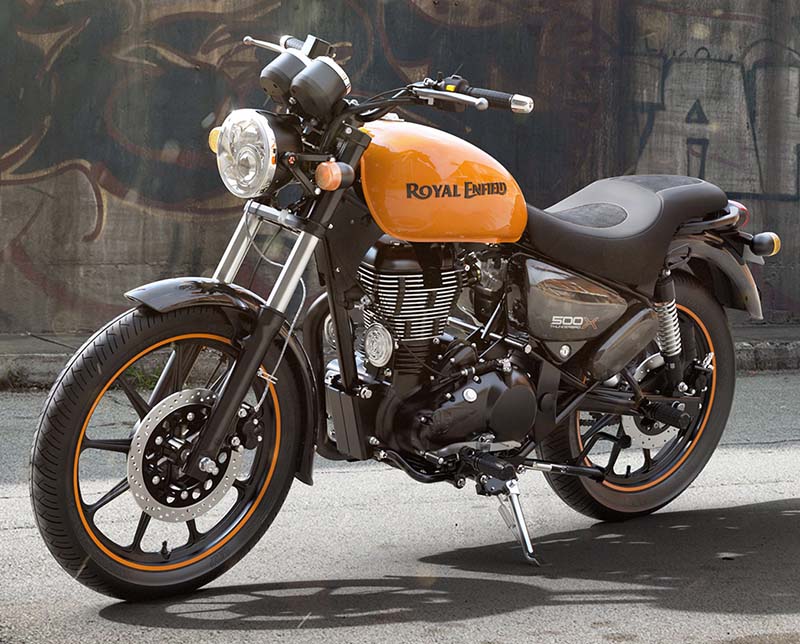 First questions first. Are Bullets really as problematic as everyone says? Definitely yes. An RE can become your worst nightmare and leave you wishing to go back in time and stop yourself from buying it. But then you also need to ask that if it is so problematic then how is it that they have been selling these for over 50 years now? How is it possible that a machine so terrible has people ready to wait for 6 to 8 months after booking to get their hands on it? Why RE is probably the only Indian machine that has an online market and gets sold even in other countries?
The answer to this question is that an Enfield has never been an everybody's motorcycle. After all the recent modifications, changes and model upgrades, one truth that still holds is that it still not a machine that just about anyone can buy.
Do not get me wrong. I am not saying what I said above from the point of a person's financial or physical capabilities. This is a statement referenced to a person's taste, preference and to some extent, lifestyle as well. Before buying an Enfield, you need to ask, what is it that you want to do with it. Ride it around is of course the answer but how and where. The argument on whether or not to buy an Enfield is not really a long one. It is a pretty simple analysis by the end of which, you yourself will know the final answer.
Also read: Royal Enfield Himalayan – Is it worth the Money?
Buying a new Royal Enfield
Until a few years ago, one of the biggest factors that kept people away from Bullets was certain set of mechanisms that were different from other motorcycles. Yes, I am referencing to the placement of gear shift and brake pedal which were on the opposite sides than all other motorcycles. People were afraid that if they rode an Enfield, they will get confused between gear and brake and may end up crashing it. Another factor was the heavy kick which was notorious for bouncing back, so much that people even got hurt. All this however changed in the newer models and you now have the option of buying a gorgeous looking cruiser with electric start, unit construction engine and disc brake. But does this mean that it is now like all or any other bikes? The answer is a No.
The biggest problem is that people buy before thinking and regret it later. They just want to look all "macho" riding a Bullet but do not think whether or not they will be able to handle it.
Speed of Royal Enfield
When buying a new Enfield, the biggest factor you need to consider is the speed. Call it an engine limitation, design fault or whatever you like; but the fact is that an Enfield is happiest while cruising at a speed of 70-80 kilometers. Ride it for a speed greater than this at a long duration and it is bound to start showing signs of stress. The motorcycle will of course not crumble and fall apart but the vibrations caused will ruin the riding experience for sure. If you continue riding it at great speeds regularly, then the engine too will soon start giving problems. So if you are someone who loves speed and need a motorcycle that you can keep above 100 regularly, then Enfield is not for you.
If yo knew this about yourself and still bought an RE, then it is your own fault and you have no right to crib and cry about the machine.
Also read: 11 Reasons to Buy a Royal Enfield
Weight of Royal Enfield
Do you need a motorcycle that is light in weight and you can just maneuver around in the city? Do you want to ride around at night pulling stunts and wheelie? Then better stay away from Royal Enfield. Before buying an RE, you really need to consider your overall physique and make a sound judgement about whether or not you will be able to handle the weight.
Mileage of Royal Enfield
Are you looking for a motorcycle that gives great fuel efficiency? If yes then you are better off looking at a motorcycle with 125 CC engine. A Royal Enfield at its best will not give about 30-35 kilometers per liter. If that is not an acceptable number to you then sadly an RE is not for you.
Also read: Why People Hate Royal Enfield So Much
Sports Motorcycle
Have you always been slightly inclined towards sports motorcycles but lately got a bit confused? Do you ogle still at trendy and fast sporty bikes rather than a heavy cruiser? If this is the case then you must not buy a Bullet. If you do then you will only regret it later and blame the machine.
Girlfriend Issues
On a lighter note, do you need a motorcycle where your girlfriend will be all over you because the rear seat is so inclined? If yes, then avoid RE like a plague.
These probably are the only reasons that I can think of to drive a person away from Royal Enfield. If someone was telling you about performance, ride quality, comfort, bad engine, not reliable or any such reason, then that person did not know what he was talking about; it is as simple as that.
Buying a Used Royal Enfield
The reasons around are this quite simple, and just one, to be honest. When you buy an old machine, you already know that there could be some problems with it. With Bullets however, these sometimes can be several decades old and people still buy them. Whether or not you should depends on just one factor, do you have the patience? What has patience got to do with it? Read on to know.
An old Bullet will never go fast, you will have to restrict it speed at about 50-60 kmph at most and sit on it patiently. You will have be patient again if it breaks down on you which may happen considering the fact that the machine is old. Do you have the patience to love and care it and take it to a mechanic every now or so just for a general check up? Do you have the patience to learn a bit of minor repair work yourself and become a grease monkey sometimes? If the answer is no then you must not buy a use Royal Enfield. Honestly, If you are thinking that you will buy a 20 years old motorcycle and it will run smooth without any problems ever then you are absolutely wrong.
Also read: Royal Enfield GT Discontinued in India
If you want to buy a vintage Bullet than be ready to spend time taking care of it. The fact in the end is that an old machine is old. Just like humans, as we get older, our visits to doctor increase. We start to experience discomfort and complain about it often. Our medical bills increase. Same is the case with an old Bullet. You will have to be patient with it if you truly want to flaunt an timeless iconic machine.
Why you should not buy a Royal Enfield?
What I listed above are the only valid reasons to consider. Rest is all just talks by people who either have never owned an RE; or bought it just for the sake of it, only to regret later because they were looking for something else; something that an RE doesn't offer in the first place. Truth be told, it is one of the most reliable motorcycles in Indian market. It is the world's oldest motorcycle still in production and still going strong. It was a crappy motorcycle like everyone told you it was, then there is no way it was going to last this long. I hope the information above was of help. If you have any further questions, please feel free to ask in the comments section below; or at our Community Forum; and I will be glad to answer.