To buy or not to buy is probably the biggest dilemma for a person who wants to buy a new motorcycle and has been considering Royal Enfield as an option. Why the dilemma? Well apart from the regular confusion about which motorcycle to buy, RE's also happen to be one of the most criticized motorcycles in our country. This leads a person to seriously consider whether buying a Bullet will be a good or bad decision. If you too fall in the same category; are fascinated by Bullet and want to buy one; but are apprehensive about it; then in this article I will list down a few reasons on why you should buy a Royal Enfield. Hopefully after reading this, you will be able to make a choice and decide which motorcycle you want to buy.
Image Credit: Royal Enfield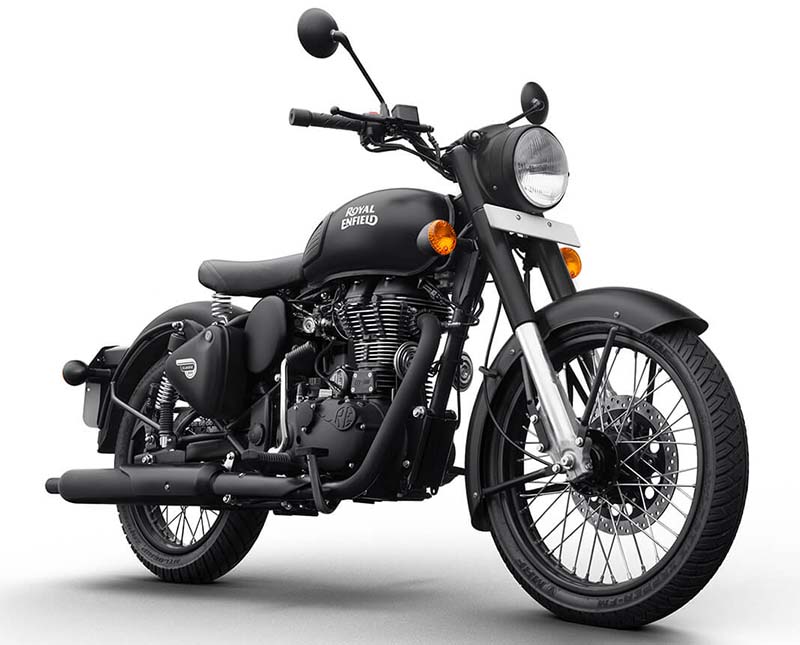 Why You Should Buy a Royal Enfield
In a time not too long ago, Royal Enfield was an acquired taste. You won't really see many of these on the roads. The company sold only a limited number per year and was on the verge of bankruptcy. Then a few years ago, lot of changes both in terms of cosmetics and mechanical were made; and now Royal Enfield is probably the highest selling motorcycle in Indian market. Go anywhere and you will find an RE parked. So why is everyone now buying a Bullet and why you should too? Well, below are some of the most prominent reasons. Please note though that I am listing the reasons below from the point of buying a new RE and not an old one.
Also read: Why you should NOT buy a Royal Enfield?
Road Presence of Legendary Bullet

This has been one of the biggest advantages of buying a Bullet. They have been selling these motorcycles for over 50 years now and this reason has never gone away. It does not matter whether it is an old Bullet or the newer model, a Royal Enfield will always attract attention. The very design of the motorcycle is timeless.
Think about it, every other motorcycle manufacturer changes their designs and will launch newer versions because after a while, the previous ones just do not sell. They have to keep introducing something new to keep their sales up. With Royal Enfield however, this never was or is the case. They are still carrying on a design from 50 years ago and it still seems fresh. It still looks appealing and people still buy it just for that very design. Ride an RE and it is bound to make its presence felt either because of its looks or the legendary thump.
Also read: Royal Enfield Himalayan – Is it worth the Money?
Reliability of Royal Enfield Motorcycles
Everyone will tell you that RE's are the most unreliable motorcycles available which however is entirely incorrect. This is just a stereotype. Like any other machine, if you give proper care, a Bullet will never cause you any trouble.  The newer models are powered by a unit construction engine which not only is easier to maintain but also is way more advanced than the old iron AVL engines. The company provides a warranty of 24 months which shows their own confidence in their machines. A Royal Enfield without doubt is one of the most reliable motorcycles you can get in Indian market today.
Power of Royal Enfield
I have been blogging about biking and traveling for several years now. When it comes to rough terrains like Ladakh and Spiti; or any other hilly region as a matter of fact, one of the most common question I get asked is "Can my motorcycle handle this region?" This question comes from all type of motorcycle owners but never from a person who owns a Bullet. That is because when you own a Royal Enfield, you already know that your motorcycle is capable of handling any incline or any terrain; that it can go anywhere whether there is a road available or not. If you are a travel junkie then you also have the choice of choosing bikes like Himalayan; which is specifically designed for the hills with all the power that an RE offers.
Royal Enfield Ride Quality
And it is not just the hills and rough terrains that a Bullet proves its metal on. Even on the highways and plains, the ride quality of an Enfield is unmatchable. The overall heavy built matched with superb low end torque will provide great highway stability with no loss of traction anywhere.
Fuel Efficiency of Royal Enfield Bikes
Despite the big engine and heavy built, an RE will easily give you a mileage of 30-35 kilometers per liter, even the bigger 500CC engine will unless it is very poorly maintained. This in my opinion is a "doesn't get any better" deal. You get all the power without spending loads on fuel. Chose any other motorcycle available and they will pretty much give you the same fuel efficiency but with a much smaller engine. A great reason to buy an Enfield.
Royal Enfield Build Quality
And I am really talking about the age here. An RE is built to withstand time. Did you know of any other bike which lasted 20 to 30 years and was still capable of an easy journey? Buy an RE, maintain it well and you know that it will serve you for years to come.
Also read: Why People Hate Royal Enfield So Much
Everybody's Motorcycle
Now this is really a comparison among RE models themselves; the previous ones vs the newer ones. One of the biggest apprehensions people had earlier was the different kind of mechanism a Bullet had; and by this, I mean brake on the left, gear on the right; decompressor, the notorious bouncing back kick which was capable of hurting people; missing electric start, no disc brakes etc. In the newer models, company changed all this and made it standard like all other bikes. Now the positioning of gear and brake is common; decompressor is gone, kick do not bounce back like it used to;  and you have the choice of electric start and disc brakes. Now you do not need to have any specific skill set or knowledge to ride an RE.  These are now easy to maintain and ride around.
Royal Enfield Comfort
I know this is a bold claim but I will still make it. An RE is the most comfortable bike that you can get specially for longer rides. The overall seating position is perfect for a cruiser and doesn't stress the rider too much during long rides. This is the very reason why most of the riders who go on long motorcycle rides will always have a Royal Enfield.
Royal Enfield Customization
The customization choice an RE offers is vast. All that you need to have is imagination and find someone who can do it for you. No other motorcycle offers such customization options in India. If you are someone who likes their rides to be unique, then Bullet is the best motorcycle for you. Another added advantage is  that making changes to an RE is not that cumbersome a task and even simple mechanics in many cities do this work. So finding someone to modify your motorcycle too is quite easy.
The Cult Following
The very name of the motorcycle attracts followers and has become a cult. There are numerous groups all over the country who ride Royal Enfields and have named themselves after their motorcycle. Except for Harley Davidson which is then way too costly for everyone to buy; I do not think there is any other motorcycle in India that enjoys this kind of status. Buy an RE and you know that you are riding a machine that even time itself has not been able to diminish the charm of. It is a motorcycle that sells for a reason as simple as "It will suit your personality".
Also read: Royal Enfield GT Discontinued in India
Resale Value of Royal Enfield
Last but not the least is the resale value of a Bullet which is best among all motorcycles available in India. With an RE, you know that if for any reason you decide to sell it, you will not be doing so just for a few thousands. I am not saying that it will offer you the same or greater money that you bought it for; but you will still get some decent amount of money for it; irrespective of the kilometers clocked. I bought my Electra in 2008 for slightly under 80k, have used it for almost 1 lakh kilometers and I still have people offering me up to Rs. 90k for it. No other motorcycle can give you resale value like this.
Why you should buy a Royal Enfield?
In the end, to answer the question, does a Royal Enfield have problems? Yes but then which machine doesn't? Are you sure that if you bought a Bajaj or Honda, it will last you next 10 years without a breakdown or a problem ever? The answer really is that you need to love and respect your motorcycle to have it serve you well. You need to use it and not abuse it.
Majority of the people who hate RE's and will give you an endless list of why you should avoid it have never owned one. So you need to ask yourself, how and what do they know? You need to ask, how is a motorcycle still lasting so long despite so much criticism? Why people are ready to even wait a booking time of 6 to 8 months to buy an Enfield? Which other Indian motorcycle really exports and has a market in other countries? The answer in the end that you will get is that Royal Enfield is a great motorcycle that you can buy with confidence. Love it, respect it, use but not abuse it and be a proud owner of an iconic machine.
I hope the information above was helpful and I was able to clarify why you should buy a Royal Enfield. If you have any further questions, please feel free to ask in the comments section below; or at our Community Forum; and I will be glad to answer.