This is actually the first trimmer I have used. I mostly stay clean shaved so I never needed to buy a beard trimmer. But now, thanks to staying home all the time due to COVID, I decided to grow a beard. A few weeks later, my family grew tired of looking at me like that and I received this Vega T4 trimmer as a gift. I first did not use it at all for days; but after the constant nagging of my family to get rid of the beard, I gave it a try and was pleasantly surprised.
If you were looking to buy a beard trimmer that is not too expensive and gets the job done, then I will definitely recommend Vega T4. Below is a brief review.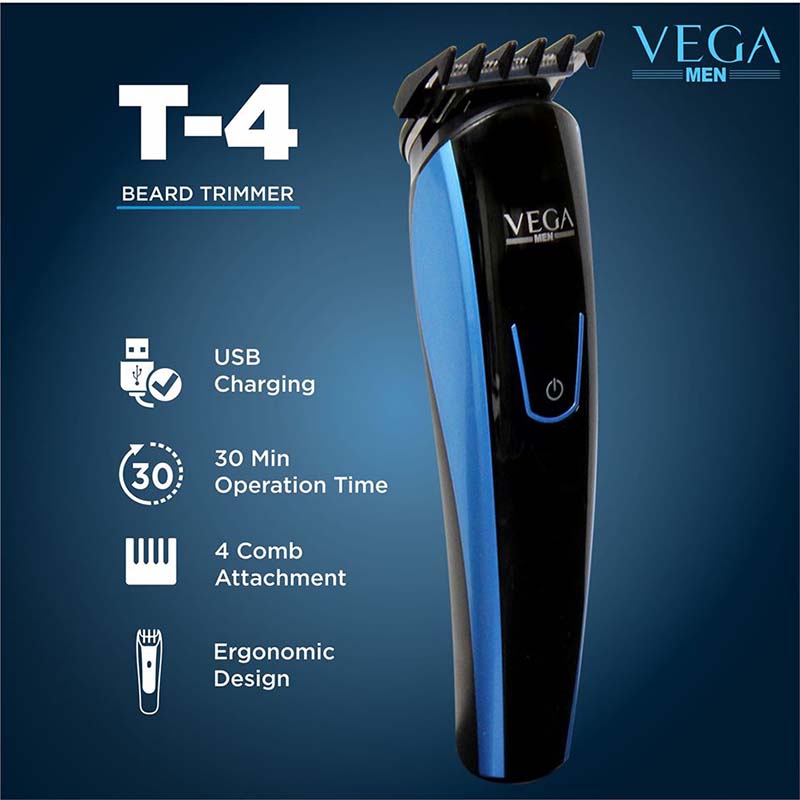 Vega T4 Trimmer
If I am to quote the product description on the package, Vega beard trimmer makes it remarkably easy to go from a neatly trimmed full beard to designer stubble. No matter if you want to go for a cool designer or full beard, the trimming comb lets you choose from nine different length settings (1mm to 7mm). It comes with rotating wheel functionality to change your desired length setting, so forget about a big toolkit of different attachments you constantly have to change.
Is it all true as described? I tend to agree. Here is a list of features that it offers.
4 Comb attachments : It comes with 4 comb attachments (1, 3, 5, and 7 mm) that give you the flexibility to trim your beard to the exact length with the comb you select.
USB Charging: It is battery-free and you can just recharge it by just plugging in the USB cable onto a laptop, power bank, or phone adaptor. The trimmer however comes with only a USB cable. There is no adaptor included in the package.
Stainless Steel Blades: It has stainless steel blades with a smooth tip for a safe and easy trim. The blades stay sharp for longer duration and safely trim the neckline and area near the ears.
Cordless Use: Sine you can just recharge it, there is no annoying power cord hanging with the trimmer while you use it.
Good Grip: The design of the trimmer is good and gives a good comfortable grip as you trim.
Price
The biggest advance of the trimmer is the cheap price that you can get it for. It is available in the market for Rs. 800. Considering its performance, It is not really too much of a price to pay.
Charging Time
This is probably the only thing that some people may not like in it. It takes way too long to recharge. For a 30 minute use, you will have to charge it for 6 hours. I agree that it will not take you 30 minutes to trim your beard; but 6 hours of charging time is really a bit much.
Now the surprising part. I actually used this trimmer to even shave off my head. I had long plain hair with this trimmer, it took me only 10 minutes to go down to a military kind of shaved head.
Final Word
So yes, this is a great trimmer that I will highly recommend. It is easily available in the markets and you can even get it online. It is easy to use, is not too high priced, and does a satisfying job.