By posting this review, I am actually sharing someone else's experience than my own. My sister was the one who bout a Vaya Tiffin and what I am putting down here is her feedback after using it for about 6 weeks. She works as a teacher and was looking for a good quality tiffin box after she lost her last one. She wanted something that can keep her food hot for 5-6 hours until lunch hour in the school and in the process, rejected several others because she wasn't sure if it was good enough. Ironically enough, the first reason why she bought Vaya was because of its design and not effectiveness.
Without any doubt, Vaya tiffin boxes are prettiest ones I have seen out there. The design and the prints are really awesome and I think that is what they charge all that money for. They are available on both Amazon and Flipkart and you can choose from a wide range of designs, shapes, and sizes. The tiffin comes with a carry bag which also has a matching and pretty design print on it. If you do not want the bag, then you can buy without it as well.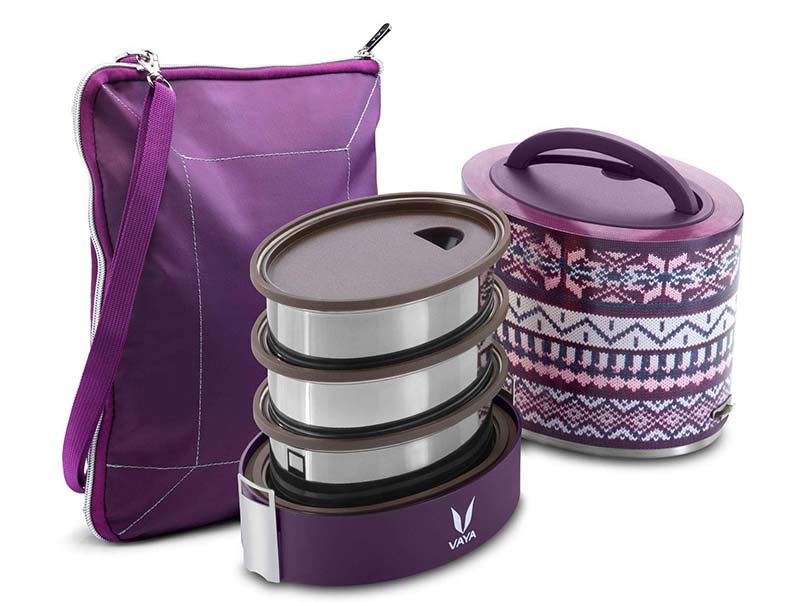 Vaya Tiffin Review
Now coming to the review, below are the pros and cons of Vaya Tiffin Boxes.
Pros
The designs are simply beautiful
The build is strong and leakproof.
Food remains quite fresh and there is absolutely NO bad smell at all.
The utility bag cum mat is a great advantage. It unzips and unfolds in the form of a cloth that you can spread and put your food on.  It is also washable.
Keeps the food hot for 5-6 hours easily
Cons
Way too expensive
The bag doesn't have any space to accommodate anything else
Copper finish may come off after a while. It has not happened in our case yet but I have read other reviews with this problem.
The latches on the sides can be unreliable. Again, not a problem that my sister has faced but there are reviews about the food spilling because it was not latched firm enough.
Click on the link below to review the product on Amazon.
Final Verdict
My final verdict is that the Tiffin box is worth it if you not mind paying a few hundred more for a pretty design. If not, then there are other products in the market that are equally effective for a lesser price. Vaya is good as well but the inflated price is only for the design, not because the product has something super-helpful to offer.