I know, this article is about 3 years late but I thought to add a note since I just finished binge-watching both the seasons of TVF Tripling. While the second season was just about OK, the first season was absolutely mind-blowing. It is one of the shows that I will highly recommend watching. It is a very light comedy that you will thoroughly enjoy. You won't really be laughing your lungs out but will have a smile on your face throughout the series.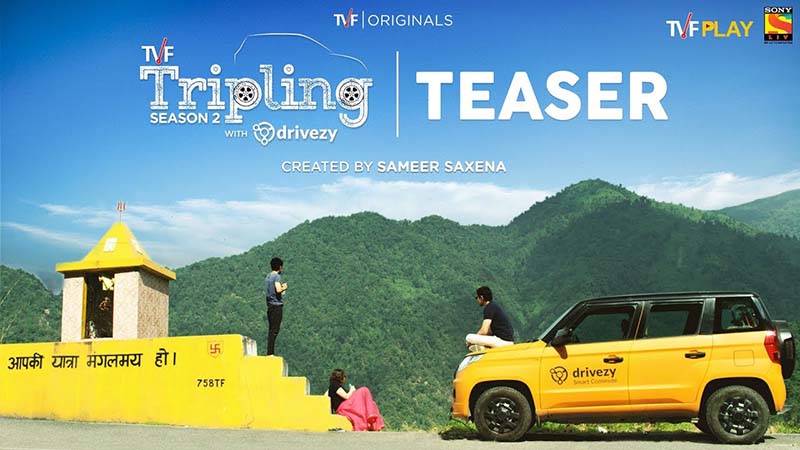 TVF Tripling
For a brief overview, TVF Tripling is an Indian web series created by The Viral Fever (TVF), an online YouTube channel. The show follows the story of three siblings on a road trip. Together, they spend some hilarious moments together as they travel from one town to another while rediscovering their relations on the way.
The first season of the show was released in September 2016 followed by a second season in April 2019. Both the seasons consist of a total of 5 episodes each; and each episode is about 30-40 minutes long. So in a way, you can actually wrap an entire season of the show in about 2 and a half hours.
I recently came across the name of TVF some time ago when Amazon Prime released the web series Panchayat. It was one hell of a series after which I searched for other shows directed by TVF. The next I saw was Hostel Daze which too was a complete laughter riot. TVF Tripling came the next and once again, TVF did not disappoint.
The story of the show is a fairly simple one. The eldest of the three siblings arrived from the USA and meets the youngest brother. The circumstances compel them to travel from Delhi to Rajasthan by road to meet their sister. Things get even more complicated at their sister's house and all three of them end up being on the road, traveling to their parents' house in Manali.
Review
The show is promoted as a road trip but there isn't much traveling involved, to be honest. But then there wasn't much screentime for that anyway. The show is just about 150 minutes long and most of this time is spent in portraying the relationship aspect between the characters involved. There are really no moral lessons to be learned though and no hidden social messages either. Just two brothers and a sister in the car and a lot of funny moments.
There is a high contrast between both the seasons of the show. Season 1 was fun and entertaining but season 2 just feels a bit forced and bland. Most of the punches seemed repetitive and boring and even the plot feels the same as the first one. But do not get me wrong. The show is still good enough for a one time watch and after watching season 1, there is no way that you will not continue to the second season as well.
Now coming to the first season, it is refreshing and a funny story that will make you fall in love and relate to the three lead characters immediately. It does very well in terms of dialogue, acting, and cinematography and feels less commercial and more authentic. The background score is absolutely amazing. In terms of acting, no one in the show disappoints and all of the actors play their roles to perfection. The writing is crisp and the narrative is cleverly put.
As the story unfolds episode by episode, you will realize how deeply connected the siblings were and the love they shared despite the difference of opinion on almost everything. This genuineness of their relationship will definitely remind you of your own childhood and the memorable moments you shared with your own siblings.
Final Verdict
The only complaint that I had was that it was too short but that is possibly also the biggest compliment that I can give it. The show engrosses its viewers completely and keeps them laughing for its entire run time. By the time it ends, you are left wishing there were a few more episodes to watch and a few more laughs to had.
My final word on the show is that you ought to watch this. It is an interesting take on our ever-changing lives, society; and the bonding between siblings when they met after long years. It is definitely one of the most creative and engrossing web series with a perfect mixture of comedy, drama, music, good acting, excellent cinematography, and great direction.