Within a few months from now, the tourist season in Ladakh will begin. BRO has already started working on clearing the snow from both the Srinagar Leh and Manali Leh highway. Travel enthusiasts from all over the country are busy preparing their travel itineraries. With a lot of things (like time, budget, mode of travel, places to visit etc) to be considered, one of the most common questions pondered upon is how to reach Leh and which way to come back. Options are quite limited when it comes to traveling to Ladakh by road. There are just two roads you can take. Either you go via Manali and come back by Srinagar or vice versa. People often wonder about which one is better, Manali Leh highway or Srinagar Leh highway? Should they go to Ladakh via Manali or Srinagar? In this article, I will provide details on why you should chose to travel to Ladakh via Srinagar Leh highway vs. Manali Leh highway.
Ladakh via Srinagar or Manali?
Before I even begin to write anything on this, let me first clarify that both these roads are an absolute beauty within themselves. No matter what your travel plan is, if you are traveling to Ladakh by road than you must include both the highways in your itinerary. Chose one to reach Leh and another for your return journey. Why you should pick Srinagar Leh highway to reach Leh is what we will further discuss in this article.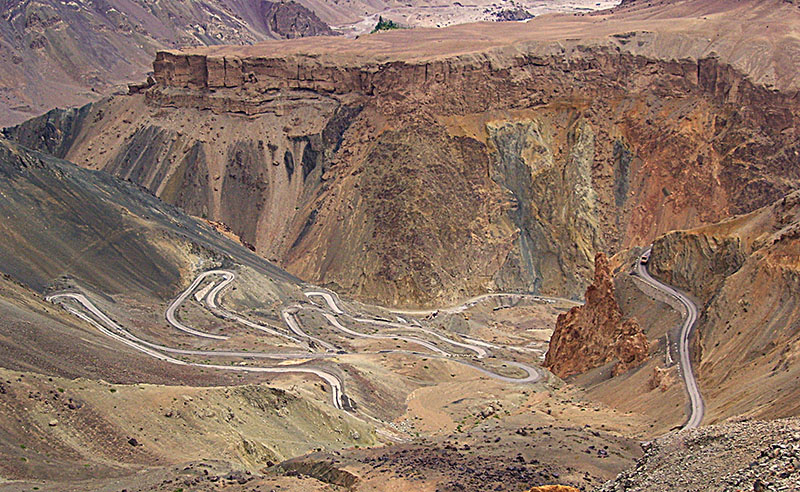 Better High Altitude Acclimatization:
When you travel on Srinagar Leh highway, the gain in altitude is gradual and there is a very less change that you will suffer from AMS (acute mountain sickness). On the other hand, if you travel via Manali Leh highway, on day 1 you are in plains, on day 2 you reach Manali at a height of 2,050 meters, and from there the altitude straight away gets doubled to 4,000 & above meters as you travel through Sarchu and Pang.
Also read: How to Deal With Acute Mountain Sickness In Ladakh
However, traveling on Srinagar Leh highway will see you in Jammu at 327 meters, then Srinagar at 1,585 meters, Sonamarg at 2,800 meters, Drass at 3280 meters, Kargil at 2,676 meters and finally Leh at 3,500 meters. Throughout the journey, your body gets sufficient time to adjust itself and never the altitude shoots to crazy heights all of a sudden. So question of traveling to Leh via Manali or Srinagar will definitely see Srinagar as preferred choice in terms of altitude acclimatization.
Rohtang Permits:
As almost everyone knows by now, traveling to Rohtang or beyond requires a permit to be obtained from DM office Manali without which, you will not be able to go any further than the check post near Kothi. Obtaining these permits is not an easy task due to several terms and conditions applicable which further could result in an entire day wasted in Manali. You have no other choice but to either stay for a day in Manali to get your permit or be at the SDM office the moment it opens; get your permits and start by noon from Manali. If you chose to start by noon, it means that you will get stuck in the traffic at Rohtang top and it will be dark by the time you hit Keylong.
Also read:
Rohtang Permits : Do you need permits for Motorcycles too?
What are current vehicle restrictions for Rohtang Pass?
There is however no need to obtain any permits at all if you are traveling from other side of Rohtang towards Manali. So if you reached Leh via Srinagar, you can just travel back to Manali while crossing Rohtang la. This way you would be able to avoid the hassle of these permits entirely and save a day that you would else waste in Manali. Rohtang permit is applicable to all type of vehicles, Petrol, Diesel, rented, privately owned and there is absolutely no way to reach Rohtang without producing a permit at the check post. The restriction applies more to Diesel vehicles than Petrol and the number of Diesel run vehicles is lesser.
Duration for which these roads remain open:
Leh via Srinagar or Manali? If you asked this question between June & October, you will have two answers. But if you asked this question in May, early June, late October or November, then the answer will pretty much be limited to Srinagar Leh highway. Reason being is that the Srinagar Leh road opens earlier than Manali Leh road and remains open for a longer duration. So if you are planning to travel sometime in May, late October or November then Srinagar Leh highway is your only choice.
Better connectivity:
Srinagar Leh highway is more populated as compared to Manali – Leh road. There are several major towns en route like Sonamarg, Drass and Kargil. Availability of basic amenities like fuel, hotels, restaurants, cell phone reception and medical facilities is also much better on this road.  You are never really completely cut off from civilization. As a matter of fact, until Kargil you will see a regular traffic movement and will come across several human establishments on the way. It is only after Kargil that you will be traveling through a sparsely populated region and even then, you will still be crossing some towns like Lamayuru and Mulbekh. If your vehicle breaks down  or you are in need of help, chances of finding it are better on Srinagar Leh highway. If either of what I mentioned above concerns you highly, then you are better off skipping the Manali Leh highway altogether and stick to Srinagar Leh road. I agree that this will be a concern in other parts of Ladakh too but if you run in trouble there, you at least have the option of rushing back to Leh.
Travelers:
Very important. If you are traveling solo, then all you got to worry about is yourself but if you are traveling in a group or with family consisting of women, elders and kids, then you must reach Ladakh via Srinagar only. AMS can create havoc if your family, specially kids and elders, start to suffer from it. If situation worsens, you will have no other choice but to rush to Leh, no matter what time of day or night it is. Better choice in this case is to reach Ladakh via Srinagar in order to ensure that your family gets enough time to adjust and doesn't suffer from AMS. You can return home via Manali but must reach Ladakh via Srinagar.
Driving Skills:
This too applies to some extent. Manali Leh highway is more challenging in nature than Srinagar to Leh. So if you are up here for the first time and not too sure if you will be able to handle the roads, high altitude passes, tricky turns, water streams then I suggest you reach Ladakh via Srinagar and return via Manali. This way, you will be able to gain your confidence on the wheel by taking the somewhat easier road.
These are just a few things over the top of my head but other factors like a more relaxed trip and better itinerary play in a role too. Since you would have acclimatized better, it means that you will be able to enjoy the trip better too. If Tso Moriri for example is on your mind, then it would be better if you reached Ladakh via Srinagar and included Tso Moriri in your plan during your return journey via Manali Leh road.
I hope this information was helpful. If have any further questions, please feel free to ask in the comments section below and I would be glad to answer.