Spiti Travelogue, a journey to the land of the gods. A place standing still in time; where everything seems to be straight out of a painting. It is a place where the journey itself is the destination. You do not come here to reach anywhere; but you arrive in Spiti to just travel. To take that journey that in itself is both tranquility and an adventure. You come to Spiti to know and experience how it feels to be both thrilled and to be at peace at the same time.
Spiti Travelogue – Prelude
"How long do we have to wait before the car is refueled" I asked Umesh Thakur (our driver for the trip) impatiently for the 5th time, and this time somewhat angrily.
"Bhagwan Jane"(God knows!) He replied.
So, we are stuck at a the only petrol pump of Kalpa, the last petrol pump on our journey to Kaza (some 200km away) for the last 4hrs.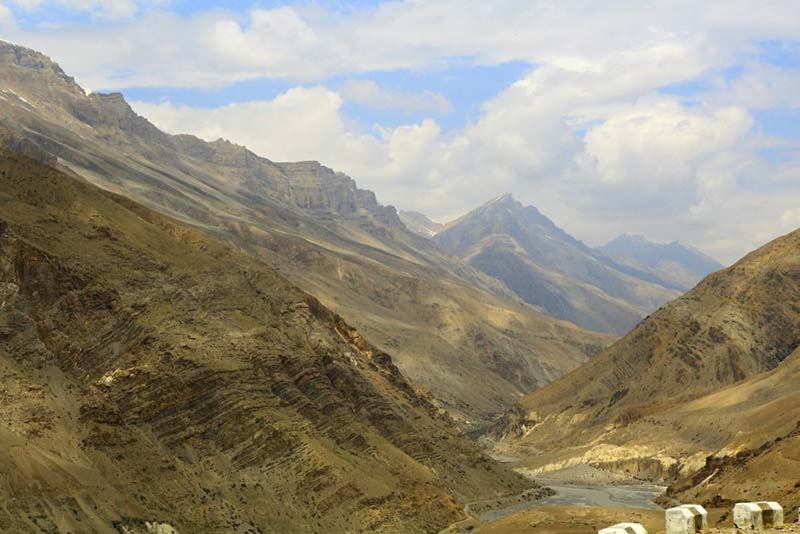 Tip 1:  Patience. Be like the mountains, unmoved by the world that passes in front of you.
Tip 2: Always fill up your car's fuel tank at Sangla / Shimla, keep an extra liter of petrol.
With nothing to do except seeing the stone quarry (situated just beside the petrol pump) destroying the mountains ,I tried to remember the hectic events of last 48hrs.
Day 0 & 1:
Late night flight to Delhi; sleeping in the lounge; catching the flight to Dehradun (instead of Shimla,to cut costs); and a long tiring journey through an uninspiring Shimla to finally stay at Narkanda (a small Hamlet, surrounded by coniferous trees).
Tip 3: Do visit Narkanda in winter, it's magical and better than Shimla.
Day2
Next morning heavy breakfast AND an aborted trip to Saharan Bhimakali temple( the road was bad,and we had a lot to cover up); and then non-stop travel to Sangla. A quick bite and next we were on our way to Chitkul; a small village besides the river Baspa; amidst the forests of pine and fir. Before you enter Chitkul, there is a army camp where you have to show your car's papers. Do stop here,the beauty is mesmerizing.
A small rivulet in Chitkul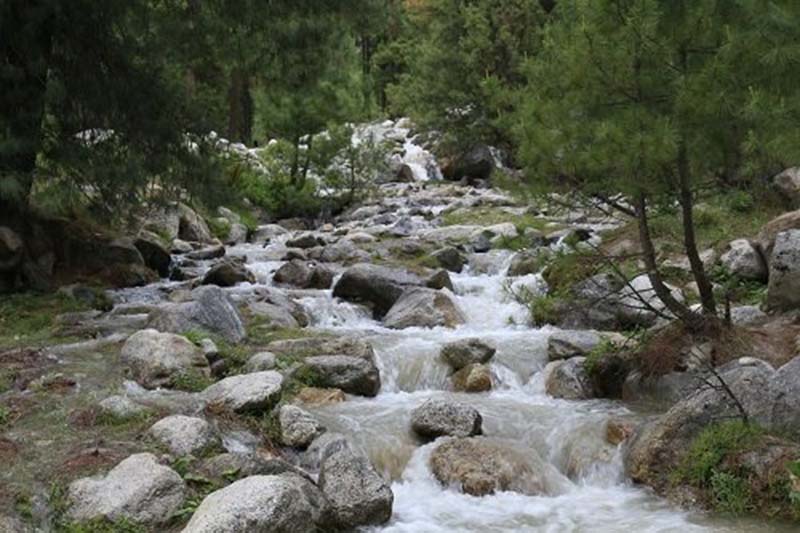 Tip 4: stay at Chitkul if you have time (instead of Sangla or Kalpa). The accommodation available is basic but the natural beauty of the place compensates for it.
Our brief admiration and photography at Chitkul was interrupted by rains. So we rushed back to Kalpa to see the setting sun illuminate the peaks of Kinnaur Kailash in red.
The Kinner Kailash Peak from Kalpa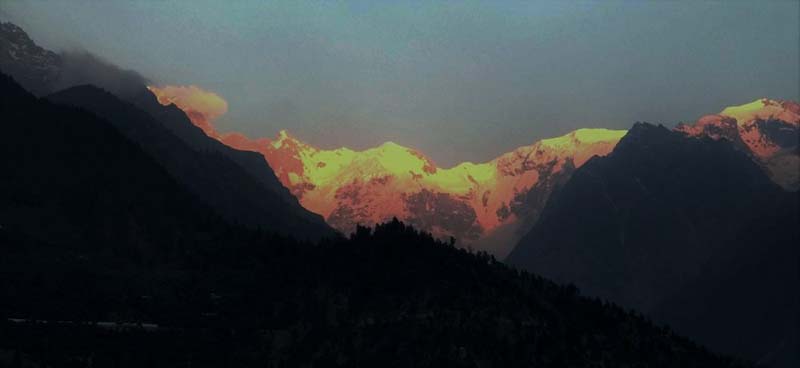 At Kalpa,we stayed in the midst of a Apple orchard. After a fruitful (literally full of fruits) breakfast next morning, we are now here standing at a petrol pump for 4 hours.
Where nature is a painter
After all these days, I do not remember at what time the petrol tank came; and how our driver managed to get our car fueled amidst the madness and cacophony of other drivers. What I vividly remember is that our SUV was creeping slowly along a barren rocky mountain path (to call it a road would be equivalent to calling Kolkata as Paris); carved along the slopes of the Himalayas (Karakoram, I suppose), with the turbulent Spiti river giving us company all along the way.
With death staring at us at every nook and corner, we enjoyed the rugged barren nature; with a few patches of green fields trying to raise the flag of revolt against the fury of nature. The mountains bear the love of fire and ice for centuries; with jaw dropping sculptures; and paintings etched on the mountain walls as a proof of this eternal love.
The modern art by nature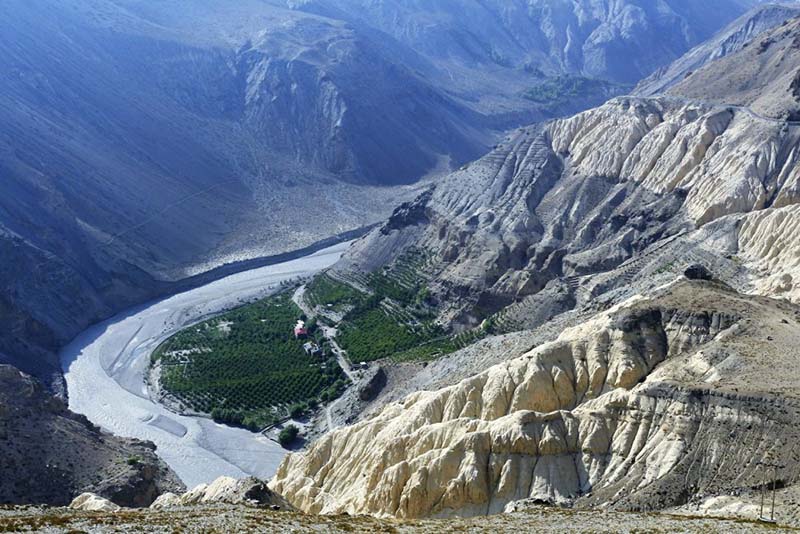 Now suddenly the car came to a screeching halt.Looking out we could see a flock of sheep coming down the road. With the car perched on the edge of a gorge; and our hearts jumping to our throats; we sat transfixed as one after another sheep crossed our car.
Tip 4: In the mountains,always have a heavy breakfast,and stock up your car with dry food and water…..you never know what lies ahead.
The Mummy of Spiti Valley
Now, a decision had to be made,and I was always bad at taking them. To our right, a dirt path went all the way to Giu village; where there is a tomb of a mummified monk on display. So a vote was drawn,and the majority decision was to skip Giu. We were already running late due to the petrol fiasco and half an hour "lunch" break at Nako.
Folk story of Giu:  When you have so much time to idle away (the winter months in Spiti are harsh, and villagers are marooned in their houses for days) it give rises to folklore. I have heard some, and I will share those with you. But to keep this blog short, I have written a separate blog on the sasameme.
With the sun hiding it's face behind the tall mountains, we reached Tabo monastery, the most revered one. His Excellency, the Dalai Lama, has expressed his desire to spent his last days here. It's a very simple monastery (much modest than those of Ladakh), surrounded by mighty mountains and the Spiti river flowing at it's footsteps. Sacred Buddhist mantras are inscribed over the mountains; for the local people believe that every time a gush of wind sweeps over the mountains; it carries their prayer to the Gods.
Tabo Monastery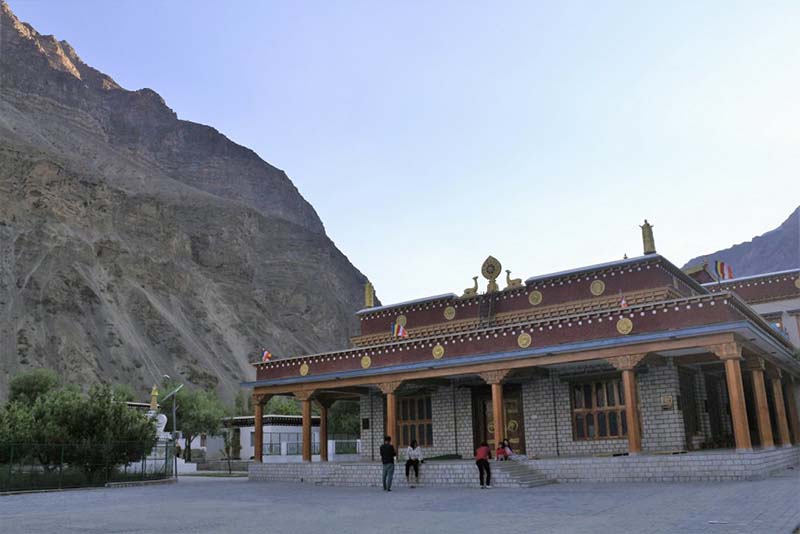 Leaving Tabo behind,we drove along the banks of Spiti. The setting sun illuminated the dark waters of Spiti in a golden glow; with the lunar landscape mountains giving an eerie out of the world feeling.
The Golden waters of Spiti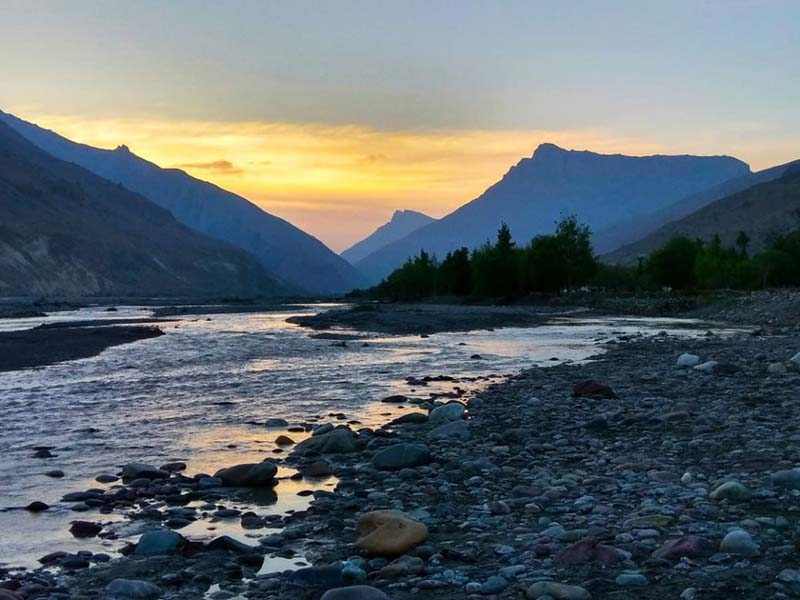 As we climbed up towards Dhankar, a tiny Hamlet of 70-80 houses, perched on top of a mountain; we could see below the confluence of Spiti and Pin river, magical in the moonlight.
Atithi Devo Bhava – Guest is like God
How many times have we heard this in ad campaign of tourist places. We realized this when we stayed at Tashi's homestay at Dhankar. I have traveled many places,but nowhere had I felt such at home.
Next morning as my friend Surja went to discover the Dhankar lake behind the mountains (a hour trek); I being the lazy of the lot decided to explore the Dhankar monastery. It is a small rustic village monastery, that has seen empires being built and destroyed and is itself now in ruins.
Dhankar village as seen from the monastery.
Tip 6: Visit the monastery to have some great photos of the surrounding; to meet the lonely Lama who stays here all year round and to hear great stories of this place; (You will have to pay a small fee for upkeep of the monastery).
Tashi's young son, our host.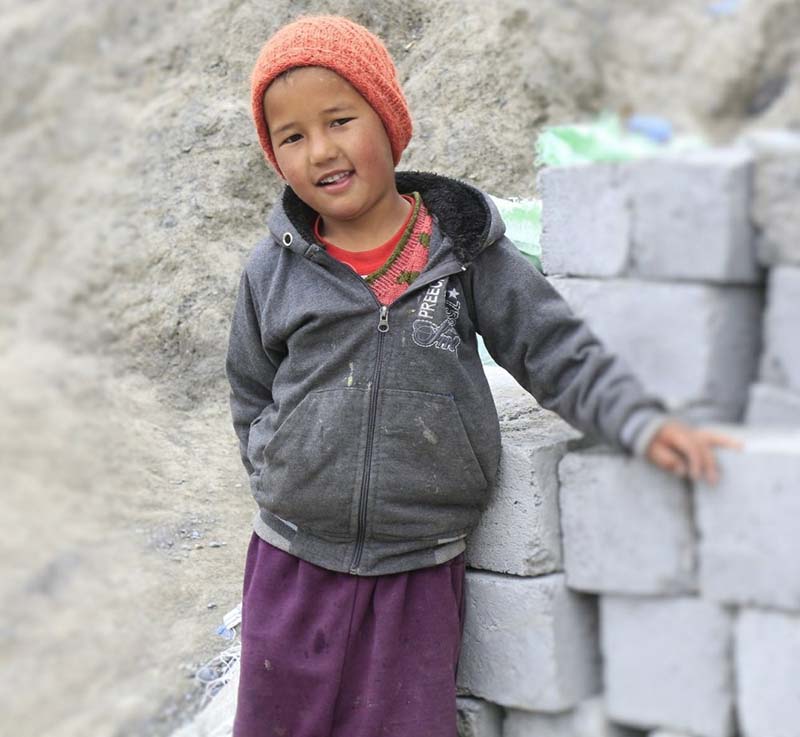 Bidding adieu to Tashi's young son,we proceeded towards Lhalung monastery, a hidden gem. The Lhalung monastery, also known as the Golden Gompa is famous for it's intricate golden artwork; and the legend of the Tree that never dies.
Lhalung Gompa with the Lama, the legendary tree is to right of Lama.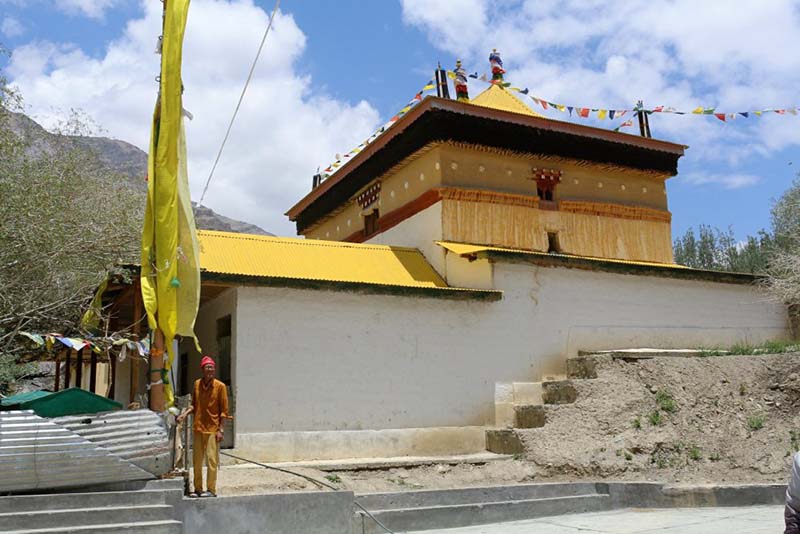 As we inched towards the Pin valley, our eyes were treated with all shades of green.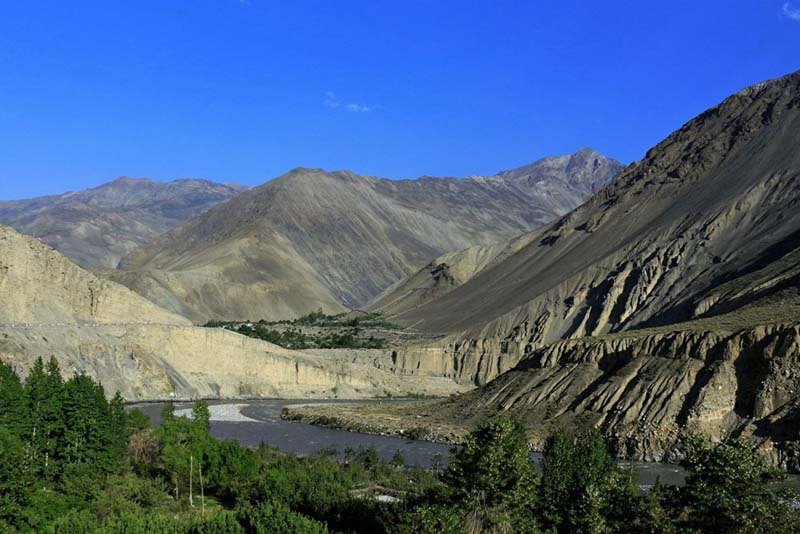 The young youthful Pin river,with magic wand in her hands lunged forward turning the barren mountains into riots of colors. Green Meadows, with small white pink flowers, and women in colorful dresses working in these green fields.
A mountain village path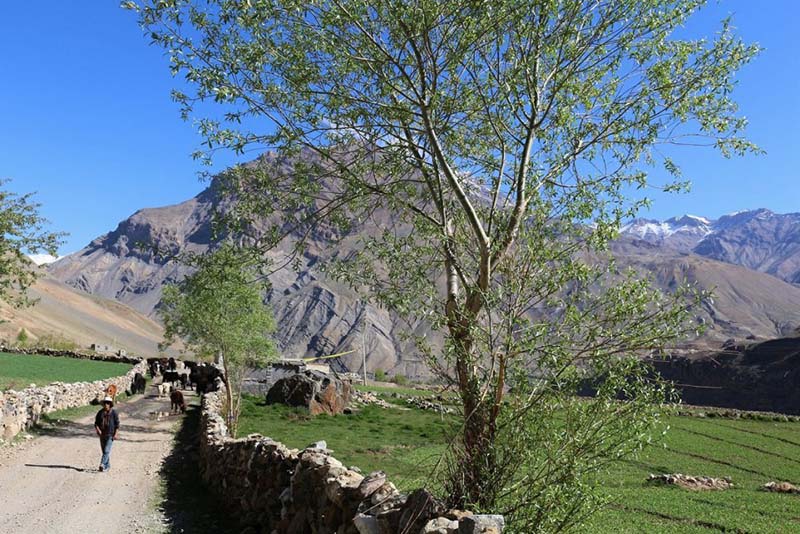 When we reached Mud village,we exclaimed in disbelief. It was truly heaven, a place which Gods will envy.
View from the balcony of our Hotel (Hotel Ibex,Mud village,Pin valley). You can see the Parvati peak (snow capped) at the end.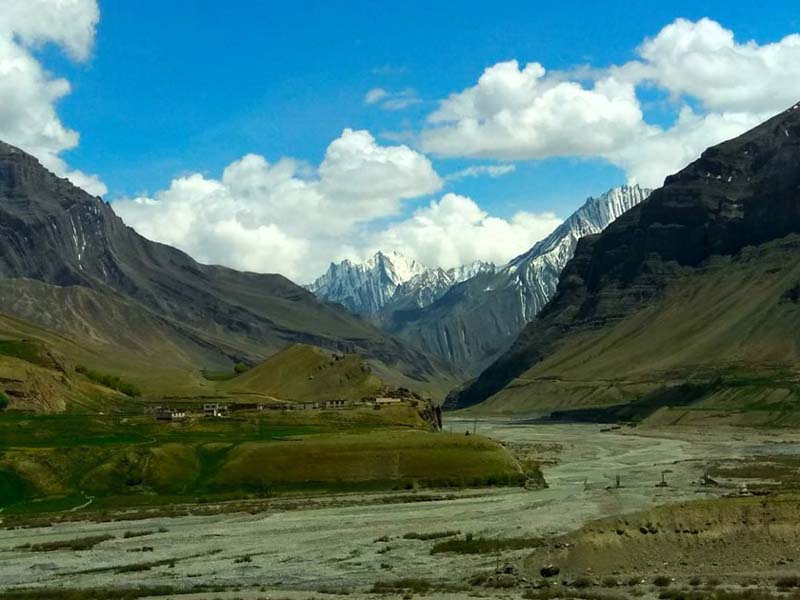 The Mud village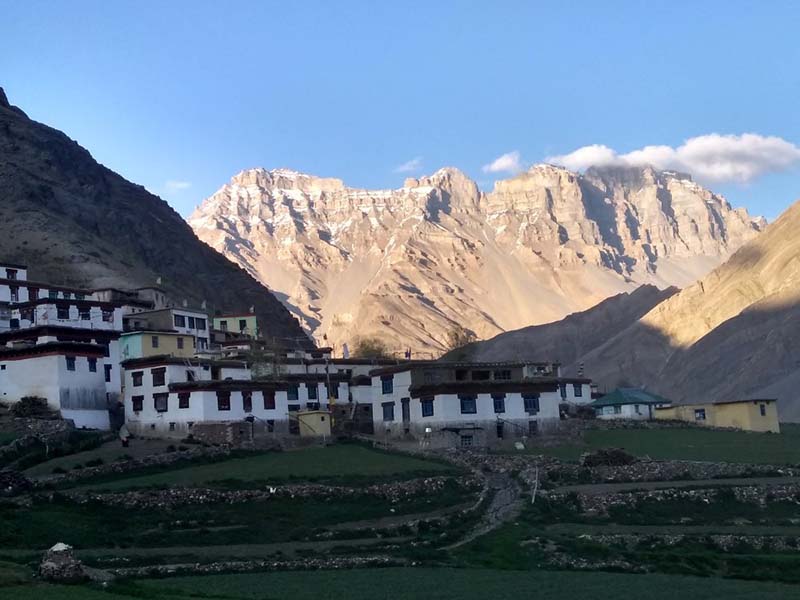 Tip 7: If you love photographing night sky, Mud is the perfect place for it (also to spot the elusive snow leopard).
Gods have time to play but mortals have office to attend. So next day we drove to Kaza,which was the anticlimax of Mud,a dusty small town. Throwing our luggage in the hotel (Hotel Kaza, situated just besides the Kaza monastery and with a great view from balcony), we rushed on a whirlwind tour of the nearby places of interest.
Langza, The Switzerland of Spiti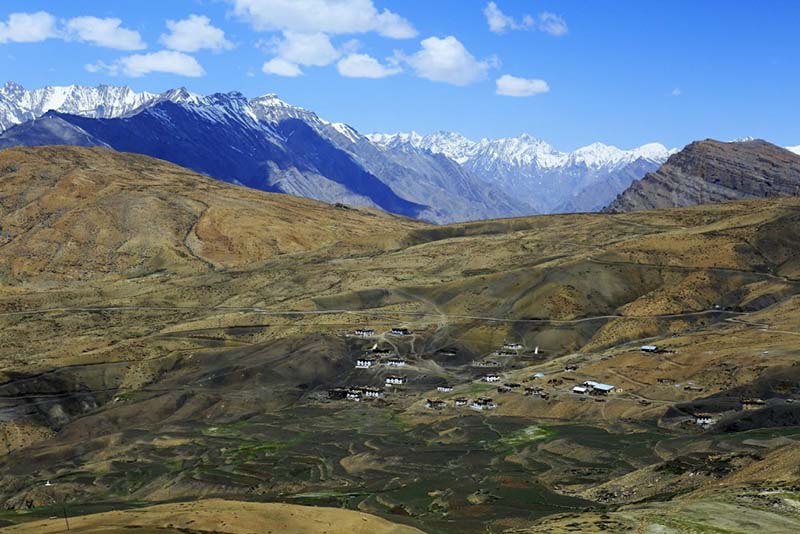 The statue of Buddha looking towards the mountains ,which overlooks the village of Langza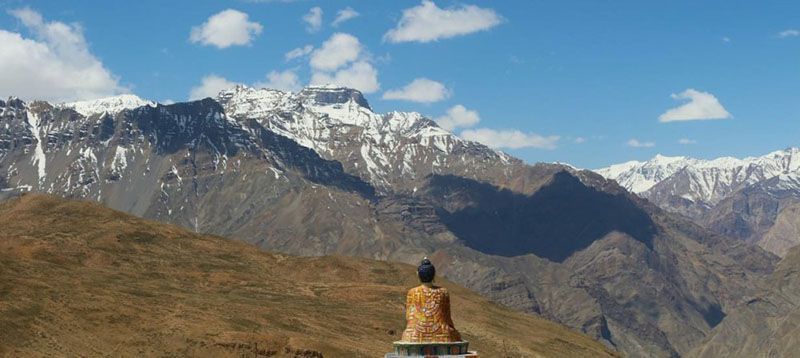 Komik, The highest Monastery with the highest restaurant by the side.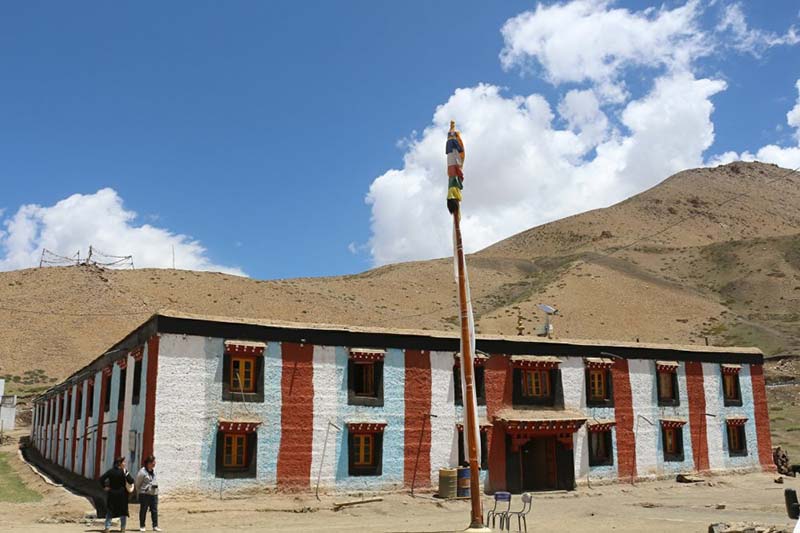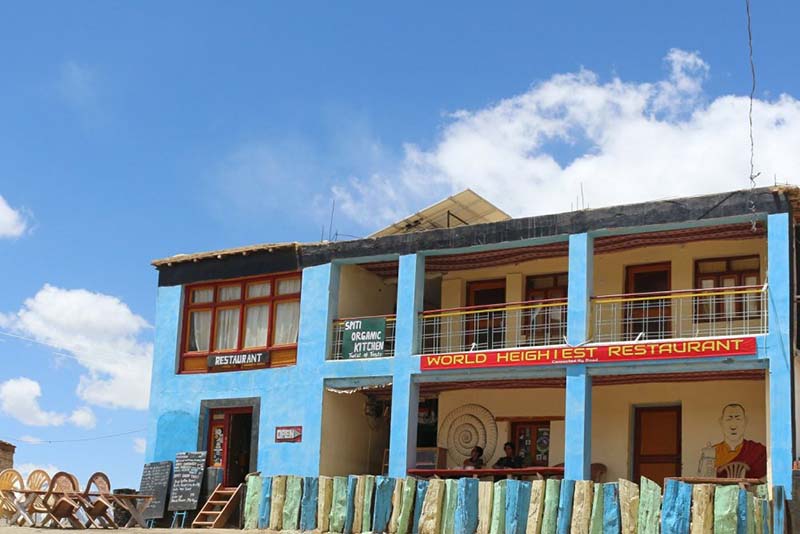 A monk lost in thought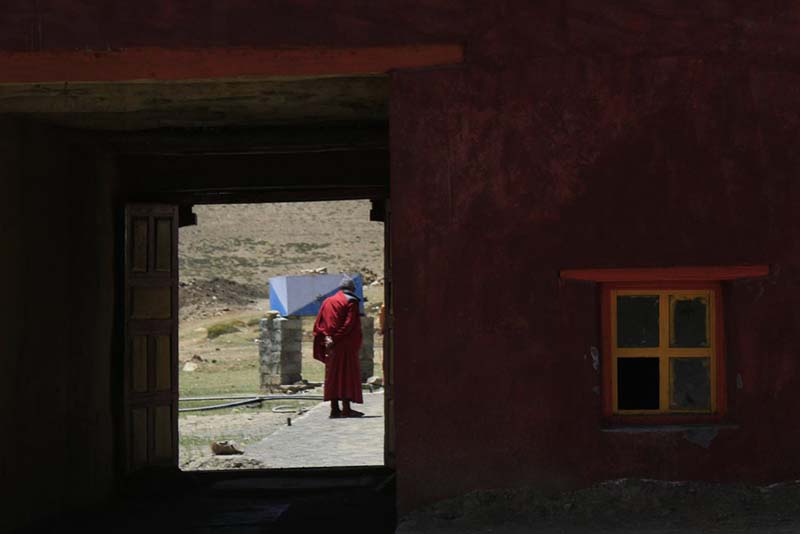 Tip 8: Do have a quick sip of local tea and sandwich at the world's highest restaurant at Komik, they are really yummy.
Hikkim, The highest post office of the world.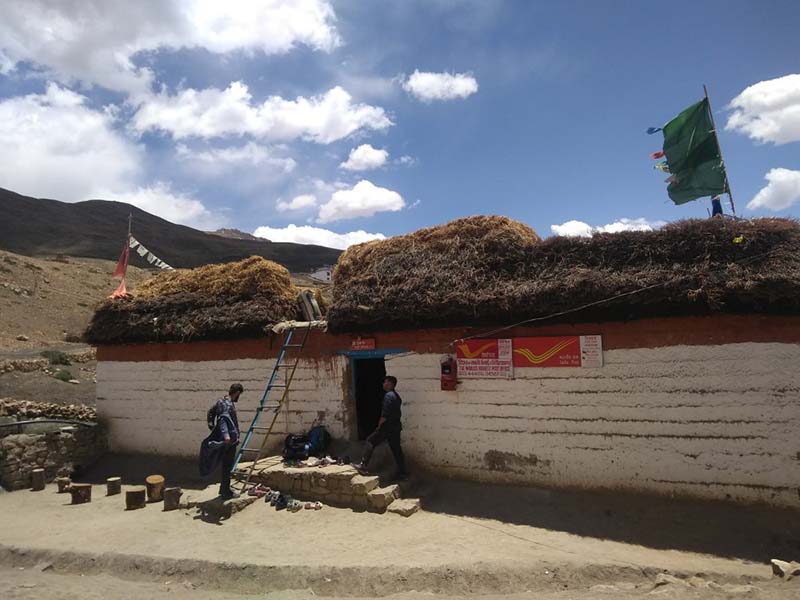 Tip 9: You can buy postcards here and post them home (my friend's post did reach, but mine didn't!)
The busiest postman of the world.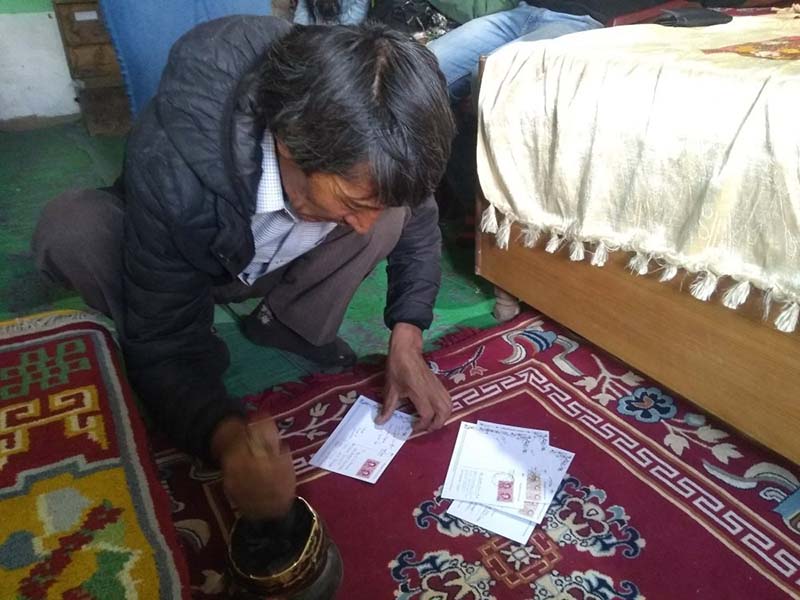 Kye monastery. Like the monastery of Ladakh, but only much modest. Climb up the steps to get some beautiful views from the top.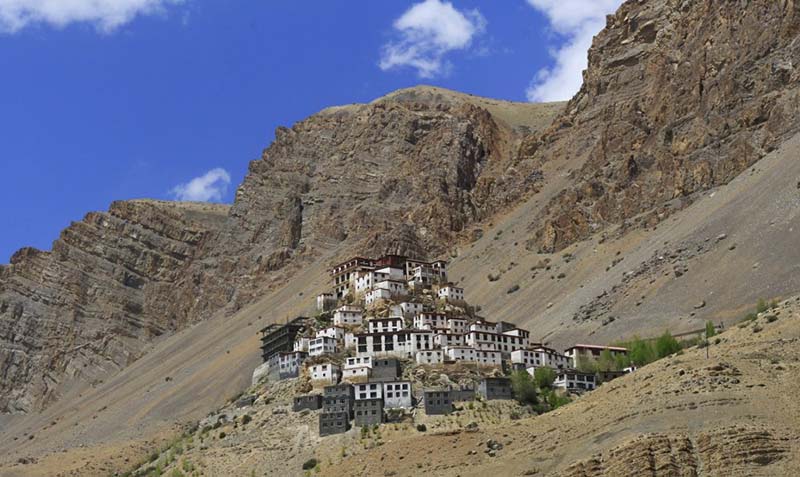 When man and nature works hand in hand,it creates magic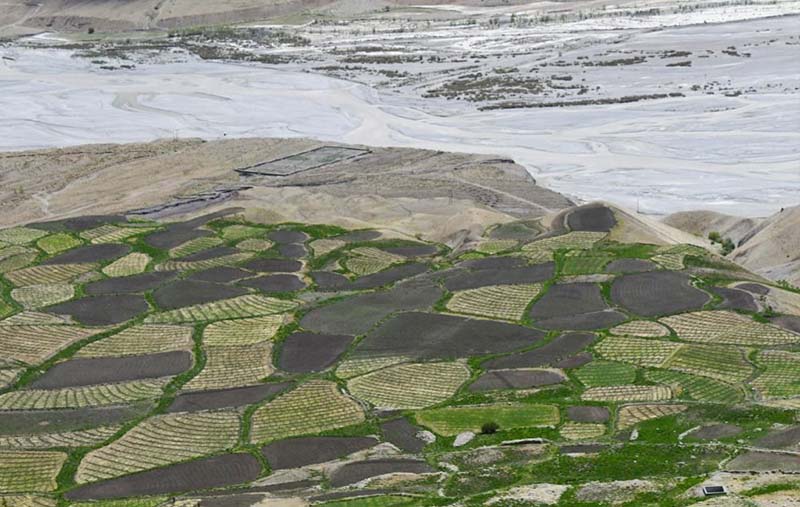 Kaza
Tip 9: Whatever other travel sites says, one day is enough to cover Kaza and it's surrounding villages (if you are in a hurry). Otherwise stay one night at Kaza; and another one at Langza or Kibber. This is a great place for trekking and camping. Also there are some excellent 2 or 3days trek from Mud village to Pin valley (hope to do those some day).
There are also a few more villages. Kibber (we visited it), Chicham (with the highest bridge in the world), Hikam (not Hikkim) and Tashigong, which you can visit. Kibber is another place where snow leopards can be sighted.
Kaza monastery. Our Hotel Kaza was just on the other side of the road.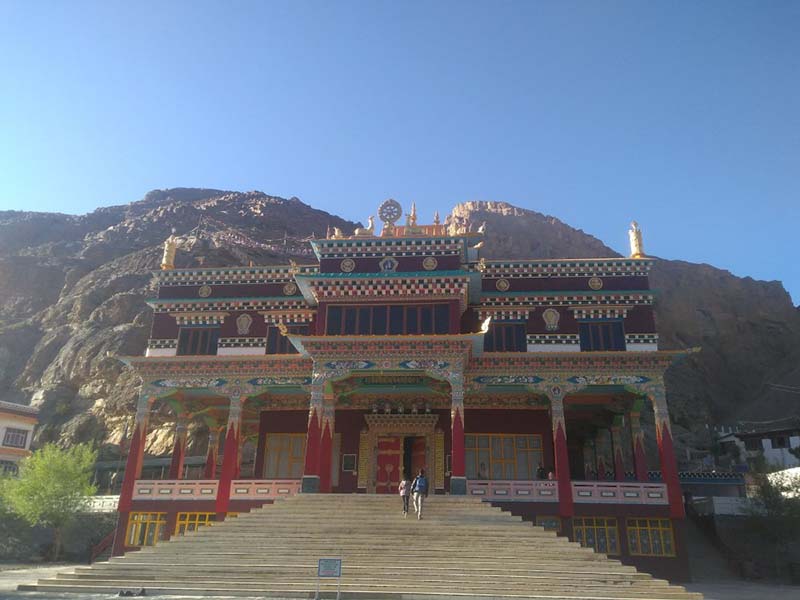 Hotel Deyzor restaurant. Do visit it to have a glimpse in the history of Kaza. A glimpse in the interior of Deyzor restaurant.
Tip 10: Fuel up your car at Kaza (incidentally the highest petrol pump of the world), because the next one would be at Manali.
Kaza to Manali
At dinner, we had a heated argument about next days plan. We had planned to go to Chandratal camp the next day. But the horror stories of the travelers coming from Manali disturbed us greatly. The road was very bad,and reaching Manali the day after tomorrow to catch the evening bus to Delhi was impossible.
So next morning we started at 4am. We skipped Chandratal, prayed to Kunzum Mata on the way (at Kunzum pass,where Spiti ends and Lahul valley begins) for an uneventful journey;  crossed 3 icy water rapids on foot; pushed the car as it got stuck in a water crossing; waited patiently in the traffic jam at Manali; and ultimately checked in at 11 PM.
Tip 11: Do figure in an extra day or two while planning an itinerary for the mountains,you never know what will happen
Our car stuck in a waterfall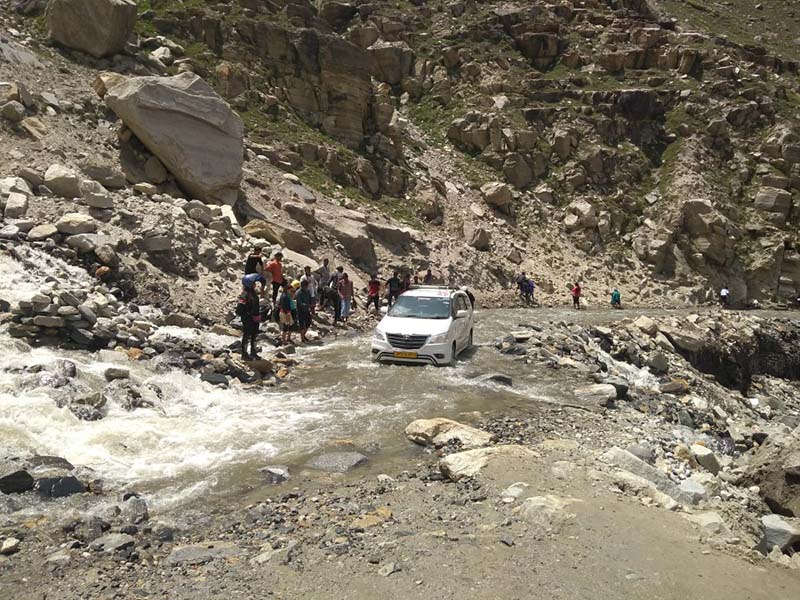 Tip12: The journey from Kaza to Manali is the most dangerous one. Start early as there are many water streams running along or across the road. The water level rises with the sun climbing up the sky and melting the snow.
Tip 13: Never argue with your driver. Remember he knows these mountains better than you.
If you wish about the folk stories of these places, click here.
Conclusion
Best time to visit– June to September
Distances: Distance is immaterial in these mountains. So I will give you the time to travel between places
Delhi to Shimla/Narkanda: 12 hours (or you can fly directly to Shimla, book early to get really cheap prices.
Narkanda to Saharan: 2 hours
Saharan to Sangla: 3 hours
Sangla to Chitkul and back: 2 hours
Sangla to Kalpa: 4 hours
Kalpa to Dhankar (without going to Giu: 7 hours
Dhankar to Mud via Lhalung: 3 hours
Mud to Kaza: 3 hours
Kaza sightseeing: 3 to 4 hours
Kaza to Manali: Only God can predict
Ideal itinerary
Delhi to Narkanda/Saharan: Day 1
Sangla/Chitkul: Day 2
Kalpa: Day 3
Dhankar (no point of staying at Nako or Tabo, Dhankar is just fabulous): Day 4
Mud,Pin valley( u can add a day or two ): Day 5
Kaza( can add another day for stay at any of the nearby villages): Day 6
Chandratal lake camp (book ahead): Day 7
Manali: Day 8
Reserve day: Day 9
We completed the tour in 6days !!!
Acknowledgement
Spiti Travelogue – Conclusion
 I hope you enjoyed reading through the blog above. For more articles written by me, you can follow me either here, or at my Own Blog; or at our Community Forum. If you are planning a trip to Spiti valley and have some questions seeking answers; please feel free to comment and ask; and I will be happy to answer.