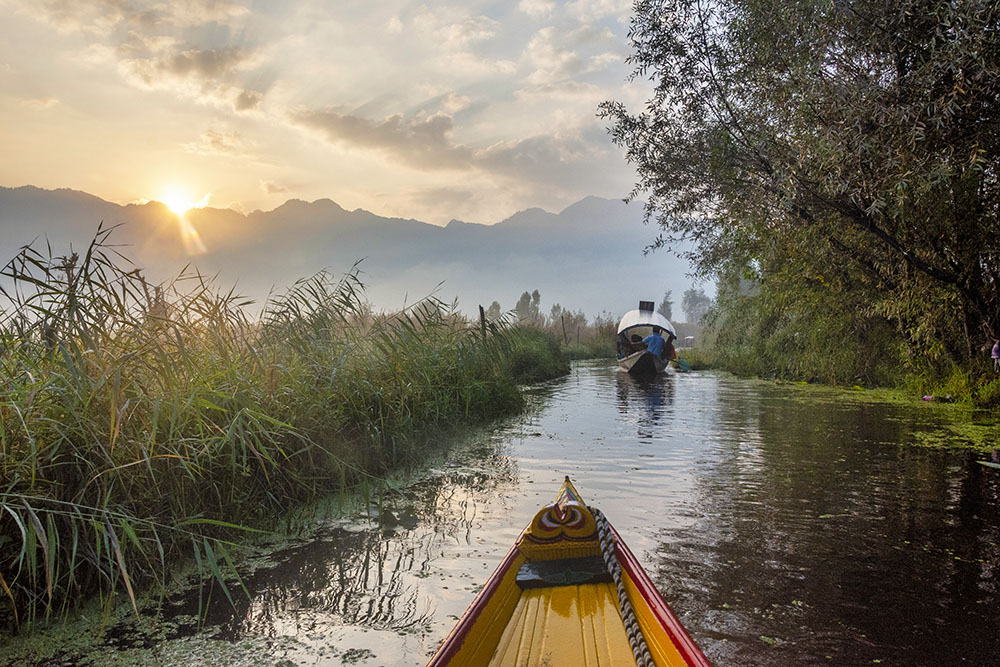 Shikara ride in Dal Lake is one of the most popular tourist activities in Srinagar. It is something that everyone visiting Kashmir looks forward to. As a matter of fact, not just the tourists but it is also a favorite evening activity even for the locals.
If you think about it, it is actually just a boat ride, like you would do anywhere else on any body of water. But still, it feels different. It feels charming. It feels pleasant. There is something different when you do this boat ride in Dal Lake, sitting in a Shikara.
So yes, a Shikara ride in Dal Lake is something that I will definitely recommend. How can you plan it, what are the charges, what is the best time, and which is the best spot to do so is what I will discuss in this article.
For other details on visiting Kashmir like how to reach, where to stay, and what to see, please take a look at How to Plan a Trip to Kashmir. Below is a video of one of my Shikara rides in Dal Lake to the famous floating vegetable and flower market.
Shikara Ride in Dal Lake in Srinagar
Dal Lake is huge. If you start from Dal Gate, drive around the lake on Boulevard road all the way to Hazratbal, it is a total of 16 kilometers. That is how big it is. Even then, you haven't driven around the lake completely. It is really a city in itself.
During this entire 16-kilometer-long drive, you will notice gazebos and stops on the shores of the lake. These are called Ghats. I do not know the exact number but I think there are more than 30 ghats on Dal Lake.
These ghats serve as viewpoints, as well as Shikara stands. Just drive around the lake, stop at any of the ghats and you can board a Shikara from there.
A ride usually lasts 30 to 45 minutes at most. You can do it for a longer period of time as well but then you will have to pay more. You just sit on the Shikara, relax, click pictures, and enjoy the view as the boatman rows it around.
How will your ride be will depend on the time and the point you started it from.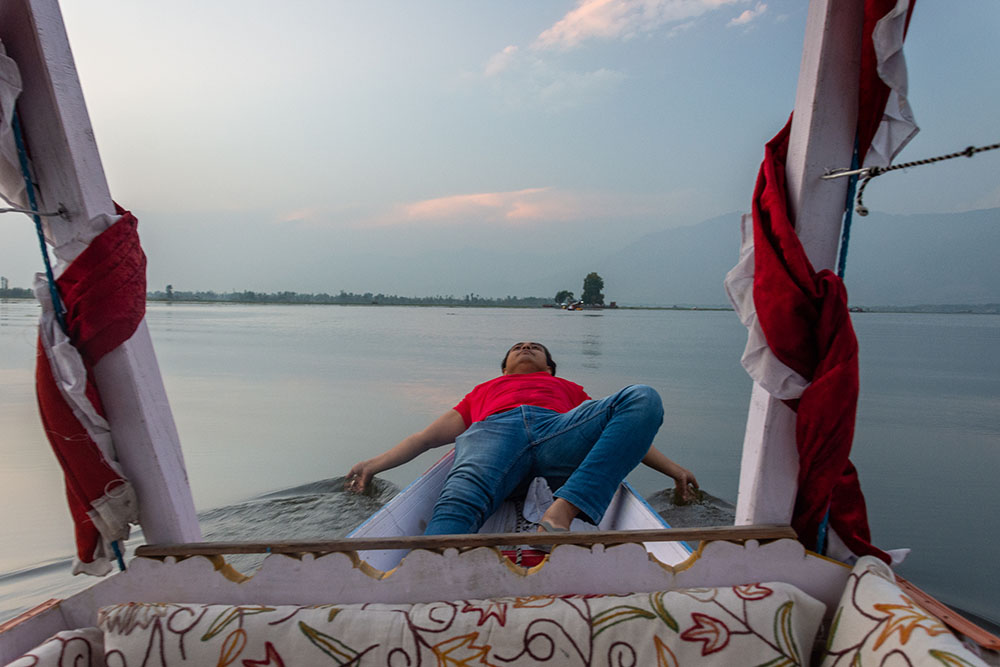 Best Time for Shikara Ride in Srinagar
The best time to enjoy a Shikara ride is either in the morning on in the evening. This is when the weather will be enjoyable. You can do it during the day as well but it will not be that pleasant of an experience.
The sun is quite harsh in Srinagar and you will be surprised at how hot it can get in the months from April to September. If you go for a Shikara ride during the day, you will just do it for the sake of it. It won't be as fun as it would be either in the morning or evening.
Best Point for Shikara Ride in Srinagar
You can find Shikaras all along the lake but in my opinion, the best spot would either be near the Dal Gate, around Ghat No. 7, or somewhere between Hotel Centaur and Nishat Bagh, around Ghat No. 23.
If you were going for a morning Shikara ride, then do it from Dal Gate. Ask the Shikara owner to take you toward the floating vegetable and flower market. They take you through a forest-like area and a village on Dal Lake.
The sunrise view is also good near Dal Gate. This makes up for an overall good Shikara ride experience.
If you were doing it in the evening, board a Shikara somewhere near Ghat No. 23. You can ask the Shikara owner to row you to Char Chinar which is a short distance from there.
The sound and light show on Dal Lake also happens in the evening near Hotel Centaur. So after your ride finishes, you can see that as well. It is actually good and I will recommend it.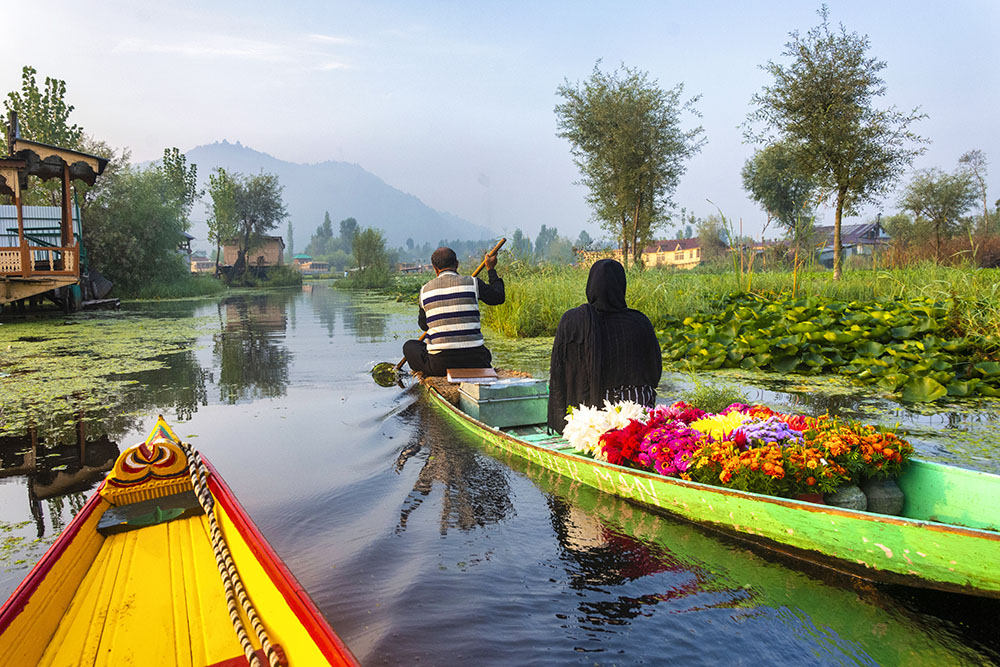 Shikara Ride Cost
As per the official rates, the cost of a Shikara ride in Dal Lake is Rs. 600 per hour. But those are just the official rates decided by the JK tourism authorities that never get followed.
At any of the ghats, at any time in the day, the initial amount you will get quoted will be anywhere between Rs. 1500 to Rs. 3000. But after a bit of negotiation, you will be able to talk it down to Rs. 1000 to Rs. 1200 for an hour.
You will not be able to negotiate down to the official rate. It is rare that someone will agree to any lesser than Rs. 1000.
The Shikara owners have a tendency to ask for a couple of hundred Rupees more at the end of the ride, so beware of that. Make sure you also clarify that the price you have agreed to is per Shikara and not per person.
Shikara Ride Timings
Shikara rides remain available from sunrise to sunset. I boarded a Shikara as early as 6 am from Ghat 7 to see the floating vegetable market. I have also stayed in a Shikara well after dark to see the sound and light show from the lake itself.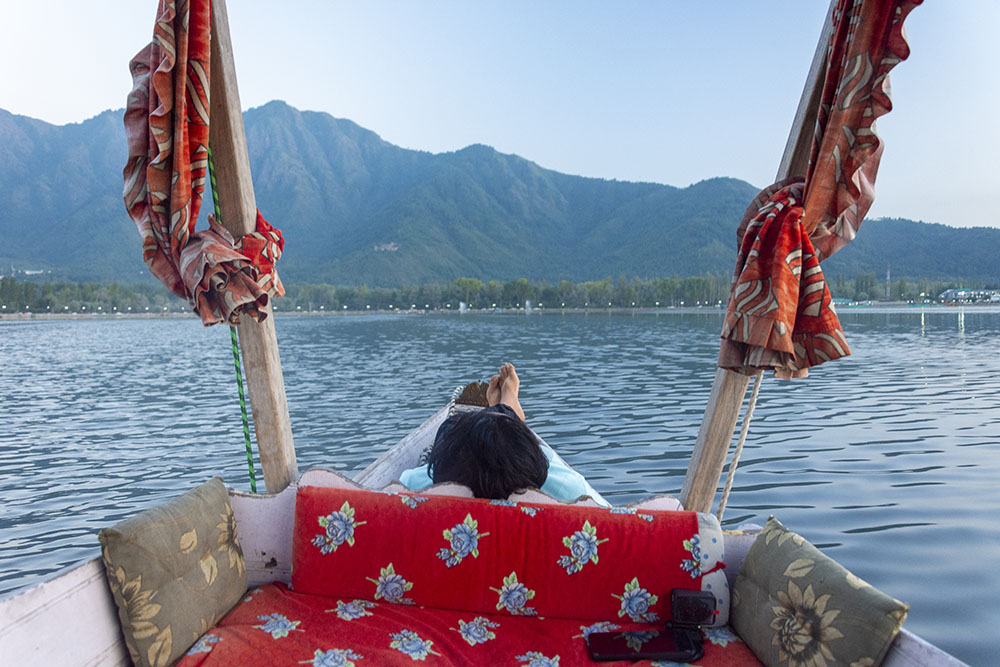 Shikara Ride in Dal Lake Closing Time
The closing time of Shikara rides is around 7 pm, as the sun goes down. You can try to find a Shikara after dark as well but then there will be nothing to see or enjoy as it will be dark all around.
Shikara Ride in Winter
Yes, Shikara rides remain available in the winter season as well. But it will depend on how cold the weather was and the state of Dal Lake.
In recent years, the lake has never gotten frozen completely. But if the temperature was too low, it can sometimes get under by a thin sheet of ice. This makes rowing a Shikara difficult and sometimes there may not be one available.
Shikara Ride in Dal Lake – Conclusion
I hope the information above on a Shikara ride in Dal Lake was of help. If you have any questions, you can contact me on Instagram and I will be happy to answer. You can also consider subscribing to my YouTube channel and asking a question there.