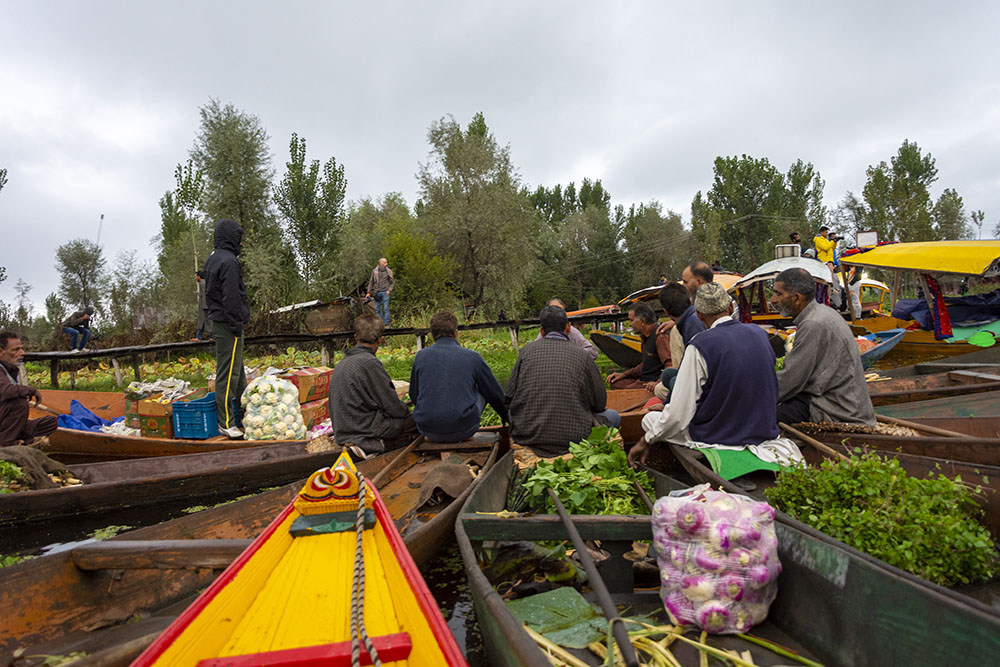 The floating vegetable market of Srinagar is really an experience in itself. Also known as the floating flower market of Srinagar, this small market takes its form every morning on Dal Lake for about 60 minutes to 90 minutes only. The location of the market is in a small village on the lake near Dal Gate.
If you think about it, it is really just a market. About a hundred or so vegetable sellers gather in the place on their Shaikaras selling vegetables of different kinds. The affair lasts for a short while and then it's all gone in an hour.
So why is it a tourist attraction? Because it really presents a beautiful and colorful sight. You get to see how the local life in the area works. Even the ride to the vegetable market goes through a village-like-settlement on the lake.
Let me talk about it a little more in detail and provide information on how you can plan a trip here. For other details on visiting Kashmir, please take a look at How to Plan a Trip to Kashmir.
Floating Vegetable Market of Srinagar
Dal Lake is really huge, and I mean really huge. It is a city in itself. Near Dal Gate, there is an area on the lake that actually looks like a small island. In that area, there is a small village settled right on the lake. The pictures below can give you an idea.
Around that village, these villages actually grow several vegetables in the middle of the lake itself. To get to the market, you will actually have to go through these fields on a Shikara.
So every morning, right before sunrise, these villagers gather around in a small area with their Shikaras loaded with vegetables. It is like a small wholesale market.
Vegetables are sold to hawkers within an hour and the market dissipates as the sun starts to rise.
It is actually like vegetable markets or 'Mandi' in other cities of the country where hawkers buy vegetables every morning to resell them in other parts of the city.
The same affair happens here as well. The only difference is that in Srinagar, it is on a smaller scale and in a much prettier location.
Floating Flower Market of Srinagar
So where do the flowers come into the pictures? Why is it known as the floating flower market? Contrary to common belief, there are actually no flowers on sale here. Rather, it is small flower plants and seeds that are sold here.
So if you wanted to buy something to plant in your garden, either the seed or the small plant, you can visit the market and get it from here.
So putting it all together, the vegetables, flower plants, vibrant Shikaras, the lake, the rising sun – it all looks very colorful and pretty together. This is the reason why the market is also gaining attention as a tourist spot.
Also Read: How to Plan a Trip to Pahalgam
These days, you will also find Shikaras selling some tourist items like handicrafts and shawls, etc. You can actually have your breakfast here in the market only. Some locals sell Tea, Kahwa, and Kashmiri bread on their Shikaras.
As a matter of fact, two of my favorite places for breakfast are either the floating vegetable market or the market in front of the Hazratbal shrine.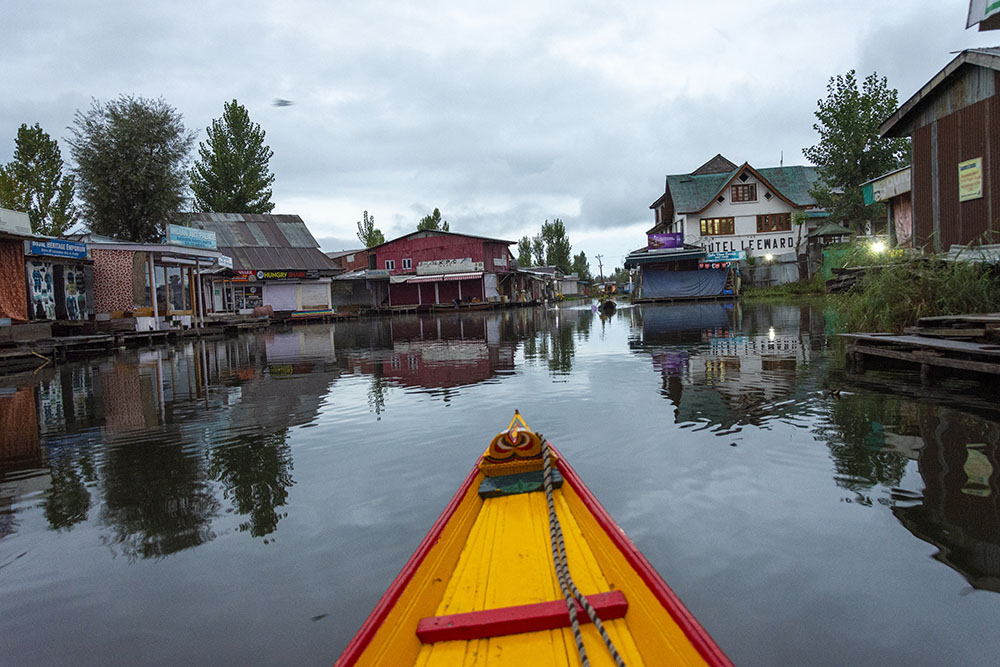 Srinagar Floating Market
The last part is about the floating market of Srinagar. The normal market is different than the vegetable market but it is also near the Dal Gate itself.
It is just a normal market with several shops selling day-to-day grocery items set up on the lake, picture above. To get to the vegetable market, you actually have to pass through the normal market area.
When you start your Shikara ride from Dal Gate, you will first reach the floating market, cross a village, go through some small fields and reach the floating vegetable market.
Do keep in mind though that the vegetable market is early in the morning and the normal market opens at around 9 or 10 am, as it usually happens everywhere else.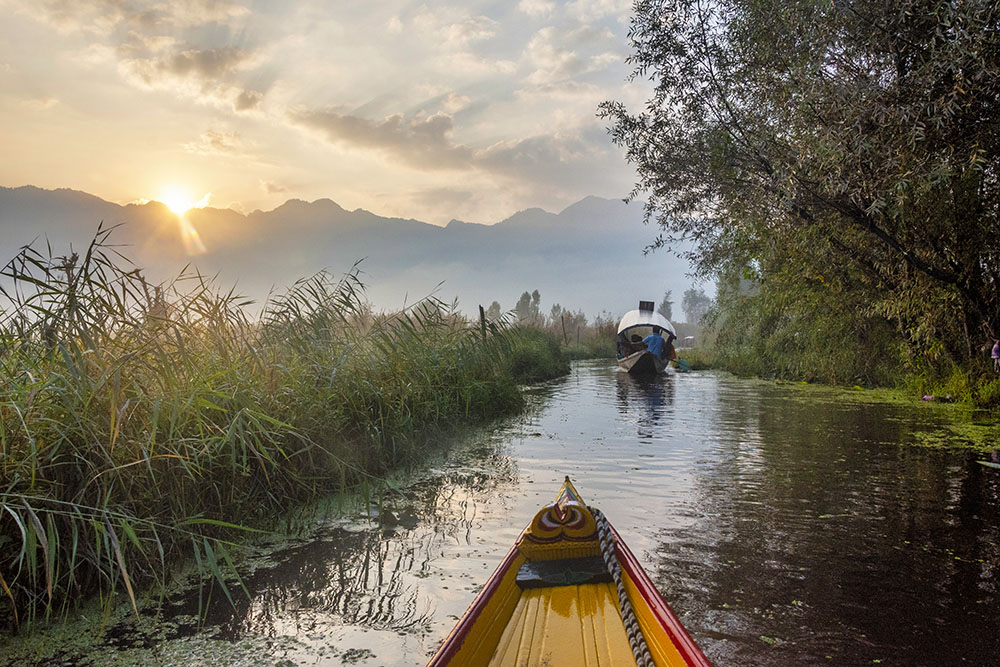 How to Plan a Trip to Floating Market in Kashmir
If you want to see the vegetable and flower market, then you will have to plan it early in the morning. If you were staying on a houseboat, it is really easy. Just ask your houseboat owner to arrange a Shikara for you and be ready in the morning.
If you were staying in a hotel, then you will have to reach Dal Gate, near Ghat No. 7. You must get there by 6 am at the most. You will find a few Shikara owners setting and getting ready. Just talk to any one of them and he will be happy to take you there.
If you just wanted to see the floating market, then be there at Dal Gate anytime during the day. Go to the nearby Ghats and find a Shikara to show you the floating market.
Also Read: How to Plan a Trip to Gulmarg
Cost of the Shikara
It will depend on who was arranging the Shikara for you and your negotiation skills but you can expect the price to be anywhere between Rs. 1000 to Rs. 2000.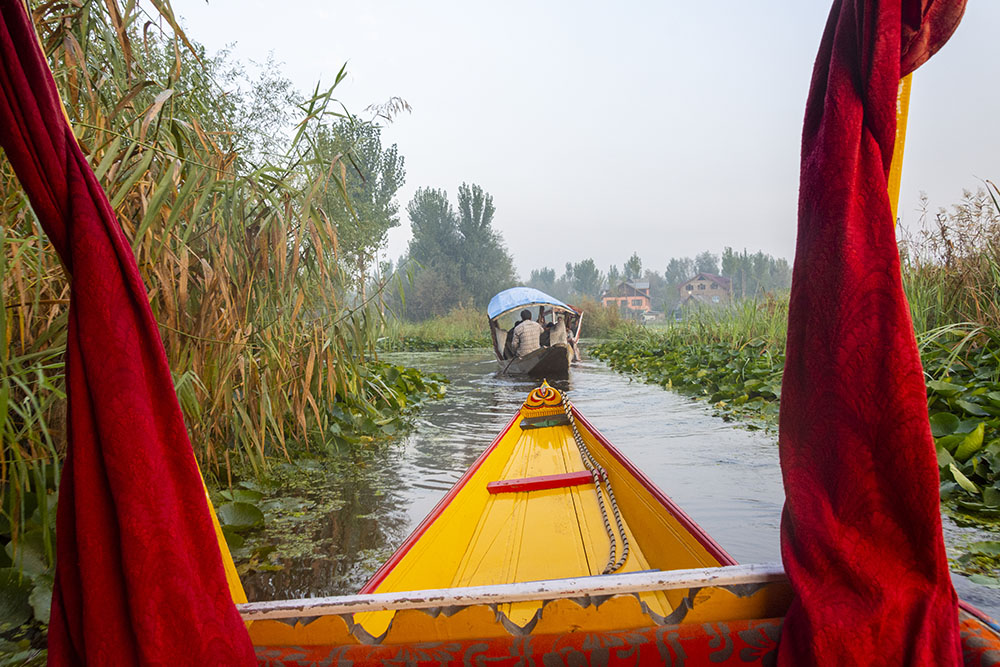 Is it Worth It?
I know, this is the first question that comes to mind, especially if you were staying in a hotel. Is it really worth getting up that early in the morning, taking all the pain to reach Dal Gate? The answer is yes, it is definitely worth it.
If you were into photography, this is the spot you just cannot miss. The vibrant and colorful early morning pictures you will get here will be the best of your trip.
Even if you are not into photography, the entire experience of the market and early morning Shikara ride is very charming. You will definitely take an hour out and observe how the entire market works while sipping down on a hot cup of Kahwa in a Shikara.
Conclusion
I hope the information above on the floating vegetable market of Srinagar and the flower market was of help. If you have any questions, you can contact me on Instagram and I will be happy to answer. You can also consider subscribing to my YouTube channel and asking a question there.