Sometimes, life can get too monotonous, and finding a break can get difficult. I too found myself in such a situation, but couldn't do much about it. This is the best time for unexpected trips and I sure enjoyed mine in the form of the Shankhpal trek.
Shankhpal Trek
Last week, I got a Facebook invite from a college friend for a trekking event. Having no prior experience in trekking, I opened the event page to check the details.
It was supposed to be a small trek on 16th October in the Patnitop area of J&k with a 13 km walk in total and it was to visit a temple atop a mountain.
Later I got to know that the temple was built by a local ruler Shankhpal, the name with which the temple is now known. I got in touch with the event coordinator, Vikas Manhas, and asked for more details.
He told me that the trek will have about 25-30 people, mostly youngsters, and is relatively good for beginners. Being on a Sunday, I decided to go and contacted my friend to discuss it with him.
Also Read: Gaumukh Trek from Gangotri – A Complete Travel Guide
Start from Jammu
The trek was to be on 16th October and my friend, Sunil came to my place on 15th and we went together to Mansar lake. Returned back to my place and called it a day after having dinner.
We were to meet with others at 4:30 am at a designated place. Reached on time, but had to wait for some time for the tempo to pick us up, and then we proceeded to meet the rest of the team.
After the whole team had assembled, we proceeded to Patnitop at around 5 am. Travel was mostly uneventful with normal chitchat. We reached Patnitop at around 8 am and had our breakfast.
Aalo paratha and tea make for a perfect breakfast in the hills. We then proceeded to Sanasar, where the trek starts. Sanasar is about 20kms from Patnitop.
Also Read: Tungnath Chandrashila Trek – A COMPLETE Travel Guide
Trek to Shankhpal
On reaching the start point in Sanasar and a brief introduction section, the trek started.
Group shot of all the participants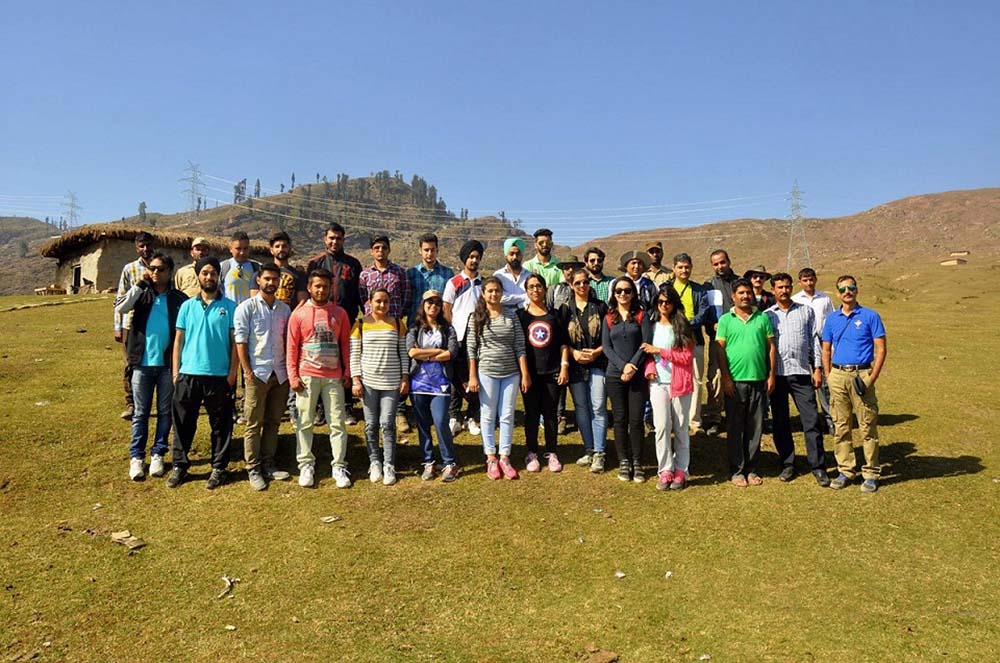 That's me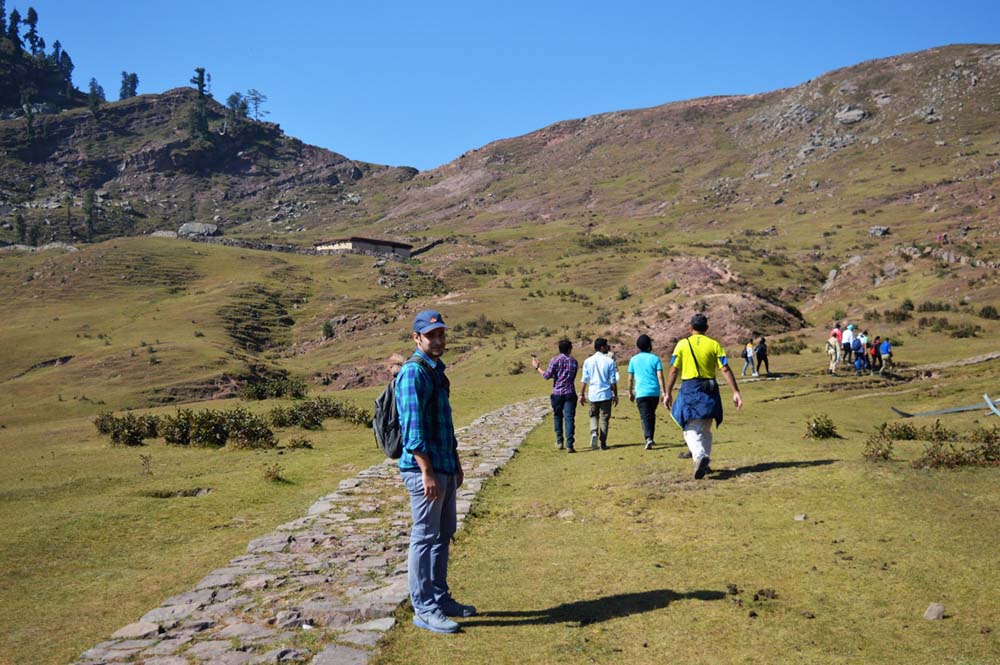 The initial part was easy, but with increasing height, the ascent got steeper and we all had to work our legs a lot. With regular photo/rest breaks, the climb went on.
Also Read: Sari Village to Deoria Tal – An Awesome Trek
In one of the breaks, the organizer, Vikas sir, told us an inspirational story of our war heroes from the Kargil war on how many young men fought till their last breath and what their families faced after that.
Such things are normally hidden from the public view and can melt the strongest hearts.
After walking for over 3 hrs, we reached the top and were greeted with a magnificent view of the small temple building.
After offering our respects and having rest for about half an hour, we headed back. The downward walk was somewhat easy and in a couple of hours, we were at the base.
Thus concludes my first ever trekking experience.
Summary of the Shankhpal Trek
Duration – 3.5-4 hours ascent / 2-2.5 hours decent
Start – Patnitop-Sanasar Road, 2 km from Sanasar
Transport – Bus / Taxi. Bus available between Patnitop and Sanasar twice daily. Taxi can be hired from Patnitop. The nearest train station is Udhampur, J&K
Weather – Pleasantly cold during the day, usually cold and windy to extremely windy at night
Also Read: Buddhaban Trek – Recovery Trek to Kutla and Buddhaban
Shankphal Trek – Conclusion
Shankhpal trek is great for someone who has never been on a trek but would like to give it a try. The views are great and the climb is not too difficult. The path is easy to navigate and you will surely enjoy your trek. Give it a try.
I hope the information above on the Shankphal trek was of help. If you have any questions, please feel free to ask in the comments section below. You can also follow me on Instagram and chat with me live or subscribe to my YouTube channel and ask a question there.
This error message is only visible to WordPress admins
Error: No feed found.
Please go to the Instagram Feed settings page to create a feed.