I am very particular when it comes to music. I never did mind paying a little extra but compromising on sound quality was always a big no for me. And as such, Sony had always been my preferred brand. For as long as I remember, right from the first Walkman that I bought in school, it was mostly Sony products that I used for listening to music. But I have tried some other "not so well known" brands as well. The recent one is this earphone that I bought online from Amazon. I must admit that the only reason I bought it was because the reviews on Amazon were good and the price sounded reasonable. This brand was called "Sencer" and below is a brief Sencer earphones review of how I found this product to be.
The reason why I went on talking about Sony in start of this article; and the fact that I am very particular about music; is just to name a brand that I will be comparing Sencer against. Main reason behind buying Sencer was because I needed something for the gym. Both my Sony headphones were a bit too big to be worn comfortably while working out. One of them is even wired. So I was actually looking for a Bluetooth earphone that is OK in terms of quality and is not too costly. Since I already had my other Sony headphones, the new earphone was mostly going to remain in my Gym bag only.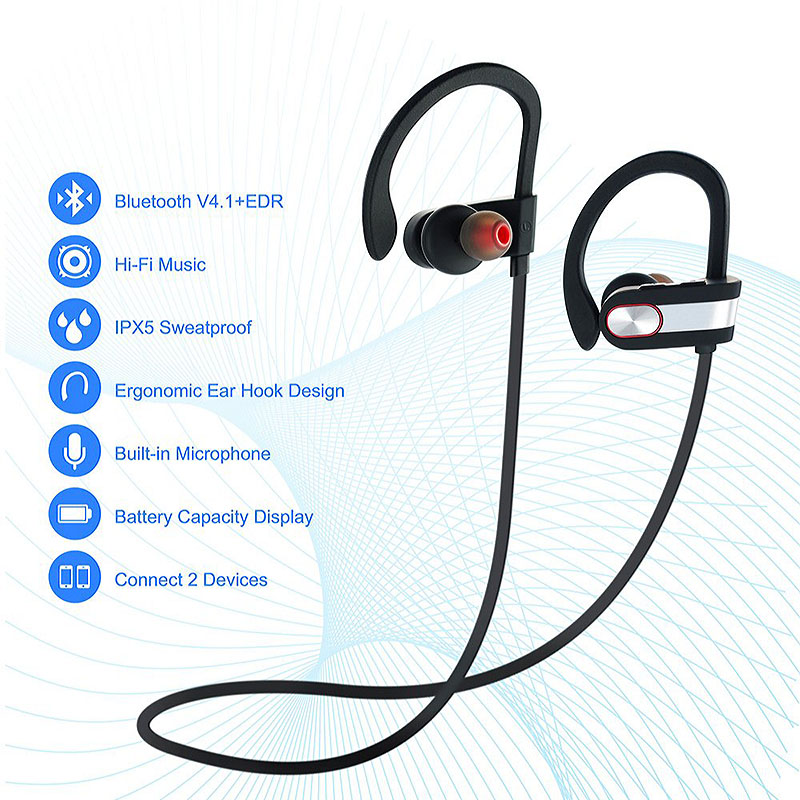 Sencer Earphones Review
Not many people would have heard of this brand. Even I didn't until I came across the name online. The three reasons I bought it were that it was cheap, it was wireless and reviews were mostly all positive. So I wasn't expecting something really amazing out of these earphones. But I was in for a surprise.
Most of its features are as mentioned in the image above. Sound quality is amazing for the price that you are paying. Other branded products with this kind of quality and wireless connectivity will easily cost you close to 3k; but this one comes for just over a thousand bucks. Not a bad deal at all. Overall sound and Bass is great and I can say this after all kinds of music; from trance to hard rock to Ghazals to Mohammed Rafi.
It is sweat proof. I run on the treadmill for a couple of hours on my cardio days and sweat like crazy; but the earphones never get affected by all the dripping sweat from my hair. I charge them everyday just to be on a safer side and longest I have used is for 3-4 hours. The product says it has a battery life of 8 hours but I can only confirm something between 3 to 4.
Click on the Image Below to review the product on Amazon Site.
Final Conclusion
I would highly recommend these earphones. These are very comfortable, light weight and can give some great sound. The range is satisfactory as well. I put my phone down in one corner of the gym and walk around working out. The only time I lost connectivity is if I go a bit too far and there is a door or wall in between. Otherwise there is no problem at all.
I have used it for calling as well and there was no static, call drop or voice breaks. So yes, in the end, it is a product highly recommended. I hope the Sencer earphones review above was of help. If you have any questions; please feel free to ask in the comments setion below; or at our Community Forum; and I will be glad to answer.