I know, the name sounds really close to BSN and that is what I thought when a friend of mine suggested me this BCAA. Then I realized that he was actually talking about a company called "PSN". I Googled the name and did not find any information so I was actually a bit apprehensive about buying this supplement. Another reason for my apprehensive was the price tag which is actually almost the same as other major brands. But then I decided to buy it nonetheless on recommendation of my friend. Below is a short PSN BCAA review detailing how I found this product to be and if I will recommend using it.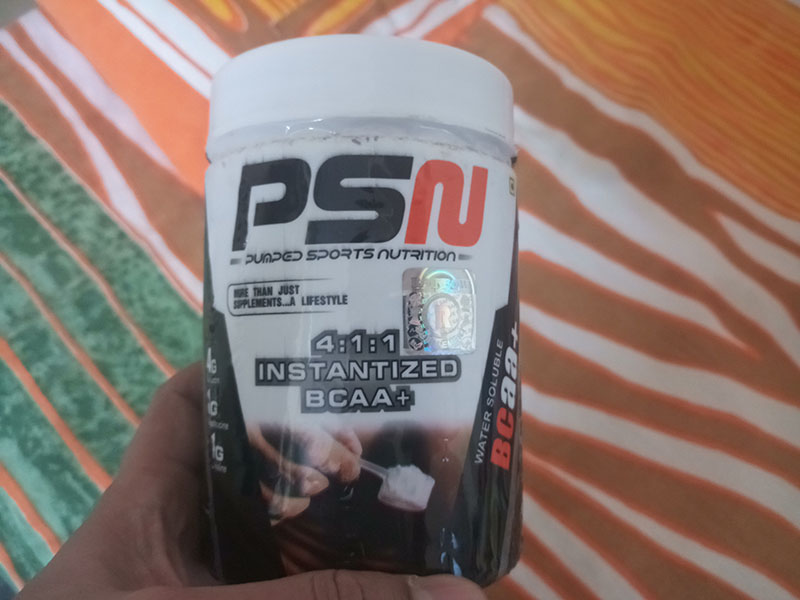 PSN stands for Pumped sports nutrition and if you asked me, the name actually sounds a bit cheesy. My friend owns a supplement store in Delhi and if it wasn't for him, I probably would never have tried this BCAA. It is actually an Indian brand completely and the supplement is manufactured and packed in Delhi itself. Headquarters of this company are in Mumbai.
Price
Depending on where and who you are buying it from, it will cost you close to Rs. 2,500 in Indian market. For this price tag, you can get other better known supplement brands that have proven to provide some serious results. Considering that PSN is hardly a known name, I think it would have sold better if they priced it less.
Servings
This is where it stings a bit even more. For Rs. 2500, you only get 30 servings which again puts it on the costlier side. There are other companies that can deliver a better product at lesser price and with more servings.
BCAA+ highlights
As per the label on the Jar, this supplement,
Supports Muscle Building.
Increases Protein Synthesis.
Prevents Muscle Loss
Rapid recovery Formula.
Taste
It comes in Watermelon, Alphonso Mango, blackcurrant and Green Apple flavors. I tried the Watermelon one and trust me, it tastes horrible.
Serving Size
Consume 2 scoops (10gm) with 16 oz. of water between meals or 30-45 mins before workout and/or immediately after workouts or as suggested by a healthcare expert.
Ingredients
L-Leucine, L- Isoleucine, L-Valine, Beta Alaline, L-Glutamine.
Other Ingredients- Citric Acid, Natural Flavouring Maltodextrin, Sucralose.
PSN BCAA Review – Final Verdict
I have tried many other BCAA supplements and found this one to be least effective actually. I would not really recommend this product. For a lesser price, you can find several other and better brands. Forget about recovery, this supplement did not even give a pump or boost before workout; and tastes really bad. I really did not see any great results using it. I hope the review above was of help. If you have any other questions, please feel free to ask in the comments section below.