I first saw an ad of Panchayat on YouTube a few weeks ago but did not really pay much attention to it. I ignored it primarily because it was not really the kind of shows that I watch; but also because there was really nothing that stood out about it. There was no huge star cast and the show wasn't even advertised properly. On the front of it, it just looked like a simple village story that could easily be ignored.
And ignore it I did; until the lockdown happened. I am an Amazon Prime customer so I started to look through their list of shows that I could watch while sitting at home. I came across the name Panchayat and decided to give it a try. My first impression was absolutely right. It is indeed just a simple village story. There was no suspense, no mad action sequences, nothing to laugh my lungs out at, yet I finished it in one go. I binge-watched the series and then I recommended it to all of my friends. That is how good Panchayat actually is.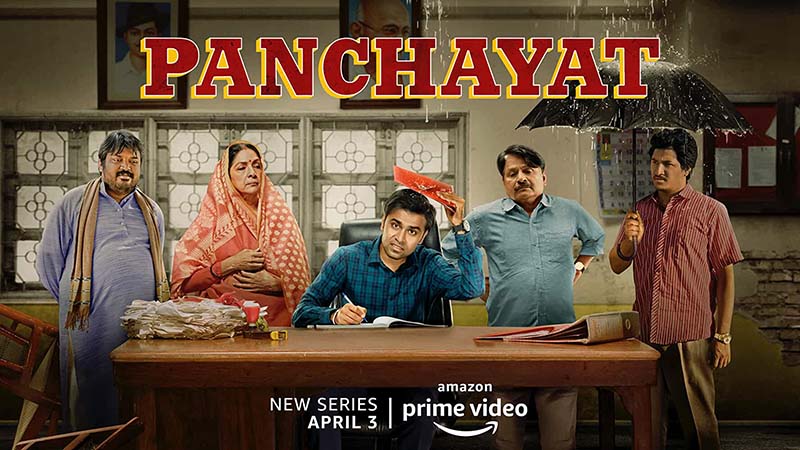 If you haven't watched it yet, then I think I can safely say that you should not waste your time with this review and go watch it. It is one of those shows that you just cannot go wrong with.
Panchayat
Panchayat is a comedy-drama, an 8 episodes long affair and every episode is about 30-40 minutes of runtime. It tells the story of Abhishek Tripathi, an engineering graduate, who for lack of a better job option joins as secretary of a Panchayat office in a remote village of Uttar Pradesh. The village life is not something that he was accustomed to and he totally hates it. He, however, keeps the job in order to gain work experience while he prepares for his upcoming MBA entrance exam.
The show was created by TVF (The Viral Fever) for Amazon Prime and stars Jitendra Kumar in the lead role, supported by Raghuvir Yadav as village Pradhan and Neena Gupta as his wife. The entire series is built upon the terrific writing with a plethora of genuine laughs. There is no forced humor, no vulgarity, and no unnecessary cussing either.
Review
However, it is the ensemble of talented actors that really makes Panchayat a delightful watch. Every actor in the show plays their part to such perfection that you can barely tell that these are actors and not actual villagers. Even supporting actors like Faisal Malik and Chandan Roy are excellent. You fall in love with each and every character of the show.
The creators also succeed in delivering an authentic portrayal of rural life. Led by a superb performance by its entire cast, the series is a light comedy that is also socially relevant and paints a vivid but believable picture of how life in rural India is. Being from Uttar Pradesh myself, I could totally relate how things in remote villages really are and what was portrayed in the show. If you want to see real India with an authentic comic story, you are in the right place.
Another strong aspect of the show is how the humor was used to talk about socially relevant topics. It touches on several topics like dowry, population, family planning, illiteracy, corruption, class divide, flexible morality, and gender equality but never dwells on any of it for too long. The humor is maintained and the message is passed on in a very subtle manner while putting a smile on the viewer's face. The content is presented with such amazing grace that even the occasional cuss word will not offend you.
Another thing that I would like to appreciate is the background score. 'Lovely' is the word that I would use to describe it. Production design and cinematography takes you to the real villages of India.
Final Conclusion
Panchayat is a perfect combination of brilliant acting, great storyline, good music, and awesome direction. The 8 short stories are beautifully shot; with a sweet essence of simplicity and without the overdramatic Bollywoodness of it all. It really reminds of the great shows of the past like Hum Log, Mugerilal ke Sapne, and Malgudi Days.
You need not worry about reading any reviews anymore and just watch the show. It is really hard to find such good shows anymore. Give it a try and you will definitely not regret it.