I recently bought an Oppo F11 smartphone and this is a short review of how my experience with the phone has been so far. On an overall basis, the phone has been working up to my satisfaction. I wouldn't really call it an absolutely amazing or a superb phone as such but it is not that bad either. I actually bought it with an exchange offer from Amazon and got a good price so that actually made the deal with a good one. Would I have bought the phone without the exchange? Probably not and I will explain why.
Why I bought Oppo F11
To be honest, I was not even looking forward to buying a new phone at this time. I had a Samsung Galaxy J7 Max and I was quite happy with it until it started to give trouble while charging. The charging jack I guess came loose and it won't even detect the charger plugged in until I plug it in and out a few times. Then the speed of charging too slowed down and at last, the phone finally stopped charging altogether. Apart from this, there was no other problem with my Samsung Phone and it had served me well for 2 years.
I took the phone to get it repaired, paid Rs. 500 but it wasn't fixed entirely. I was thinking about bringing it back to the repair shop again when just out of curiosity, I checked Amazon for new phone deals. Oppo was listed there as a deal of the day and was available for a price of Rs. 12,000 with an exchange of my Samsung Phone. The actual price of the phone was 18000 so I was actually getting Rs. 6000 for my old Samsung which sounded like a great idea. My only thought at that time was that Samsung had already started to give trouble and probably another 6 months down the line; I would anyway have to buy a new phone and was sure that I won't get 6k at that time for Samsung like I was getting now.
Amazon Delivery
I asked a friend who owns a mobile shop and he too recommended Oppo. So I went for it. Amazon delivered the phone as promised. I was sent a new phone that was properly packed and the guy who came to deliver also took back my Samsung J7 so no complaints there really.
Specifications
Now coming to the phone, Oppo is a Chinese company and that is where my apprehension was in my prejudice against anything Chinese. But this phone surprised me. Below are some technical specifications.
OS: Android v9.0 Pie
RAM: 4 GB
Wireless: Bluetooth; WiFi Hotspot
Features: Dual SIM, GPS, Music Player, Video Player, Magnetic induction, Light sensor, Proximity sensor, G-sensor/Acceleration sensor
Other camera features: 5MP
Colour: Marble Green
Battery Power Rating: 4020
What's in the box: Handset, VOOC Charge Adapter, Earphone, USB Cable, Sim Tray Ejector, Pre-applied Screen Protector and Protective Case, Important Info Booklet with Warranty Card and Quick Guide
Storage: 128 GB Internal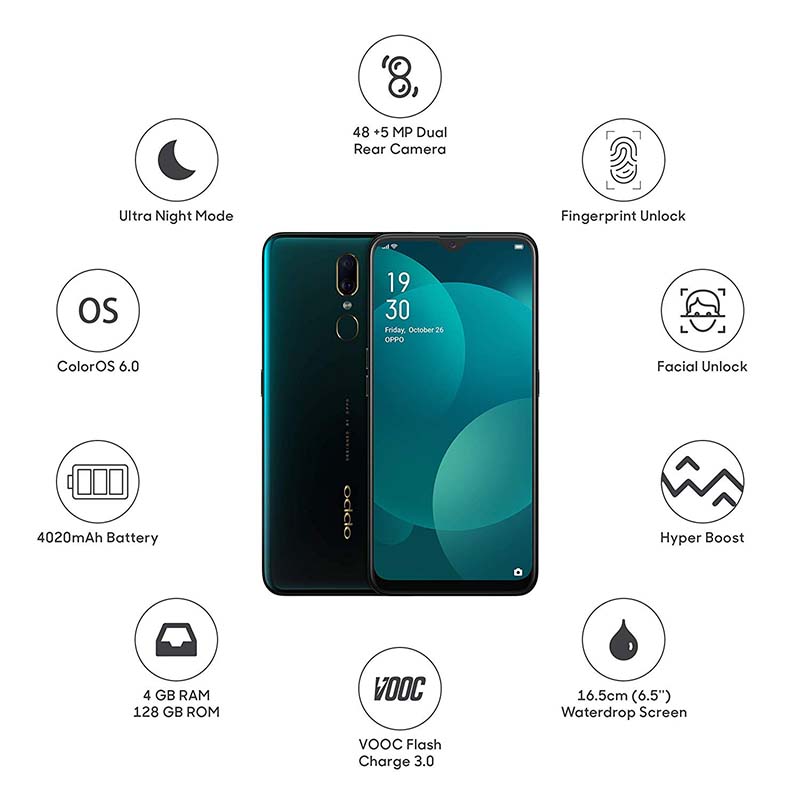 Oppo F11 Review
The design of the phone is great and it looks stylish. It is available in Fluorite Purple and Marble Green colors. If looks matter to you then I would recommend buying the Purple one. The green version of the phone just feels black actually. The phone does feel a little heavier than others but not too much. The fingerprint reader, the Oppo branding and the 'designed by Oppo' text are all centrally aligned at the back. On the front side, the phone has a 90.8 percent screen to body ratio and the display is superb and sufficiently bright. The colors are accurate and I had no complain watching HD videos on it.
The phone has a 48MP+5MP dual rear camera system. I am into photography and have a few DSLR cameras so my use of the camera for serious photography is next to none. But for clicking some candid pictures and selfies, Oppo will really impress you for both day and night photography.
Performance of the phone is impressive as well. Chrome, Netflix, Facebook, Instagram, YouTube, and other heavy apps ran perfectly well without a hiccup. The single speaker is located at the bottom of the phone. It is not the greatest but is audible enough for in-room listening. Call quality was as good as expected and the earpiece functioned perfectly. Both the fingerprint and face unlock system work fast and smoothly.
The phone also has superb battery life. I have watched videos non-stop on it for 6 hours at least with a single charge and still, there was battery left. The charging time from 0 to 100% too is quite fast and impressive.
Final Verdict
In the end, I will say that Oppo F11 is a great phone and I do not regret my purchase. Take a look at Amazon and you may still get a good exchange price as I did.
I hope the information and review above was of help. If you have any questions; or need any other details; please feel free to ask in the comments section below, or at our Community Forum, and I will be glad to answer.