A friend of mine was recently visiting the states and bought me Octave Bluetooth wireless headphones. This is actually the first time that I saw Octave headphones because I believe they do not sell in India. I may be wrong about this and maybe it was just me who never found any Octave headphones on sale anywhere, I am not sure. I even did an online search for Octave and found a wireless speaker on sale on Amazon India but not the headphones. Nonetheless, I have been using it for the last few weeks now and below is a short Octave wireless headphones review of how I found this product to be.
My primary use of this headphone is in the gym for about an hour and a half every day (except Sundays). But I listen to it at home as well. Sometimes I just pair it with my computer while watching a movie. It usually happens in cases when my folks start giving me a hard time to turn the volume of the speakers down so I just put on this headset. I listen to all kinds of music including Bollywood tracks (both new and old), Ghazals, Hard rock, Hip Hop, Pop, Trance, Dance, etc. And yes, I have also used it for talking on the phone for long hours.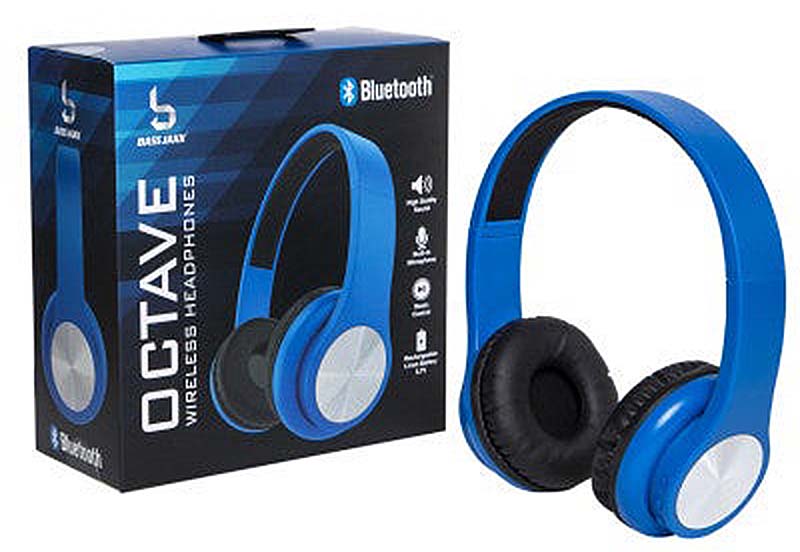 Octave Wireless Headphones Review
First of all, it is a very comfortable headphone. I have it on my ears for 90 minutes straight in the gym but it never gets inconvenient. The cushions are very comfortable and the headphone is light in weight. Before this, I have used several other brands and I think this one is probably a clear winner in terms of comfort.
The sound quality is amazing for the majority of the tracks from the categories I listed above. It produces a very balanced sound that is really enjoyable to listen to. The thump is just about right and music sounds very soothing. But it may be a little disappointing for people who need too much of Bass. The name of the headphone is actually Octave Wireless headphones Bass Jaxx but it is not that high on Bass. I have another wired sony headphone and if I am in the mood for heavy Bass, that is the one I go to. But do not get me wrong, for an average listener and for 'most of the time listening', the bass is very balanced and good enough.
Call Quality, Battery Life & Connectivity
Connectivity is great as well. The phone rests in my gym bag in a corner of the gym while I walk around working out. It is hard to tell exactly in terms of distance; but my gym is a fairly large one and I never had any connectivity problem. As a matter of fact, sometimes I even went to a different floor (just 1 floor up) and even then it remained connected.
Battery life is decent too. I have never used it till the battery was completely exhausted but 90-minute playback drains about 20% of the battery. With that calculation, I think it should play easily for a good 7 to 8 hours with one charge. Recharging too doesn't take long and it charges fairly quickly.
It comes with an inbuilt mike and call quality is excellent. I even take calls while working out in the gym with a lot of noise in the background; but surprisingly, the person at the other end still hears me clearly. There was never any compromise on audio quality. There are three buttons on the right side of the headphone that can be used to answer calls, increasing or decreasing volume and changing tracks.
This is a good looking headphone too. I have the black one but it also comes in several other colors. The red and blue choices actually look very stylish.
Final Verdict
Overall, I will say that I am very satisfied with this product. This may be one of the best headphones I have used in a long time. If you are in India and you are able to find one of the headphones on the shelf, definitely buy it. You will not regret your purchase. If you are not in India; and have these headphones as an option with several others, I will recommend you to pick this one. This is an excellent choice of a product and is very reasonably priced. I hope the Octave wireless headphones review above was of help. If you used this headphone then please do let me know your thoughts in the comments section below.